The Dirt's Production Designer on Recreating Mötley Crüe's Wild Ride
Netflix's The Dirt focuses on the wild, often sordid and ultimately stratospheric rise of the seminal heavy metal band Mötley Crüe. Directed by Jeff Tremaine, The Dirt is based on the band's 2001 New York Times best-selling autobiography, which detailed how they managed to go from sharing a truly disgusting apartment and booking gigs on the Sunset Strip to selling out stadiums and becoming one of the most infamous acts in the world.
The film follows Nikki Sixx (Douglas Booth), Mick Mars (Iwan Rheon), Tommy Lee (Colson Baker), and Vince Neil (Daniel Webber) on their journey from the Whiskey A Go Go in L.A. to flying in their plane for gigs all over the world. For production designer Melanie Jones, this project offered her the rare opportunity to not only recreate the band's heady, heedless days but also work with the musicians themselves to recreate their journey.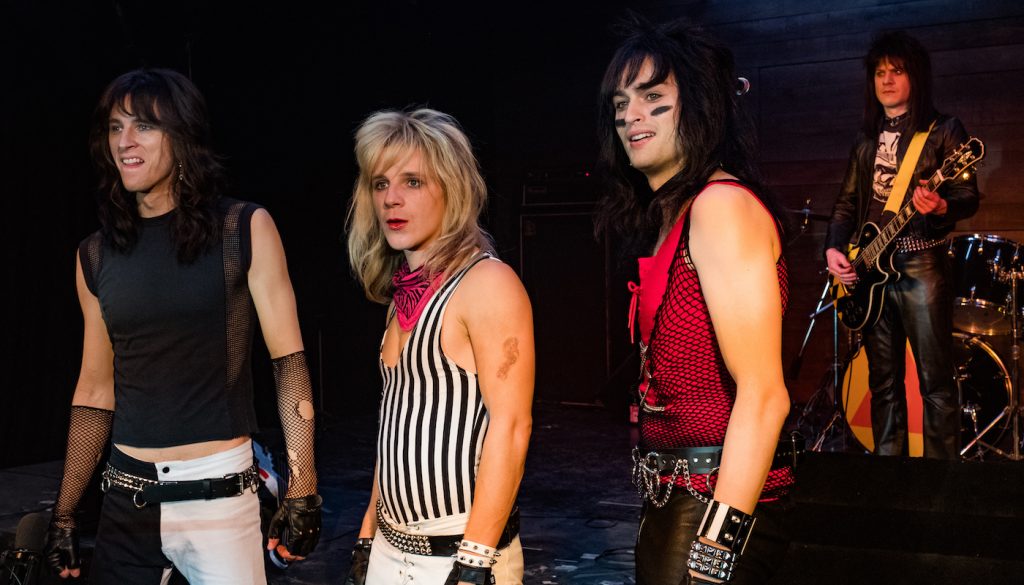 Jones read and re-read "The Dirt," but she also spoke to Nikki Sixx and Tommy Lee to get their direct impressions of what it was like living through that period.
"The funniest thing about talking to Nikki, he's so bright, you really get a sense of how much of a vision this band was for him," Jones says. "Nikki was the architect of their look and style. He told me about how he'd make them rehearse in front of mirrors at their apartment. He was really like a director. It was really important that we captured the essence of their experience as true to form as we could."
That experience includes the band's filthy, cockroach-infested apartment. The film was shot in and around New Orleans, where Jones and her team found spaces to recreate early 80s Los Angeles, including the band's apartment and the iconic Whiskey A Go Go.
"As a production designer, I'm really attracted to period films," Jones says. "You get to re-explore something. I remember rock and roll in the early 80s. It was so rich. I designed their really, really crappy apartment. The bad carpet, the broken cabinets, the mess, the burn marks on the wall."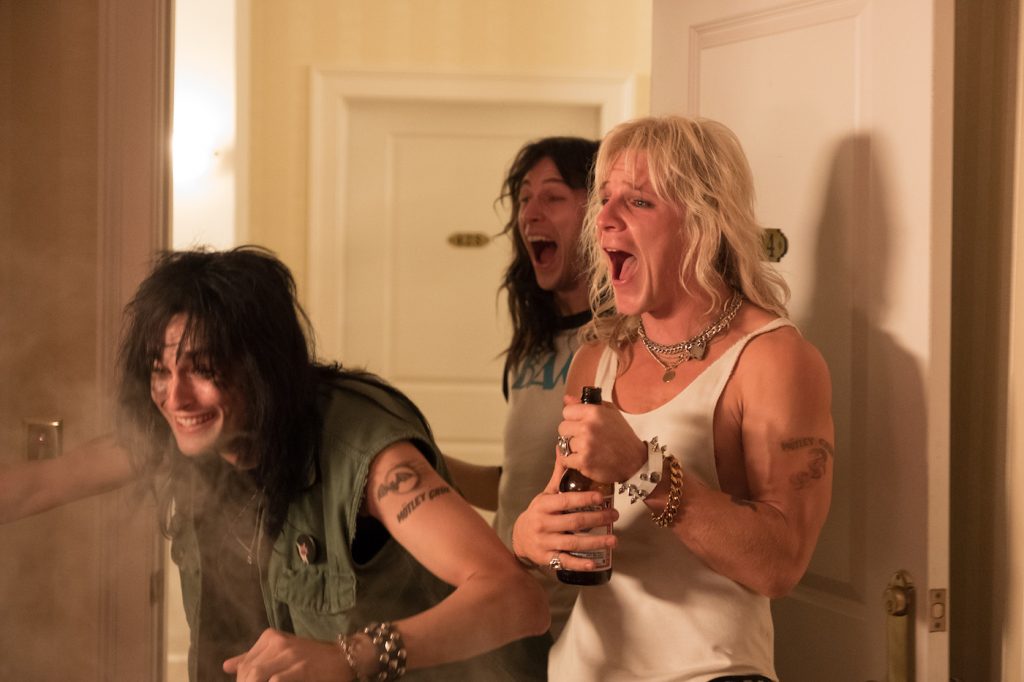 Recreating a setting that was used and abused by up-and-coming rockers takes a lot more than simply destroying a room. Jones was meticulous about creating what appears to be chaos and wanton disregard for their surroundings, as well as their own health and hygiene.
"We created the burn marks with spray paint," she says. "Burn marks are kind of dense when the initial burn happens and then they lighten up when you get away from the point of fire." One of the reasons for the burn marks was the apartment had a lot of unwanted guests. "Tommy talked to me about this, they would set cockroaches on fire, they'd be running up the wall and they'd spray them with hairspray and then light them with a Bic lighter. Also, they had a huge pile of garbage that was out on the balcony. It didn't make it into the film, but Tommy was puzzled about this when I spoke to him. He couldn't understand why they wouldn't just have taken the garbage down."
One of the film's most crucial scenes is Nikki Sixx's overdose, in which he was, for a time, declared dead. This event actually occurred at a very drag hotel called the Franklin Plaza. "That was an interesting conversation," Jones says. "Saying to him, 'tell me about the place you died, Nikki.'"
For the purposes of the film, however, Jones and Sixx agreed that placing his death (!!) in a very unremarkable place like the Franklin Plaza didn't feel right.
"Talking to Nikki, I told him I couldn't find pictures of the Franklin Plaza hotel. When I read the script, what I saw in my mind was the Chateau Marmont. He loved that idea. He said, 'The Franklin Plaza was a horrible place, I don't even know what I was doing there; this was the height of my career!' So we pushed the fantasy in a couple of places," Jones says. "The Chateau was an homage to that celebrity lifestyle, and it was a safe place for people to go to do all sorts of stuff."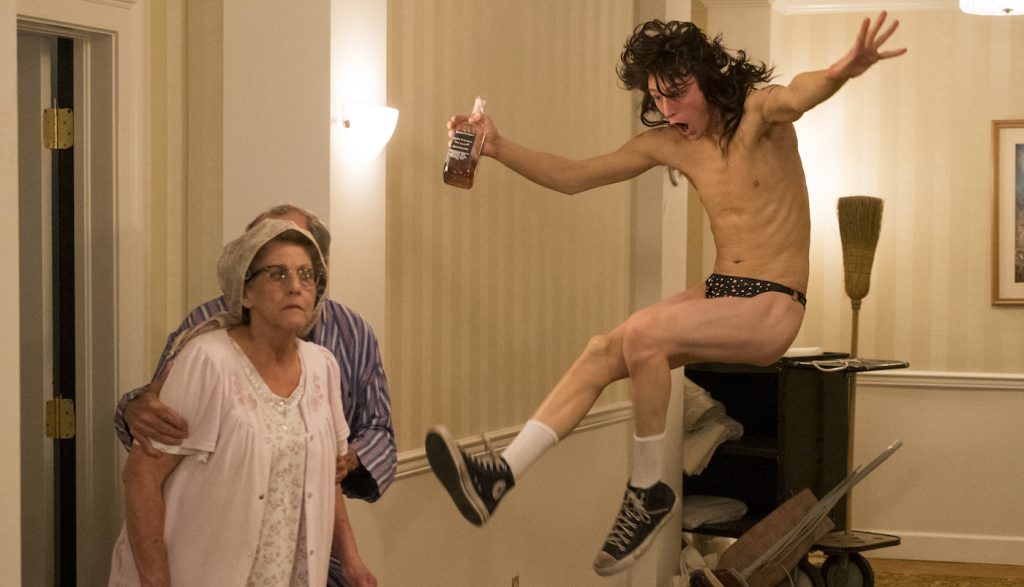 Once Jones created a space that looked "properly upscale" for Nikki's near-fatal overdose, the next stage was to mess it up.
"We just set one wall on fire," she says. "The one wall where the band shoots off a flare, I had multiples of that wall, like four of them, so we could get more than one take."
Another location that required some imaginative leaps was the band's plane. Jones couldn't find any photos of the interior, but she did find some very infamous planes used by other big acts.
"I did what I normally do; I pulled thousands of research images," she says. "Not only specifically about Mötley Crüe but rock and roll at the time. I couldn't find a picture of the inside of their actual plane, but I found the plane that Elton John and Alice Cooper and Led Zeppelin used."
Sixx told Jones what their plane was like, which didn't sound quite rock and roll enough.
"Nikki was like, 'Yeah, put leopard carpet in it,'" Jones says with a laugh.
One element of a production designer's job that's often overlooked is that the period the action takes place is not some static, frozen era. Every space you interact with or create has elements from decades past.
"One of the things I thought was really important was the color palette. The band got together in 1981. The early 80s had a lot of neon and aqua blue, but it wasn't at that point in time. In essence, it was still the 70s," Jones says. "I kept the background colors more in tones of brown and a little bit muted, which were colors from the 70s. The sheets they have hanging over the windows in their apartment are a kind of a mustardy brown tone. Then the architecture of that place would have been built in the 60s."
The color palette changes once the band starts playing at the iconic Whiskey A Go Go.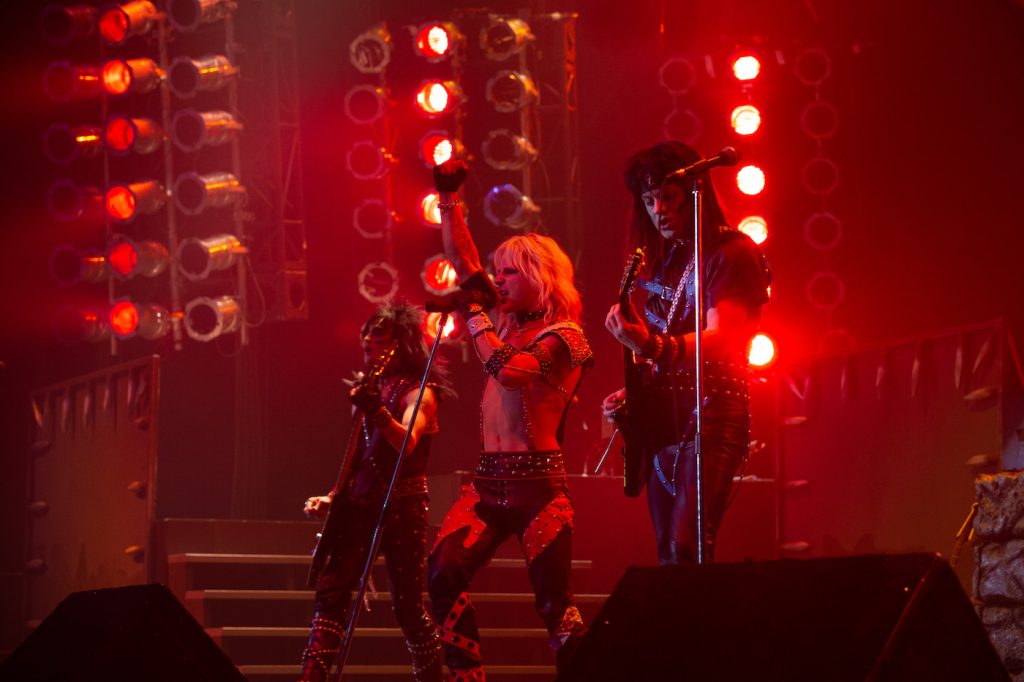 "The exterior of the Whiskey was black and white at the time. For me, 1981 was really punk. Everything was black, white and red. As the movie goes on, the color palette brightens up. As you get deeper into the 80s you get more color. Our DP [Toby Oliver] added more colorful lights; pink and green. Then you've got Vince's house in all white. The film transitions from a more muted, muddy, punk layer to something really solidly 80s. Then we turn a corner and go into the 90s, which was more jewel tones—emerald, ruby, amethyste—which was super popular in the 90s. So we definitely took a visual journey, to help emphasize the decades."
In the end, Jones counts The Dirt among one of her favorite projects.
"Frankly, it's rare that really almost every location is exciting to do," she says. "This was one of those projects that everything was interesting. We just had a lot of texture and a lot of grit."
The Dirt is available now on Netflix.
Featured image: L-r: Tommy Lee (Colson Baker), Nikki Sixx (Douglas Booth), Mick Mars (Iwan Rheon), and Vince Neil (Daniel Webber). Photo by Jake Giles Netter. Courtesy Netflix