New Spider-Man: Far From Home Poster Teases Peter Parker's Travels
Pack your bags and grab your passport: Peter Parker is heading to Europe! In a surprise tweet this morning, Sony Pictures revealed the first poster for Spider-Man: Far From Home.
In theaters July 5. #SpiderManFarFromHome ?️ pic.twitter.com/K3xfXuqk3D

— Sony Pictures (@SonyPictures) January 15, 2019
Minutes later, Marvel showcased an epic teaser trailer, which we discuss here. Out this summer, the sequel to 2017's popular Spider-Man: Homecoming will be the first film to come out after the long-awaited Avengers: Endgame, due in May. The events in Far From Home will take place after the events in Endgame, which gives away the fact (not that there was any doubt) that Peter Parker will be resurrected, somehow, some way. Director Jon Watts is back at the wheel for round two, and Tom Holland returns as Peter Parker in his fourth movie in the Marvel Cinematic Universe. Far From Home sees Peter, Michelle (Zendaya), Ned (Jacob Batalon) and their classmates far from the Big Apple, as they take off to Europe for a school trip. While abroad, Parker is enlisted by Nick Fury (Samuel L. Jackson) to team up with evil-turned-good character Mysterio (or will he be good-turned-evil?) and fight the Elementals.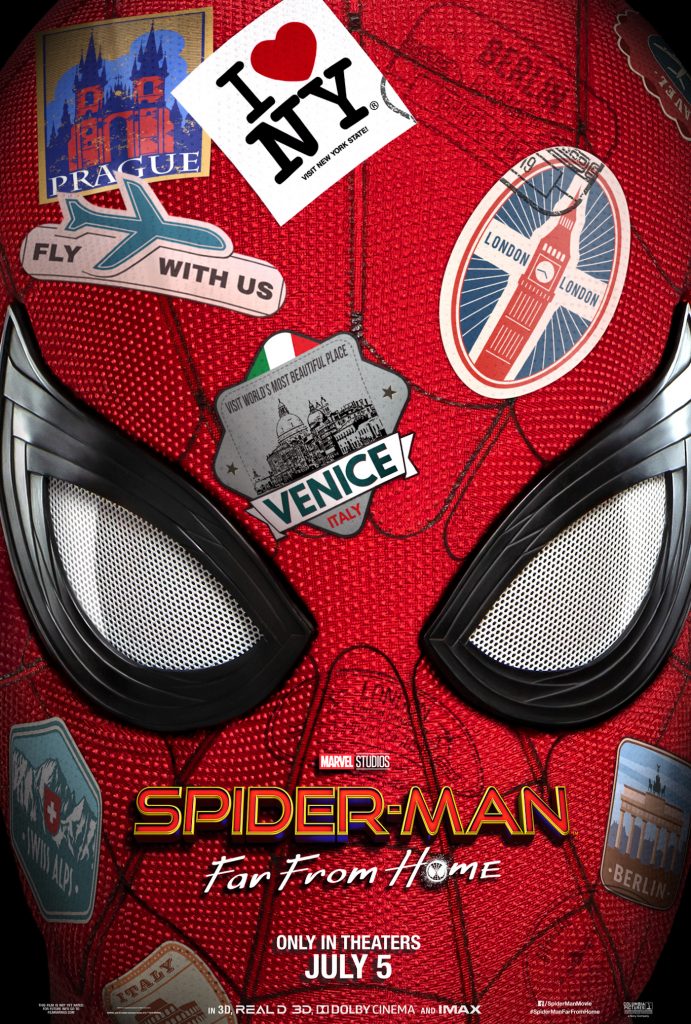 Judging from the poster, we can tell this trip will truly be the adventure of a lifetime: Spider-Man's mask displays travel stickers from London, Venice, Prague, Berlin, and the Alps. Will there be time to visit them all? Not quite: filming was completed in England, the Czech Republic, Venice, and New York City. Then again, it's not as if the CGI wizards can turn a green or blue screen into Venice at this point.
In case you lost count, Spider-Man: Far From Home is set to be the 23rd film in the Marvel Cinematic Universe, and stars Colbie Smulders, Marisa Tomei, Jon Favreau, Michael Keaton, and Angourie Rice, with Jake Gyllenhaal as Mysterio. The voyage begins July 5th, 2019.
Featured image: Spider-Man: Far From Home theatrical poster. Courtesy Sony Pictures.