Off With Their Wigs! Mary Queen of Scots's Hair & Makeup Genius Jenny Shircore
This holiday season we've been graced with not one but two incredible examples of hair and makeup mastery. The first came in Yorgos Lanthimos' hilarious The Favourite, which captures the lunacy at court (and in the bedroom) of Queen Anne (a sensational Olivia Colman), who close friend Lady Sarah (Rachel Weisz) goes to war, so to speak, with a new servant Abigail (Emma Stone) over the queen's affection. The film is both darkly hysterical and gorgeous to behold, and one would assume no other period piece involving an English queen could look quite as ravishing, at least not this year.
Enter Josie Rourke's Mary Queen of Scots, which depicts the contentious, ultimately continent shaking rivalry between Mary Stuart (Saoirse Ronan) and her cousin, Elizabeth I (a nearly unrecognizable Margot Robbie). Unlike The Favourite, Rourke's film is a full-throated drama, and the sparring Queens are rendered in period-perfect detail, from the heavy weave of Mary's dresses (Scotland is cold, after all) to the ravages of smallpox that scarred Queen Elizabeth's face. It largely fell to hair and makeup designer Jenny Shircore to make sure the queens (and the scheming men who surrounded them) looked like they belonged in the Victorian era, complete with wigs, toxic makeup and more.
"You've got two queens, two powerful women, two women who have never met, who are yet influenced by each other's beauty and power," Shircore says. "They are jealous of each other, afraid of each other, all the way through this is the story we're telling. When Mary Queen of Scots arrives, she's an immediate threat to the English throne."
That the woman playing Queen Elizabeth is Margot Robbie presented an immediate challenge for Shircore.
"When I heard Margot Robbie was cast, I thought, oh my god," Shircore says. "I spoke to our director Josie and I said, 'What do you want me to do? I need to change her skin, her hair, her nose, her mouth!' Josie said, 'Well, do it.'"
Shircore and her team relied on the iconic portraits of Queen Elizabeth in order to modify Robbie's face.
"So we started with choosing a hair color for Margot, and we spent weeks with her head shaved. We started her hairline a bit lower than I would have normally. The wig we used was supposed to be her own hair, which is naturally curly and long, so we used that for the first scenes."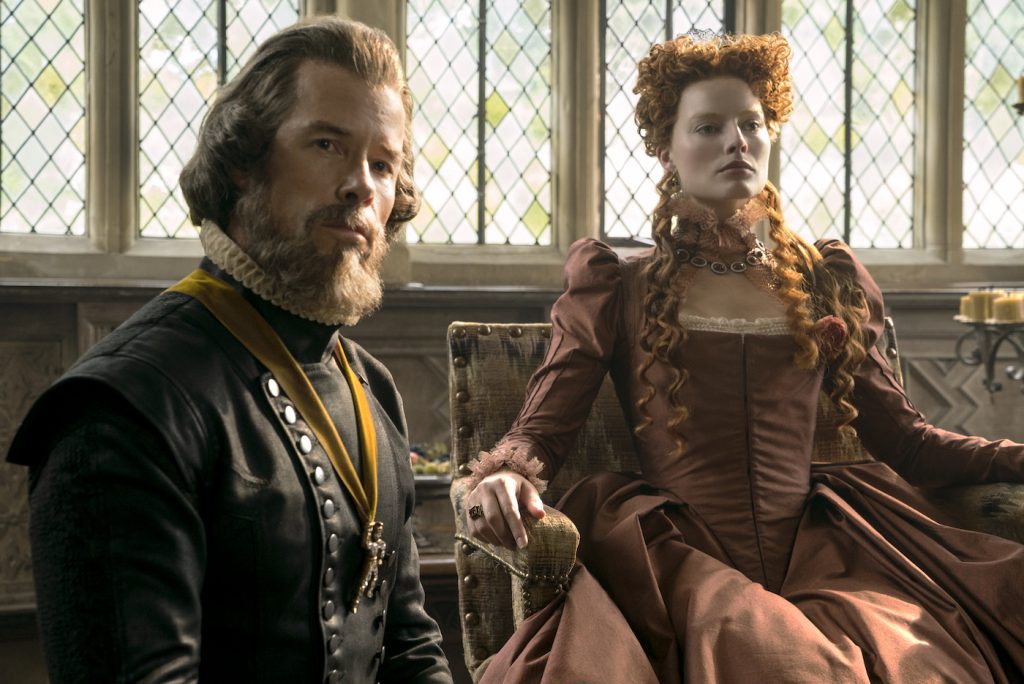 Shircore is something of a Queen Elizabeth expert at this point; she worked on Elizabeth with Cate Blanchett, so she already knew that the queen had a very particular nose.
"Queen Elizabeth had a strong nose, and Margot has a very pretty, modern nose," she says. "I felt when I said to Josie that I'd like to change her skin, nose, eyebrows, etcetera, the main thing that would be constant would be her nose. We did a lot of mock-ups and drawings, made some noses, and tried them on some various other girls. We did a bit of photoshopping on Margot and tried different shapes. Then when Margot arrived, we had three shapes ready. To give her a nose like Elizabeth's nose, we had to take away the very beautiful modern look Margot has. I thought the new nose gave her a sense of regalness, it added to the strength and personality in her face."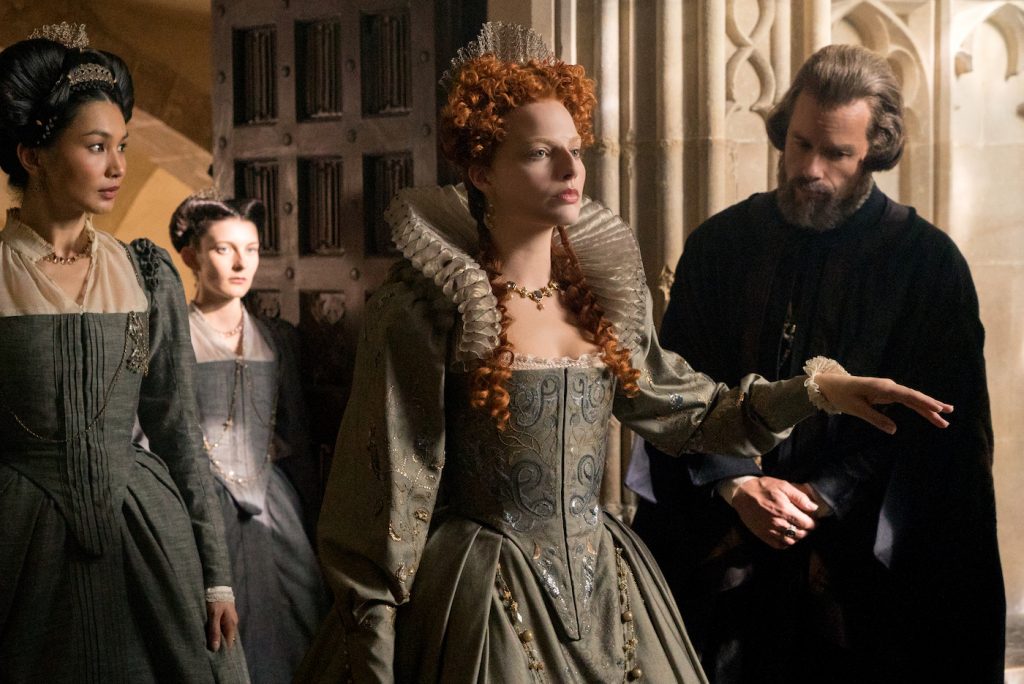 The arrival of Mary in Scotland changes Elizabeth's world, as well as that of the entire continent. Elizabeth deploys envoys north to see what the young, European-raised Mary might do. Thus begins an intricate dance between the two queens, one in which their gamesmanship and battle of wits are leavened by their curiosity in each other. In another world, in another life, they might have been friends, but in their era, they could only be rivals.
"Mary arrives as a young, fresh-faced girl," Shircore says. "We gave her a European glow to her skin, a European hairstyle, and left her skin looking young and fresh. Then as time went on and she becomes more forceful, more determined, although I never wanted makeup to show on her, I wanted the makeup we used to give her a more determined, more mature look."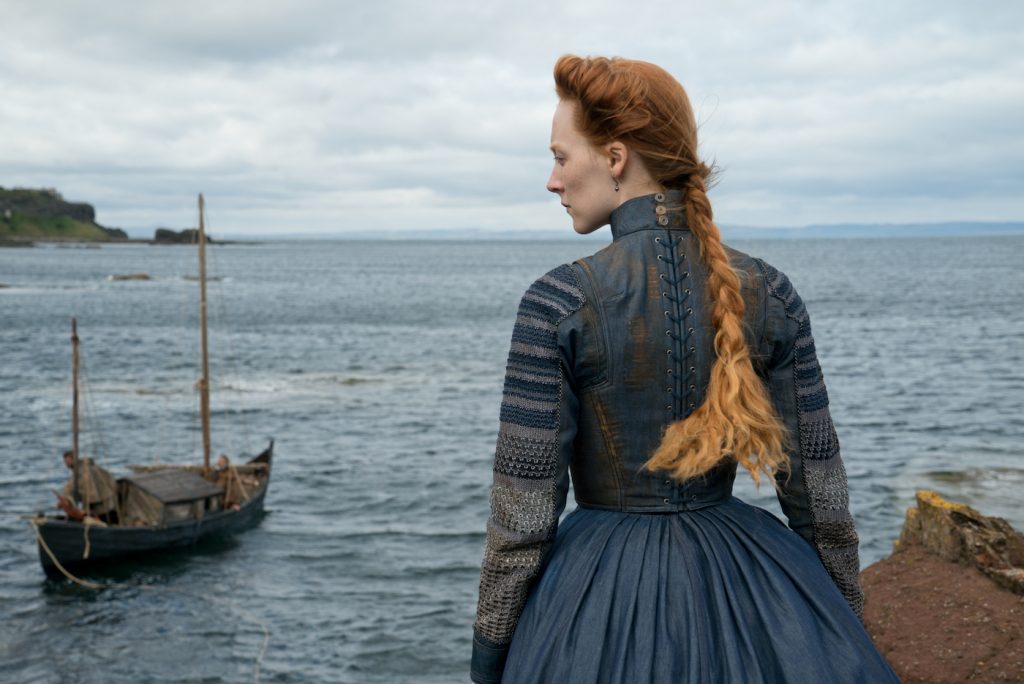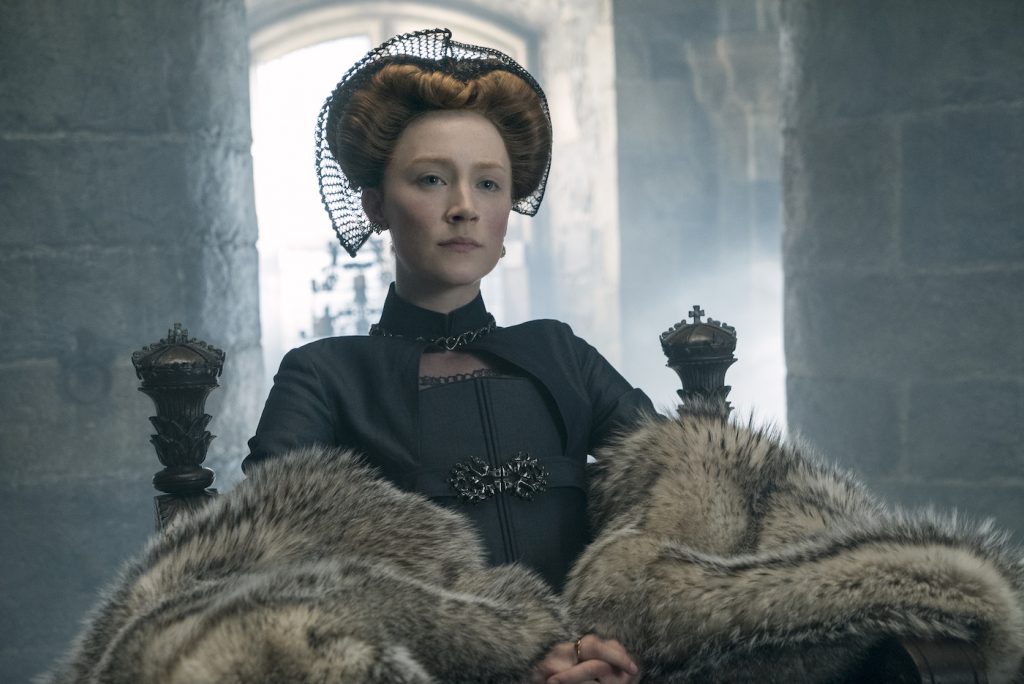 When Mary learns that Elizabeth has gotten smallpox, the young queen can't help but wonder if this is the break she's been looking for. People often died of smallpox. For Shircore, Elizabeth's disease was one of her most pressing tasks.
"This is part of the reason why I wanted to do this film," Shircore says. "In Elizabeth, we didn't show her contracting smallpox, but for this film, we took Elizabeth through the disease. I started by researching and learning all about smallpox, which presents in different ways. I chose to show it in a particular way. There are many stages of smallpox, and of course, we can't show them all, so I had to decide which stages were most relevant to the film."
Shircore realized that she could ravage the areas of Robbie's face she needed to change anyway, like her eyebrows, nose, and lips, so she sat down with a photoshop expert and played around with covering sections her face with boils and blisters on a computer.
"For example, she has a very beautiful pouty bottom lip, so I had the boils and blisters along her lip, and along her eyebrows, on the bridge of her nose, and because I know Elizabeth would use makeup to cover up the scars left by boils, and that the makeup wasn't sophisticated, she'd change her features by applying it."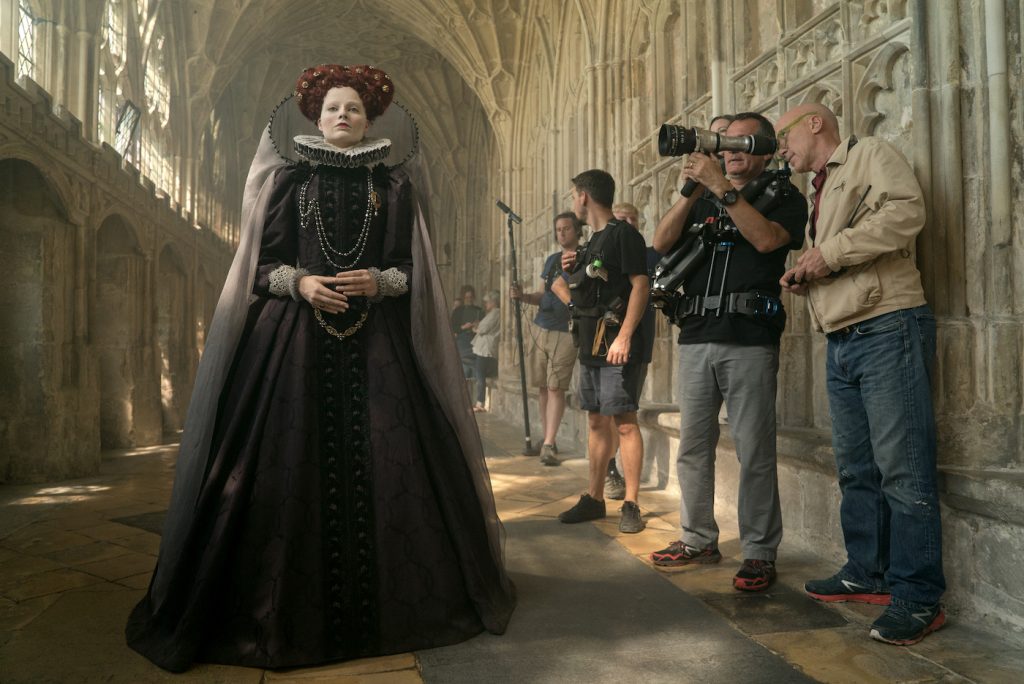 Shircore spent weeks working with prosthetics people on the various features of Robbie's face that would be covered in boils and scars. Another tricky element was figuring out how these ravages would look over time.
"This boil is now coming to a head, while this boil is dried out," she says. "I didn't want to her disease to be one blanket piece. She's got three or four boils or blisters on her face which are at different stages of smallpox."
The makeup used during the Victorian era was, to put it mildly, highly toxic. This is why Queen Elizabeth's white face paint at the end is so striking; Shircore made sure it looked like the kind of cosmetic application they used during that period.
"The makeup was very unsophisticated in those days," Shircore says. "They used a very bizarre mix of lead and white oxide. It was probably used by men before women, but then women used horrendous mixes that caused death, and that went on for many many years, through the Victorian era. People were dying because they were using lead and mercury in these concoctions."
The two queens were on a collision course from the moment Mary stepped foot in Scotland, and this is something Shircore played with.
"They were vying with each other for beauty and power," she says. "And you enhance beauty using makeup, but Elizabeth's beauty is fading, she's scarred. Then as the action goes on between the two women, it's no longer about beauty, it's about power. Josie wanted to make the message be about power—it wasn't about covering spots, it was the face of power. The white paint on Elizabeth was the heaviest mask we could produce, it's about the mask of power."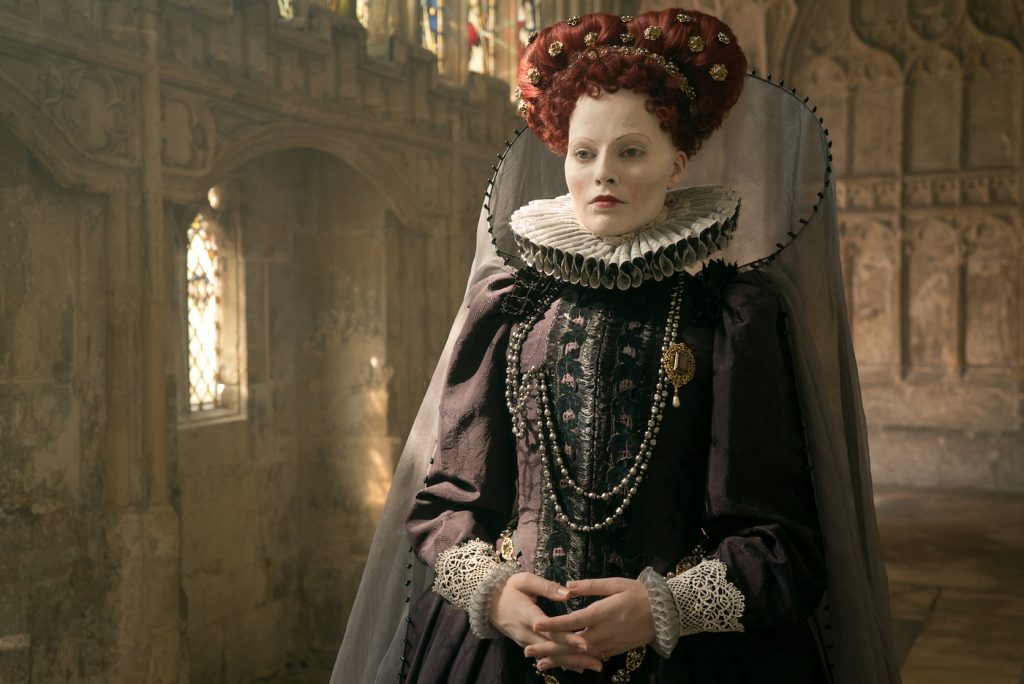 Mary Queen of Scots hits theaters December 7, 2018.
Featured image: Grace Molony stars as Dorothy Stafford, Margot Robbie stars as Queen Elizabeth I and Georgia Burnell as Kate Carey in MARY QUEEN OF SCOTS, a Focus Features release.Credit: Parisa Tag / Focus Features