Bradley Cooper Gets Personal in A Star is Born
Writer/director/star Bradley Cooper's first stop on a nationwide series of A Star is Born screenings was in Washington D.C., where he answered questions from American Film Institute founder George Stevens, Jr., and the audience. Since then, the film has made its North American premiere at the Toronto International Film Festival to wowed critics and enthused fans.  "The most nourishing aspect of promoting a movie is just going to the various cities around the country and talk to people who are willing to sit through this movie and talk to me. It's very educational."
Cooper said the moment that inspired the film was at a Metallica concert. "About seven years ago I was lucky enough to be backstage at a Metallica concert at Yankee Stadium. I had met Lars Ulrich, and I listened to Metallica when I was 14 years old. That's why the character says, 'Ride the lightning' in Silver Linings Playbook. At the concert, I was behind the drum kit, and I could see the sweat on the back of Lars' neck, and at the same time, I could see the scope of the audience in front of him. It was a beautiful proscenium, and that was the first moment where I thought, 'Oh, I've never seen that on film, the subjective eye that could actually be epic and personal at the same time. And that was the beginning of the idea of how we were going to shoot all of the concert sequences that you just saw. It is all subjective. We never left the stage. But hopefully, you felt the scope of where they were."
The concert scenes feel authentic because they are. Cooper filmed at real performance spaces, including the largest privately owned music festival in the world, Glastonbury, where they had just eight minutes to shoot before a performance by the star of the last version of A Star is Born, Kris Kristofferson.
Cooper said, "I had the luxury of having worked so often on camera and on stage, so I knew what I needed from a director as an actor in order to feel comfortable enough. As Al Pacino said, 'We're just trying to grab a few moments of authenticity.' It's important to create a space so that all the actors feel completely safe but also to know that it's going to be hard. They're going to have to go to places that scare them. They're going to know that I'm right there with them. I'm not on the sidelines. It's going to be okay to fail, but they have to risk. I have no desire for them to sit here and watch something that does not mean anything, that isn't really personal to them and to me. Everybody wants to express the deepest part of themselves to another human being and feel safe about that. It's very cathartic and healing."
When he was on the television series Alias, Cooper spent a great deal of time in the editing room, and has also been able to be in the editing rooms of some of his films, "not for a couple of days but for like six months." Editing is his favorite part of making a film. "You want to rush through writing, which is the hardest thing, and rush through filming so you can get to the editing. It is where you create the story. A movie is rhythm. It's one musical element. It's in the editing room where you're composing the piece. It's the greatest feeling in the world. You can mine for hours and go down a rabbit hole and just learn what doesn't work." But he learned from director David O. Russell how to show "a little candy," scenes that do work every day, to encourage everyone.
Lady Gaga sings the Edith Piaf song, "La Vie en Rose" in the film. Cooper heard her perform the song at a benefit and he said he knew immediately he wanted her to be in the film and to sing that song. "I knew I felt how the character was supposed to feel so what a perfect thing; I did not have to act. Even in singing the cover, she can't hide the magic that is in her."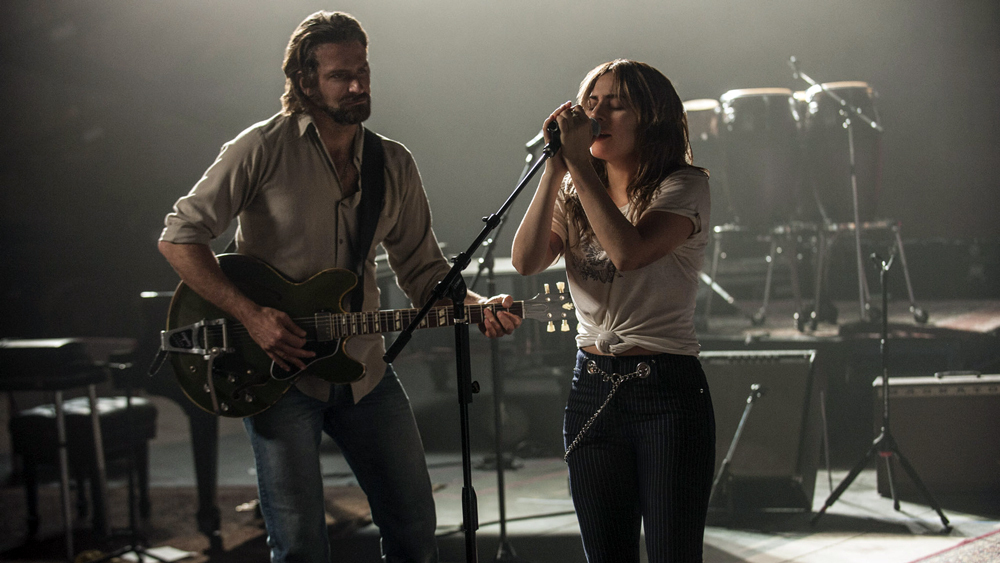 The first two movie versions of this story were about actors, but like the third version, this story is about singers. Cooper said that is because there is nothing more personal than singing. "You have to reveal all of yourself. That's a beautiful thing. And it's a story, not a break in an interlude. And there's not one lyric in the movie that does not have something to do with the person who is singing it or the person being sung to or to what is happening in the movie. Everything you heard we sang live. That was happening."
There were some tributes to and echoes of the earlier versions as well, including the scene where James Mason takes off all of the make-up Judy Garland has been put in for her screen test and the bathtub scene like the one in the Kristofferson/Streisand version.
Lady Gaga gave him confidence in singing, and he helped her to feel confident about acting. "The movie might not be good," he told everyone in the film, "but no one will catch you acting….being a director served me as an actor in a huge way. I was thinking about the other actor more than me."
Featured image: Caption: (L-R) BRADLEY COOPER as Jack and LADY GAGA as Ally in the drama "A STAR IS BORN," from Warner Bros. Pictures, in association with Live Nation Productions and Metro Goldwyn Mayer Pictures, a Warner Bros. Pictures release. Photo Credit: Neal Preston