First Images From Netflix's new Series Chilling Adventures of Sabrina
Netflix's upcoming Chilling Adventures of Sabrina is a far cry from Melissa Joan Hart's Sabrina the Teenage Witch, which aired on ABC for seven seasons beginning in 1996. The reboot, starring Mad Men's Kiernan Shipka, adapts the Archie horror comic for our current age of Peak TV, which eschews feel-good messages for a much darker, rawer look at the source material. Two brand new images speak to the new Sabrina, who can be seen in a creepy woodland gathering in the above picture, and holding what appears to be an ax in the second image.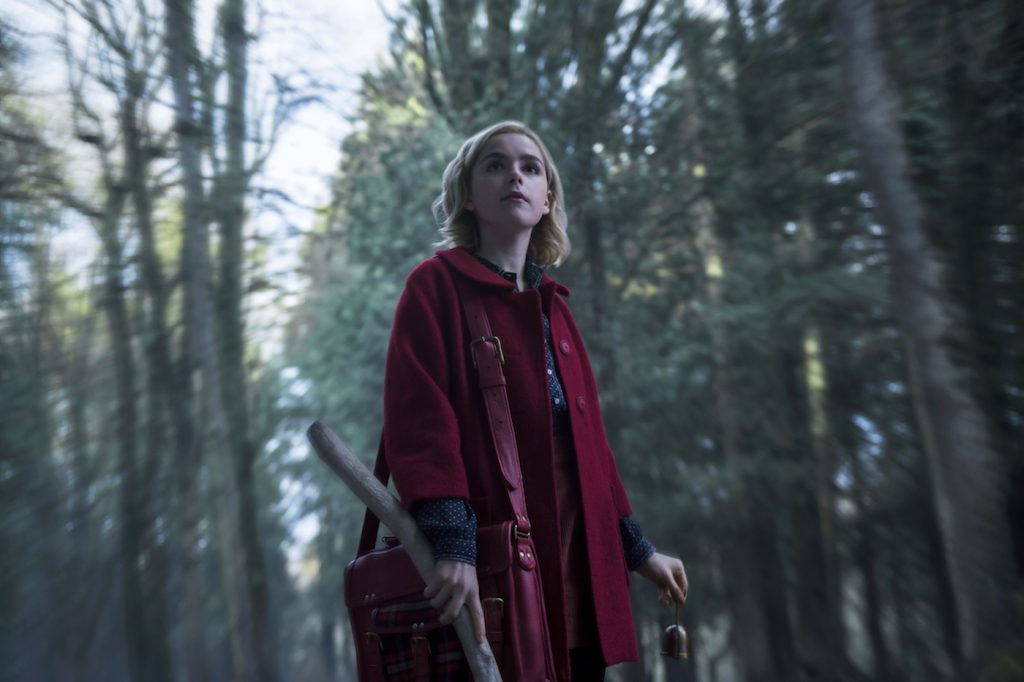 You don't have to take our word for how much darker Netflix's take on the character is going to be. Here's the streaming service's official synopsis for the show, which was developed by Supergirl and Riverdale's Roberto Aguirre-Sacasa:
Chilling Adventures of Sabrina imagines the origin and adventures of Sabrina the Teenage Witch as a dark coming-of-age story that traffics in horror, the occult and, of course, witchcraft. Tonally in the vein of Rosemary's Baby and The Exorcist, this adaptation finds Sabrina wrestling to reconcile her dual nature — half-witch, half-mortal — while standing against the evil forces that threaten her, her family and the daylight world humans inhabit.
In the woodland ceremony photo, you'll see Mirando Otto and Lucy Davis as Zelda and Hilda Spellman respectively, who play Sabrina's witch aunts. There's a lot to unpack in the photo, including the shirtless gentlman in the mask. This is clearly not the Sabrina we knew back in the 90s.
Chilling Adventures of Sabrina will begin streaming right in time for Halloween, on October 26 on Netflix. Joining Shipka, Davis, and Otto are Richard Coyle, Adrian Hough, Michelle Gomez, Tati Gabrielle, and Abigail F. Cowen.
Featured image: Richard Coyle, Kiernan Shipka, Lucy Davis, Miranda Otto in CHILLING ADVENTURES OF SABRINA. Diyah Pera/Netflix