Bad Times at the El Royale Drops a Twisted new Trailer
Drew Goddard's Bad Times at the El Royale looks like it might be a juicy October treat, something delicious and dark to snack on before Halloween and the release of a slew of horror films. Goddard first made his name when he directed the wickedly surprising The Cabin in the Woods, and now he's back writing and directing El Royale for 20th Century Fox. This new trailer gives us a glimpse at one of Goddard's many skills; crafting twisty thrillers that zig when you expect them to zag, and that includes a bonkers ensemble who appears to be having the time of their lives. It's also worth noting that El Royale was produced Jeremy Latcham, whose last gig was producing films for a little company called Marvel Studios, helping bring The Avengers and Guardians of the Galaxy to the big screen.
Bad Times at the El Royale revolves around seven strangers, each harboring a secret, who check into the titular hotel in Lake Tahoe. The new trailer doesn't do much by way of clarifying the plot, but it does a solid job delivering the setup—and introducing the cast—which should be more than enough to whet your appetite. Goddard has proven himself a nimble storyteller (he also wrote the Oscar-nominated screenplay for The Martian), and the setting—a rain-lashed, neon-soaked hotel of disrepute, is hard not to love.
About that cast…Goddard is working with Jeff Bridges, Cynthia Erivo, Dakota Johnson, Jon Hamm, Cailee Spaeny, Lewis Pullman, Nick Offerman and Chris Hemsworth.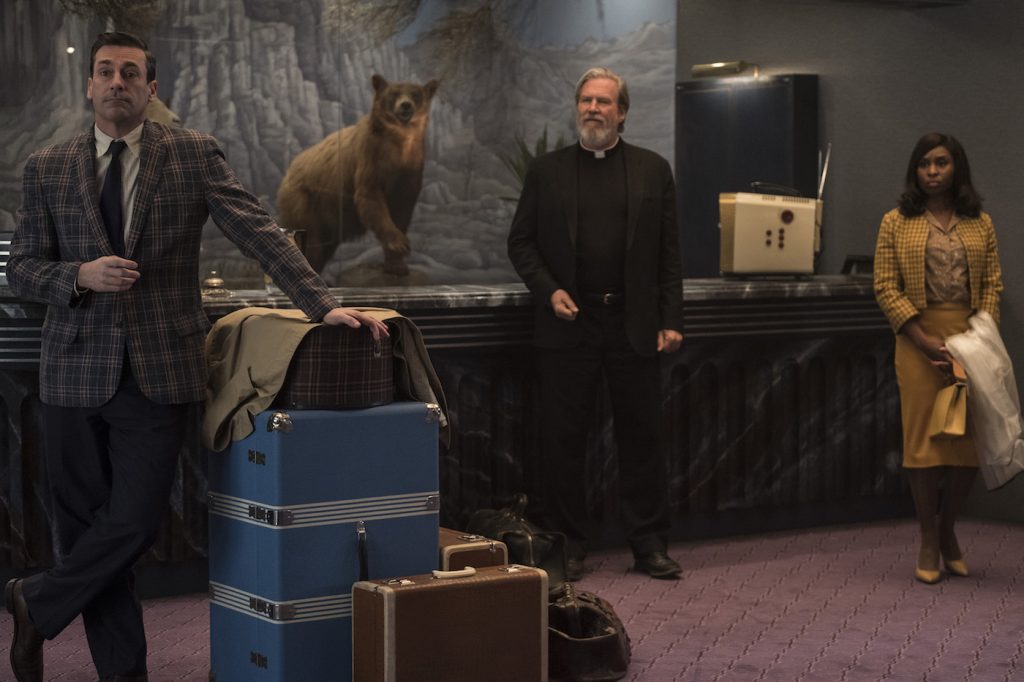 Bad Times at the El Royale opens in theaters on October 12th.
Check out the new trailer below:
Featured image: Chris Hemsworth stars in Twentieth Century Fox's BAD TIMES AT THE EL ROYAL. Photo Credit: Kimberley French.