Samuel L. Jackson Teases Captain Marvel's Faux Hawk
There are few heads of hair that bring out the super fan than Captain Marvel's mohawk. You could argue that Thor's locks were the most famous in the Marvel canon, but that was before we heard Captain Marvel was getting her own film. Once Marvel revealed they were giving Captain Marvel her own movie, and then cast the great Brie Larson, the next logical question was whether she'd be rocking one of the coolest looks we've ever seen on a superhero. Then artist Boss Logic imagined the star rocking Carol Danvers iconic look, and the internet approved: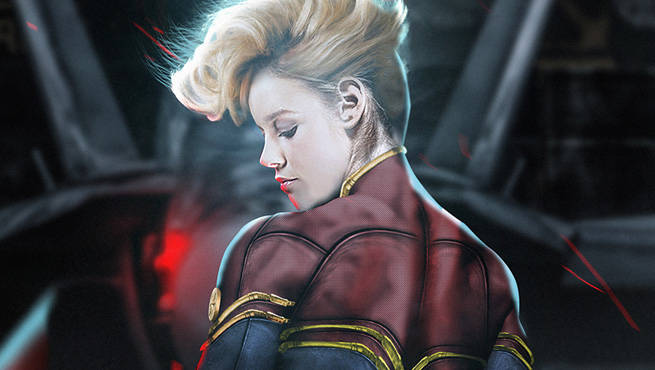 Yet Larson herself has not confirmed that her version of the superhero will be sporting the mohawk. Speaking to IGN on the press tour for Kong: Skull Island, she weighed in on her character's hairstyle, and fan expectations:
"I can't say anything… I feel like this is a big conversation and everyday I have people yelling at me on Twitter like you better have long hair, or you better have a mohawk, or you better wear the helmet, or you better not wear the helmet, so someone's going to be mad."
Yet now we may have confirmation from Larson's co-star. Samuel L. Jackson teased Captain Marvel's faux hawk and helmet via an official shirt from the films visual effects team. Does this mean that we can expect to see Danvers in full punk rock mode? One can hope.
We likely won't know for sure until we get a peek at a teaser, which we're hoping comes in a few weeks at Comic-Con. Captain Marvel isn't due in theaters until March of next year, and frankly, the film can't come soon enough. In just a three month period next year, we'll not only get Captain Marvel's epic debut, but we'll also see her in Avengers 4, where the fate of the entire universe will be on her shoulders. NBD. We just think she'd look great ending Thanos with a mohawk.
Featured image: Brie Larson (left) gets hands-on help from Brigadier General Jeannie Leavitt, 57th Wing Commander (right), on a recent trip to Nellis Air Force Base in Nevada to research her character, Carol Danvers aka Captain Marvel, for Marvel Studios' "Captain Marvel." Photo: Brad Baruh. ©Marvel Studios 2019