The Biggest Shark in Film History Highlights The Meg International Trailer & Poster
The Meg has a wide release date scheduled for August 10th, with emphasis on the wide. The Jason Statham-led shark movie about the prehistoric megalodon — think a great white but close to 60 feet in length — released a new poster today and international trailer today, with the Meg front and center. The poster shows a woman in a swimsuit relaxing on an inner tube in the ocean, with the gigantic megalodon below her ready to chomp. Inside the Meg's mouth is the text: "Opening Wide." Get it? Because the shark's mouth is opening wide and so is the film? I digress.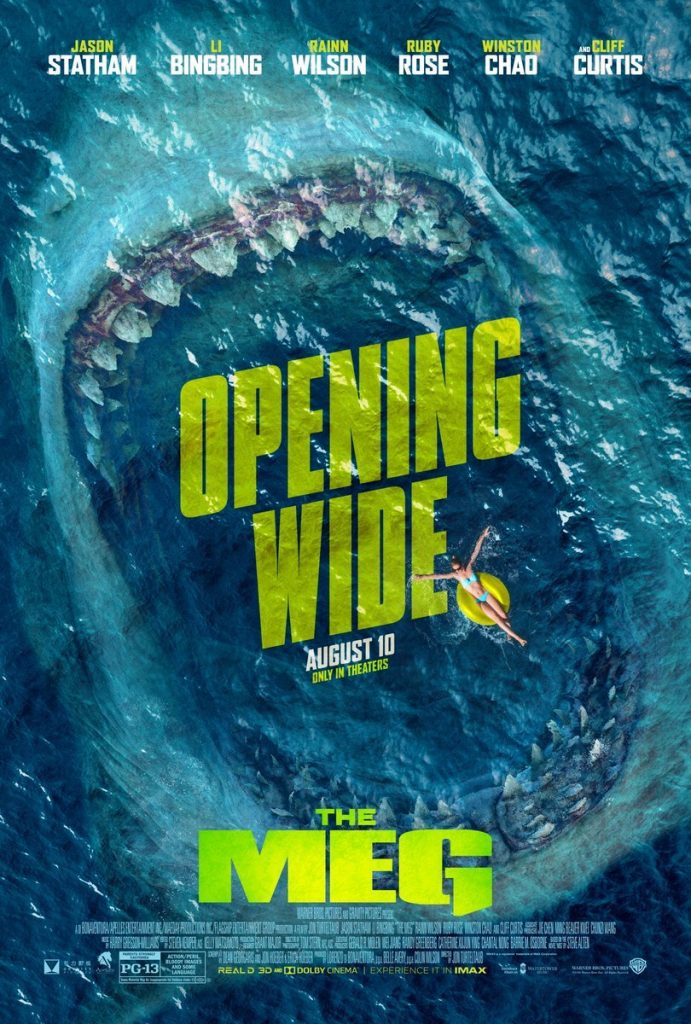 As for the new international trailer, it offers the most in-depth look at the film thus far. You get much more shark footage, much more footage of Jason Statham firing underwater missiles at said shark, and much more insanity, period. We dig it:
What's so striking about the visual in this poster, in the featured image and in the new trailer is just how enormous this shark is. The Meg's mouth is large enough to eat twenty or more people at a time. Why just have a normal shark movie when you can have a movie about a huge shark? In the case of a killer shark movie, bigger always equals better.
The Meg looks like that end-of-summer blockbuster we all know and love, where we fill up the popcorn and watch on the edge of our seat — waiting to be thrilled by whatever comes next. With Statham at the lead, and the director of National Treasure (John Turteltaub) and the co-writers of Red (Jon Hoeber and Erich Hoeber) all on board, we can expect well-done action, great comedic timing, and overall, just a lot of fun.
The Meg swims into theaters (and yes, opens wide) on August 10th.
Featured image: Caption: A scene from Warner Bros. Pictures' and Gravity Pictures' action adventure "THE MEG," a Warner Bros. Pictures release.
Photo Courtesy of Warner Bros. Pictures. Photo Credit: Courtesy of Warner Bros. Pictures