Screenwriter Olivia Milch on Penning the Perfect Crime in Ocean's 8
Ocean's 8, Warner Bros.' all-female crime caper headlined by Sandra Bullock, Cate Blanchett, Sarah Paulson, Anne Hathaway, Mindy Kaling, Helena Bonham Carter, Rihanna and Awkwafina, has arguably been one of the most anticipated films of summer 2018. What's undeniable is the soaring success of the film's co-writer Olivia Milch, touted by Variety as one of "10 Screenwriters to Watch" in 2016.
Milch collaborated with Ocean's 8 director Gary Ross on the script, which finds Bullock playing Debbie Ocean, sister to George Clooney's Danny Ocean from Ocean's Eleven, Twelve and Thirteen. She's fresh out of prison and ripe for a heist, and assembles a diverse crew to steal a multimillion-dollar necklace from the neck of an attendee at the star-studded Met Gala in New York City. The reboot is based on a story by Ross.
With her directorial debut Dude, a coming-of-age comedy that she also wrote, now streaming on Netflix, and Ocean's 8 now in theaters, Milch is in the phase "where you're gathering and researching and kind of figuring out the next thing that you want to work on." Just back from the London premiere of Ocean's 8, she spoke with The Credits about what's involved in collaboratively writing a heist film, how the movie distinguishes itself from the boys version, and which of the eight lead characters resonates with her most. This interview has been edited for length and clarity.
I read you're the go-to girl for material featuring strong women. Here you have this fantastic cast in Ocean's 8, which is truly a female-driven project. How important is this attribution to you, especially at this time in the industry's history?
Well, it's very kind certainly and you're always grateful to be the person that anybody wants to pay to do anything (laughs). I feel really lucky to be working at this time and to be able to tell these kinds of stories about women. And I think it's a really exciting moment where people are realizing that it's the right thing to do or that the work that is being generated and produced by female voices is good and is what audiences are excited to see, so I feel honored and grateful to be a part of the women who are working right now.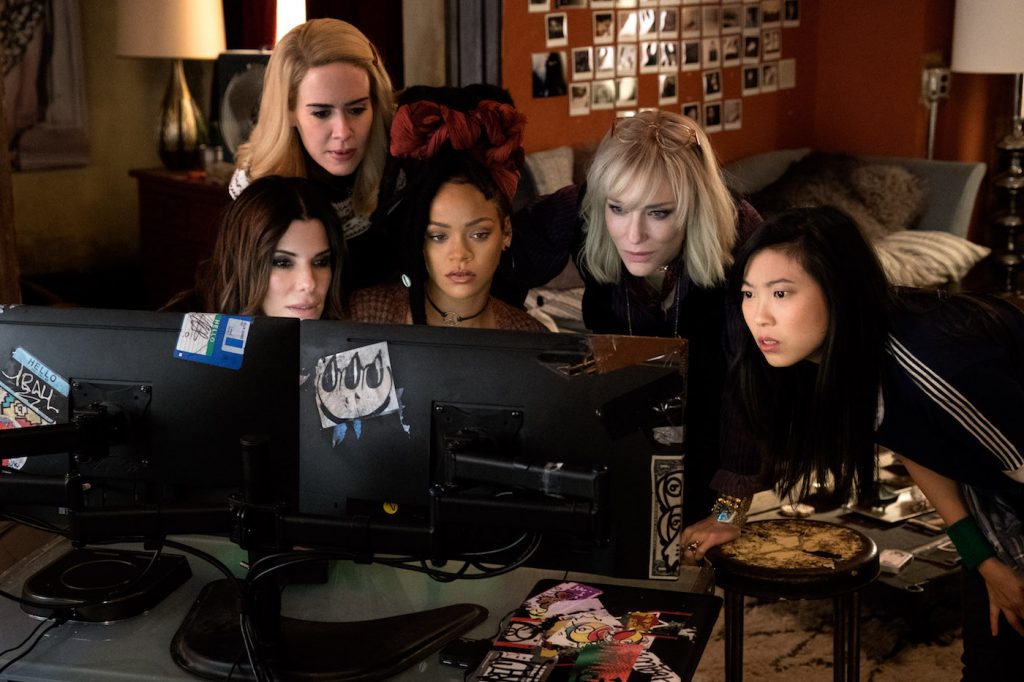 How did you come to co-write with director Gary Ross? What was this collaborative process like, particularly for a crime caper where the details are so critical?
Gary and I actually met through our mutual love of 19th century U.S. history, which I know is such a classic way for writing partners to meet (laughs). We have some mutual friends and we ended up meeting, and it's so exciting when you meet somebody who has the same intellectual passion and curiosity that you do, especially when it's something that's really niche and unknown. So it was wonderful and we started talking about that, and we were talking about a couple of other projects and collaborations. Gary had already been developing this idea about an all female Ocean's, talking to [producer] Jerry Weintraub, and so we said we should do this together.
To answer your question a little about how it actually worked, we would sit next to each other and figure out who these women were and what their lives were like and what their skills were and how this heist was gonna work. You know, it was always about plugging the holes. It was a very apt point to make that with a heist it's all sort of execution and the details, so we would just kind of sit there and figure out, okay if this happens, then x, y and z happens. You know, you just keep plugging at it and we had a lot of fun getting to do that together.
We worked together the whole time. I was on set every day sitting next to him at the monitor watching him direct it, so we could have a continuous conversation that started with us at the keyboard writing the script, and continued on set so that we could keep talking about these characters and the story.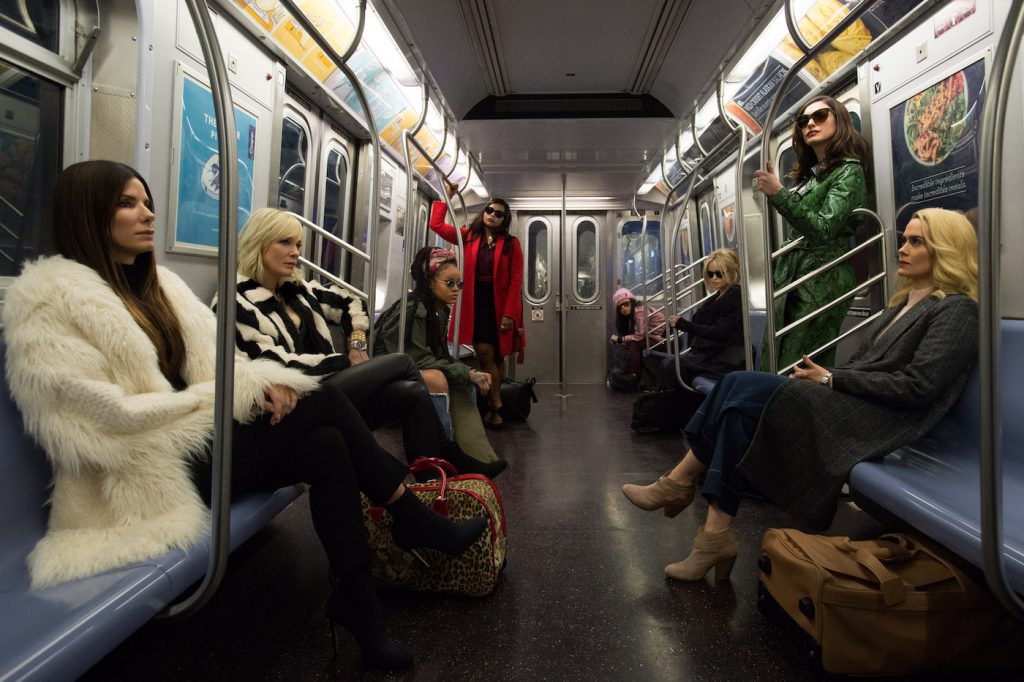 Was the story pegged down already, and did it change dramatically from the outset?
So Gary had had this idea of a heist at the Met Gala. The setting and doing an all female Ocean's, that part of it was all sort of set when I came on, that's what he had been dreaming up. So then, going off of that, we were able to figure out what are the logistics of that. How do you actually do it, and then who are these people? Sandra Bullock they had already talked to before I started working with Gary. So that idea, her being Debbie Ocean and her relationship with Danny, that was all sort of in place, and then we were off to the races. I think one of the things that I learned so much about from Gary and was a joy to watch was how much things can evolve and adapt, particularly when you're working with such talented, incredible actors and women who are comedic geniuses in their own right — especially on set and how Gary would respond to it, listening to what the scene needs. We were never afraid to sit and rewrite at lunch, but the overall story stayed the same.
The story moves fast to set the stage and introduce all the characters. What were the challenges as the writer in keeping a quick pace?
For Gary and I, and then for Gary as the director, to execute that, especially in a heist movie, it's sort of what is the information you need at this moment and then what is getting planted to be revealed later. You know there's always that tension between the past, present and future of the experience of being in the story. You're very sensitive to the balance and wanting to feel like the audience has all the information that they need to enjoy it, but that they're always learning something new and on the edge of their seats and nothing is being given away before it has to.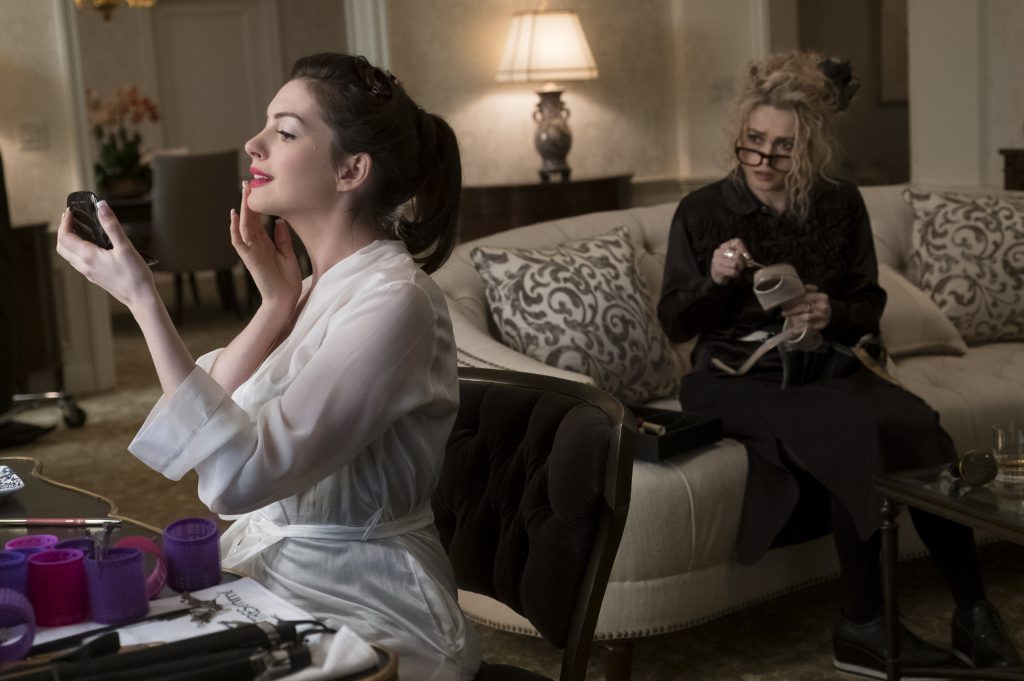 Did any of the characters resonate with you in particular?
I think all of them to a certain degree and that's what's really fun. But I would say that Debbie Ocean, there's a certain sort of Mama Bear quality to her, that she's really bringing the team together and wanting to make sure that everybody has what they need and is highlighting the strengths of the other members on the team when it's necessary. That sort of organizing everything, in my friend group I sometimes tend to be that person (laughs), so I definitely identify with that. One of the joys of this movie is that I think every woman in the audience wants to be and identifies with each of the eight characters at different points throughout the movie, and that's the real fun of it.
How would you say this story distinguishes itself from the male version, apart from gender?
I think one of the biggest differences, of course, is setting. I think Las Vegas was such a huge character in Ocean's Eleven, and of course then they go to Europe. I think in this movie, New York City is really a character and there is an element of a kind of grit and a realness and an authenticity. Of course, this movie's very glamorous, but I think it's the diversity of the women and the difference in their backgrounds that play really capable in a city like New York. And I think that there is a little bit more opportunity to explore the backstories, the relationships between these women. We spend a little bit more time in their personal lives.   
Your dad is David Milch (NYPD Blue, Deadwood). What have you observed about the craft of writing from him over the years?
Oh, so many things. I feel so lucky that I've gotten to watch and learn from somebody who is a master and one of the great teachers. I think the first thing is discipline: the act of writing and the commitment to serving the story and coming every day back to the story and back to the characters is one of the great gifts that he gave me. Also, watching him and his process of working and how much he allowed himself to be a vessel for the story, coming to it as humbly and open as possible every day.
Featured image: (L-r) SANDRA BULLOCK as Debbie Ocean CATE BLANCHETT as Lou, SARAH PAULSON as Tammy, RIHANNA as Nine Ball, HELENA BONHAM CARTER as Rose, MINDY KALING as Amita and AWKWAFINA as Constance in Warner Bros. Pictures' and Village Roadshow Pictures' "OCEAN'S 8," a Warner Bros. Pictures release. Photo by Barry Wetcher