RBG's Cinematographer on Revealing an American Icon
Ruth Bader Ginsburg has sparked a cultural fandom that is usually reserved for musicians, actors and athletes. The Supreme Court Justice's face adorns stickers and pins at every bookstore and she has adopted the moniker 'Notorious RBG.' At 85 years old, Ginsburg is engaging the next generation of activists, but her personal history is just as inspiring. RBG Cinematographer Claudia Raschke worked with directors Betsy West and Julie Cohen to peel back the layers of Ginsburg's career and grant us insight into her life as a wife, mother, and fearless lawyer.
"When you have someone who is holding onto the core of America, you don't make it into an MTV show," Raschke explained. "You are looking for something that reaches all the way back in time. For me that is a way of being somewhat traditional, rather than having a cinematic approach that has an off balance."
Throughout the film, intimate interviews with Ginsburg's family, friends, and admirers describe her nature as reserved. Quiet, yet observant, one of the greatest minds of our time can often be seen simply thinking. Raschke made note and painted that story visually.
"These days, some of the documentaries have interesting spacing," Raschke remarked. "There is a lot of head room or someone is looking to the edge of the frame rather than having speaking space. For me, that was not applicable. What was applicable was a think space. That was more representative of her in terms of the interview for her in comparison to everybody else."
RBG is not without grandeur, however. The film crew was restricted from access to the chambers and deliberations, but the Supreme Court allowed them to film in the building. To develop the lighting for the interviews, Raschke not only had to consider style, but also her subject. Justice Ginsburg experiences light sensitivity that Raschke had to remain cognizant of.
"Once I had been given the note that she doesn't like lighting to interfere with where she's looking, that made me think differently. When you're lighting, sometimes there are glares that you endure as an actor or even when you're sitting in front of the camera. One thing that I didn't want was for her to feel uncomfortable or be distracted or irritated. I don't want on 'annoyed Ruth Bader Ginsburg' on my resume," Raschke laughed.
The result was an extremely inviting setting. Raschke transformed an intimidating space occupied by an American legend into a bright, breathable, and welcoming conversation.
"It was fantastic because I had the space I wanted," Raschke recalled. "What we ended up doing was directing soft lighting with Kino Flos through a silk. I used an Ultra Bounce, which is a very highly reflective white bounce. It returns nearly 100% of the light and doesn't absorb any. That from the Ultra Bounce is filtered through the silk, which diffused it even more. It became a beautiful soft light in which she could just exist without being disturbed or annoyed. It fit into the majestic setting that we were in in just the right way."
Justice Ginsburg barely stands over 5 feet, but her tenacity and relentless pursuit of justice has made her a titan for women's rights. The respect she has earned, even from famous frenemy, the late Justice Scalia, is monumental. Raschke had to find a way to present her in an approachable way.
"We all are vulnerable," Raschke remarked. "I think lighting can really make the skin come out as something that is vulnerable and soft and delicate. I used a very soft approach for my lighting with sparkling highlights in the background that reflected everybody and carved out a character setting for each location for whoever we had."
With so many victories and a record of strength, it is reasonable to forget that Ginsburg was facing the same prejudices she was fighting against. Despite obtaining a Harvard law degree, Ginsburg had to combat sexism in her own career. RBG explores the archives of her life and career filled with rich images from her past. Now vintage, Raschke examined the photographs to integrate the faded snapshots of the past with the vibrancy of the present.
"The archival footage will be all over the place in terms of what format it was shot on and how degraded it is," Raschke said. "It all had one thing in common. They have a certain amount of being out of focus or grainy and a value of how black the blacks are. I can either contrast or combine in my approach. I thought if I have a baseline of crushed blacks or really solid blacks, that will be the bridge from archival to the present. If my imagery can really capture today's truth and realness, then I don't want to use filtration. I want to be super sharp and I am choosing the Canon Cinema Prime for that sharpness."
One of the most charming moments of the film was an unplanned intimate moment that speaks straight to RBG's celebrity. Ginsburg opened her closet to the film crew and showed off her collection of collars. The beautifully ornate designs, a trademark of her fashion footprint, were revealed to each have a special meaning or history of their own.
"Betsy said to RBG, 'Would you be willing to show us your collars?' and that was it. No warning, no nothing. The door opened up and there she was and I was jammed in between a shelf wall and the open door. You try your best, but those are often the best moments. They become intimate because you are in a small space and the timing is such that your character opens up and becomes vulnerable and lets you step closer."
Raschke said her camera, a Canon Cinema EOS C300 Mark II, has become an extension of her body. Despite being a heavy piece of equipment, she described losing herself in the story as soon as her camera is on her shoulder. Years of expertise prepared her for the impromptu moment, but having the right tools helps.
"When you're caught in a two-and-a-half-foot space, you know you don't have any options and you decide on the lenses I was working with," Raschke explained. "My favorite vérité lenses are the 24-70 which is an EF Canon lenses. It's light weight and doesn't take up a lot of space, so my footprint was very small to begin with and that made it all possible."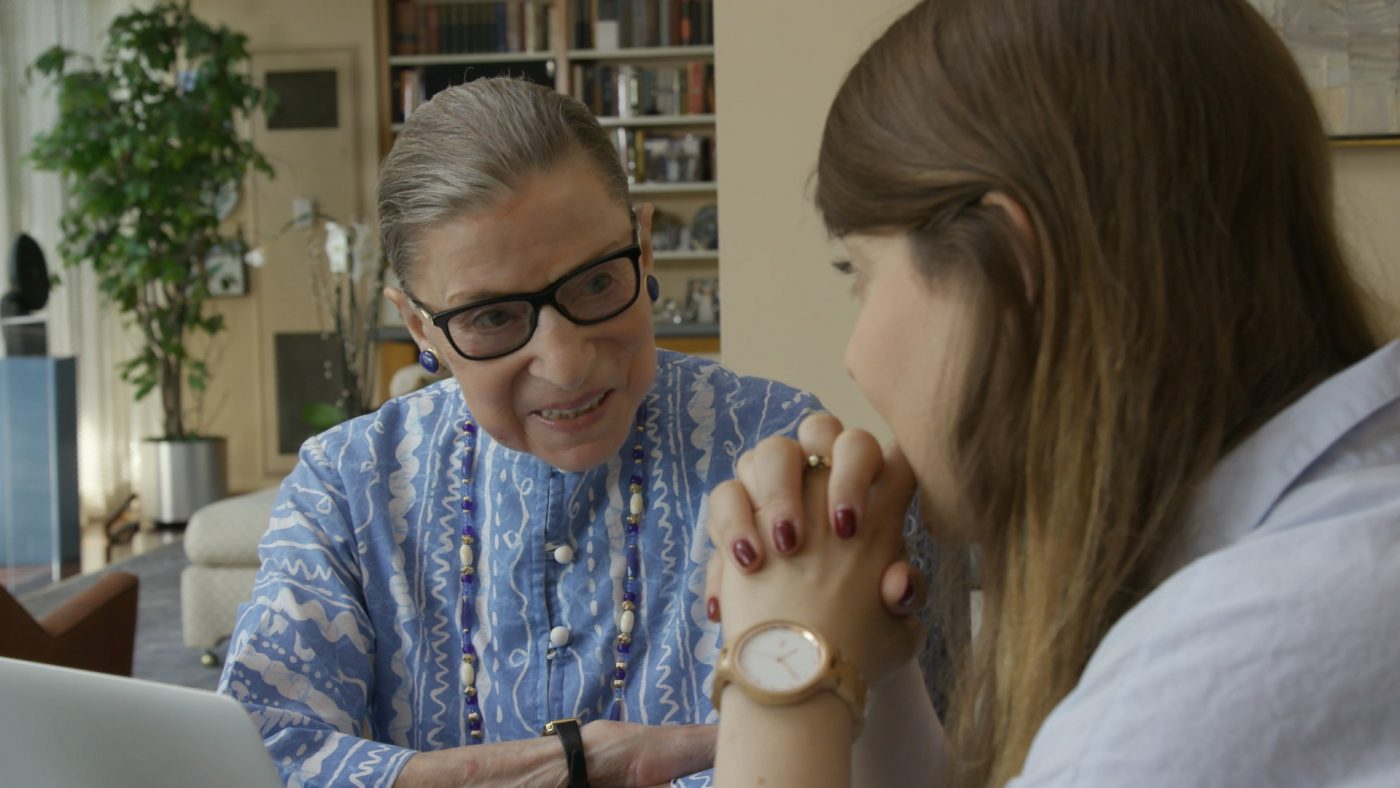 RBG is a hopeful celebration of the personal and professional sacrifices Justice Ginsburg made to her country. With political tensions rife, RBG reveals a humble and caring civil rights icon that appeals to people of all generations, backgrounds, and party affiliation.
"I feel that people think in documentaries you just do home videos," Raschke said. "You hold up the camera and just document whatever and you cut it together. But there is a lot of thinking that goes into it. Depending on if it is a character driven film or if it is a story or a venturism film, you are shaping your cinematic approach in different ways."
RBG is in theaters now.
Featured Image: Justice Ginsburg in RBG, a Magnolia Pictures release. Photo courtesy of Magnolia Pictures.