RBG Co-Directors/Producers on Their Groundbreaking Subject – Part 2
In Part 2 of our two-part interview with Betsy West and Julie Cohen, the filmmaking team behind the Ruth Bader Ginsburg documentary RBG that opens May 4, the pair discusses what they learned while doing their research (the justice is a huge opera fan), her nearly 56-year fairy-tale marriage to her incredibly supportive college sweetheart Martin Ginsburg and how they got around not being able to film the Supreme Court in session.
I thought about the advice that Ginsburg's mother, Celia – who died from cancer when she was 17 — gave to her while growing up. That she should be a lady and not be concerned with negative emotions like anger, envy and resentment. And to be independent. It got me thinking that I too often react with negativity and a loud voice. She fights back instead with well-reasoned arguments.
Betsy West: Yeah, I think there is a lot to be learned from Justice Ginsburg. I feel the same way. That I sometimes let my anger get the best of me. She learned how to push back her anger and then think strategically about what to do with the cause of that anger. How do you attack the kind of discrimination that she faced as a brilliant young lawyer who couldn't find a job. She figured out a way she would bring lawsuits that would really convince nine male justices that this was unfair.
I enjoyed how you portrayed her marriage of nearly 56 years with Martin Ginsburg, who died in 2010, and what a treasure he was. He put his ego and work as a tax lawyer aside to allow her to fulfill her destiny in the world. His humor and adoration of her takes this doc to a whole different level. Did you know how devoted they were before doing research for RBG?
West: We knew how much in love that Justice Ginsburg was with her husband. I don't think we knew the extent of the relationship and the importance he played in her life both personally and professionally. As we were doing the film, his role grew and also the fact that we got those fabulous home movies – which her biographers had gotten ahold of and shared with us – that allowed us to break out the portrait of this very feminist marriage. Look, he was a very accomplished lawyer in his own right and he moved down to Washington and he changed his career. He became a professor, he became a counsel. He was still in the world but he understood his wife was on a path that could lead her to the Supreme Court. He decided was going help her and support that.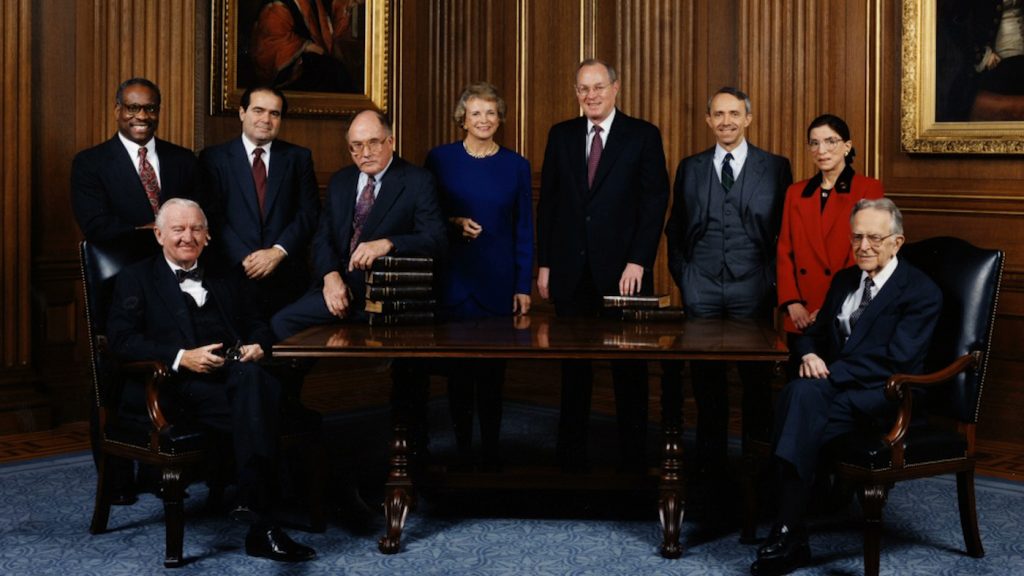 You bring up the fact that many were disappointed she did not step down and allow Obama to appoint a younger judge who would share her more liberal views. Although, she clearly isn't ready to go away. What do you two think? Was she wrong?
West: She has a couple of things that she says about that. First of all, Obama tried to appoint somebody and that didn't work out. And, secondly, she really objects to the idea that the Supreme Court should be so politicized. That you necessarily have to go out with the party that brought you in. She feels these are lifetime appointments and she should do the job as long as is capable. She seems to be vigorous and loves to do it.
One thing I noticed is how many clips there are of Joe Biden gazing at Ginsburg fondly as she spoke before him. I also think Orrin Hatch might have a crush on her despite their political differences.
Julie Cohen: Hatch said it to us. Most of those reactions were based on her performance during the confirmation hearings. She is a tiny woman, she was super accomplished and she came in so strong and her intellect is beyond dispute – and she kind of dazzled those guys. We are not making up those expressions on their faces.
You couldn't film the Supreme Court doing their jobs. How did you compensate for that somehow? You do show her as a lawyer pleading her cases, however.
Cohen: The Supreme Court has tapes of all the arguments. It is just a wonderful resource. To be able to listen to the young Ruth Bader Ginsburg making these powerful arguments in the courtroom. We just found that so moving. We were wondering what are we going to show when we are listening to these words. We decided to make it as simple as possible. We were lucky to be allowed to film inside the actual court when it was not in session. You get the atmosphere. Then we thought about the power of her words, to show them and animate them, in order to emphasize them. And we thought we didn't need more than that.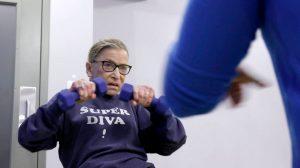 When did she first see the film and what was her reaction?
Cohen: We had the experience of watching her watch the film for the first time at Sundance. She is in an audience of people and we could not take our eyes off of her. Early on when we showed her attending an opera and talking about what opera means to her, she pulled out a tissue and she was wiping a tear. Music is very powerful and meaningful for her. And it was also her favorite love duet from Lucia di Lammermoor. She had mentioned that to us and we made sure to film that section of the opera. She had a great love story herself and maybe she was thinking about Marty.
Featured image: A scene from RBG. Courtesy Magnolia Pictures.