Review Roundup: Solo: A Star Wars Story Delivers the Goods
The reviews for Ron Howard's Solo: A Star Wars Story are out, and the critics are mostly in agreement that this is the most fun, breeziest stand-alone Star Wars film yet released. The reviews pretty much jibe with the first reactions we published last Friday—great performances, some terrific action set pieces, and the scruffy charm you'd want, and expect, in a film about the young Han Solo. For those folks who were worried about Alden Ehrenreich, or anyone for that matter, stepping into Harrison Ford's boots, the young star delivers the goods. It practically goes without saying that Donald Glover is dynamite as the young Lando Calrissian, while Phoebe Waller-Bridge is earning major plaudits for her work as the droid L7-37. Woody Harrelson and Thandie Netown are also aces as the veteran criminals, Beckett and Val.
One of the things we think you should be most excited about here is that Solo is not rehashing old Star Wars tropes. Christopher Orr of The Atlantic puts it best: "Best of all, the movie is different. There's no Death Star or Starkiller Base, no Imperial vessel or HQ that needs to be infiltrated in order to turn off a shield or tractor beam or interstellar tracker. There's no mumbo jumbo about the Force, no lightsabers, no First Order, and scarcely a mention of the Empire. This is a movie set in the universe of Star Wars that, for once, doesn't feel it needs to be a rehash of Star Wars."
Then there's Solo's immensely talented crew, including cinematographer Bradford Young, makeup designers Amanda Knight and Lisa Tomblin-Fitzpatrick, and creature creator and Star Wars legend Neal Scanlan, who designed everything from the aliens you see sitting around the sabaac table to the film's many new droids. Solo also made history with its costume design, with designers David Crossman and Glyn Dillon creating more than 1,000 new looks, making the story of the young Han the most lavishly wardrobed Star Wars film ever.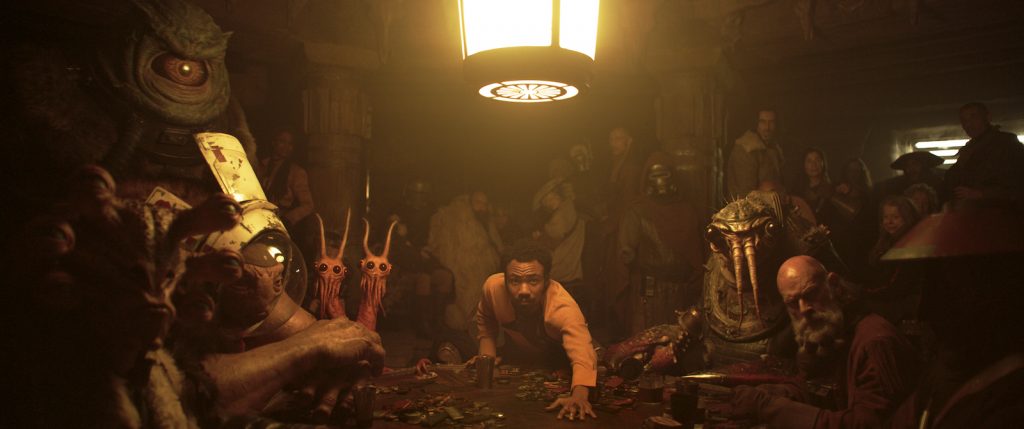 Here's your spoiler-free review roundup. Solo: A Star Wars Story hits theaters on May 25.
Kate Erbland, indieWire: "It may be a prequel, and it may ostensibly stand alone, but it fits into the wider galaxy with ease."
Jesse Hassenger, AV Club: "The entertaining Solo gives the galaxy's favorite rogue a Star Wars Story of his own"
Brian Truitt, USA Today: "While Solo is a Star Wars movie that gambles on not really being a "Star Wars movie," it's a winning chapter that only sparingly (though intriguingly) shows its hand in connecting to the bigger universe."
Ethan Sacks, New York Daily News: "The movie's real hero…is Howard. He managed to bring a fun, if slightly scuffed up, joyride into theaters – against the odds."
Mark Daniel, Toronto Sun: "Solo is the most lighthearted and fun film so far in the expanded Star Wars universe."
Andrew Barker, Variety: "Its performances, starting with Alden Ehrenreich as the young Han Solo and extending to the film-stealing Donald Glover as his wily frenemy Lando Calrissian, are consistently entertaining. And thanks to cinematographer Bradford Young, "Solo" allows for moments of real grit and something approaching interstellar realism amid all of the expectedly topnotch VFX."
Mick LaSalle, The San Francisco Chronicle: "Though Solo finishes with a satisfying sense of arrival, the movie leaves room for a sequel, and it may be the best measure of this movie's ultimate quality that the idea of another one of these sounds fun."
Germain Lussier, i09: "Filled with excellent action and a lot of emotion, Solo: A Star Wars Story is going to surprise a lot of people. Despite its troubled production, it's ended up being incredibly fun and funny, with great characters, performances, and a huge range of Star Wars references to delight fans and non-fans alike."
Featured image: Donald Glover is Lando Calrissian and Phoebe Waller-Bridge is L3-37 in SOLO: A STAR WARS STORY. Courtesy Lucasfilm.