New Jurassic World: Fallen Kingdom TV Spot Proves a Scared Dinosaur is Extra Dangerous
The last trailer for J.A. Bayona's Jurassic World: Fallen Kingdom offered a welcome jolt of horror. Bayona has crafted some truly scary films (like 2007's The Orphanage) as well as some gorgeously rendered stories (like 2016's A Monster Calls). With Fallen Kingdom, Bayona is working on his largest canvass yet, and from what we've seen he's taken the second installment in the proposed new trilogy into darker, scarier territory. We're all for it. The latest TV spot highlights just how many snapping jaws Owen Grady (Chris Pratt) and Claire Dearing (Bryce Dallas Howard) are going to have to face. And Bayona is an expert at setting up sequences for maximum scares—if Jurassic World was an actioner, and Jurassic World 3 is said to be a science-thriller, that leaves Fallen Kingdom in the Bayona sweet spot of horror.
The film's premise finds both Claire and Owen back on Isla Nublar, ostensibly to rescue dinosaurs before a volcano wipes them all out. As the final trailer revealed, however, the two only think they've been called back to Isla Nublar to help find Blue, the velicoraptor who Owen helped train and who's still missing somewhere on the island. When Owen and Claire embark on a mission to save Blue and the rest of the dinosaurs on the soon-to-be destroyed tropical paradise, they uncover a massive conspiracy that involves weaponizing the dinosaurs and bringing them back to the mainland. There's where the horror aspect creeps in—dinosaurs in bedrooms equal major scares.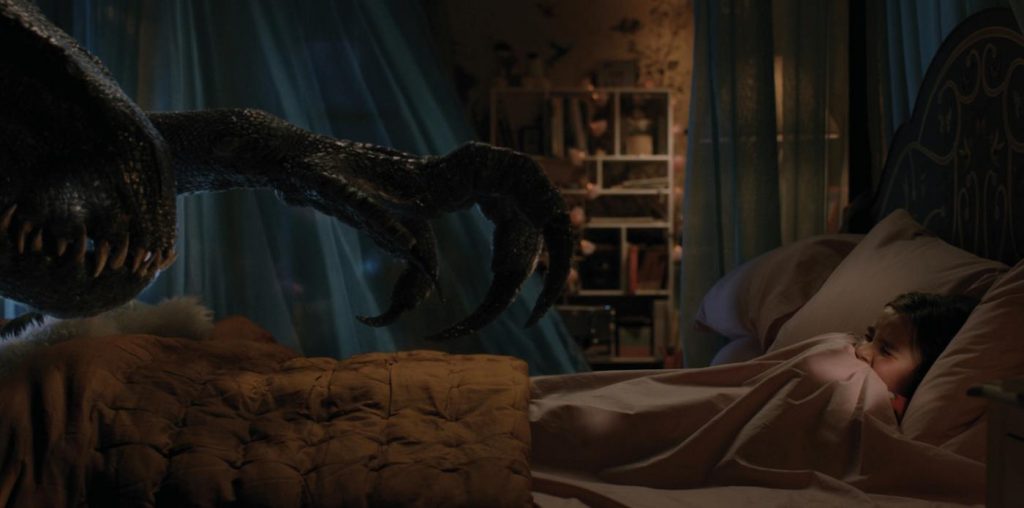 As many folks have pointed out, this premise has echoes of The Lost World: Jurassic Park, but with Bayona at the helm, you can rest assured Fallen Kingdom will provide a whole lot more suspense and terror.
Jurassic Park mastermind Steven Spielberg returns to produce, with Jurassic World director Colin Trevorrow writing the script alongside Derek Connolly. Joining Pratt and Howard are a bevy of great co-stars, including Jeff Goldblum, reprising his role as the brilliant Ian Malcolm. Newcomers include James Cromwell, Ted Levine, Justice Smith, Geraldine Chaplin, Daniella Pineda, Toby Jones, Rafe Spall and Isabella Sermon. BD Wong, as always, is on hand as the brilliant but morally vacuous Dr. Henry Wu.
The park is in the past. @JurassicWorld #FallenKingdom pic.twitter.com/MFXYNTD4op

— Jurassic World (@JurassicWorld) April 27, 2018
Featured image: The Indoraptor stalks its prey—(L to R) Owen (CHRIS PRATT), Claire (BRYCE DALLAS HOWARD) and Maisie (ISABELLA SERMON) in "Jurassic World: Fallen Kingdom." When the island's dormant volcano begins roaring to life, Owen and Claire (Bryce Dallas Howard) mount a campaign to rescue the remaining dinosaurs from this extinction-level event. Welcome to "Jurassic World: Fallen Kingdom."