Lean on Pete's Composer on why This Gorgeous Film Needed a Live Score
Though the score created for Lean on Pete is placed only in chosen scenes, those scenes are chosen expertly. The score is a powerful element that helps bring cohesion to the emotional and physical journey taking place in the movie. Lean on Pete is by acclaimed filmmaker Andrew Haigh (Weekend, 45 Years), and is based on the novel by Willy Vlautin. The story's centered on fifteen-year-old Charley Thompson (Charlie Plummer), who is new to Portland, Oregon, arriving with his single father Ray (Travis Fimmel). While Ray's life begins to unravel, Charley's is buoyed at a local racetrack, where he lands a job caring for an aging Quarter Horse named Lean On Pete. The problem is, Lean on Pete is bound for slaughter. Charley's connection to the old racehorse is profound, and he decides to take matters into his own hands and save his friend's life no matter the costs.
We spoke to the award-winning composer James Edward Barker about how he crafted such compelling work for a film that resonates (as all Haigh's films seem to do) with quiet longing, loneliness, and the kind of lasting love that sustains us even through our darkest periods. Lean on Pete opens in theaters on April 6.
I'd call the score for Lean on Pete elegiac. It's used so sparingly that it really becomes part of the environment in a way that compliments those scenes. Can you talk about how, technically, you creating something that sounds both layered and sparse?
Yes you're right, and elegiac is a great description. When I first started, we approached the start of the film in a much more positive, melodic and warm light…but then Andrew and I had a few chats about what direction we could really take this, and for him, tonally, the film is never particularly positive.  So we then changed the score so it was always on the more melancholic side, and has the feeling of someone being lost in the world.
The score is so layered and subtle. How do you achieve so much sonic life without making the score more insistent or clamoring to affect our mood?
There are lots of subtle layers and washes of sounds, all created by very, very soft violins, which in turn have to be recorded very loudly. I think the 'noise' from the recording gives the sonic space a lot of depth and provides the three dimensional platform for the other organic sounds to work around and weave between. I think a lot of the breadth comes from really hearing the horse's hair, which is the bow against the instruments. This gives the instruments a life with the soft grating against them, whether it's the cymbals, the singing bowls or the bowed vibraphone, which is one of my favorite things I have ever recorded.
If you're looking at the score in a classical way, it might not appear as complex as it is sonically, but the fact it isn't trying to be a musically complex accompaniment is what gives the film the space it needs. The score was never there to drive this film—rather it's another piece of it.
How much of the Lean on Pete score is live and how did you determine that balance?
I can honestly say, hand on heart, that everything that you will hear on the score was played live. For me, it needed the organic edge and that human interaction. There are times that scores don't need that, and I love writing electronic music, but the emotional layering of the human touch was crucial for me. It provides a backdrop to everything Charley experiences, from his sensibility, vulnerability, and eventually his resilience of character. Also, without the performance of Charlie Plummer in that role, I wouldn't have been able to tap into his emotional world as easily, he is literally incredibly captivating.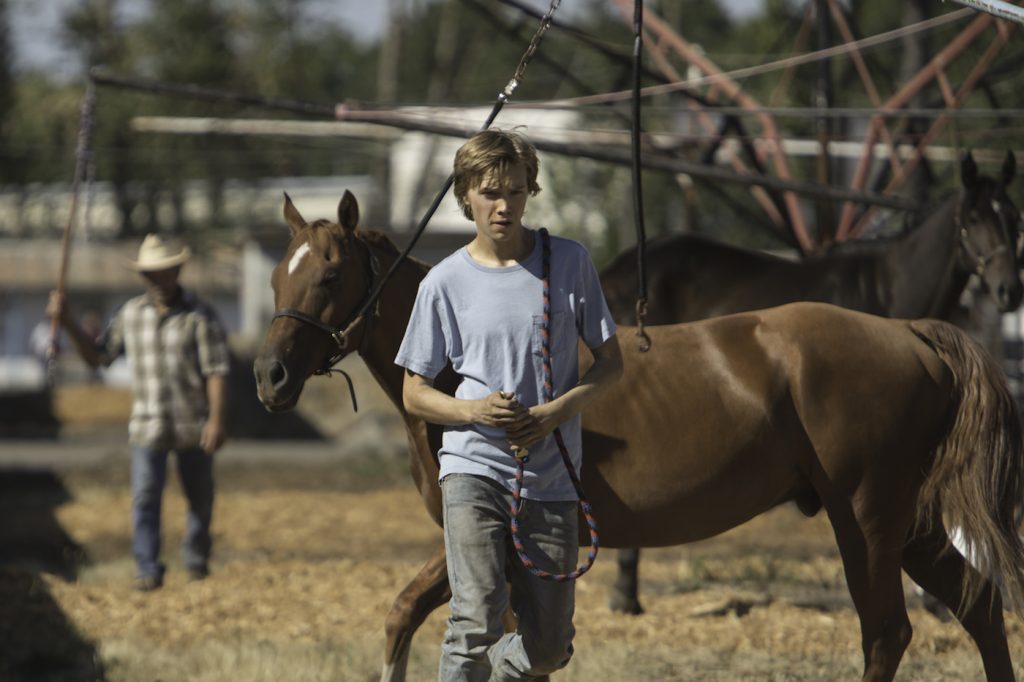 In terms of instruments, we had a small brass section with French Horns, bass trombones and a trombone, a small string section, cellos, double bass, viola and violin, and a Dilruba—which is a cross between a Sitar and a Sarangi and very close to a Esraj—which I used in the desert sequences to create some of the harsher drones. Percussion wise, we had bowed singing bowls, vibraphones and cymbals. Then I recorded a EBow on a hammered dulcimer, a slide acoustic guitar and on a bass guitar. We also had both the bass guitar and the guitar chords through a Morley Pik Percussion guitar pedal. I also recorded an acoustic guitar for the end piece when Charley is on the bus.
As a soundtrack fan yourself, do you work to create something that can live a life away from the film it inhabits? There are certainly a number of atmospheric scores that can, like Blade Runner 2049, for example. Did you build something that can be released, and can we look forward to that?
Good question! The score for Blade Runner 2049 is exceptional, and I was really gutted it didn't get an Oscar nod, I think Benjamin [Walfisch] and Hans Zimmer did an amazing job. I think another good example is David Julyan's score for The Prestige. For Lean On Pete, I never approached this in order to give it a life away from the film, because I was so focused on providing as much atmosphere as possible, but listening back I am really proud of it, and would like to think there is a life outside of the film for the soundtrack. I also know it's very different from a lot of scores. The record label Varѐse Sarabande is releasing the score, which will be out in tandem with the US release at the end of March.
Featured image: Charlie Plummer. Photo by Scott Patrick Green, courtesy of A24