Chatting With Rising Star Zoey Deutch About her Critically Acclaimed Performance in Flower
Over the last few years, Zoey Deutch has been carving out a choice spot in the hierarchy of Hollywood ingenues. She stole every scene as Beverly in Richard Linklater's Everybody Wants Some!! and has left a strong impression in every one of her roles. A young lady known for her commitment to equality and social change, Deutch won the Women in Film Max Mara Face of the Future in 2017, a prize previously awarded to future A-listers Emily Blunt, Zoe Saldana, and Hailee Steinfeld.
The new indie feature Flower, written and directed by Max Winkler, stars Deutch as rebellious, damaged seventeen-year-old Erica Vandross. Erica is no manic pixie dream girl.  Self destructive and inwardly terrified, she traps older men paying underage girls for sex, "servicing" them and then blackmailing them for money. She is saving up to pay for her father's release from prison.  When her new stepbrother Luke (Joey Morgan), comes home from an inpatient drug rehab center and reveals he was molested by local high school teacher Will (Adam Scott), Erica springs into action to catch Will in the act.
Erica is a complex role, requiring a nuance, for which Deutch has gleaned significant critical acclaim. It also showcases a new breed of female lead for which many actresses in the film industry and film fans have been clamoring. I spoke to Zoey Deutch about playing such a well-formed and heretofore controversial role.
Erica as a character is certainly unusual as a female lead, in part inspired by the male leads in 80s films like Risky Business. Those boys didn't ever have to apologize for their actions. Until recently, that's not been true for female characters onscreen. Is that what drew you most to playing the role? 
My initial thoughts were that I couldn't believe they were going to let a movie get made where the central character is a girl who gets to do this kind of stuff, and talk like that. I feel like I've been on the sidelines watching a lot of my male actor friends get to play parts like this. It was a dream role. The character felt so complicated and frustrating and fragile. How does one take the role of Travis Bickle and put it into a 17-year-old high school student with a pet rat? Max was so adamant that he wanted every fiber of my DNA to go into this.  He really wanted me to put things in my own words and design Erica's room myself, and create this backstory with him. That made taking on the role of Erica slightly less intimidating. Being able to live with her and to really understand why she does the things she does was important. Nothing about Erica is spontaneous. It's always some form of manipulation or test, all to see if someone is going to leave her or not.
I know you've been in films with a fairly strong female presence in the crew, like The Year of Spectacular Men, for example. Director Max Winkler said he really wanted to bring that energy to the set by hiring a crew of women, like cinematographer Carolina Costa.  How did that effect your performance and the vibe on the set? 
I loved working with Carolina Costa. Not only did she always make me feel safe, supported, and protected, I loved the freedom she gave me to move around beyond where the shot was set up. She was there to shoot the performance, not tell me where to go. Carolina is a massive talent, and if I had it my way, I'd work with her on everything… always.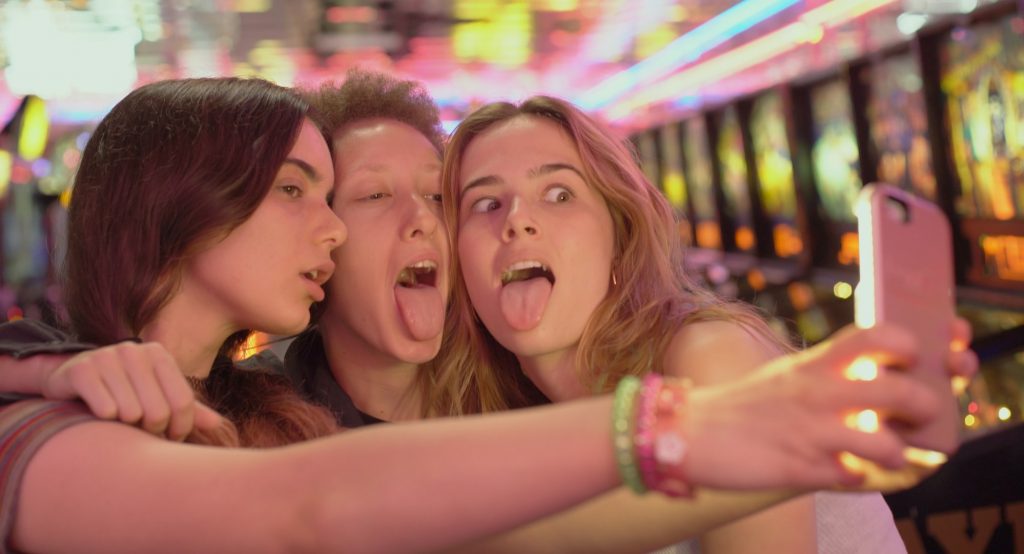 You went to therapy as Erica. What did you discover about her through that experience, and how did you choose to have what you believe to be her borderline personality disorder express itself in concrete ways?  
We did a lot of reading from books about female teenage angst and struggle like Go Ask Alice to Reviving Ophelia. We were always talking about consent, and how everything that Erica does is always on her terms. She never allows anyone else to have any semblance of control over her. Every choice Erica makes would always be hers and that way she could keep any form of intimacy as far away as possible. To Erica, showing her true self with all of her vulnerability and fear equals death. Max and I went to therapy together, and in it I was half in character, half myself. The therapist knew I was playing a part in Max's film, but didn't know I was playing that part in the sessions we were having.
Featured image: Zooey Deutch in 'Flower.' Courtesy The Orchard.