Oscar-Nominated Disaster Artist Screenwriters on the Art of Adaptation
Michael H. Weber and Scott Neustadter have a history of bringing character-driven stories to the big screen. They co-wrote the 2009 drama (500) Days of Summer together and they've successfully adapted several beloved books into screenplays.
In 2013, their cinematic adaptation of Tim Tharp's novel The Spectacular Now arrived in theaters to rave reviews. A year later, their adaptation of John Green's bestselling novel The Fault in Our Stars opened to critical and commercial success. In 2015, their adaptation of Paper Towns , another novel penned by Green, hit the big screen (check out our interview with the duo about that film here).
Their most recent collaboration is an adaptation of the Greg Sestero and Tom Bissell book, The Disaster Artist: My Life Inside The Room, the Greatest Bad Movie Ever Made. The nonfiction book focuses on the friendship between aspiring actor Sestero and filmmaker Tommy Wiseau. That friendship led to the production of the 2003 drama The Room, which is widely considered one of the worst films ever made but has developed a devoted fan base since its release. The Room co-stars Sestero and Wiseau and was written and directed by Wiseau.
The cinematic adaptation of The Disaster Artist stars James Franco as Wiseau and co-stars his brother Dave Franco as Sestero. When it arrived in theaters in late 2017, the new comedy earned rave reviews with many critics celebrating both James Franco's lead performance and Weber and Neustadter's great script.
The screenwriting duo recently received their first Oscar nomination for their adapted screenplay, putting them in a category with James Ivory (Call Me By Your Name), Aaron Sorkin (Molly's Game), Dee Rees and Virgil Williams (Mudbound) and the writing team of Scott Frank, James Mangold and Michael Green (Logan).
I recently had a chance to chat with Weber and Neustadter about their process, their understanding of Wiseau and their Oscar night competition. Below is a slightly edited transcript of our conversation.
Was your writing process different because, unlike some of your previous literary adaptations, this one is based on a true story?
Neustadter: We only know one way to do this. It's the same way we've been doing it since we met in New York. I was on the West Side. [Michael] was on the Lower East Side. We spend a lot of time talking, getting [an] outline down [and then we] e-mail back and forth a little bit and then literally just divide up scenes and go from there. We wrote another thing while I was in London and we've written everything else since while I was here in LA. He's in New York. The further we are from each other, the better the material is.
How is your relationship different between authors like John Green, who write fictional novels, and someone like Sestero, whose book is based on a true story?
Weber: Every adaptation is different in that regard. John was such an advocate for us and deferential when it came to writing the script. We were only on set for just a little bit to help kick off the movie and then we go home and John stayed on set. He understands [the world of his novels] better than we ever could. Greg was also very deferential to us and let us go write the movie. Greg was on set a little bit but we were on set every day so it's different every time. Tim Tharp, who wrote the book The Spectacular Now, was only on set one day. We only met him once or twice. We had one dinner with him in Oklahoma years earlier so it's different every time but we've been fortunate to work with directors who've been supportive of us.
Did the script for The Disaster Artist change on set?
Neustadter: There are always gradations that occur and pivots you make when you are on set. We were very fortunate to have a group of people there who really believed in the screenplay and wanted to stay as close to it as possible. I think things improved along the way…
We were there not as quality control at all but to make sure that the intention of every scene was met with and we all sort of saw the same product of the movie in the same way.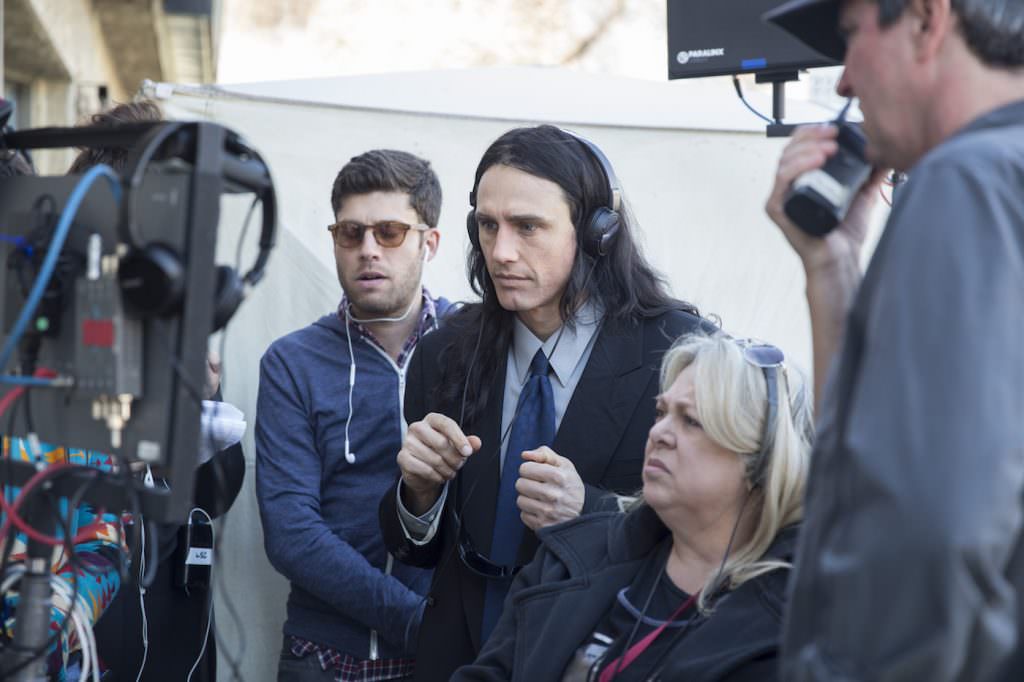 Wiseau can come off as a very eccentric individual. How do you make sure that people never lose sight of the person behind all of his unique qualities?
Weber: The thing about Tommy — and this might sound crazy — is we kind of related to the guy. Once you get past his outward appearance or once you get past some of the erratic behavior, this guy's a dreamer. He wants to make movies. He has something to say. He's also someone looking for acceptance. These are just very human emotions and ideas we can relate to. It wasn't that long ago that Scott and I were two outsiders trying to break into the movie business. We see a lot of ourselves in Tommy and Greg and their story. You're right. You're finding that balancing act when you're first writing Tommy.
We knew the comedy would be there because we were working with Seth Rogen and James Franco and all these guys that were so funny so we were really focused on the drama. The emotional [question] of would their friendship survive the making of this movie?
In the film, Franco captures Wiseau's accent but how you were able to capture Tommy's distinct syntax?
Neustadter: We had some footage that we could use. Obviously we had the movie and there were some audio tapes. Tommy apparently used to drive around LA when he was by himself and he would talk into one of those recorders. Somehow those tapes made their way from Greg Sestero to James Franco to us and so we could listen to those. We could hear the way he was speaking and learn the little Tommy-isms. We even used a lot of the stuff that he said in some of the dialogue in the movie.
What was the greatest challenge to understanding Greg Sestero's journey and bringing his book to the big screen?
Weber: There were two challenges. One challenge was there was so much good stuff in the book that paring it back to a two hour movie was a challenge. If we had used everything we liked in the book, it would've been six or eight hours. The other big challenge though was we wanted it to be as truthful as possible but we also had to understand why Greg hung in there and kept making The Room when better opportunities came along. At a certain point, it felt like the [situation] was kind of torturing him a little bit and yet he hung in there and didn't quit so calibrating that in our story so that the audience never turned on Greg was one of the trickier aspects of the adaptation.
How did you decide what elements of The Room you wanted to feature in this film?          
Neustadter: It was all about cherry-picking the best stories from the book [and] figuring out what footage was required to tell some of the more interesting parts of the production that we were gonna tell. There were certain moments like when Carolyn [an actress in The Room] faints that we knew we were gonna get in there. We obviously needed to see a scene of her in the movie or that would have no context. You look and see what you need for the story you're telling and then I think we probably shot a bunch of extra things because we had time to do it. The DVD extra features of this are gonna be pretty amazing. There was a ton of some really great stuff that James shot.
Can you talk about the first time that Greg and Tommy saw the movie?
Weber: They saw the work in progress screening that played at South by Southwest but we were busy on a different movie. We actually were not there the first time they saw it. We were there when they saw the finished film at the Toronto Film Festival and they were both really, really supportive of it. Greg loved it and Tommy said it was 99.9% true. The only issue was how he was portrayed throwing a football.
Scott, I saw an interview from years ago where you talked about going to sleep with West Wing reruns playing in the background so you could subliminally learn to write dialogue like Aaron Sorkin. Now, you're nominated for an Oscar in the same category as him. How does that feel?
Neustadter: I wanted to tell him last night. We were on a panel with all these writers. I did want to tell him that I tried to do that but it just felt so ridiculous.
It's amazing. It's really crazy. Not just Sorkin but a lot of these guys we really look up to. We've been following [them] forever. Scott Frank is nominated against us. That guy has written some of our favorite movies. It's really kind of an awesome thing. A dream come true. What can I say? I hope they kick our butts.
Featured image: Sharon Stone and Dave Franco. Photo by Justina Mintz, courtesy of A24