Trudie Styler on Directing Her First Feature Film Freak Show About a Cross-Dressing Teenager
Trudie Styler is an actress, a documentarian, a producer and, now, a feature film director. Her debut, Freak Show, tells the story of gender-bending, cross-dressing teenager Billy Bloom, who must navigate the unwelcoming waters of his new ultra-conservative high school. Determined to stay true to himself, despite the belles and bullies who taunt him, he decides to challenge the status quo by running for homecoming queen. Alex Lawther (The Imitation Game, Black Mirror) plays the indomitable Billy with heartfelt abandon, and is joined by a strong cast that includes Bette Midler, Abigail Breslin and AnnaSophia Robb.
Distributed in the United States by IFC Films, Freak Show first played to audiences at the Berlin Film Festival. The movie is a production of Maven Pictures, which Styler co-founded with Celine Rattray in 2011. Through their company, the pair has racked up a roster of acclaimed and award-winning credits that include American Honey, Still Alice and The Kids Are All Right.
Styler shot Freak Show, adapted from the James St. James book of the same name, in upstate New York over three weeks. Taking the helm was actually an unexpected turn for the filmmaker, who spoke with The Credits about what attracted her to the story, how her acting and producing background informed her set, and which three directors she looked to for advice. The interview that follows was edited for length and clarity. Freak Show is in select theaters now.
Had you been thinking about directing a feature and Freak Show came your way, or were you actively seeking something?
I actually replaced the director who we had been working with for a year. He, for personal reasons, had to excuse himself. We'd done a lot of work and we planned that we would shoot the movie in September 2015 and it was already July 2015, and it was like so okay what do we do. And I said to the producers, well you know I just had this strong urge that I could perhaps tell the story absent of anybody else right now to get the movie done. They were very enthusiastic and said go for it (laughs) and I did, and we had four-week prep and 22 days to shoot. So I was sort of launched into it really rather than anything that was planned.
Maven has such an eclectic group of films that you've produced. So many of them have been really lauded critically and by audiences. As a producer, what attracted you to this script?
Well, Celine and myself had the script that Flower Films brought us to share — that's Drew Barrymore's company — and so what attracted us to the script was the story of diversity, of looking at this life of a young male teenager who transfers from his warm, moderately liberal environment to a homophobic anonymous red state where he's derided and bullied for feminizing himself and beaten up, and comes back to show his leadership skills by setting out his candidacy for homecoming queen. And we thought that it was a powerful story, not preachy but had an accessibility for young people.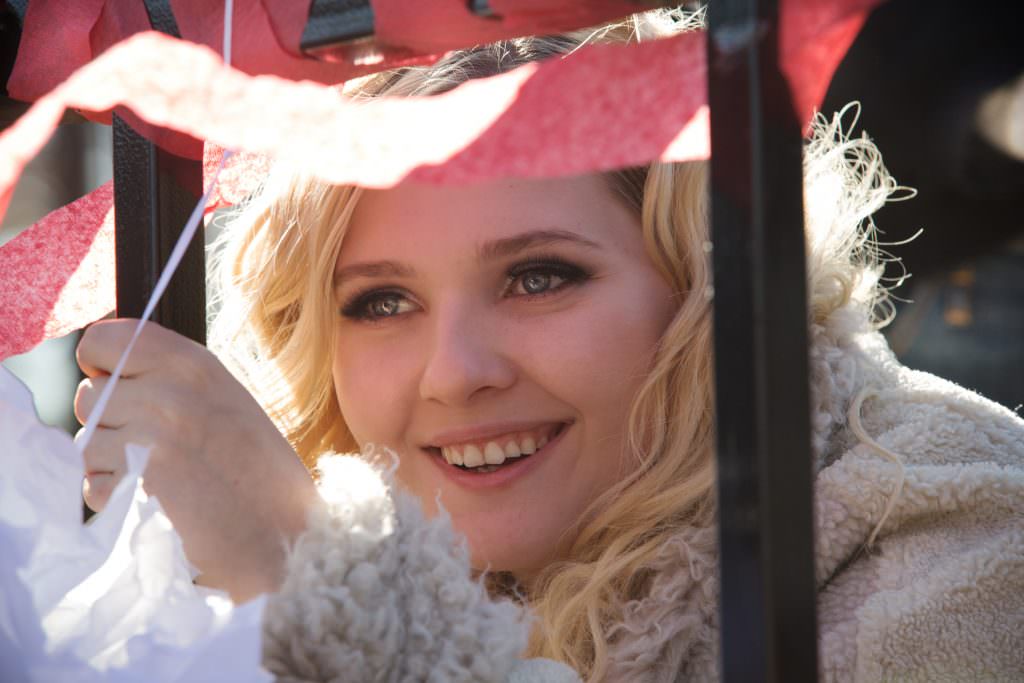 There are a lot of stories in the film. There's also authentic friendship, there's the parent-child relationship, that are all tangential to the main storyline. In fact, the house that he moves into where his father lives, it's so cavernous. And I remember this one scene where he shuts his bedroom door on his father and the sound of it, you get this feeling that the house is so empty, which to me was like a metaphor for their relationship.
Oh good, that's what we really wanted the audience to feel. Billy even says, his line is, "What are you doing over here father?," "over here" meaning that you're in a different wing of the house, so far apart from each other. As the movie goes on, we see that the father is in fact just trying to come to terms with how to be a better father to his son. To your point, we look at a lot of familial relationships on the surface. Muv's [Midler] a great mother, but she's very complicated and in fact she's lost herself. We constantly surprise the audience with like taking off skins of an onion. Look at all these people and they're not who they appear to be.
Billy is such a colorful character, literally and figuratively. Was there a fine line to not go overboard and make him too much of a stereotype?
I think the theme of bullying is an ordinary evil. We all know what it is. Look at what's happening now around us. We're seeing it in literally every place of work as well as many schools throughout the world. So what we're trying to say in Freak Show — which I hope isn't a stereotypical film, I hope it carves out its own individuality — is the way that Billy chooses to deal with it. And he deals with it in a way that he won't compromise himself for anybody. He won't bow to the student pressure. We look at it in a comedic way, but we're also saying that Billy Bloom, this is who he's going to be, he's a leader. He's calling on all freaks everywhere, which are all teenagers in the entire world. I remember being a teenager and feeling like a freak. It's that ill-fitting suit that all teenagers wear and don't feel comfortable in their own skin. But he calls on the school to begin, as he says, a new tradition of tolerance, of compassion and inclusivity, so I think it's a very positive message to our times.
How was the role of Billy cast?
During my tenure as only producer, we'd looked at around 85 young males auditioning for Billy, and a lot of them were really, really good. But when I came on board as director, what kept me awake at night was sort of this idea that if I didn't get the Billy right, if for some reason he just wasn't up to it, then we don't have a movie. This really is a film that relies solely on that central performance being so right. I went to England for a few days just thinking, oh, I'll look in England to see if I could find an actor who has the right qualities. After we cast Alex, because I sort of kept looking at him and thinking, gosh he's such an old soul, we were rewriting all the time. I have to pay great tribute to writers P.J. Clifton and Beth Rigazio for working with me to keep improving the script and to make the script more "now" to shoot the actor that we'd chosen as Billy.
You've directed documentaries. Do you think your background as an actress and a producer informed your feature directing?
Yes, most certainly it did. I think, you know, that being an actor and being a director, it's the same side of your brain. You're thinking creatively all the time — what is my vision of the way that I want the film to look and to feel, and the music, all of these decisions that come to the director. It's something that I think was timely. I didn't think that I was going to direct it. So I fell into it very quickly, but being a producer as well I know all the elements to get the job done.
I saw in the closing credits nods to Darren Aronofsky, Cary Fukunaga and Paul Haggis. Were they involved in the film at all? Did they influence you?
You know, because I hadn't directed before, I asked them would they come in and have a look at the edits and to give me some notes. And all three of them came in and addressed some of the assemblies and then the rough cut. They were very helpful in giving me really good notes.
So how did the experience of directing your first feature live up to your expectations?
When I look back, it was sort of like the fastest race I've ever run. I don't know, I felt very calm and very peaceful, and I'm really at home being with the actors and trying to help the actors get to realize their characters. I loved it.
Featured image: Alex Lawther as Billy Bloom in Trudie Styler's FREAK SHOW. Courtesy of IFC Films. An IFC Films release.