Sundance 2018: A Conversation with the Director and Cast of Daring Heist Film American Animals
Whether it's the reluctant exploitation of a super skill in Baby Driver or the stylish and sophisticated execution of Ocean's Eleven, heist movies are an American cinematic staple. The masterminded plans, daring escapes, and thrilling shootouts look easy on screen, but what would happen in a real life do-it-yourself caper? Enter Sundance selection, American Animals.
In 2004, Warren Lipka, Spencer Reinhard, Chas Allen, and Eric Borsuk fell headlong into a reckless amateur effort to break out of the mundanity of their lives. What resulted was the most relatable crime drama on film. The plan was to steal millions of dollars in books from a Kentucky university library, but it didn't turn out to be the harmless excitement they hoped for.
Bart Layton (The Imposter) directed the gripping docudrama that sounds unimaginable as a mere news headline. Following the events from the inception of the idea, however, it's easy to imagine similarly investing in a terrible idea with your friends. The rash Lipka, artistic Reinhard, intellectual Borsuk and athletic Allen proved to be perfect characters for the retelling of a wild idea that spun out of hand. Layton and the cast spoke with us at Sundance about the unbelievable true story.
"I always started from 'Why?'" Evan Peters (X-Men: Apocalypse) explained. Peters plays Lipka, the central figure of the plot that drives the other characters to do the unthinkable. "Why he did it. What would drive me to do that. What drove him to do that. And then the circumstances of their world. The suburbs and wanting to escape and do something different with their lives was always the drive to me on the film."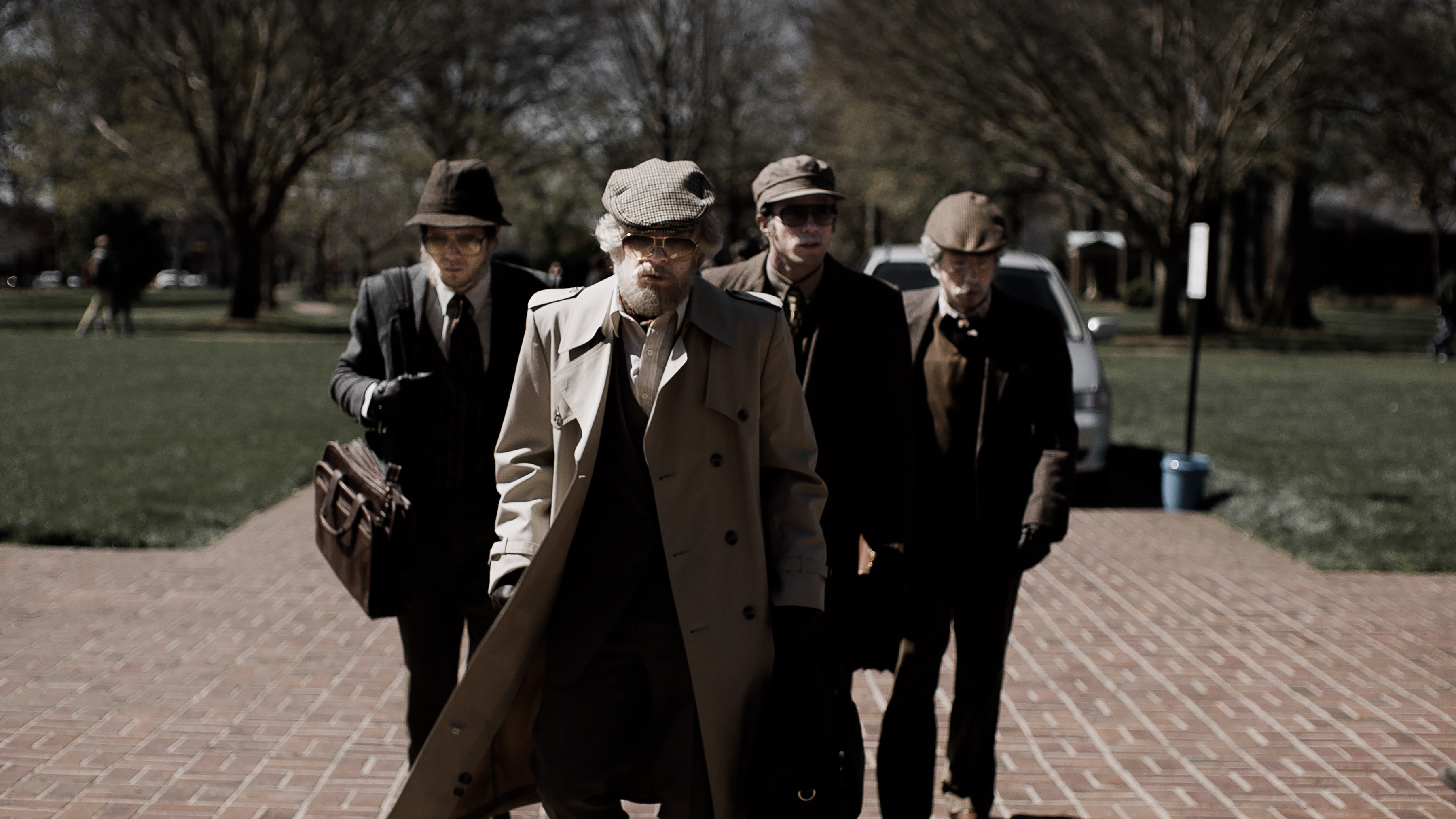 Although social media was in its infancy, the pressure to be extraordinary was already weighing on the young men. As a college student, Reinhard was a skilled painter, but felt that his art lacked life experience. The plot that involved travel, nefarious international contacts, and a risky target intrigued his creativity. Discontented by the simplicity of their lives, it would be easy to dismiss the characters as vapid, but their motives and desires are fully realized through the performances.
Jared Abrahamson (Travelers) plays the logically minded Borsuk. "When you're playing someone, you want to play it as if you're doing it," he explained. "You justify their actions. You have to sympathize with your character and not judge your character."
"They had a valid reason, in their mind," Peters added.
"I think it's hard to care about characters that aren't in some way sympathetic," Layton said. "I think if you don't care, you're watching the movie at arms' length. You're not really in it and you're not experiencing it and you're not feeling emotionally connected."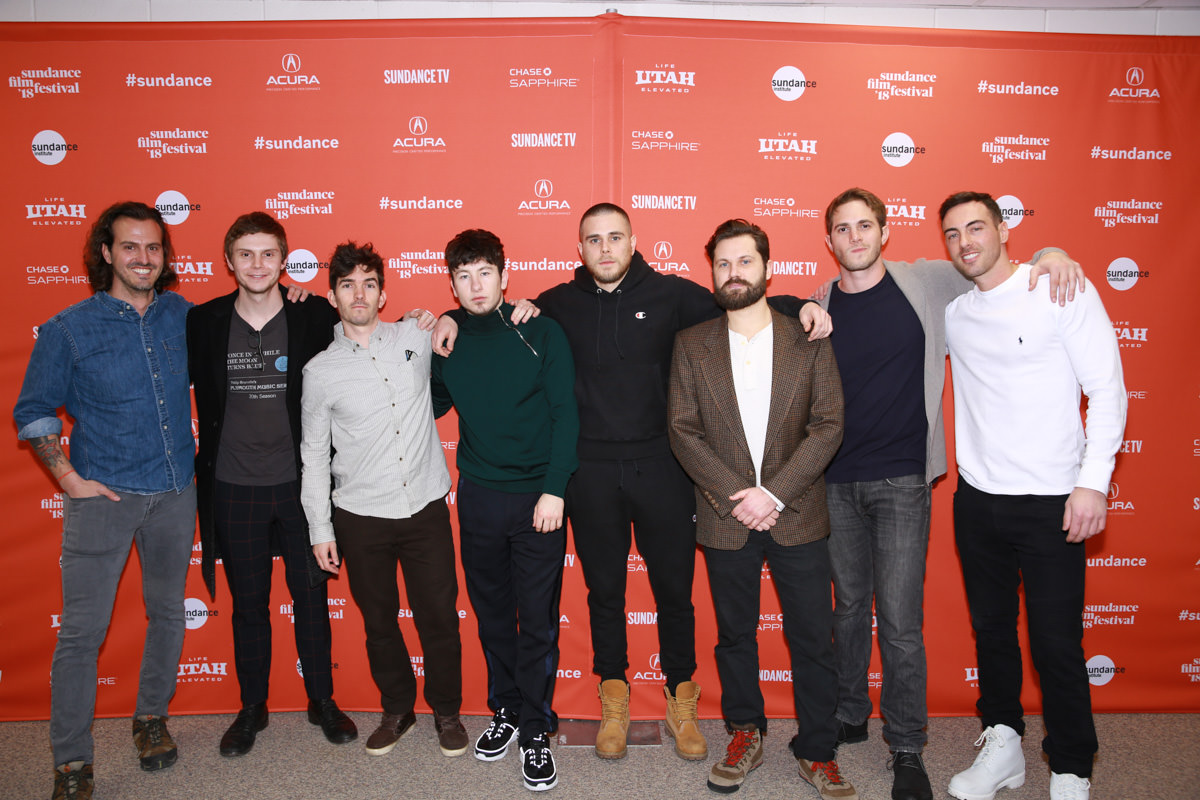 Layton disallows for any emotional distance. Interviews with the real men are masterfully woven through the film. Watching them relive the story is riotous, until the events take a dark turn. The ultimate consequences clearly still weigh heavy on them.
Dunkirk breakout star Barry Keoghan played the sensitive Reinhard with conviction. Keoghan said he could relate to the initial appeal of the plans. "That was a fun thing when you look at it, what they're doing," he said. "But there's a real side to that and when that hits, they're human beings at the end of the day and it just tore them apart. Doubt and paranoia."
Blake Jenner (The Edge of Seventeen) had one of the film's most difficult roles. Initially labeled as an arrogant jock, Jenner draws out sympathy for Allen. "Everybody remembers being a kid and doing something bad and knowing you're going to get caught," Jenner said of relating to the plot. "I feel like you're just seeing these scared little boys inside of them as the clock is ticking."
Layton specializes in sensational true stories, like the incredible 2012 Sundance selection, The Imposter, about a young Spanish man who claimed to be the missing son of a Texas family. The director skillfully pulls at a story's strings until you understand it from a perspective you could never have imagined at the start. There are many stories that have a shock value, but Layton said there must be a hook that draws the audience in. For American Animals, Layton identified the men channeled the national phenomenon to reject normalcy and an obsession with celebrity.
"The thing that separates a great story from a story that you feel is worth telling is where it gives you an entry point into something more than just the plot," Layton explained. "Wanting to escape a small town or feeling like your life should be something that it isn't. There are all of these expectations and you've been told that you're going to be great, you're going to be successful and special and all of these things. The reality of that is probably not the case. Most people live a fairly normal life, but there's an increasing pressure, particularly on that generation, to be not just like what their parents were. Which was decent, upstanding human beings who had a family and roof over everyone's head and food on the table. For these guys, it isn't enough. That's not success. That's run of the mill. This just felt like a great way of getting into all of that through telling a really compelling page turning story."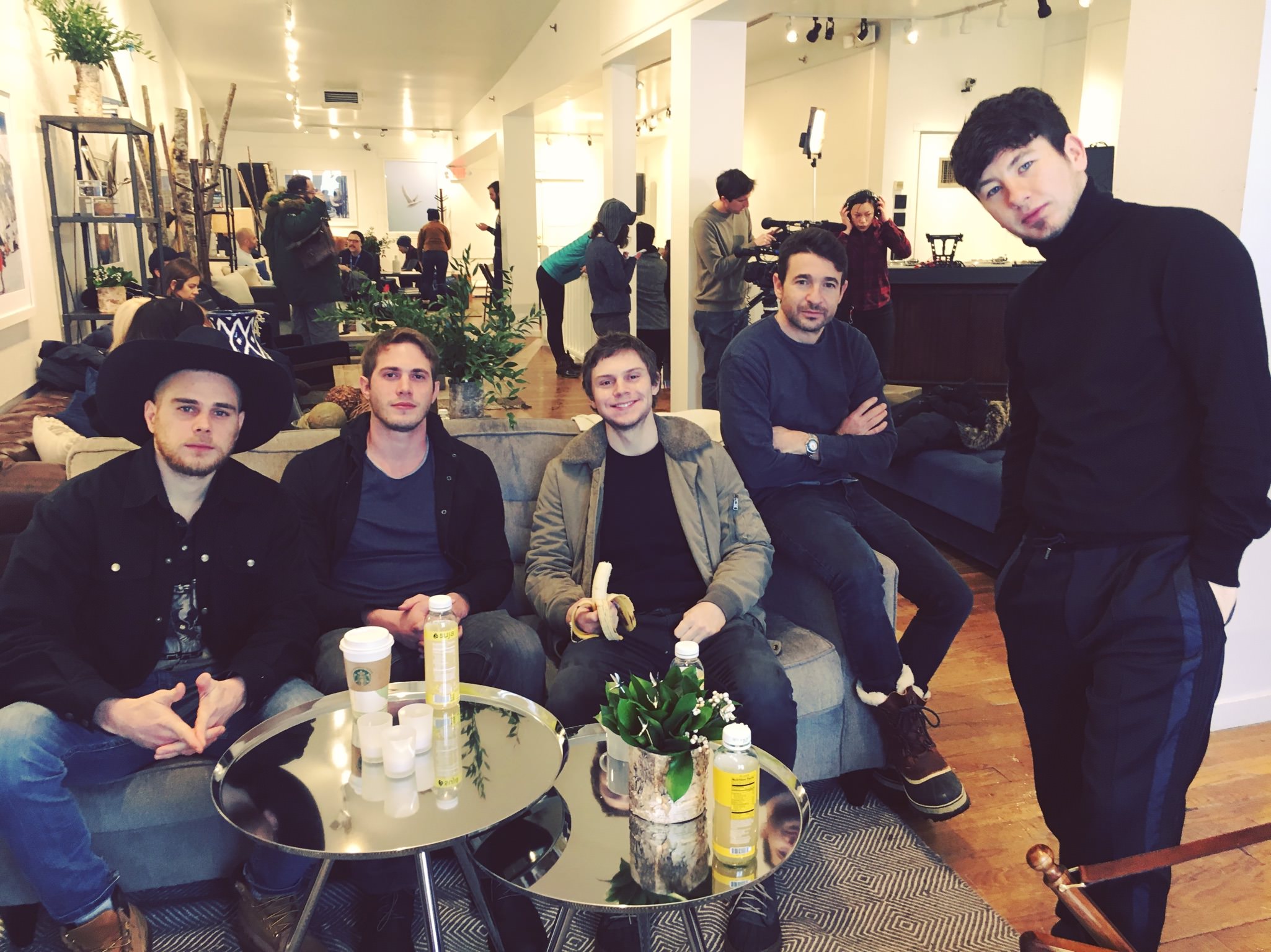 The conversation in a Sundance lounge was strikingly meta as Layton and the four cast members were propelling toward stardom. Already picked up for distribution rights, the release of American Animals will only further their national exposure. Each of them were sincerely humble, however, and seemed to appreciate the opportunities their talent has afforded them.
"Honestly, it can be a little overwhelming at times to think about it," Abrahamson admitted. The Flin Flon, Manitoba native said that the glare of Hollywood is starkly different than the mining town he grew up in. "For me, for where I'm from, this is so far. This world is completely opposite. I like to be under the radar so watching it I hope things don't change too much."
"It took me a while," Keoghan confessed "Me and Jared saw it [for the first time] last night and even after, I was just so quiet. I was feeling a bit of everything. I woke up this morning going, 'F—. I'm a part of that.' This one is going to stick around for years to come."
"I think it's just cool to be part of a great film," Peters said. "I just love the movie. I loved the story from the beginning. Bart super exceeded all my expectations and executed the film with the seamless editing and the real guys and us, the sound and the music. Everything about it was beautiful. I'm not always proud of things that I've done and this is something that I'm really proud of. It feels good to be a part of that."
"That's a good measure of people working in this industry," Layton said. "That is how you should make your decisions. If you wouldn't be first in line to see it, probably better not to. I've been sent a lot of scripts after the last film I made, which were huge opportunities. On reflection I realized, I'm not sure I would be first in line to see this, so why spend two years of your life telling a story that you don't really feel connected to?"
"Might as well just get a regular job," Abrahamson said.