Writer/Director Martin McDonagh on his Dark, Brilliant Three Billboards Outside Ebbing, Missouri
*We're sharing some of our favorite interviews of the year this week in our 'Best of 2017' roundup.
With his thrillingly raw new film Three Billboards Outside Ebbing, Missouri just released, writer/director Martin McDonagh is happy to chat about the movie, which has received critical acclaim and film-fest accolades, including Best Screenplay at Venice and People's Choice at Toronto. The Fox Searchlight Pictures release centers on a grieving mother, played by Frances McDormand, who captures the attention of both her town and the local police in a bold way when her daughter's murder goes unsolved. Woody Harrelson and Sam Rockwell, veterans of McDonagh's past cinematic romps, round out the lead cast.
Three Billboards is McDonagh's first film in five years. He made his moviemaking mark with the Oscar-winning short Six Shooter, following it up with In Bruges, the hitmen high jinks that scored him an Academy nod for Best Original Screenplay, and Seven Psychopaths, a canine-laced crime caper.
McDonagh is also well received in theater circles, and has been lauded with Critics' Circle Theater, Drama Desk and Laurence Olivier Awards. His plays, from The Beauty Queen of Leenane and The Pillowman to The Lieutenant of Inishmore and The Cripple of Inishmaan, intertwine comedy and tragedy — and sometimes oodles of blood — to highly entertaining effect, just as his films do.
Here, McDonagh talks about how he balances the "light and the dark" in his stories, what he won't relent on during production, and why you can introduce him to mom. This interview has been edited for length and clarity.
Congratulations on Three Billboards winning awards at Venice and Toronto. Do you like bringing your films to festivals?
It's kind of different each time and with each festival, but this certainly has been the happiest experience. The audiences from Venice to Toronto to San Sebastian have just gone for the movie in such a big way, that that's been completely joyful. Cause it doesn't always happen. It doesn't always happen even if you know the film is good.
Do you get nervous the first time your films are seen by audiences?
Yeah, yeah, for sure. It's kind of similar to almost the preview period of a play, but the difference is you can change a play if something is not quite working. With a movie, of course, it is what it is. But you know, I sit in there with the audiences just to see if they get it, just to see what the mood is like. It's easy to know if the laughs are working, because there'll be laughter. But sometimes the gasps and the quietness tell you a lot, too, with the sadder aspects or the plot twists.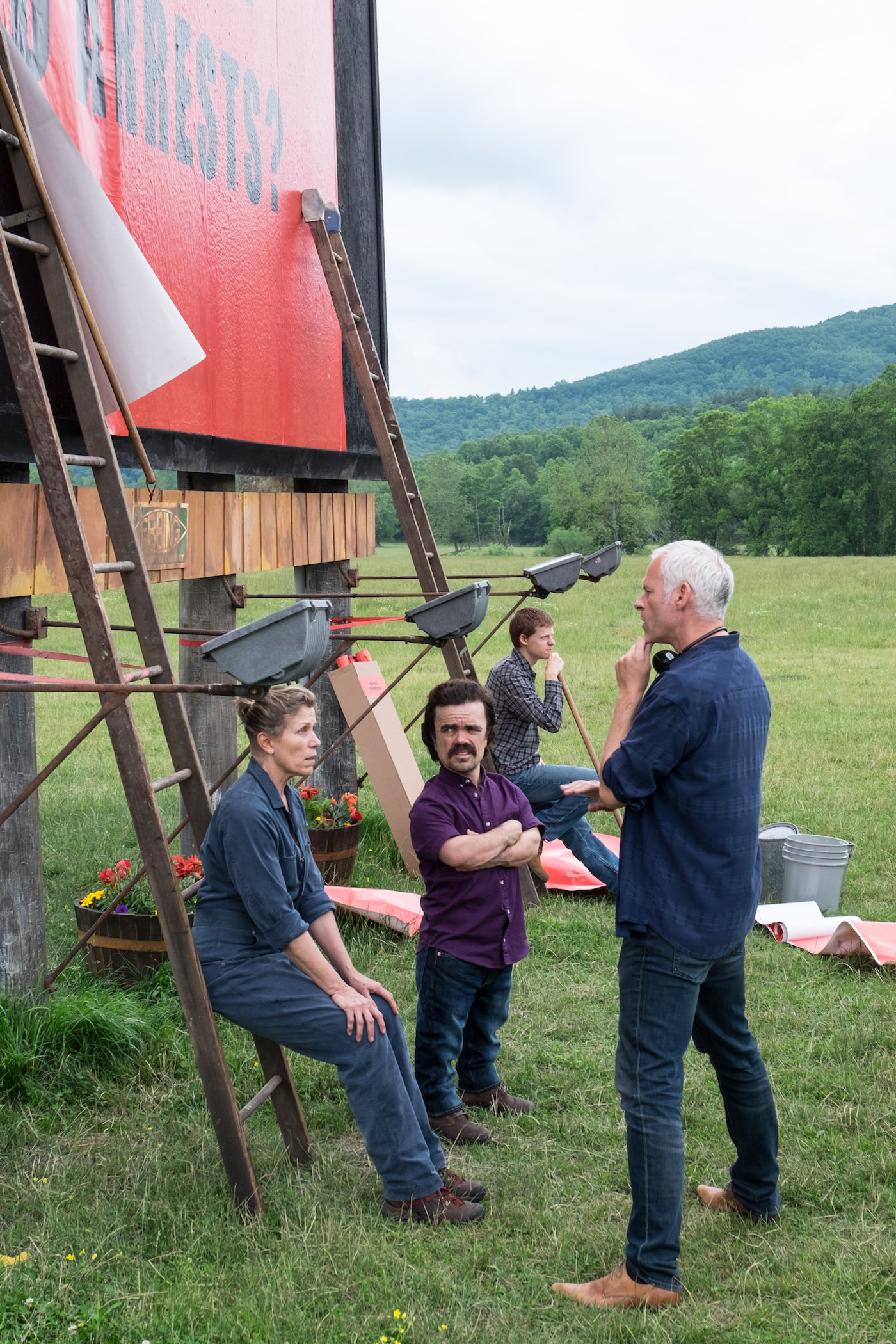 (From L-R) Frances McDormand, actor Peter Dinklage and director/writer Martin McDonagh on the set of THREE BILLBOARDS OUTSIDE EBBING, MISSOURI. Photo by Merrick Morton. © 2017 Twentieth Century Fox Film Corporation All Rights Reserved
So where does your storytelling aesthetic come from? Have your stories always had this dark yet humorous bent to them?
Yes, yes, that's one thing that's always been there, that kind of dark comedy angle. But I also like plot twists and most of my plays have that sensibility. Because I like things happening on stage. I like surprises. And I like storytelling. And twists and turns are a major part of telling a story. Those aspects work in Three Billboards particularly. It seems like it's a pure character study from the start, but there are twists and turns that change the characters and take it to maybe a different place from where we started off from.
Is finding the balance between the funny and the serious easy for you or is it a challenge? Or does it depend on the story?
That's one of the very natural things in with my stories. They all seem to come out that way. They never come out as pure comedies, but they never kind of wallow in the sadness either. The two always seem to go hand in hand with my stuff. And that's the way I like it really. Three Billboards would be a very heavy one if it didn't have the comedy to lighten the darkness, I think.
How long did it take you to write the script? Do you work on more than one script or screenplay at a time?
No, no, there's only one thing, I'll stick with it 'til it's finished. But this didn't take too long, four or five weeks. But it was written about eight years ago.
So what's they key to writing great dialogue. Do you have to be a professional eavesdropper?
[Laughs] That helps, but if it's proper eavesdropping, if you wrote down exactly what a person says instead of the gist of what they say. When you write the gist of what they say, you lose the peculiar way that we actually do talk. I don't really do this, but if you taped how a person actually speaks, you'll find no one speaks in a perfect sentence. Everyone goes off on crazy tangents, but the sense of something is always conveyed. And that's the kind of thing you need to capture, rather than capturing the information that's conveyed. Also, I think you need to love that people are going to talk in a scene and not get to the point and not say exactly what they mean either.
Do you ever write with an actor in the back of your mind as you're fleshing out a character?
Very much. Frances' part was written for Frances in this script, and if she'd said no I don't know what the hell we would have done. Her voice was completely in my head. Not just her voice, but her attitude I think, was sort of wrapped up in my picture of Mildred. And, similarly, Sam Rockwell, I had his voice in my head for Dixon, too, as I had for his character in Seven Psychopaths. It doesn't always help, but for certain, especially if the characters are a little outlandish, it's good to have a real person's voice inside your head to ground them a little bit.
Think you'll write for Frances again?
Oh, definitely! She's become part of the repertory company. Because it's so exciting to write a strong female lead, I think I'll do that more and more.
You like your actors to stick to your words. But when you direct a piece that you've written, do you wind up changing some of the language while you're shooting, or everybody sticks to the script including you?
Everyone sticks to the script including me, yeah. I'm a bit prissy [laughs] or pedantic or something more pejorative about that. I'm trying to release my grip, but I don't think it's ever gonna happen.
Your characters typically use salty language. Do you curse a lot?
No, no, strangely I never curse really. I curse in email sometimes [laughs]. I'm totally someone you could take home to your mother.
Oh, that's sweet! I guess you can live vicariously through your characters.
I thought about that today. Like Frances' character is exactly the person I would want to be if I met the cops, or the dentist or the priest in the film. You know she says the things we don't feel comfortable or brave enough to say.
What did Frances, Woody and Sam bring to their roles beyond the page? With Frances McDormand, for example, she had such a rough exterior, but there were moments when you could see her pain that were just extraordinary.
Yeah, that was the biggest thing for that character particularly, cause I knew Frances could convey the rage and the anger and she was going to do it brilliantly. But it's making sure those tender moments were equally as truthful. But then it wasn't a surprise, because she is probably the best actress of her generation. Similarly with Woody, you know he's a great actor, but he's also a lovely guy and we needed to instantly feel like he's a decent human being, and Woody's got that in spades. And Sam, again he's one of the best around, and he's fearless about showing the warts and the anger of a character without begging us to like him. But again there's so much humanity to Sam that by the end of the movie you are seeing that Dixon has depth to him, too, and has a heart.
It's interesting to watch the ebb and flow of the relationships between these characters. They're not just good or bad.
That's really what the whole film is about. It starts off in a place of rage and anger and pain, but it moves to a place of change and hope and humanity. It was always about leaving room for that and casting the people who would be most honest about exploring those emotions, too.
Featured image: Frances McDormand in the film THREE BILLBOARDS OUTSIDE EBBING, MISSOURI. Photo by Merrick Morton. © 2017 Twentieth Century Fox Film Corporation All Rights Reserved