Know Your 2017 Oscar Nominees: Original Screenplay
We've gone big for our Oscars coverage this year. Our annual "Know Your Nominee" series once again looks at every category, giving you the information you need to conquer your Oscars pool. Learn more about the nominees for Lead Actor, Foreign Language Film, Costume Designers, Documentary Short, Editing, Live Action Short, Actress in a Supporting Role, Makeup & Hairstyling, Animated Feature, Documentary Feature, Original Song, Visual Effects, Production Design, Adapted Screenplay, Sound Editing & Mixing, Actress in a Leading Role, Actor in a Supporting Role, Cinematography and Director. Now we turn our attention to Original Screenplay.
In addition to the series, this year we've created a special look at the awards—The Road to the Oscars. Click on the image below to learn more about this year's crop of Oscar nominated films and filmmakers, and the effect their contributions have had on the country at large.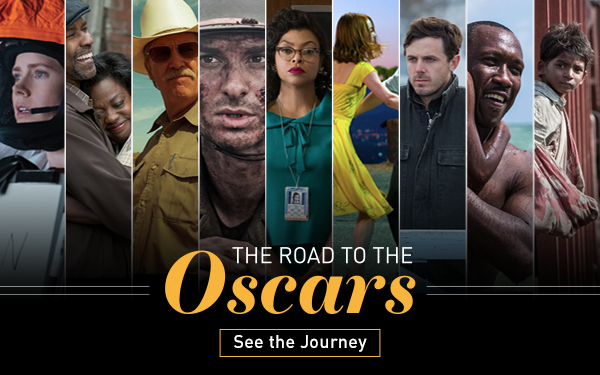 Tyler Sheridan — Hell or High Water
If you think Sheridan's script for the West Texas cops-and-robbers drama was built on pure fantasy, think again. Sheridan, who is becoming the go-to guy for crime scripts (he wrote the script for Dennis Villeneuve's brilliant Sicario), told us about the real-life struggles that he poured into the story for Hell or High Water. The film follows a couple of bank robbing brothers trying to stave off financial ruin, with some gruff, tough Texas lawmen on their tail, and Sheridan manages to make you root for both. Someone has to lose, of course, and that makes for enjoyably tense viewing.
Damien Chazelle — La La Land
Chazelle's script for his modern musical, while impressive, is no doubt the only one in this category that got a major boost from the composer. While Justin Hurwitz's original songs were a major boon to Chazelle's story, credit is still due to the young auteur for crafting a whiz bang story about two strivers in Los Angeles chasing (and singing and dancing) their dreams, giving narrative momentum to what was essentially Chazelle's love letter to a film genre that hadn't been given a fresh look in years.
Kenneth Lonergan — Manchester by the Sea
You really couldn't think of a larger departure from La La Land's dreamy effervescence than Lonergan's raw, devastating drama. How he managed to write and direct a long, nearly laugh-free look at grief and make it this watchable is an astonishing feat. Casey Affleck, Lucas Hedges and Michelle Williams all provide master classes in acting, but it's Lonergan's precise-yet-shaggy script that offers them the blueprint. Manchester by the Sea would be a front-runner nearly any other year.
Yorgos Lanthimos — The Lobster
Lanthimos is as original a filmmaker as we have, and The Lobster is the Greek native's most playful work yet. The film is predicated on the rules of a surreal future, in which all inhabitants of a community must find a suitable lover to mate with for life, or be forced to live the rest of their life as an animal of their choosing. It's brilliant, hilarious and, in Lanthimos fashion, very disturbing. Watching Colin Farrell (nearly unrecognizable) describe why he's chosen the titular animal is worth the price of admission, but the entire film is a bizarre, hugely entertaining hoot. He may be a long shot here, but you wouldn't see us complaining if he took home the award.
Mike Mills — 20th Century Women
Mills previously plumbed his family's rich history in 2010's Beginners, which told the story of Hal (Christopher Plummer), an old man diagnosed with terminal cancer who comes out of the closet and enjoys one final, glorious period in his life. As the title to his new film suggests, 20th Century Women focuses on the females in Mills' life, centered on a single mom, Dorothea Fields (a remarkable Annette Bening), who enlists two younger women to help her adolescent son mature in 1979 Santa Barbara. The script makes sense of the often nonsensical swerves our own stories take, finding warmth, humor and happy accidents in the often very troubling business of being alive.