Costume Designer Lynn Falconer on her Vintage Designs in Ouija: Origin of Evil
Ouija: Origin of Evil taps into one of the most iconic eras for horror costumes, the 1960s. Mia Farrow's blue nightgown in Rosemary's Baby or Tippi Hedren's green skirt suit in The Birds have become synonymous with terror. Costume designer Lynn Falconer mastered the era creating gorgeous vintage looks that reach the sinister standards of our favorite horror classics. We spoke with Lynn about mining estate sales for inspiration, preparing for the wear and tear of stunts, what it's like working on a horror set, and more.
How did you develop the costumes for Ouija: Origin of Evil? Did you buy or create the looks?
A little bit of both, I'd probably say I found more than I created. I recreated and modified even more. It's kind of a matrix of a few things. We started the direction with sort of '65 and when I had started to think about the characters, we kind of moved it more towards '67 and '68 because there was this inspiration from Sarah Moon, the photographer. She did this line called Viva and it just felt like Doris and Alice sitting in the room. From there, I hit a ton of estate sales in the L.A. area, which are amazing. It makes me want to live there just for the estate sales alone. There are a lot of aging starlets there. Their stuff is hitting that period right now. The late 60's, early 70's. I found some really special pieces that way, worked with several boutiques. I also did some modern shopping because in horror we have to have some duplicates for certain scenes for stunt people wearing harnesses.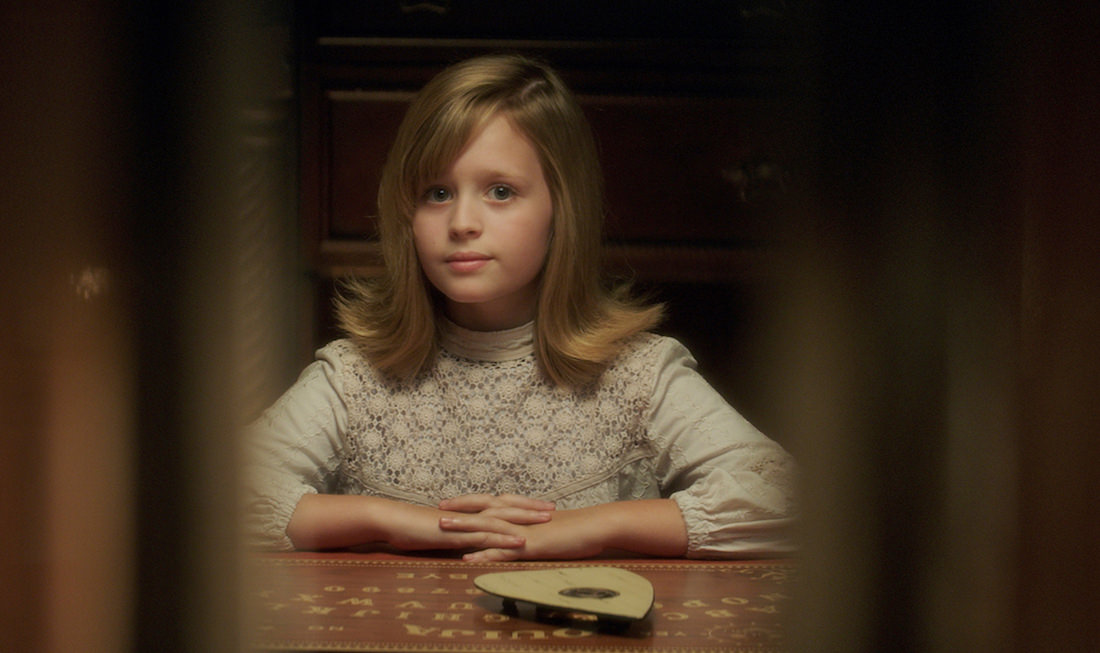 Lulu Wilson as Doris Zander in Ouija: Origin of Evil. Courtesy Universal Pictures
What did you do to prepare the costumes for stunts?
That's the biggest challenge when you're doing period stuff where you need stunts and horror duplicates. We talk about what the stunt is going to be or what the special effect is going to be, but you're really not doing it until right before the camera rolls. You always have to have different stages of that costume set aside until you have that one duplicate that always has to stay clean, one in a later stage, and sometimes you have to guess what's going to happen in between. I try to have as many duplicates as possible. It's very technical. You have to prepare with the stunt guy, be on board with the special effects people, the stunt people have pads. It's a whole other realm beyond design that you have to back up into.
Do you choose the type of clothing to make the scene scarier or accentuate the action?
In my experience, the only time we had to use a specific material was when we have to burn somebody. That has to be a natural fiber in every way. I just worked on a film where we had to burn a character and the wig had to be natural, the make-up had to be natural, the costume had to be 100% cotton, the shoes had to be leather. But as far as for this particular film, you first design for the character and basically you find the silhouettes that work for them, and then you know that particular costume has to be like a piece of equipment. So obviously you have to be careful in what you choose. You're kind of locked into a little corner of what the character would wear.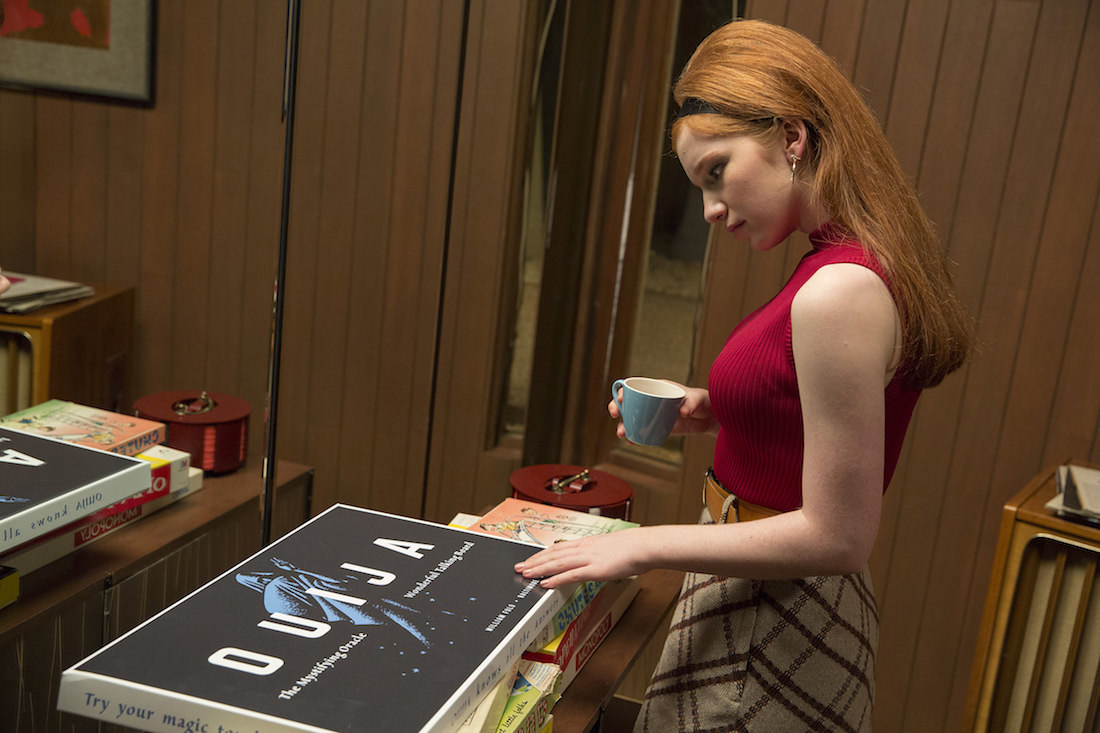 Annalise Basso inspects the sinister game in Ouija: Origin of Evil. Courtesy of Universal Pictures.
A lot of famous horror films were actually created in the 1960s. Did you draw inspiration from the classics?
Absolutely. We go to the tried and the true. One for color palette that I was directed to was The Exorcist. I looked at that for that rich and spooky. Those are my favorite horror films of all time: The Omen, Rosemary's Baby. I mean Mia Farrow's wardrobe is so incredible in that. There's so much language built into what she wears, and I tried to do that same thing. Plus I really love that school boy collar that she wears a lot in the movie. That was a big cornerstone to my Lina character. There's another film called Les Biches and it was a small film, but amazing for style. I don't always look just at horror films for my purposes. I look a lot to personality. I think of like someone kind of tragic and fragile like Sharon Tate or Catherine Deneuve. I also loved Anita Pallenberg because she was just so cool. I wanted that for my Alice character, even though she was a mom. I borrow a lot from what she wore.
You have worked on a few horror films now. Is it scary to be on set?
I have to say, sometimes it's like watching paint dry. There are those days that are really fun for stunts or those days where there's a lot of background or what not. I'm usually there at the top of every scene when I'm establishing a costume. But I feel like I have so much work to do for the next day and the day after that that my work is often not on set. I'm there to establish the costume and then I have to run. Sometimes when it is scary is when you just walk on the set and you haven't seen what the decorator has done just yet. Like the basement for Ouija, I remember seeing that for the first time on the stage and the movie just came alive for me. I wouldn't say I was scared but I was feeling it. The house was in a particular area of Los Angeles that was, I want to say, a craftsman's home. I could be wrong, but there was definitely a creepy element going on there. You could tell there had been many lives going through.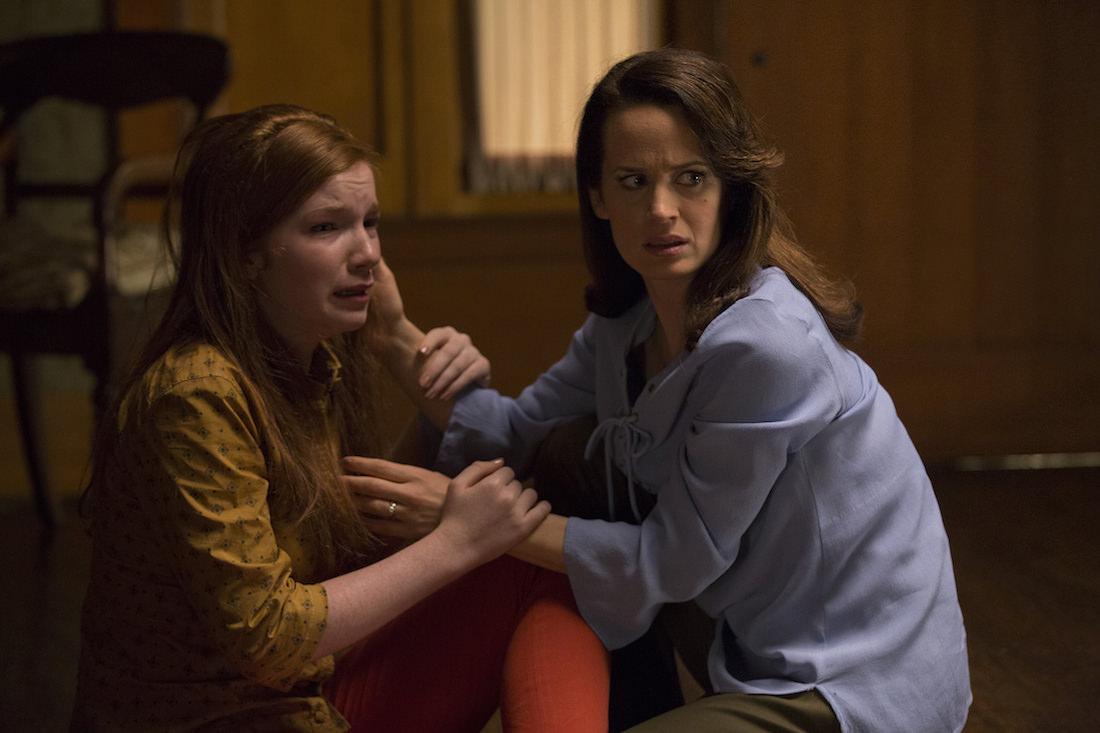 Annalise Basso and Elizabeth Reaser in Ouija: Origin of Evil. Courtesy of Universal Pictures.
Do you have a favorite costume you've created?
My very first job with Mike Flanagan was a movie called Oculus. It's probably the most complicated script I have ever worked on. It's a lot of flashbacks and alternate memories. I'd say my favorite costume was the 12 ghosts that I designed at the very end. It was my chance to really flex a period costume muscle. And the Lasser Glass victimizes all these people throughout the years, so really it's this haunted mirror. I got to start in 1873 and I pulled 12 ghosts out of 12 different time periods all the way up to 1978. At the very end, there's a 10 second moment where they have their reveal, and that was a very creatively gratifying moment. I'd say those 12 ghosts were my favorite thing of all time. It's a really solid horror film that makes you think.
What are you working on next?
I worked with Eli Craig and we just shot a film for Netflix called Little Evil. It's a dark comedy, but there's horror too. He said he tapped me because I have a feeling for the horror color palette, which I get because I have been doing horror since meeting Flanagan back in 2012. But this was fun because there's a spooky, dark comedy element to poke fun at horror films in general. We shot it in Cleveland, which is a great town. The vintage clothing there is off the hook, there's just this whole untapped source. If I would have known about Cleveland ahead of time, I'd have just packed 17 boxes and be done with it for Ouija.
Featured image: Parker Mack and Lulu Wilson. Courtesy Universal Pictures.