The First Independence Day: Resurgence Trailer has Landed
After 20-years since the last alien attack in the original Independence Day (not counting the alien attacks in The Avengers, Man of Steel, or any other of the countless films in which the planet has been plundered by space invaders), the bad boys from outer space are back in Independence Day: Resurgence.
Since the 1996, July 4th attack, the United Nations created the Earth Space Defense Program to serve as an early warning detection system in the case of another attack. The head of the program is David Levison (Jeff Goldblum), one of the heroes of "the War of 96'." The nations of the planet have been slowly rebuilding, while the lone group of alien survivors from the original confrontation hide in the African Congo. Along with Goldblum, Bill Pullman is back as former president Whitmore, and Vivica A. Fox as Jasmine, with newcomers like Liam Hemsworth and Charlotte Gainsbourg rounding out the cast. But wait, isn't someone missing? Of course, Will Smith, the undeniable driving force (aside from the boundary pushing CGI) that made the original Indepdence Day a colossal blockbuster, wasn't able to make his schedule work for Roland Emmerich's sequel. So what did they do with his character? Stop reading if you don't want to know, but film's promotional site, WarOf1996.com, details the demise of Smith's character, Col. Steven Hiller, in an accident while test piloting an alien ship.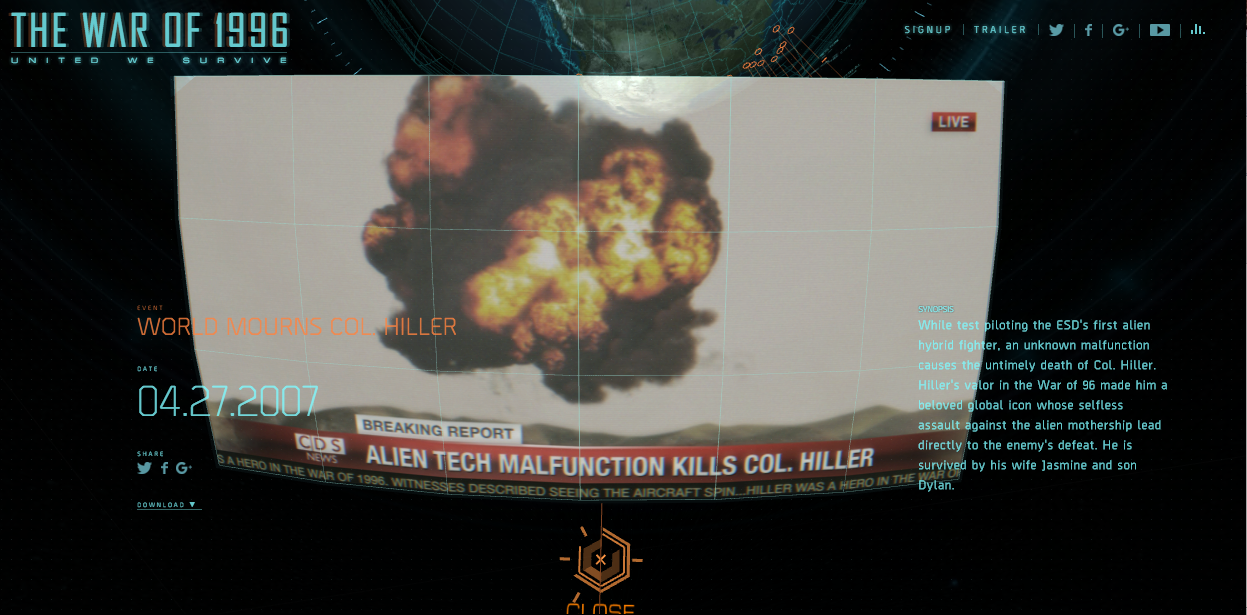 Indepdence Day: Resurgence sees a rebuilt world facing down an even worse threat than the original—the aliens are of course coming back, and now they're bringing every weapon they have to bear on the planet. Using alien technology to defend themselves, it'll be up to a few brave women and men to help, once again, keep humanity from the brink of extinction.