Brooklyn Costume Designer Odile Dicks-Mireaux
Brooklyn, based on the novel by Colm Toibin, stars Saoirse Ronan as the young Irish immigrant Eilis, finding her way and falling in love in Brooklyn in the 1950s. We spoke to costume designer Odile Dicks-Mireaux (An Education, One Day) about sourcing vintage costumes and taking inspiration from old Hollywood moviestars.
The film is beautiful. How did the job come about for you in the first place?
A producer I worked with before asked me to meet the director John Crowley, and so for the interview I prepared two books of photographic images of America from the time, and Ireland from the time. And we met, and we talked through the pictures and then he offered me the job, so that was great. And then we met again and talked back through all the images again, knowing that Saoirse was playing the lead role.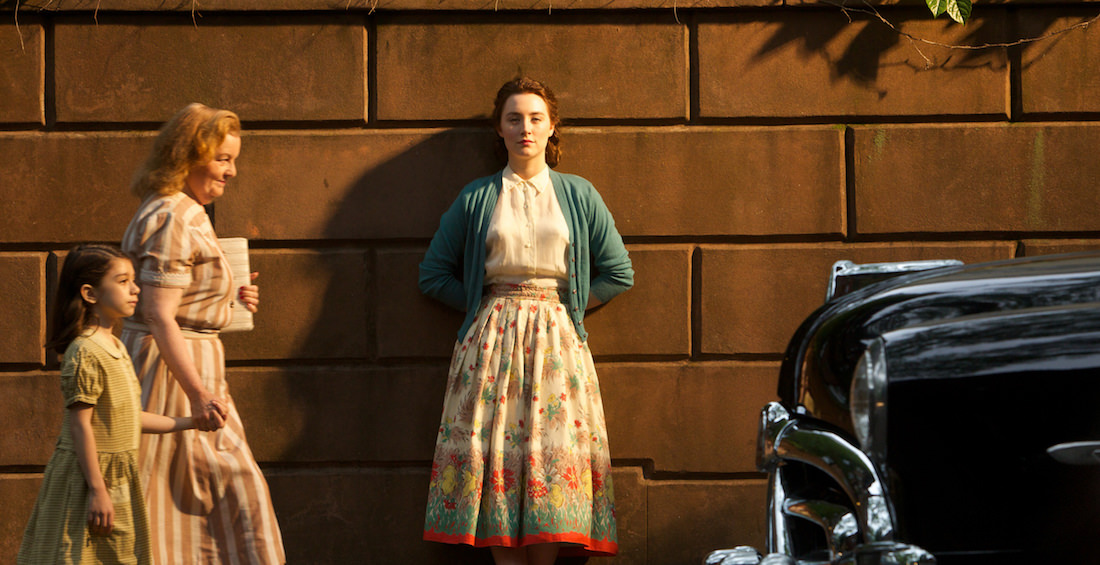 Saoirse Ronan in 'Brooklyn.' Courtesy Fox Searchlight.
Do you sort of start by pulling period references and then sort of whittling it down from there? What's your process?
Over the years I've realized you have to have an idea but always be open to the fact that you might not be able to do that idea. But if you have a clear idea it's real helpful. Then you go digging, because we didn't make anything, I went looking in the costume houses and kind of had an idea of what I thought was right.
So it was all vintage?
Yes. And so, we tried some things on at an initial fitting, knowing that some things weren't going to work and some things were. Then when I went to work in Canada, I then looked again in the costume houses there. And I thought I'll concentrate on Saoirse while I was looking and I found quite a lot of pieces there that I thought were great, and I brought them back to England.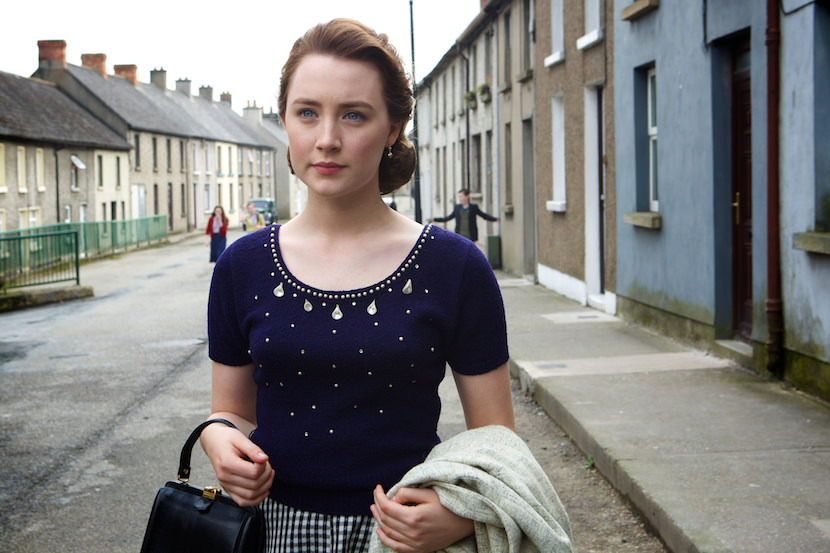 Saoirse Ronan in 'Brooklyn.' Courtesy Fox Searchlight.
The wonderful thing was that they all worked beautifully, so that was really, really great. You know she's quite a sort of down to earth, practical kind of character… She had to come across as being quite a real person rather than, you know …
A really stylized person from the era?
Yes. And then you have to realize she's changed. John didn't want Ireland to be depressing or miserable, just different. They were to be different places, partly because of what happened after the second world war, partly the style was very different in America to what was going on, particularly, in England and Ireland.
And I guess Ireland was more of a self contained place whereas America has all the different influences from all the immigrants and everyone coming from all different corners of the world?
Yes, sure. But they were a little bit bolder in their clothing really and their style, and they're a little bit brasher. And if you look at the movies, the contrast of what Britain was producing was conservative, slightly more reserved. And the color … I'm sure people didn't see fresh fruit for quite a while, but there was fresh fruit on all the stores in Brooklyn.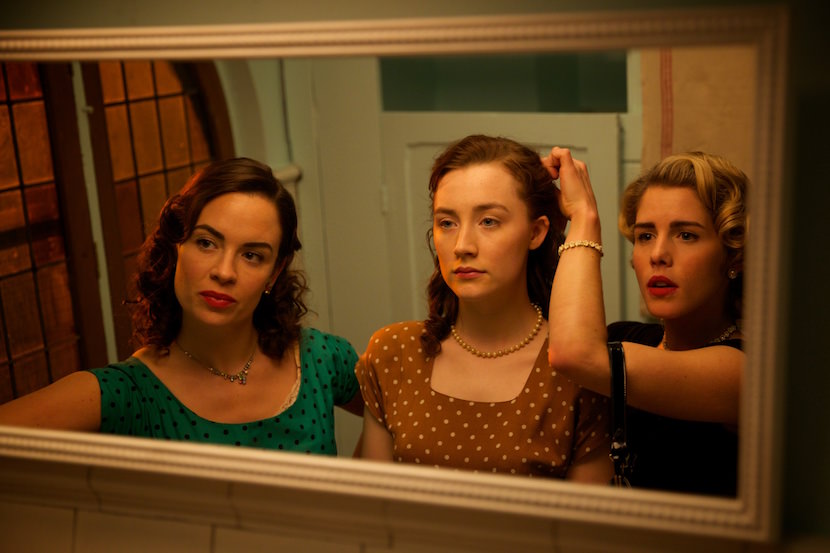 Eve Macklin as "Diana," Saoirse Ronan as "Eilis" and Emily Bett Rickards as "Patty" in BROOKLYN. Photo by Kerry Brown. © 2015 Twentieth Century Fox Film Corporation All Rights Reserved
Were there any instances where you felt the costume was a very important tool in the storytelling?
The thing is, it always is for the actors, you know? Because it helps them evolve their character, so as you are putting the clothes on them in the fittings and I'm kind of suggesting, 'Well, we could do that… and this is what I'm thinking for this.' They're thinking, too. It's kind of like a collaborative work. And I find that actors find this process really, really helpful to find their characters.
Sometimes they come with a real idea. Like I said to Julie Waters, her look can be a bit Agnes Moorehead. I showed her some pictures and she thought that's great and said, 'Let's go for that' and they styled, made the wig a little bit like that.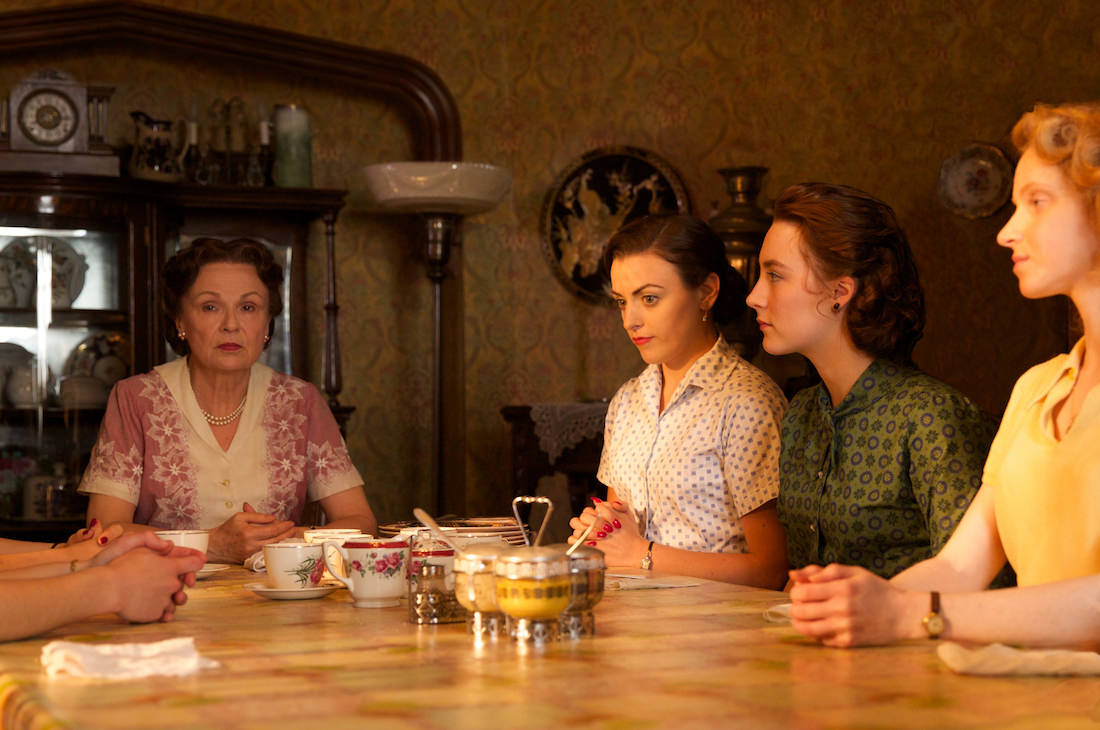 Julie Walters as "Mrs. Kehoe," Nora-Jane Noone as "Sheila" and Saoirse Ronan as "Eilis" in BROOKLYN. Photo by Kerry Brown. © 2015 Twentieth Century Fox Film Corporation All Rights Reserved​
Did you have anyone like that for Saoirse?
Very young Grace Kelly. That was John's idea. I have pictures of her and Elizabeth Taylor and various Hollywood stars because I think young girls do look to films and kind of think, Oh, I'd like to dress like them. It's a bit like having a magazine, you know, isn't it? But I think films were more exciting and much more of a big thing then.
So you sourced it all as actual vintage material? Is that always how you always work for period films?
Honestly, when you go further back, you can't, you have to make it. I think you, for twentieth century and twenty first century, yes, you definitely try to source as much as you can. So even if you can't, if you find something that may be too small, that might be your inspiration or your sample to give the maker to kind of guide them to what you want. I think it's very, very important to look at the originals. For me, anyway, that's the way I work. It depends on the brief, though. For this we were doing a very real story and we wanted the audience to really believe in the characters and believe her journey and feel it with her.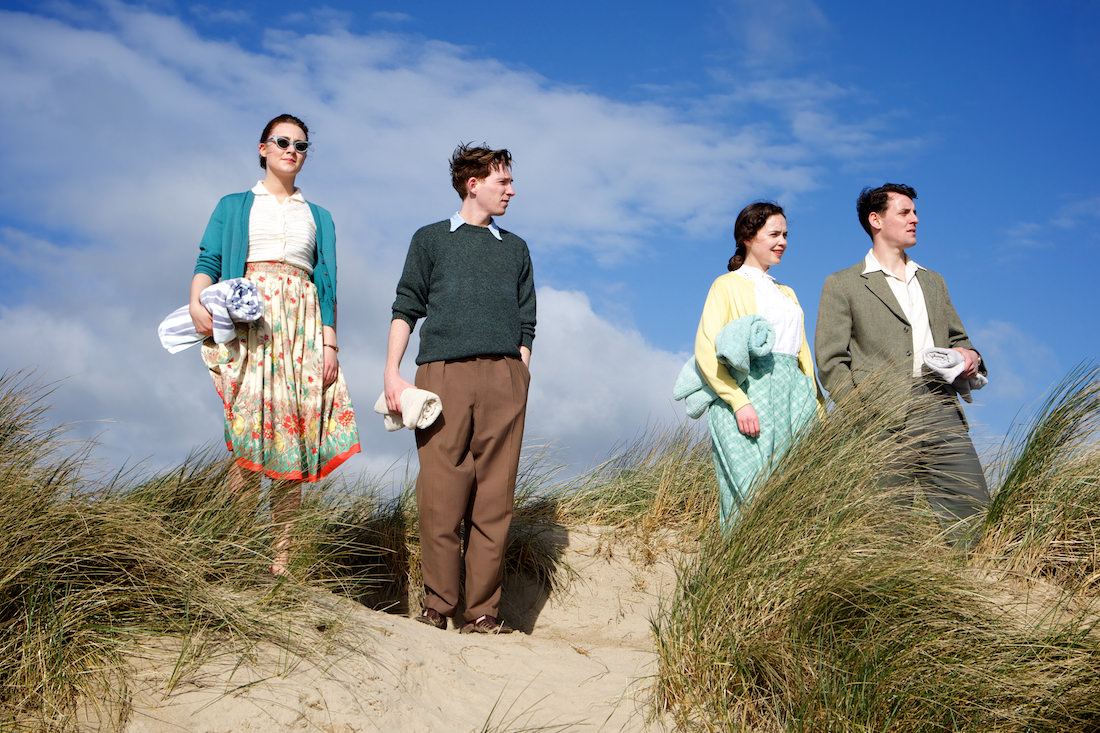 Saoirse Ronan as "Eilis," Domhnall Gleeson as "Jim," Eileen O'Higgins as "Nancy" and Peter Campion as "George Sheridian" in BROOKLYN. Photo by Kerry Brown. © 2015 Twentieth Century Fox Film Corporation All Rights Reserved​
She makes a point in the movie of talking about how, in Ireland, the rugby boys all wear the same look: their hair slicked and the blazers and things like that. So, the distinction of what the men wear is actually an important part of the story as well.
Yes, definitely. I had some personal family photographs of my mum and dad at the time. They met just after the war in '48 and then got married around 1950. And that was very interesting: you had one jacket and one suit and a couple of shirts and that was about it. And I used that logic for their wardrobes. She had only a suitcase, literally, to go to America with. And therefore we had to believe that her clothes could fit just in that suitcase. Then she had a little bit of money and she'd been saving it because she was quite careful, so what would she buy? She'd be practical, buy warm clothes, and then going on, as her confidence builds up, she'd be a bit bolder.
So, I kind of used my own strange kind of logic to kind of control how her wardrobe built up, yet make enough changes for it to give you a sense of time passing. Time pass is always difficult to do, because you always feel like you're doing too many clothes.
And with different things like the color palette, is that something that you discuss with the production designer?
We did, John, Francois [Seguin] and I all met, and had a general discussion about our feelings for the film. I talked about how extraordinary it would be to go to America and see all this color and boldness of pattern and fruit in the stores in Brooklyn. It would have been quite overwhelming in comparison to the sort of quiet life in a small town in Ireland. So we discussed that and I think it was a natural instinct, to go the ways we went.
Is the underwear, the vintage sort of style underwear, an important part of creating those silhouettes?
Well, it's important to get your silhouette correct, and we did change her silhouette so, you know, when she was in Ireland at the beginning she had a slightly more late forties kind of silhouette. And then when she got to America she kind of adopted a little bit more of the Elizabeth Taylor, with the film star kind of pointed bra etc. Just gradually. Not overly because we felt that character, she wasn't that kind of girl. Whereas Patty, in the pink sweater, is definitely that kind of girl.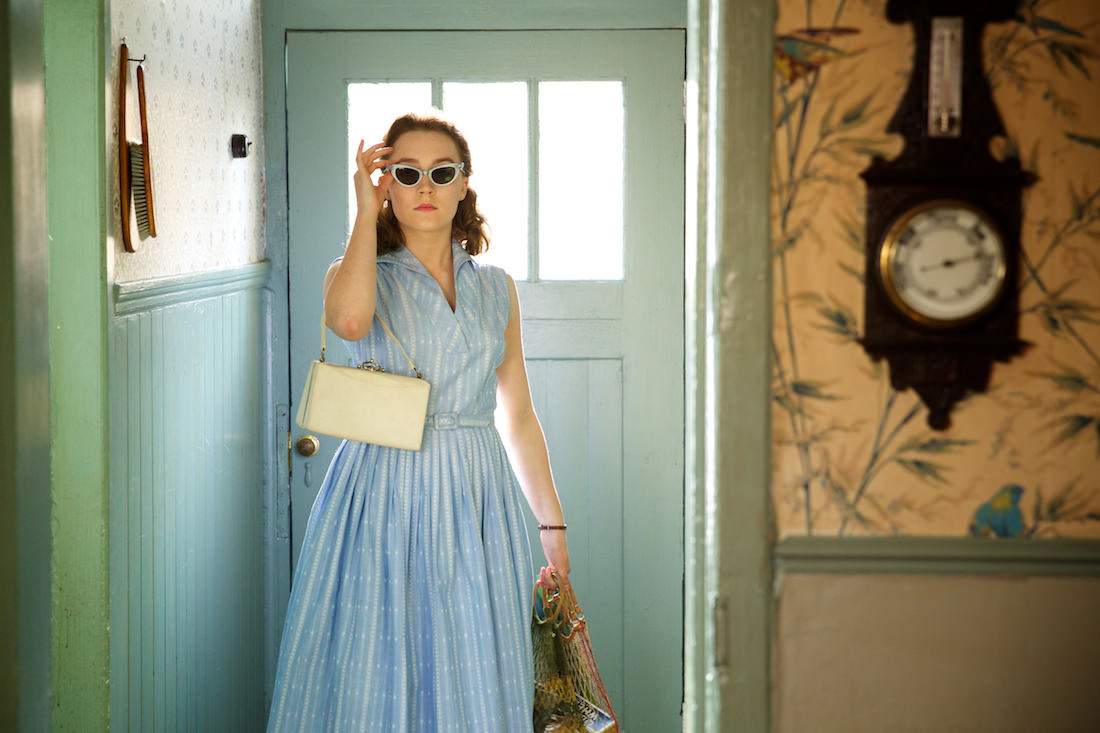 Saoirse Ronan as "Eilis Lacey" in BROOKLYN. Photo by Kerry Brown. © 2015 Twentieth Century Fox Film Corporation All Rights Reserved​
And so what was the highlight of working on Brooklyn?
I think working with Saoirse was a bit of a highlight. Because she was such a great person and just a great actress to work with. She was really trusting and I'd spend of kind of a long time working out all the subtle changes that she would wear, and she would just, you know, just let me get on with it. And it was a very nice team.