Costume Designer Kate Hawley Talks Crimson Peak
Costume Designer Kate Hawley knew what she was getting into when director Guillermo Del Toro hired her for his cheeky horror film Crimson Peak, which he described to her as just a little Victorian-era film. Having first worked with him on pre-production concept work when he was attached to direct The Hobbit series, Hawley and Del Toro connected over some of the 600 books she travels with, "looking for a common language," to interpret his new work. She knew even when Del Toro does a smaller film, he and his team pours everything into it.
Taking place at the turn of the 20th century, it tells the story of Edith Cushing (Mia Wasikowska), a wealthy, precocious young woman, haunted by the death of her mother when she was a girl, who lives with her industrialist father in Buffalo, NY. The city is fast becoming a burgeoning metropolis, with carriages and dirt roads quickly giving way to paved streets and automobiles. A foreign visitor comes to town, Sir Thomas Sharpe (Tom Hiddleston), an English nobleman fallen on hard times, along with his sister, Lady Lucille Sharpe (Jessica Chastain). They are looking for bank credit and speculators to invest in developing the blood-red clay mine upon which their estate, Allerdale Hall rests. When the clay seeps up to surface and stains the snow, the mountainside is known as "Crimson Peak." Edith is smitten with the dashing nobleman, her father is immediately suspicious. Without giving more of the plot away, soon Edith is off to England and Allerdale Hall as Sharpe's new wife, but the dilapidated estate has many secrets.
"Guillermo already had a strong idea of what the ghosts were, and the color coding he wanted for the settings and costumes. Buffalo, NY with its cornucopia of wealth and overt lusciousness had warm and gold hues, while Allerdale Hall in England is a world of winter and starvation, cold blue hues. I responded immediately. I read the script and then we got to work and built layers into these ideas."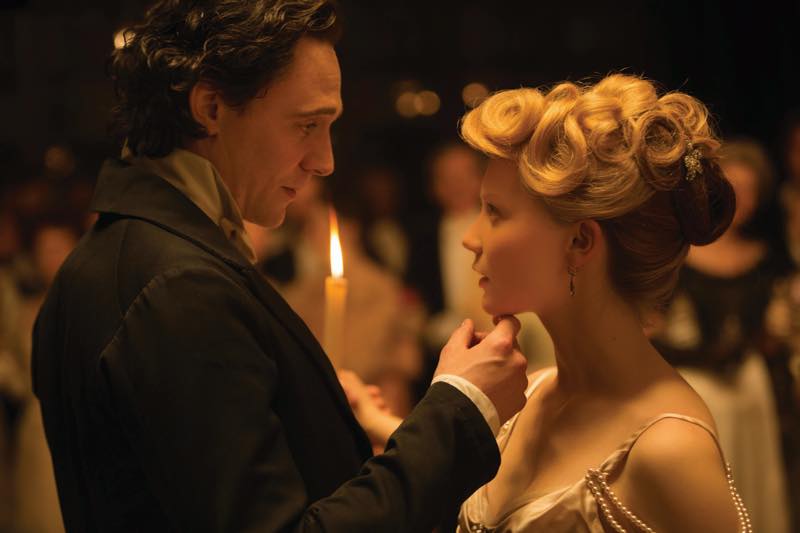 Hawley did a month of personal research before her five months of pre-production began, which was followed by three months of shooting. "I started doing sketches and drawings based on my initial research." Then Hawley moved into pre-production, meeting with Del Toro and the other department heads regularly as work switched into high gear. "Del Toro and I looked through lots of paintings for references, I would do mood boards and sketches of costume ideas. My costume department would cut small, theatrical installations of sets, adding fabrics and props for each character. So it's like magpie-ing. I magpie from everywhere. And then we distilled things based on Del Toro's response."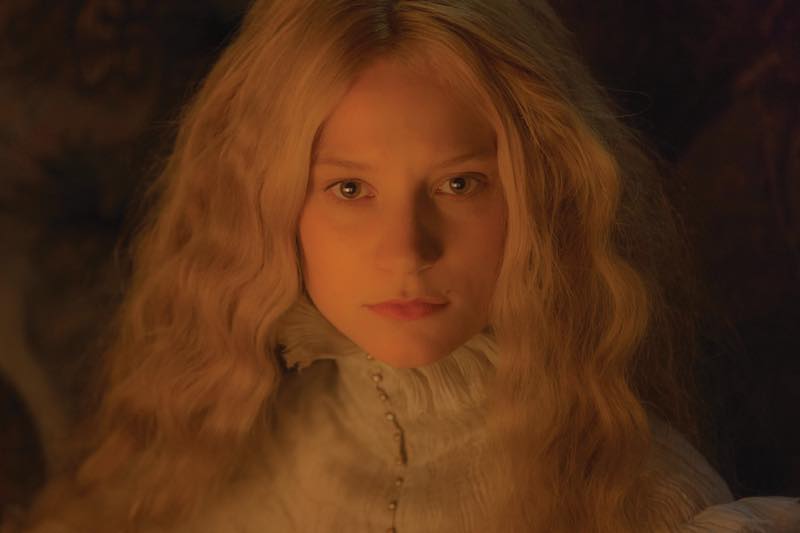 It was important for Hawley and Del Toro to get the silhouettes of the characters correct in terms of how they would look in their costumes. In the production notes Hawley says Del Toro told her "We're going to build the costumes and we're going to couture the architecture." Hawley and her team were constantly layering new ideas onto the costumes throughout the pre-production process. Wasikowska's clothes for Edith while in Buffalo were light lace, cream colored, or burnt orange, to pick up on the rich warm glow of the atmosphere Del Toro was looking for, while Chastain's clothes for Lucy were heavy dark fabrics, to represent the dark repressed world of the Allerdale Hall estate.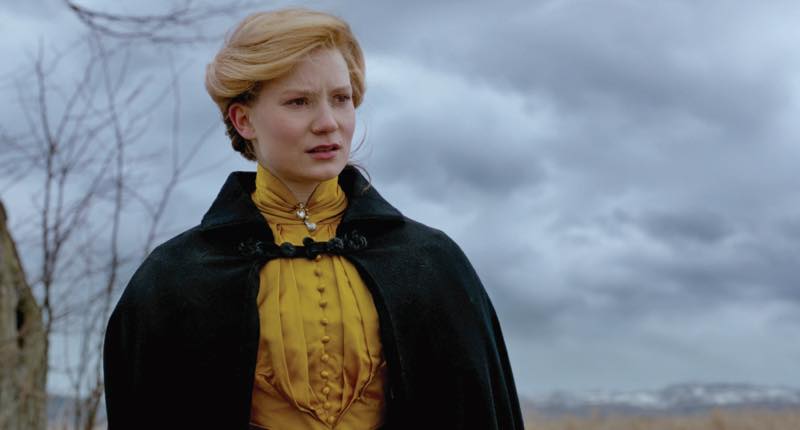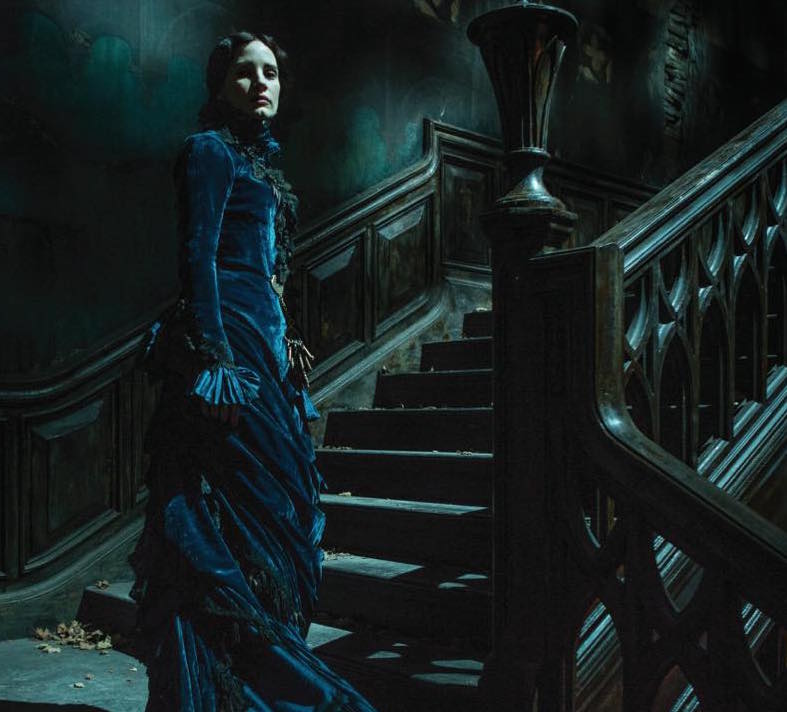 For Hawley, "creating this [visual] language we were able to have rules that we could make work on a practical and thematic level. For instance, it didn't feel right to put decorations on Lucy's clothes, it had to be part of this symbolist world." Instead, they subtly wove designs of foliage, leaves, and acorns into Lucy's deep blue colored dresses, as though Lucy was slowly becoming part of the dilapidated house and grounds, entrapped in her clothing. Using antiquated pleating techniques, the costume department spent hours day in and day out hand-stitching all the design iterations into the delicate, fine fabrics.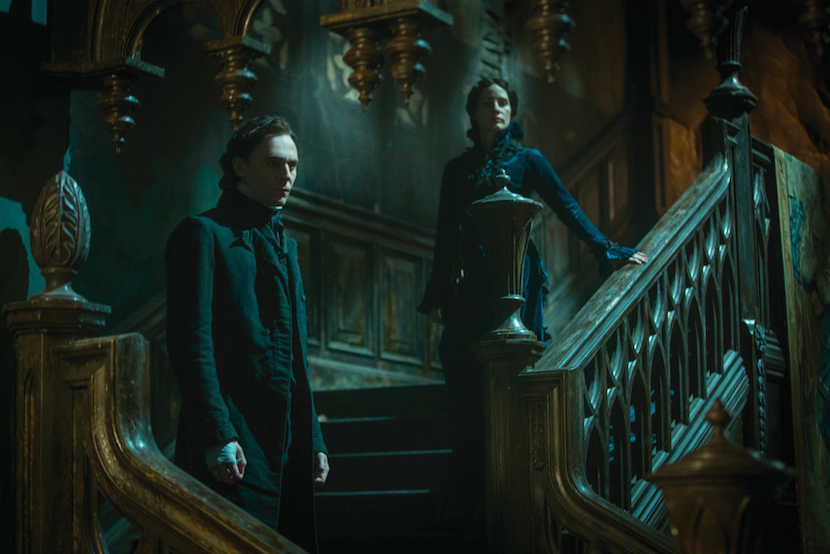 Hawley worked on Pacific Rim and Edge of Tomorrow before Crimson Peak, and just finished work on Suicide Squad, so working with Del Toro on a period costume drama was a breath of fresh air from the worlds of fantasy and science fiction. Although she did keep one rule in mind: "It's gothic horror, not a slice of life."
Featured image: MIA WASIKOWSKA stars as Edith Cushing in Legendary Pictures' "Crimson Peak", a gothic romance from the imagination of director Guillermo del Toro. Courtesy Universal Films/Legendary Pictures