Spy's Stunt Coordinator on Melissa McCarthy's Butt Kicking
A chance introduction to Jean-Claude Van Damme in the late '80s led to Spy's stunt coordinator J.J. Perry's long career in the movies. Perry, who was on the Atlanta set of Ang Lee's latest film Billy Lynn's Long Halftime Walk when we spoke, has worked on countless films, including Divergent, Transformers: Age of Extinction and Warrior. He tells The Credits about how he battled to make sure he sent Spy's star Melissa McCarthy, a stunt newbie, home in one piece and how he got into the game.
Does your approach to the stunts change at all when you're working on a comedy, as opposed to a straight action film?
Ah, it's action. Action's action.
Tell me a bit about your experience of working on Spy. How did the job come about?
Initially, the producer John Kelly called me. He's a guy I've done a bunch of jobs with and he said, "Hey, I'm working with this director Paul Feig." And I'm a HUGE fan of Pauls. So, he's telling me a little bit about this movie. He said, "We're going to shoot it in Europe." I've done a bunch of movies in eastern and western Europe. He said, "It's like an action comedy movie." When I went and met Paul I was really nervous because I'm such a big fan of his but I found out he's a big action geek himself. He's a big fan of Jackie Chan movies – which I had no clue- but as soon as I met him we hit it off right away. He gave me an idea of what he wanted as far as the action. He said, "Don't worry about the comedy. I'll take care of that. Just make the action super cutting edge and I'll make it funny."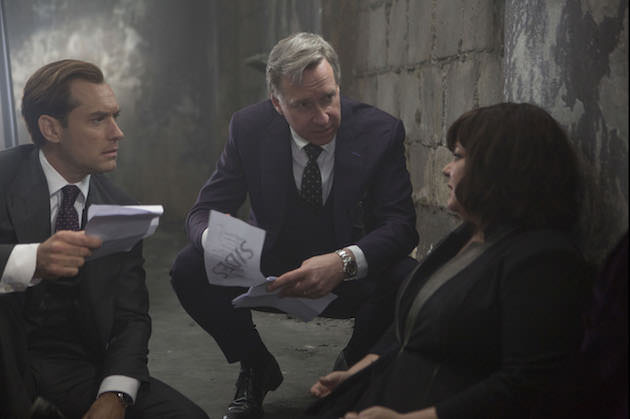 How did you prepare?
I picked the team. I took four people with me. I knew there would be a lot of challenges with Melissa because she hasn't really done any action movies and she's not your stereotypical action type. I've worked with Jason Statham a bunch and I've worked with Jude Law a bunch. Those guys were in the movie and had a quite a bit of action themselves, but they do action movies. So, with Melissa, it was a very big challenge. Safety first- I have to protect her. And I have to keep my promise to Paul to make the action great. I went out and hired freerunning and parkour champion Luci Romberg. She's one of the toughest people I've ever met and I'm super stoked to have her work for us. We had another girl named Alicia Bailey, who's another famous stuntgirl, come out to double Rose Byrne and all the other women in the movie. Walter Garcia came out and helped with the fights, and Hank Kingi Jr. Then one by one we shot and edited each one of the fight sequences and action sequences on our own for Paul to look at for his approval in pre-production. We went to the sets where we were going to shoot it but we just shot it on our own. Paul hasn't done any action movies before this one…
So he wouldn't necessarily have the action language like someone who's doing it all the time?
That's correct. And I didn't want to talk about it, I wanted to show him. A picture's worth a thousand words. Sure enough, as soon as he saw it he went nuts and then we did it.
At the premiere Melissa McCarthy said she "weirdly" enjoyed doing the stunts. Was she game? Up for trying stuff?
Yeah. I think it was hard for her. I think she was under a lot of pressure. Yes she was game but I can't allow her to do things where she could hurt herself, even if she wants to. I have to protect her from even herself, which was a tricky one because she didn't like to be told what she was going to do and what she wasn't going to do. But yeah, she was totally game, which was cool. We were in Hungary and I film a lot in that part of the world and you lose 10 per cent, or 20 per cent, of every conversation in translation. When you do that somehow you have to account for it in counter measures, so it was all about trying to be one step ahead in every action sequence. It was crazy. Statham and Jude Law were outrageous to work with, as usual, and had a great time, and 50 Cent was cool. We had to string Rose Byrne up in some wires and she was good to go too.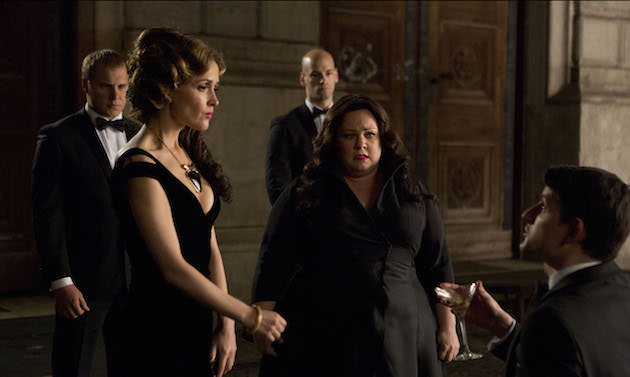 What was the most memorable sequence that you worked on?
They all were special in certain ways. I really liked the kitchen fight a lot. I also like the car chase. There was a scene where we had to have Luci Romberg, Melissa's stunt double, run and jump on the skid of a helicopter as it's taking off, which was dangerous because we did it without safety the first time to get her off the ground. So that was pretty cool. All of it was pretty cool. It was a hoot. Paul is a great director and he's a great guy to work with. His process is very cool and he makes everyone very relaxed and calm on the set.
You've worked as a stuntman and stunt coordinator on so many different films. How did you get into the field? Your background is in martial arts, is that right?
Yeah, I was in the military as well. I started with martial arts when I was a little kid and then I was in the army for a few years, raced cars, a little bit of everything.
So, how did you get your break?
How did I get into the movie business? [laughs] When I was stationed at Fort Ord, California in 1989, my cousin had sold Jean-Claude Van Damme a BMW and told Van Damme, "Hey, I've got this cousin J.J., he's got like 130 fights, 32 knock-outs, he's a paratrooper, army dude, badass… " And Jean-Claude said, "Have him come down and audition for my movie." So, I took a three-day pass and drove down from Fort Ord, which is a five-hour drive to LA, and auditioned and booked the part but they wouldn't let me do it because I was still in the army. But that gave me the wherewithal, so when I got out of the army… when you drive down from Fort Ord to LA, to get to Texas you have to make a left-turn on the 10 freeway. I just never made the left turn. I just stayed in California and chased it. That was it.
Before that encounter it wasn't something you had your eye on?
I didn't really know what I was going to do with the skill sets I had at the time. I was a fighter and then I was in the army, so what am I going to do? I didn't really know what to do. I was either going to stay in the army, or teach karate, or teach taekwondo and keep competing but I got the opportunity to get into the stunt business, so I just took it and ran with it. I've been very, very fortunate. I never expected to have this great fortune and be able to do these great movies with cool people. It's been a charmed life.
Of all the movies you've worked on, do you have a favorite film or a sequence that you've either been in or coordinated?
There was a movie called The Rundown where I did this stunt where I went and fell down a mountain (see at the 1:05 minute mark below). That was pretty cool. That was back in 2004. But I would say all of them. Just to be in this business at all. I take away something from every one of these movies that I work on. I'm not ashamed of anything I've done and I'm a bit proud of everything I've done.
Have there been any standout injuries that still make you wince when you think about them?
Yeah, I've had some of my teeth knocked out, I've had my ribs broken, my cheekbone broken. I've got about 100 stitches. I've been gashed up a few times, but that comes with the territory, you know? I always look at it like it's just another stripe on the tiger.
I guess you have to look at it the opposite way for the actors? Like you were saying before, stopping them from becoming their own worst nightmare.
Sometimes that's the hardest part because they don't want to be told what to do. Especially someone like Melissa McCarthy, because she can be very commanding at times. My job is to make sure they go home the same way they came. As stunt people we know we're going to get hurt. Our job is to get hurt. Our job is not to get injured but maybe to get hurt, if that makes sense? But I have to bring those actors back intact. That was my biggest challenge, kind of protecting her from herself.
Well, she seems to have come out of it in one piece, so you did your job well.
[laughs] Cool.
Spy is out on Friday.
Featured image: Melissa McCarthy faces off against a knife-wielding adversary (Nargis Fakhri). Courtesy 20th Century Fox