Cleveland's Flexibility Gives Captain America its Punch
In Captain America: The Winter Soldier, Steve Rogers (Chris Evans), the Black Widow (Scarlett Johansson), and Nick Fury (Samuel L. Jackson) spend some time at S.H.I.E.L.D. headquarters, the massive flying aircraft carrier where this crucial agency at the heart of the Marvel Comics Universe deals with the paranormal and superhuman threats to America. This time they're dealing with a foe potentially more powerful than the Captain—the eponymous Winter Soldier.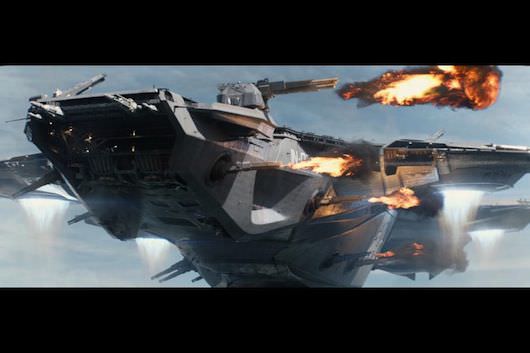 When directors Anthony and Joe Russo were scouting for a location that could serve as the grand lobby of this flying strategic command center, they came upon the Cleveland Museum of Art, which had just completed a major renovation of its atrium, conceived by renown architect Rafael Viñoly. The new glass enclosed atrium, part of a $350 million refurbishing effort, is a 39,000 square-foot gem, the largest free public space in the city. To the filmmakers behind the latest Captain America, it looked like the perfect place to film some crucial S.H.I.E.L.D HQ scenes.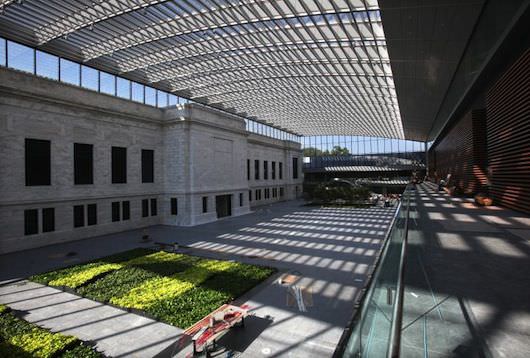 All they had to do is convince the Cleveland Art Museum that their brand new atrium would be an ideal place to bring a huge production, with their countless pieces of equipment and hundreds of crew members, to film their epic movie in a space that had just recently been built after years of rennovation. "They didn't freak out," says Ivan Schwarz, the president of Cleveland's Film Commission. "They have hundreds of millions of dollars of art there, and yet because they're a community partner, they let Captain America film in their brand new atrium. It's kind of like you remodel your house, and saying the day after, 'Sure, come in and redo everything."
Cleveland was the production location for the major action sequences in the film, doubling for Washington D.C. (where establishing shots were filmed). The Russo brothers are Cleveland natives, but thanks to healthy film tax incentives in many states across the country, Cleveland was never a shoe-in.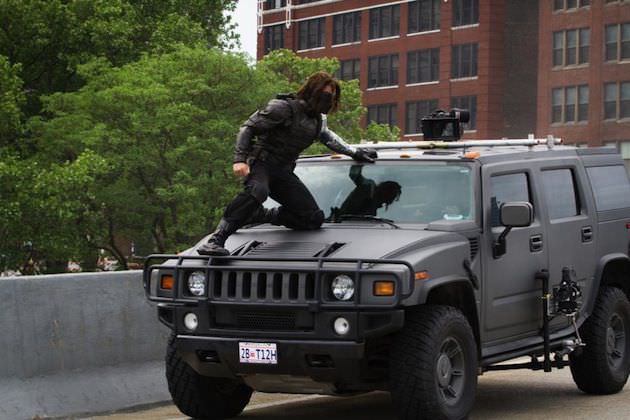 "Just like every other project, you have to win them over," Schwarz says. "So we spent a good six months working with them to make sure that this was the right place for their project."
There were three major factors in Cleveland's favor; the first is the film incentive, which Schwarz says is responsible for being able to even have the conversation in the first place; the second is Cleveland's ability, thanks to a flexible community and agile leadership, to shut down major arteries in the city to allow for filming without making life impossible for residents. "With the right planning and execution, instead of having to computer generate the action scenes, they were able to do that practically," Schwarz says. "It makes a big difference and it shows on screen. It looks better. Also it saves them money in the long run. For us to be able to pull that off sort was the lynch pin,"; the third was a little film called The Avengers, which utilized Cleveland for a lot of its scenes and came away having had a great experience. "When The Avengers shot here two years prior, we closed down a major artery, during the summer, a block and a half a way from the baseball stadium—for a month," Schwarz says.
Cleveland had doubled for New York in The Avengers, but executive producer Louis D'Esposito has said that the city was an even better fit for D.C., with similar building sizes and architectural styles. Two colossal action sequences that were crucial to the script were all exterior sequences and required a city that could accommodate a huge crew filming on a major roadway, for weeks, without interruption. One was a wild car chase involving Nick Fury.
Much of the above scene was shot on Cleveland's Memorial Shoreway, which snakes along the shore of Lake Erie and connects the east and west sides of Cleveland. The scene involved speeding cars, exploding trucks and vehicles being launched into the air and crashing spectacularly. The Shoreway was shut down for three consecutive weeks during the summer. The only way this is possible is through extremely clever planning, a true partnership between the production and city officials, and, perhaps most importantly, the support of the community. "It takes a lot of planning and a lot of work, but we have the wherewithal and the desire to make this happen in our community in a big way," Schwarz says.
During filming of the Fury chase scene, Schwarz had one of his favorite moments on set. "When you talk about community, the people really get a kick out of watching the scenes being shot. There was so much action, cars overturning, explosions…it was almost like being at Universal Studios. People loved watching it, and it almost gives them an ownership of it. We're asking the community to do some pretty significant things, and my favorite moments are when the community does take ownership."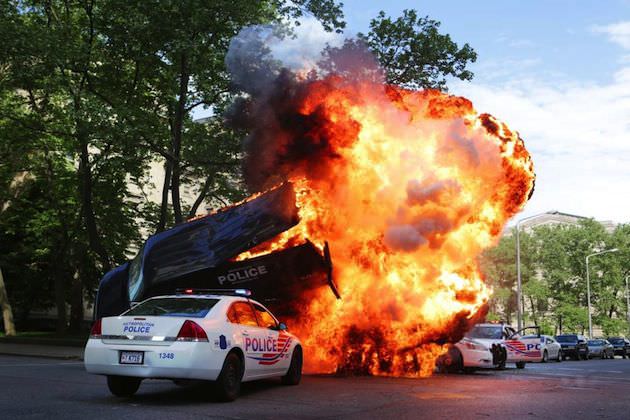 "I don't think there's another city in the entire country that would have let them do what they were doing in our downtown area," Schwarz says. "We're becoming a place where people are hearing about us and thinking about us, and to draw that attention you have to do something above and beyond, doing things they couldn't do any other city." Schwarz says that a healthy competition exists between the cities and states that offer healthy film tax incentives, and that Cleveland is competing with the big boys—New York and Los Angeles—as well as with the up-and-coming film hotspots around the country, which includes Georgia, Louisiana and New Mexico.
Another major action set piece that the city went above and beyond for involved the late second-act sequence in which Captain America, the Black Widow and Falcon (Anthony Mackie) battle the Winter Soldier (Sebastian Stan).
Producer Kevin Feige has said that in order to pull off these incredibly intense, real-world scenes, the logistical challenges could only be met by a "strategically coordinated partnership with the city" that included working night and day with Mayor Frank Jackson, the Greater Cleveland Film Commission, and the Greater Cleveland Regional Transit Authority, to name a few, as well as all of the citizens and local businesses in Cleveland.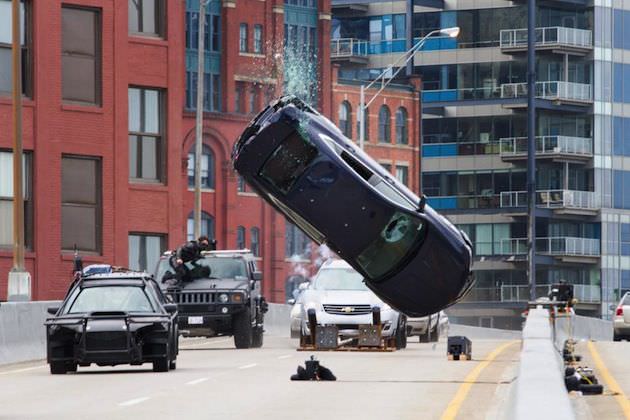 Schwarz says a major reason Captain America: The Winter Soldier was able to pull off what would be impossible in most other cities in the country is the production's respect for Cleveland, it's institutions and citizens, and it's willingness to act as a partner with the city. "We've been very fortunate to have had productions that are community friendly," he says. "They let us know what they wanted to achieve, and we go about helping them do it. It's been incredible to watch their inclusiveness and respectfulness of the community—that goes a long way. If you show respect and you come in here and say this is what we'd like to do, how do we partner up on that? Cleveland will respond."
For Clevelanders, Captain America was replete with locations they recognized immediately as their own. Many of the most exciting chase sequences happened at well known intersections like Euclid and 9th downtown, West 3rd and Lakeshore, and along the Shoreway. Camp Ravenna, where Captain America and his team train, was recognizable as Lakeside Cemetery. The list goes on—the Cleveland Museum of Art's atrium as S.H.I.E.L.D HQ, buildings like the old gas building and Cleveland Municipal School District, the Shoreway bridge—all these locations which appear to be parts of Washington D.C. for most viewers resonated as brief flashes of their beloved hometown for the city's residents.
"For us, it's about economic impact and creating jobs," Schwarz says, noting that the production of Captain America brought $80 million to the city. "Whether or not the film is good, that's up to the filmmakers and the studio, our job is to help them do their job in terms of creating content. They hire our locals, they put people to work, they help train people and they spend a tremendous about of money in our community. The fact that we get to have a movie that turns out to be really good? This movie's going to resonate all over the world, and it's Cleveland, Ohio," Schwarz says. "That puts a spotlight on our city, and that's something you can't pay for."