The Perfect Note: Oscar Isaac's Inside Llewyn Davis Performance
Oscar Isaac has a long-overdue star-making role as the title character in the Coen brothers' new film, Inside Llewyn Davis, the story of one week in the life of a folk singer living in 1961 New York. T. Bone Burnett, who also worked with the Coen brothers on Oh Brother Where Art Thou? produced the soundtrack, which includes folk standards like "Fare Thee Well," "500 Miles" and Tom Paxton's "The Last Thing on My Mind." Isaac came to Washington D.C. to do a Q&A with Vulture writer Jen Chaney following a screening, and later met with journalists to talk about the film.
"What I lack in talent, I make up with obsessiveness," he said, explaining that he over-prepared several period songs for his audition. But Joel and Ethan Coen are "great in the room," and were very responsive. When he got word that he had been cast, "I was dancing in the streets. It was the most amazing moment of my life."
Isaac began playing guitar at 14 and had "lots of bands in lots of genres," including a punk ska band that appeared on the Warped tour. But this was a new genre, and he worked closely with Burnett, who was like "the musical Mr. Myagi, very organic" in sessions that he made sound more like hanging out than guitar lessons.
Isaac described the film as being so threaded through with song it's almost like a concert movie, but Burnett told him to "play it like you're sitting on your couch playing to yourself." The performances were all shot live on the set instead of the standard practice of performers re-enacting to a pre-recorded track. Many of those scenes are shot in close-up on Isaac's face, deepening the sense of intimacy. Isaac said that film itself is built musically, "structured like a folk song, verse, chorus, verse, chorus."
Burnett told Isaac that "the single most democratizing event in the history of mankind" was the journey by researchers to the countryside "to record the music of the poorest of the poor and broadcast it around the planet. That's where modern music comes from. It is the fulfillment of the prophecy that the meek will inherit the earth. There's a reason it is so effective as protest music. It is so direct, so simple."
Isaac described singing as "an expression of rage or of deep hurt. A lot of folk music comes from desperation. Life squeezes them and these are the noises they make." In performing as Davis, singing was acting, "a window into him."
Isaac described Davis as "an island unto himself, too introverted for the coffeehouse—that is why he sings with his eyes shut. He's isolated because the things he has to say—no one is interested in hearing them." Llewyn Davis accesses emotions in performing that he does not call on in the rest of his life.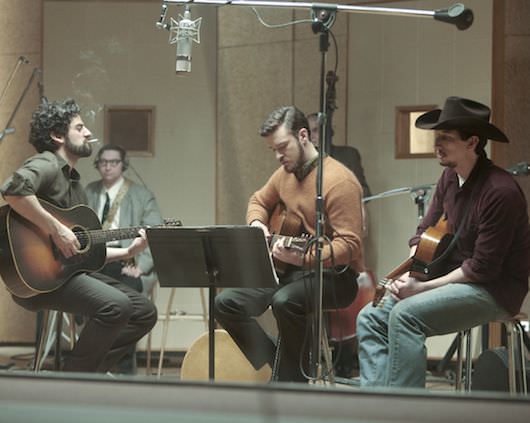 Isaac asked himself, as he read the script, "What makes the comedy of resilience work?" He thought of Buster Keaton, "the melancholic impasse" of his face. "He doesn't dictate what is going on emotionally. He just lets you see. It's an external expression of what he feels like inside." In one important scene in a doctor's office, where the line is just, "No," the Coens advised Isaac to "keep it very simple," not to sigh or look away, and yet it is one of the movie's most powerful moments.
"I've been accused of over-intellectualizing often," he said. "I tried not to do that with this one, particularly since the lens was so close to my face….it was never going to be an act of expression. It was about thinking it and feeling it and knowing they would provide the context for those thoughts." But his performance also reflects his focus on detail. He knew that the homeless Davis would have rundown shoes, so Isaac wore "the saddest shoes" that he could find in the film for a month before shooting, to get used to them and to make them look authentically worn, and worn by him. He also worked on the character's movement and posture. "Maybe he always walks uphill, even when he's walking downhill."
Regardless of his character's bipedal trajectory, Isaac's performance rises to the exacting standards of the Coen brothers. As always, they cast well.