A Tale of Two Sisters: Meet the Creators of Walt Disney Animation Studios' Frozen
No two snowflakes are alike. The same could be said about sisters—especially Arendelle's Anna and Elsa, the stars of Walt Disney Animation Studios' upcoming comedy adventure Frozen, in theaters November 27. For many families, their story may sound familiar—sisters by chance, estranged by choice. But there's a magical reason for the sisters' chilly relationship—Elsa's enigmatic but uncontrollable power to create snow and ice.
Voicing the fearless, yet lovable younger sister Anna is the charming Kristen Bell. Tony Award-winning Idina Menzel lends her voice to Elsa—the older sister whose icy touch traps the kingdom of Arendelle in an eternal winter. In a valiant effort to save her kingdom and sisterhood, Anna sets off on a journey to locate Elsa and reverse the wintry spell. Initially the characters weren't siblings; directing duo Chris Buck and Jennifer Lee contemplated telling the story from a different angle. "We just had two separate women not quite doing the same things in the story," Chris reveals. "But then when we decided to make them sisters, suddenly there was this emotional bond between the two of them. It wasn't a moment of, 'Oh, no! We've got to start over!' It was more of an, 'Oh, right! That [storyline] can make this movie even better.'"
And better was the ultimate goal—a benchmark that the entire Frozen team was aiming toward for Disney's 53rd full-length animated feature. Buck, whose credits start with The Fox and the Hound and who also co-directed Tarzan, and Lee, screenwriter of last fall's Wreck-It Ralph, were joined by renowned producer Peter Del Vecho and a roster of creative minds to develop this frosty adventure. "This movie is big on many levels," Del Vecho says. "It took a lot of iterations to get there, but as you can see with Tangled and Wreck-it Ralph, the studio keeps getting stronger."
The average animated film features special effects in approximately 45 percent of its shots. Frozen, which takes place in the midst of a winter storm, features snow and ice in virtually every scene—illusions that are considered special effects. With this in mind, the film goes above and beyond the conventional animated feature, raising the bar in creating a winter wonderland.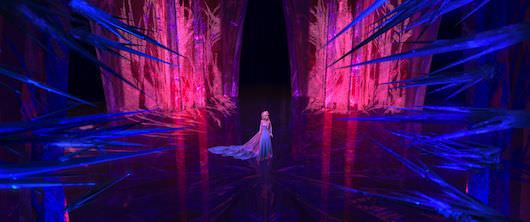 Even when it comes to character design and rigging, Frozen is unique compared to its Disney predecessors. "As the character comes into the rigging department, we build the skeleton; we attach the muscles and make sure the skin moves properly; and we build a set of controls that the animators can use to push and pull the body around," Frank Hanner, character CG supervisor, shares. Along with creating expressions, clothing and populating the entire kingdom of Arendelle, Hanner and his team played hairstylists as well. "The average human has about 100,000 hairs on their head," Hanner continues. "Elsa has 420,000 hairs. Our last famous Disney leading lady Rapunzel only had 27,000 hairs. When I went back and counted, that seemed awfully thin to me." Through research and the creation of groundbreaking technology in-house at Walt Disney Animation Studios, Hanner and his team were able to make the stunning animation look virtually lifelike.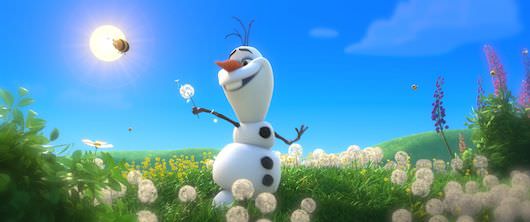 In addition to the unforgettable characters (and their many, many strands of hair), the land of Arendelle wouldn't be complete without a skillful and inspired brain trust of architects—namely art director Mike Giaimo and visual development artists Lisa Keene and Brittney Lee. "I've been in this business a long time, and a classic tale like this always sort of eluded me," Giaimo says. "I think we would collectively say this was truly a passion project for all of us." From collaborating with Keene on color design and envisioning Elsa's icy snowflake-themed palace to working with Brittney Lee on incorporating accents like rosemaling—a rustic and traditional Norwegian folk art—in the costumes and architecture of Arendelle, Giaimo and his team pushed artistic boundaries to create one of the densest, most intricate Disney animated features ever.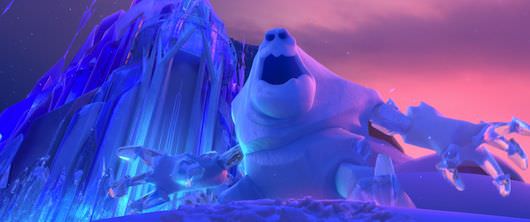 Loosely inspired by Hans Christian Andersen's "The Snow Queen," Frozen is a project that's been a long time coming—a story that Walt Disney himself wanted to tell years ago. "When I first came here, I read about Walt's ideas pretty often," Jennifer Lee explains, "and just how much his philosophy was: If you're not shaking it up, changing it, reinventing, surprising your audience with your stories and pushing to new levels, you're not doing your job." It's a philosophy that has inspired this modern-day, winter tale.