From Hot Topic to Hollywood: Costume Designer Trayce Field of 2 Broke Girls
Tonight is the season finale of 2 Broke Girls, so it's a perfect time to get to know the woman who gives the show it's indelible look. In a quick Q&A, costume designer Trayce Field reveals how her road to primetime success has a lot to do with Hot Topic, what she's working on with Will Ferrell (she was the costume designer for his Casa de mi Padre), and how her career started early–in the second grade.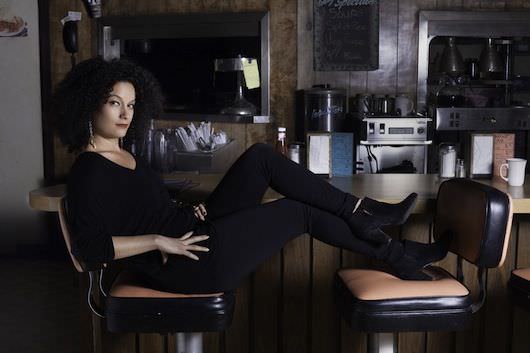 The Credits: Can you let me know how you jumped into this business?
Field: Basically, I just wanted to know where actors got their clothes. While I was in fashion school, I was working in retail and all the people who shop for TV shows would come into the store and I would chat them up about getting an assisting job.  I started as a wardrobe PA on Sabrina the Teenage Witch, and I just worked my way up.
Where were you working at the time?
Um, (laughs) Hot Topic and Wet Seal.
That is very Sabrina! And you got a job from a wardrobe person who came into the store?
Yeah, that's really how this business works. You find people who are like-minded and then you help mentor them. I've returned the favor at least ten times over. I wouldn't be where I am today if it wasn't for other costume people. You find the people who really care about the craft, and that's who you end up surrounding yourself with.
Presumably your eye for fashion started evolving long before your Hot Topic days.
Oh, yeah! Here's my story: I was in the second grade; I showed up to a birthday party and a girl had on the same dress I did and I burst into tears. I told my mother that I never wanted to wear anything that anybody else had ever again. Cut to when I was twelve and I started shopping at thrift stores. I was a total vintage kid, always trying to find something unique or different.
So it's always been an important part of your personal expression.
Yeah, I mean, I already don't look like many people—I have this crazy hair, mixed heritage, and I don't know, and then when I got into fashion school, I thought, what can I do with these crazy skills I have for making things different or unique or weird? I thought TV and film could be a good way to do that, and then I thought, where do actors get their clothes? Oh! Costume people! I should be one of those. And here I am!
That sounds like a pretty fast track to a career!
I got into this business when I was 22. I didn't know my head from my elbow, but I wanted to figure out how to use the skills I thought I had at the time. I've been really lucky to have great mentors who saw something in me that maybe I didn't. When I was 24 or 25, I started working with Lou Eyrich as an assistant designer on Nip/Tuck. She's great, and one of my best friends now. She also did the costumes for Glee and American Horror Story: Asylum. Eventually I got up to where I was hired to work on my own.
How does the process of getting your work go? What is the presentation like?
I'm normally given a script, which I have to break down into a number of wardrobe changes, with overall looks that I think each character needs. Then you sit down with producers to find out if your ideas match or if they're swayed by your ideas.
Michael Patrick King, who did Sex and the City, is Two Broke Girls' executive producer.
Yes, and he has an amazing eye. Not just for clothes, but sets, head to toe, top to bottom, the entire world of the show. So in the beginning, I present everything—not just clothes. I talk about how the hair should be, what the jewelry and shoes should look like, how they should do their makeup. I'm really into the small details, all the things that make people individuals. Things that are specific to a character, it's important to have those little pieces.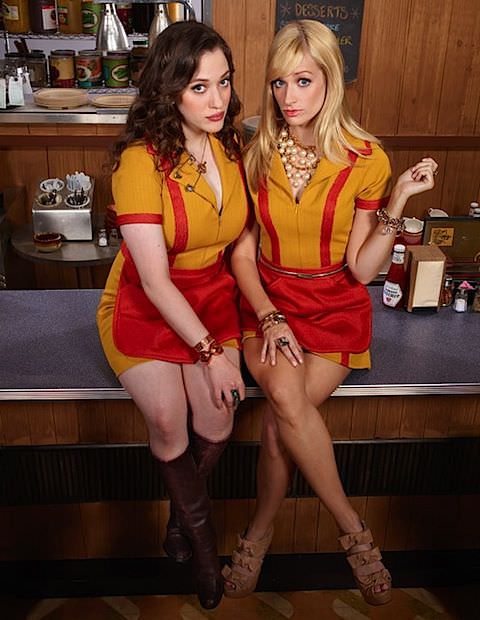 The girls' diner uniforms are certainly unmistakable now.
Yes, I know! People want to be them for Halloween, which is a total compliment! The head of sales for CBS wore one to the Upfronts presentation last year. It's exciting.
What about the ubiquitous necklace Beth Behrs' character is never seen without. Is she dying to lose it?
There's sort of a whole love-hate thing going on with that. It's awesome that she's known for it, it's been her good luck charm, and Michael Patrick King fell in love with it, but she's also like, am I ever going to not wear it? You would be surprised the number of people who write me on Facebook and Twitter to ask where they can get that necklace!
How many are in existence?
(Long pause) Truthfully?
Yes.
Just one!
That seems risky.
It's a one-of-a-kind piece. For television purposes, we have two others that are close, but there is only one real one. My department is meticulous about the jewelry. They all know that there's pretty much only one of everything, and that they're all unique. Most of Kat's stuff is vintage. I'm actually developing a jewelry collection based on both of the girls' styles.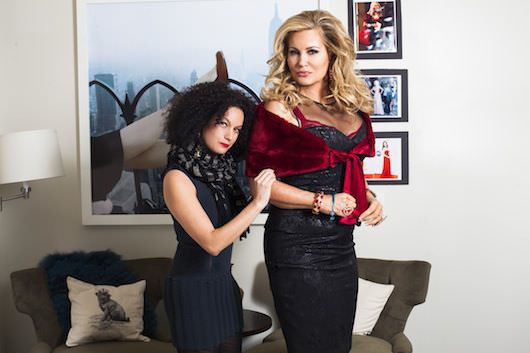 You won't be doing a line inspired by Jennifer Coolidge's character? That wardrobe is completely bonkers.
Oh my god, she is my Amazon Polish Barbie doll. They let me go crazy with her, and she loves it. The more color, the more fun, the more lace, the more sparkle, the more, the more, the more, she's into it.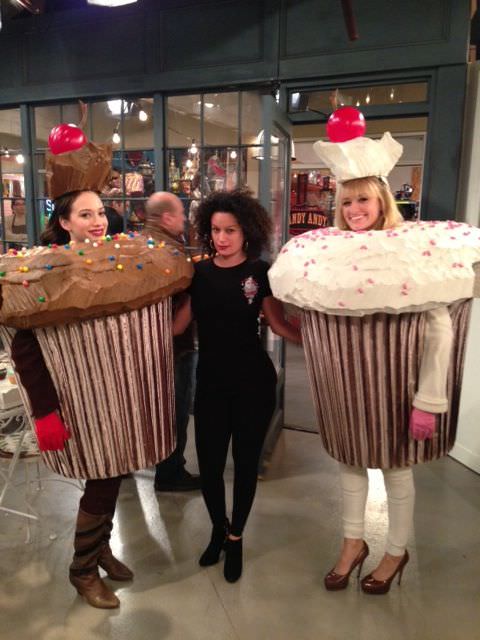 Are all actors that enthusiastic?
I'm pretty lucky. For whatever reason, they seem to trust me. I like to have fun with it, but they also know that I want them to look good. When you get into a room with an actor and they see that you care and that they're going to be taken care of down to the smallest detail, it's usually fine. But sometimes actors aren't, and then it's just Costume 101: you gotta talk 'em into it.
You're latest project is a new series with Will Ferrell for IFC called Spoils of Babylon. I can't imagine he needs much coaxing.
Will is awesome. There are never any obstacles with Will. I was the costume designer for his movie Casa de Mi Padre, and it's the same team. Will is always on board to do something weird, and Matt Piedmont, the director, is really good about letting me go off in my own creative direction. It's the Funny or Die guys doing their off-kilter thing letting me do mine. It's going to be a blast.
Featured image: The inimitable Trayce Field. Photo credit Kessia Embry