Ridley Scott's "Napoleon" Review Round-Up: A Gripping, Full-Tilt Epic
The review embargo has been lifted for Ridley Scott's Napoleon, the legendary director's full-scale take on the life of one of history's most infamous men. An epic of old-school filmmaking that boasts some of Napoleon's most famous battles (including the Battle of Toulon and the Battle of Austerlitz), Scott's film, from a script by David Scarpa, also pays close attention to the most crucial relationship in the French Emperor's life—his lifelong love of Josephine—which was both a source of inspiration and comfort as well as torment.
Taking on the mantle of Napoleon is Joaquin Phoenix, and according to critics, he's astonishing, at turns hilarious, haunting, scheming, and ice cold. His co-star, Vanessa Kirby, is coming in for equally lavish praise for her performance as Josephine. Their two performances are reason enough to see Scott's latest.
"Phoenix, sometimes laugh-out-loud funny and chilling in the same scene, is as compelling as he always is," writes the London Evening Standard's Hamish Macbain, "…But it's Vanessa Kirby who, much like Ryan Gosling in Barbie, upstages her title character."
Meanwhile, the full impact of Scott's film is that of watching a hugely ambitious director set his sights on a historical figure that seems larger than life and fashioning a movie big enough to capture him.
"Scott has created an outrageously enjoyable cavalry charge of a movie, a full-tilt biopic of two and a half hours in which Scott doesn't allow his troops to get bogged down mid-gallop in the muddy terrain of either fact or metaphysical significance," writes the Guardian's Peter Bradshaw.
Napoleon is in theaters on November 22.
Let's take a peek at what the critics are saying.
"Distinctively deadpan: a funny, idiosyncratic close-up of the man."

Joaquin Phoenix stars as the legendary French emperor in Ridley Scott's #Napoleon, in cinemas Friday.

Read the Empire review now: https://t.co/zw6pkmuyA9 pic.twitter.com/88rLHFppXb

— Empire Magazine (@empiremagazine) November 15, 2023
Ridley Scott prints the legend in #Napoleon/ #NapoleonMovie & it absolutely rips. A compelling love story between a man & his country, military career, wife & ego. Battle sequences are visceral, gory & gorgeously expansive in scale & scope. Phoenix is great, but Kirby transcends. pic.twitter.com/wUad22ylNF

— Courtney Howard (@Lulamaybelle) November 15, 2023
#Napoleon is an absolute joy, a scathing and frequently hilarious character study of a lil freak with a literal and figurative Napoleon complex. Some of the gnarliest battle scenes I've seen in a minute, incredible sound design, and that distinct, unique bitter taste of Sir Rid. pic.twitter.com/6nk3MxGpYg

— Bill Bria (@billbria) November 15, 2023
Ridley Scott's #Napoleon is a win. Phoenix's portrayal of the French leader is a revelation. Together with Kirby's pitch perfect Josephine they put the toxic in intoxicating. The ferocity of the brutal battle sequences come with sound design you few in your bones. #NapoleonMovie pic.twitter.com/L1Jwk4DqgI

— Simon Thompson (@ShowbizSimon) November 15, 2023
#Napoleon is less a war epic and more a comedy about the absurdity of power and the delusional patheticness of a "great" man. An unexpected but welcome combo of tones that Ridley Scott shoots with appropriate grandness. I liked it! pic.twitter.com/bzw4Y3rGG4

— Brandon Katz (@Great_Katzby) November 15, 2023
Never doubt Ridley Scott. He delivers with #Napoleon. Incredible battle scenes, top to bottom brilliance in cratfs; cinematography, production design, sound and costume. Joaquin PHoenix's and Vanessa Kirby's love story is just beautifully executed. Loved it. pic.twitter.com/3HbLXd5Fni

— Jazz Tangcay (@jazzt) November 15, 2023
#Napoleon review – #JoaquinPhoenix makes a magnificent emperor in thrilling biopic | #Film | The Guardian https://t.co/7SdAaNwLBb

— Cristina De Stefano (@DeStefanoCris) November 15, 2023
NAPOLEON is FANTASTIC!! Director RIDLEY SCOTT is still at the top his game (at 85!) with a sweeping epic & JOAQUIN PHOENIX is magnificent! Incredible battle scenes that will blow you mind! Bound for OSCAR NOMS across the board, including BEST PICTURE! pic.twitter.com/vLcOr2dcsa

— Scott Mantz 🖖 (@MovieMantz) November 15, 2023
#NAPOLEON is an incredible feat of MASSIVE filmmaking and the type of historical epic that just isn't made anymore. Joaquin Phoenix & Vanessa Kirby are pure alchemy together, but I wish it went deeper into the mind of the tyrannical leader.@TheMoviePodcast review out now. pic.twitter.com/1G9to2Blko

— Daniel Baptista • The Movie Podcast (@dbapz) November 15, 2023
'Napoleon' Review: An impressive Joaquin Phoenix reteams with director Ridley Scott for this lavish biopic of the French military commander. @TimGrierson #Napoleon https://t.co/VZ4Ph7gZe3

— Screen International (@Screendaily) November 15, 2023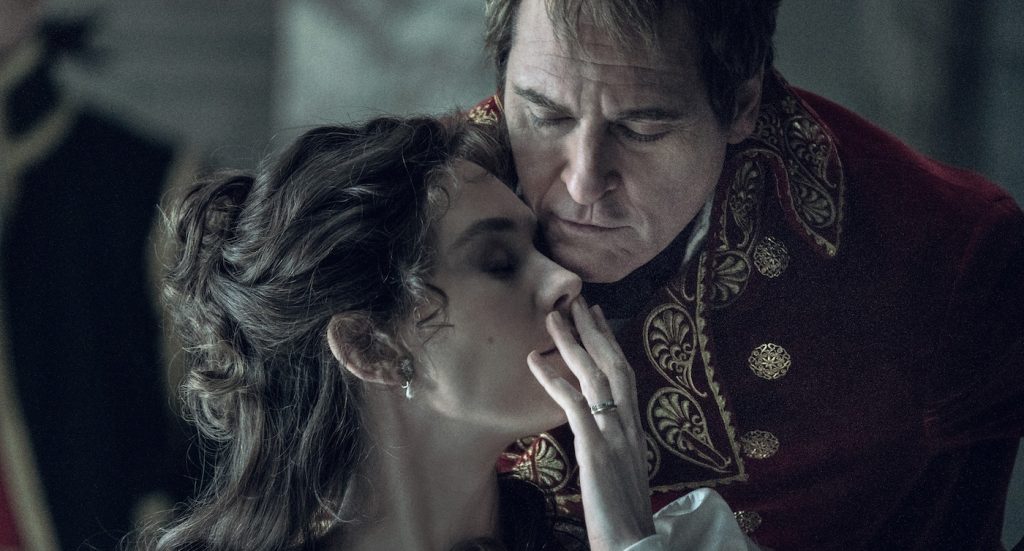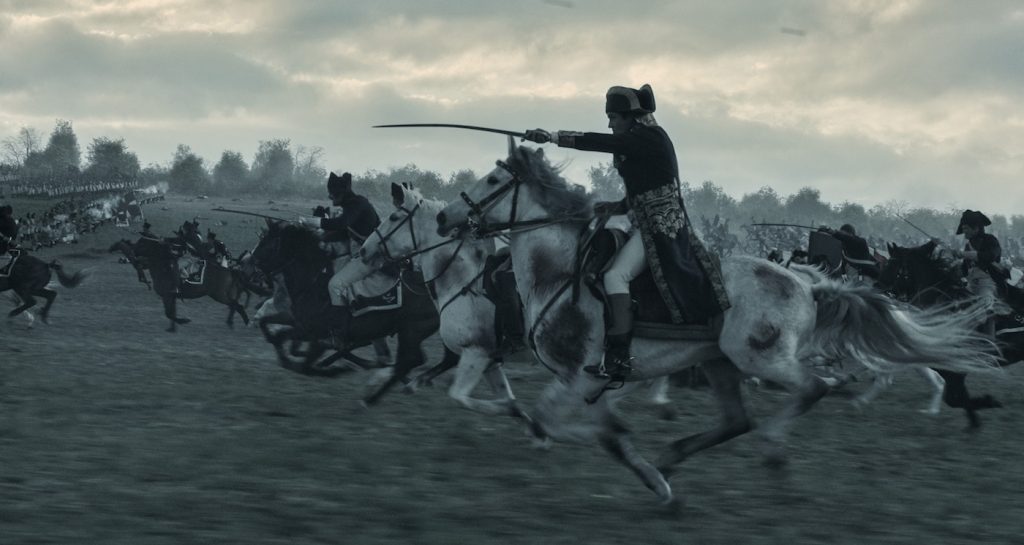 For more on Napoleon, check out these stories:
New "Napoleon" Trailer Unleashes Ridley Scott's Historical Epic
New "Napoleon" Video Reveals Joaquin Phoenix's Approach to Taking on Historic Emperor
Ridley Scott's "Napoleon" Trailer Reveals Joaquin Phoenix as the French Conquerer
Featured image: Napoleon (JOAQUIN PHOENIX, center) looks onto the battlefield in Apple Original Films and Columbia Pictures theatrical release of NAPOLEON. Photo by: Aidan Monaghan