"The Creator" Production Designer James Clyne Fabricates the Future
When writer-director Gareth Edwards finished Rogue One, he took a road trip to his girlfriend's home in Iowa. Along the way, he noticed a Japanese factory in the middle of a cornfield and started dreaming up a new story. Seven years later, Edwards has delivered The Creator. Set in 2065, the movie pits American humans against highly evolved AI robots from "New Asia."
Starring John David Washington, The Creator (in theaters Sept. 29) unfolds across a succession of spectacular set pieces conceived by production designer James Clyne. Drawing on his early collaborations with Steven Spielberg on A.I. and Minority Report, the Bay Area designer says he and Edwards aimed for a rich mix of influences. "Rather than trying to anticipate where we'll be thirty or forty years from now, which is nearly impossible, we wanted to go into this sort of future-past, something Blade Runner did really well by fusing fifties noir with eighties tech noir. In our film, you might see a phone on the wall or a turntable in someone's home. And Gareth purchased a lot of nineties Japanese electronics on eBay that were retrofitted here. Along with all the sci-fi tropes, we wanted The Creator to feel fresh and timeless."
Speaking from Los Angeles ahead of the film's red carpet Hollywood premiere, Clyne walked The Credits through a few examples of The Creator's eye-popping science fiction.
How did you guys come up with the AI cops in this movie? It's hard to tell where the head leaves off and the helmet begins.
Gareth wanted to see negative space with all the robots so that when an AI cop turns around in profile, it's impossible to have them in makeup or some kind of practical effect. We gave the AI cops a wide brim, almost like a visor, with a strong logo on top, and then had some heavy tech giving the robots audio-visual so they can communicate with other robots through Wi-Fi or whatever.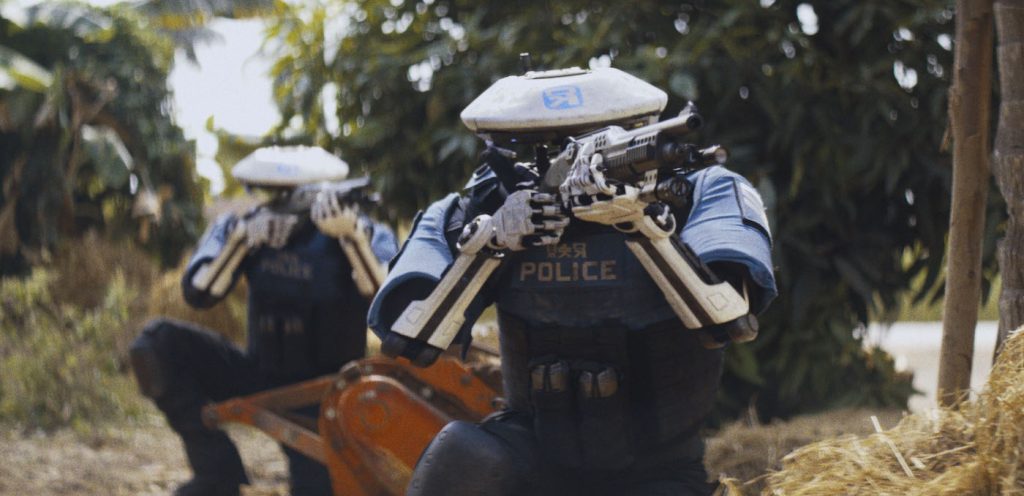 The suicide bomber robots that attack midway through the movie don't resemble humans at all. They look more like oil drums fitted with robotic legs. What did you have in mind there?
We thought the oil drum look was a great way to make the robot feel dangerous, like a detonator bomb, with caution stripes. Apocalypse Now was a big influence on how we looked at design in general for this film, so we included some very simple Vietnam War-era looks.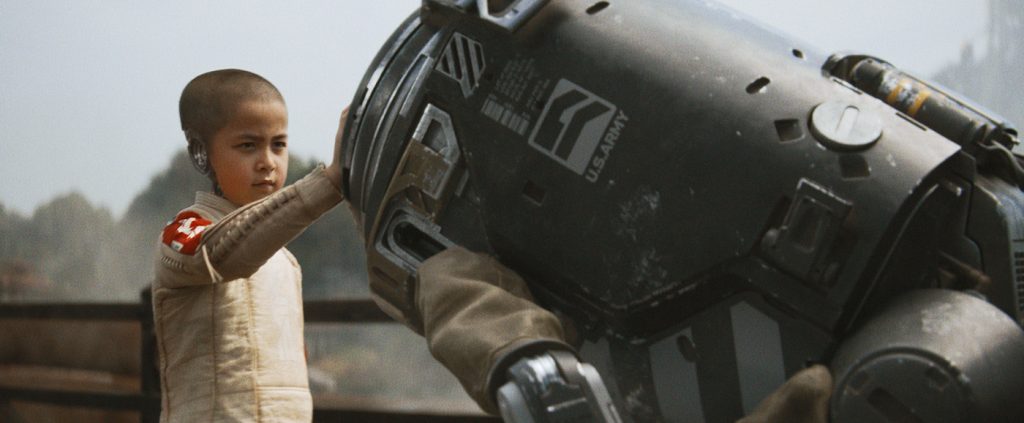 How did you film the oil drum robot as it clomps down the bridge toward its target?
We had a stuntman in a black leotard wearing markers to track his movements. He had a pole mounted on his back with a marker showing the robot's height because it was quite tall. The stunt man running to the bridge and walking up to Alphie — that was shot practically, and then we designed and built the robot digitally in post.
The child robot Alphie, played by Madeline Yuna Voyles, has a human face, but then it gets weird.
We wanted to retain the face so our actors could emote and be unencumbered by anything on top of their faces, but we also wanted to show that Alphie's a hybrid of human and robot. So then it's "Okay, if we leave the face alone, where can we take our bigger swing?" One way to do that was to leave off the back portion of the head as if you've left off the back of a VCR or something.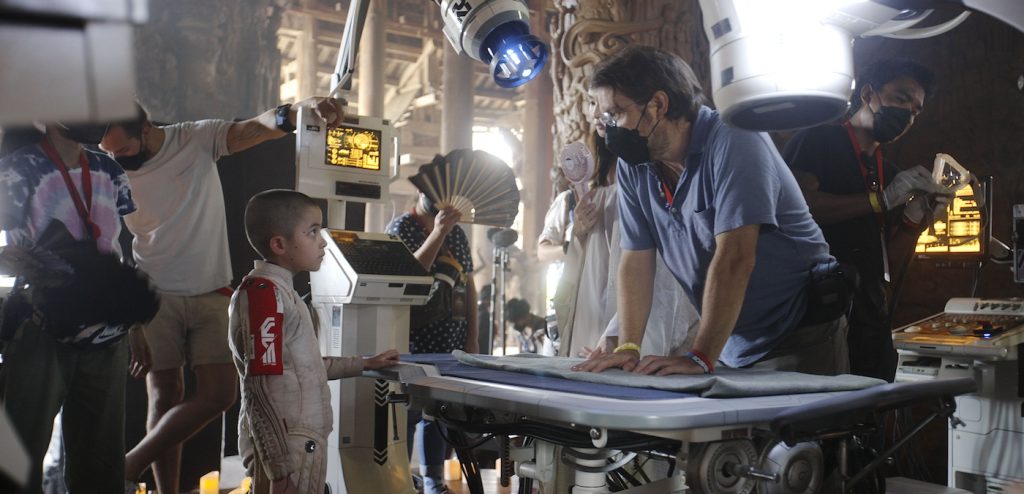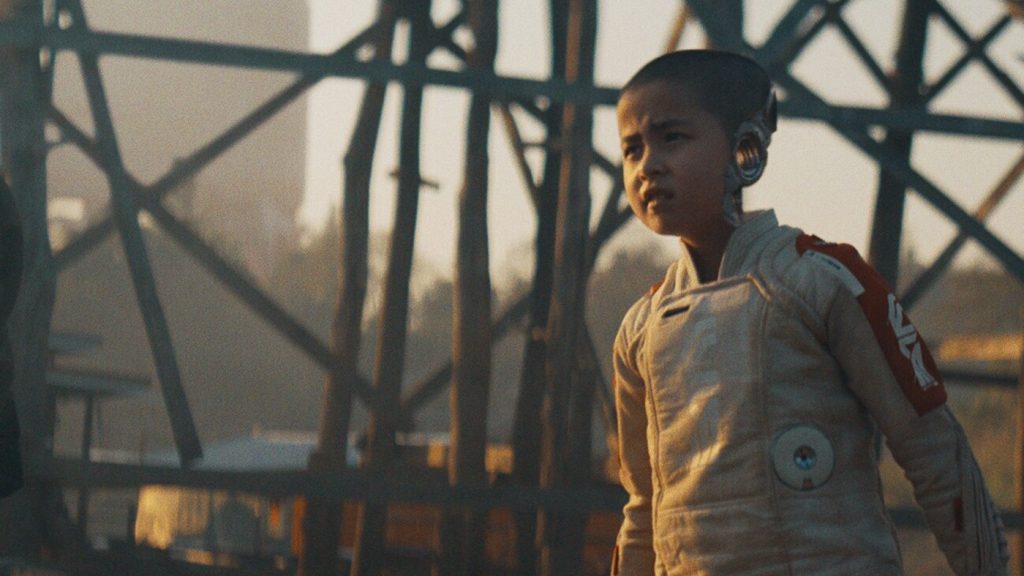 That's the back of the head. What about that cylinder boring clean through the middle of Alphie's skull?
From the beginning, Gareth wanted a metal ring that you could see all the way through. If you notice, there are multiple rings inside of the hole, which spin at different speeds depending on what Alphie's feeling when she's upset or having different emotions. It's like the mechanical version of a thought bubble in a cartoon.
Then there's the flying schooner, which almost summons up Viking ships from the 1200s, with the prow, the mast — what inspired this airborne vehicle?
We call it the hover boat, and it goes back to our design language throughout. We could have made it look like a flamingo or a stingray, but we wanted this to feel like an old ship that you might see off the waters of Railay Beach in Thailand, with a keel and a mast and a sail. We shot the actors on this pirate ship-looking boat that's used to ferry tourists around and figured out all the futuristic design stuff later. It's this almost backward way of making a movie.

The V-shaped aircraft looks ominous. How did you come up with this airborne weaponry?
It's a flying military weapon we call the NOMAD, an acronym for North American Orbital… something. The shape itself went through probably 1,000 different sketches that Gareth and I looked at. Finally, I showed him a picture of this bird of prey from the Pink Floyd film The Wall, which has an animated sequence with this black eagle or falcon hovering in the air. Our bird of prey has a menacing, evil presence, but it's also very graphic and simple.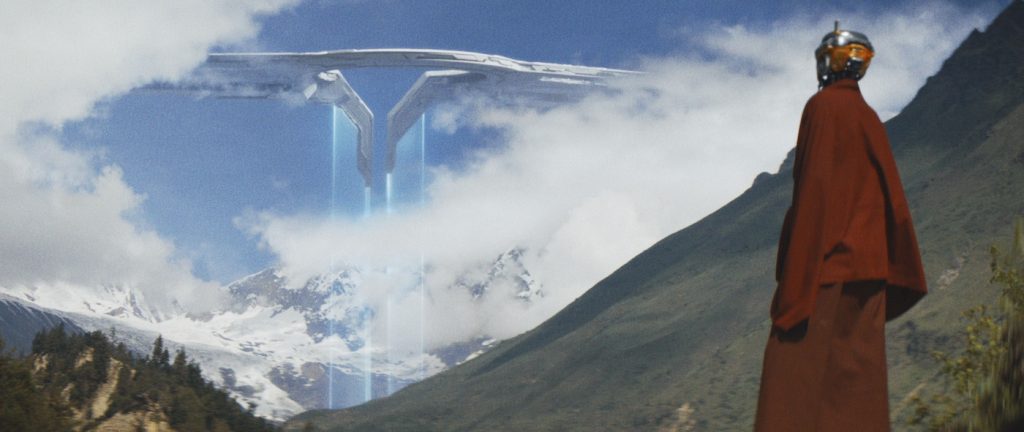 Also intimidating is the gargantuan tank that rumbles across the jungle midway through the movie. What did you have in mind with the monster tank?
The tank seemed never to be big enough for Gareth until we got to this final design because he wanted something that looked like it could roll over a whole village. We both grew up on robot tech, and I loved the early cartoons that came from Japan, dubbed in English. So, we both wanted to lean into this anime and manga aesthetic as much as we could. The bright colors were part of the look, too. The Americans were so confident in their machines that they didn't have to camouflage them. It's like, "We're here, and there's nothing you can do about it."
What about the soldiers' firearms?
Wētā [Workshop] did the main armory for the hero guns, but we still needed to populate the background guys with weapons. In order to save budget, we literally bought Nerf guns and painted them black or silver. Then, we cut them in half and extended the guns. Ken Watanabe's character Harun holds a bazooka that I designed based on a yellow and orange Nerf bazooka. We designed a new front end to it, but in reality, Ken's holding a Nerf gun.

The magic of movies.
Movie magic at its best.
The New Asia cities look amazing, surreal, and yet somewhat familiar. How did you decide on the architecture?
Lilac City is an amalgamation of Tokyo, Bangkok and Beijing. The lower levels are kind of untouched cityscape, but then, as you get higher, I pushed for buildings that would go almost horizontal. Rather than going vertical 100 stories up, our buildings [turn] at a 45-degree angle, then go across and back down to create bridges, which would probably be an impossible engineering feat today.

All this futuristic design embeds itself in a very timely story, given our society's mixed feelings about AI. How do you see The Creator playing into that conversation?
I think The Creator is an allegory for everything being so contentious in our world today. It's less about the fear of AI and more about somebody who may not look just like you. They may have different ideas, but they still have emotions and thoughts, and they want to take care of their families. Of course, there's this fun design and tech and sci-fi, but the bigger idea has to do with how to get along with your fellow man, woman, or entity — whatever form that may take.
For more on The Creator, check out these stories:
Two New "The Creator" TV Spots Hype the Coming Release of Gareth Edwards' Sci-Fi Epic
"The Creator" First Reactions: A Stunning, Emotionally Resonant Original Sci-Fi Saga
Final "The Creator" Trailer Finds John David Washington in a Fight for the Fate of Humanity
Featured image: A scene still from 20th Century Studios' THE CREATOR. Photo courtesy of 20th Century Studios. © 2023 20th Century Studios. All Rights Reserved.