Get an Inside Look at Martin Scorsese's "Killers of the Flower Moon"
"Killers of the Flower Moon was a series of murders of Osage men and women to bilk them after the discovery of oil on their land," says director Martin Scorsese at the start of a new inside look featurette of his upcoming crime saga. "I was drawn to the idea of to tell this terribly tragic story that was never brought to national attention."
Scorsese's film is adapted from investigative journalist David Grann's best-selling 2017 book of the same name. While Grann's book was centered on Tom White, a former Texas Ranger who came to Oklahoma to investigate the murders (he's played in the film by Jesse Plemmons), Scorsese and his screenwriter Eric Roth altered the focus of their story from the virtuous White, coming to Osage Nation to solve a crime, to both the perpetrators of the crime and on the Osage themselves.
"One of the keys that I was drawn to this work where friendship and love existed with latent extortion, exploitation, and murder," says Scorsese.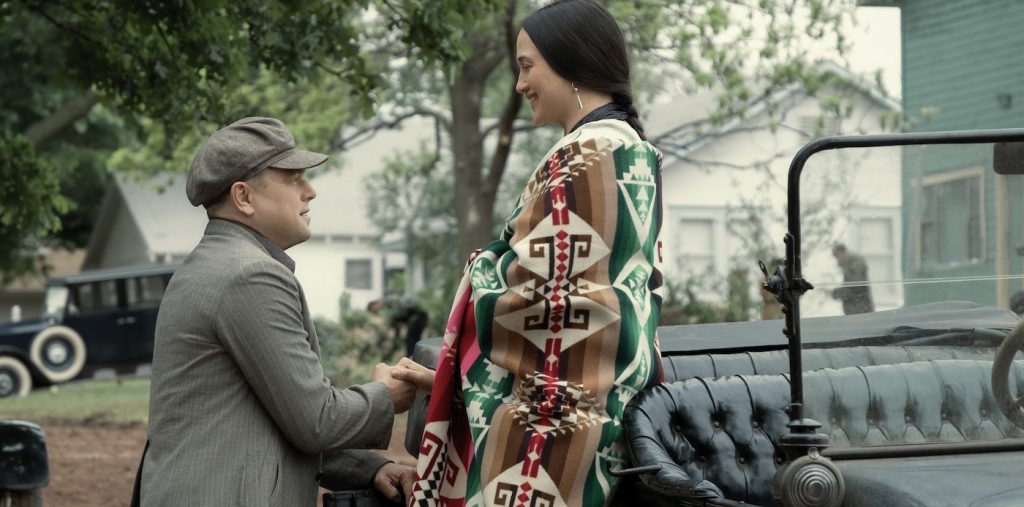 "Marty was obsessed with telling this story with the most honesty that he possibly could," says Leonardo DiCaprio, who plays Ernest Burkhart, one of the white men who insinuates himself into the lives of the Osage Nation, specifically by marrying Mollie (Lily Gladstone), an Osage woman.
Ernest is encouraged to marry Mollie by his uncle, William Hale (Robert De Niro), who sees marriage as the least bloody way to separate the Osage from the wealth. "We mix these families together, and that estate money flows in the right direction," Hale says in a previous trailer. "It'll come to us."
"Hale was a very enigmatic presence in Osage country," says Lily Gladstone.
"He definitely represented somebody who wanted to take advantage of the situation at all costs," DiCaprio adds.
"I wanted to do justice to the Osage so the audience feels the immensity of the tragedy," Scorsese concludes.
Check out the featurette below. Killers of the Flower Moon arrives in theaters on October 20:
For more on Killers of the Flower Moon, check out these stories:
Martin Scorsese's "Killers of the Flower Moon" Unveils Thrilling New Trailer
"Killers of the Flower Moon" Trailer Unveils Martin Scorsese's Star-Studded Epic
Martin Scorsese's "Killers of the Flower Moon" Will Premiere at Cannes
Featured image: Lily Gladstone and Martin Scorsese in "Killers of the Flower Moon," premiering October 20, 2023 on Apple TV+.