A Legend Lives Again in Lisa Cortés's Sparkling New Documentary "Little Richard: I Am Everything"
Little Richard liked to call himself the King of Rock and Roll, and it's hard to argue with that claim after seeing the new documentary about the incendiary singer's wild music and even wilder life. Little Richard, born Richard Penniman, not only pioneered rock attitude with piano-pounding hits like "Lucille" and "Long Tall Sally, but" he also flaunted a gender-bending persona that continues to resonate in the culture three years after his death in 2020 at age 87.
Little Richard: I Am Everything (April 21) chronicles a rollicking life story that began in Macon, Georgia. One of 12 children, Little Richard was kicked out of the house at age fourteen by his pastor/bootlegger father and started performing in drag with traveling medicine shows. Releasing his first single, "Tutti Frutti," in 1956, Little Richard followed up with a flurry of exhilarating tracks only to renounce rock and roll in 1957 and immerse himself in bible studies. Comebacks, talk show appearances, and troubled times ensued.
Directed by Lisa Cortés, whose Oscar and Emmy-nominated projects include Precious, The Apollo, and All In: The Fight For Democracy, her I Am Everything doc combines rare archival footage with fresh interviews from LGBTQ activists, scholars and artists, including John Waters, Billy Porter, Nona Hendryx, and Mick Jagger.
Speaking from New York, Cortés recounts her meeting with Jagger, describes the challenges of navigating Little Richard's complicated personality, and explains the too-graphic-for-airplay origins story behind "Tutti Frutti."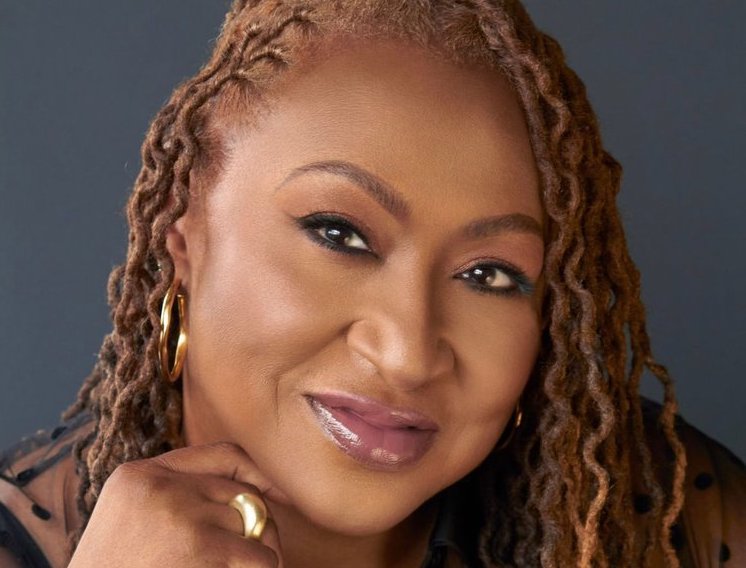 Lisa Cortés: "Can I have a drum roll?"
Bllltttttttttt.
[laughter]
You'd created a vivid body of work before taking on Little Richard. What was the spark that inspired you to make a documentary about this great American rock and roller?
In May 2020, it was the lockdown. We were finishing All In: the Fight for Democracy, the documentary about the long struggle for voting rights in this country, and Little Richard passed away. I started listening to his music all over again. And I became really intrigued by the tributes that seemingly disparate people were giving about Richard and how important he was to them — Dave Grohl from the Foo Fighters and Bob Dylan and Elton John — and I'm like, wait a minute, is this the same "shut up!" one-note Little Richard caricature? I started to realize he had an amazing story, and when I learned there had not been a feature-length doc about him, that was the catnip, that was the catalyst.
You interview more than two dozen scholars and artists for this film, including Rolling Stones frontman Mick Jagger, one of the most famous musicians on earth. He doesn't really give a lot of interviews. Was it tricky to get him on camera talking about Little Richard?
Once Mick Jagger said yes, it happened very quickly. The funny thing is, his rep told me you only have twenty minutes to interview him. But he came to the interview at his office in London and said, "Why don't you and I talk first," because I think he wanted to get a vibe about what I knew about the history and what the angle was. We had a lovely conversation, and then he said, "Okay, we'll do the interview." Twenty minutes in, I said, "Hey, I want to be considerate of your time," and he said, "No, I'm fine." An hour later, we were still talking. He was so genuine in his love and affection for Richard and really asserted the importance of Black artists in rock and roll. He's also a big fan of Sister Rosette Tharp, so we had many things to explore in our conversation.
The Rolling Stones opened for Little Richard in 1962 when he made a comeback tour in the UK. You unearth some incredible archival footage from that tour with Little Richard tearing off his shirt and running around on stage. You can see how he would have excited a whole generation of British musicians, including the Beatles and David Bowie. What did you learn from Bowie producer Nile Rodgers?
Oh my gosh, what's that album — "Let's Dance" — David Bowie comes in and shows Niles a picture of Richard in front of a red Cadillac and says, 'I want my album to sound like this. I want the music to have the spirit of Little Richard.' It was fun listening to Niles tell this story because he's like, 'Wow, no other artist has ever come to me and said I want to be connected to another artist's energy.' Certainly, David Bowie turned it into his own thing; he was such a fan that he wanted to pay homage to the performance and the musicality of Richard.
The documentary can feel bittersweet at times. On the one hand, Little Richard brings enormous joy to people through his music. On the other hand, he struggled with his own sexuality. How did you want to weave those themes together?
I think this story is a balance between bittersweet and joy. It's about experimentation, about being bold, about not being accepted, and all of these things make this a beautifully human story because throughout his life, Richard is like a pendulum, a roller coaster. He's super religious! Oh no, he's a rock and roll sinner! He's gay! No, he's renouncing his gayness! That is the tension that Richard constantly navigates, and it's also what makes him such an interesting character to peel back the layers on. Ultimately, this film is about understanding all those different components and then looking at legacy, looking at Richard's influence on so many places in our culture now.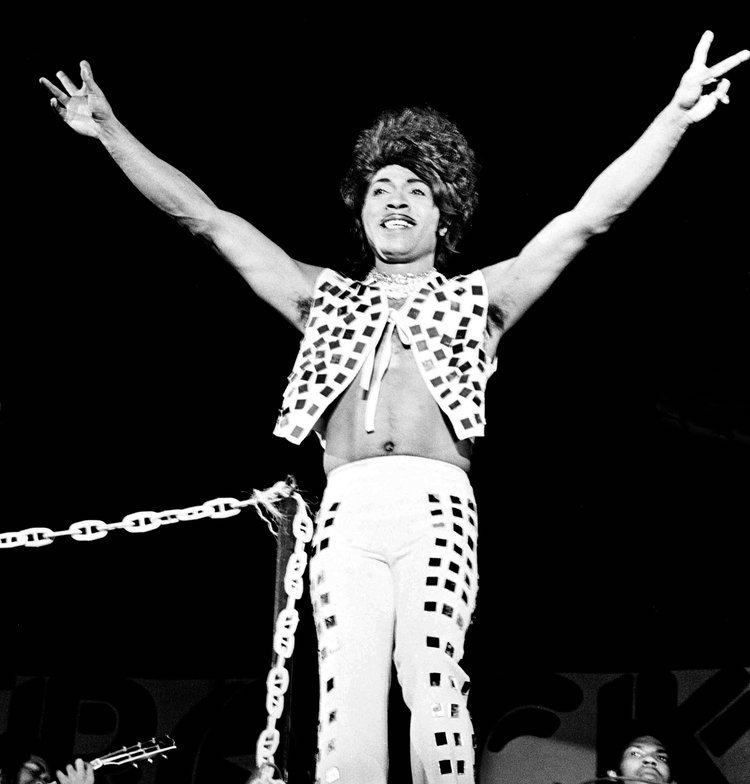 You show how Little Richard had an impact beyond music on filmmaker John Waters, drag queen Billy Porter, and many others. Little Richard in the sixties basically invented glam rock when he started wearing glittery outfits – the sparkle suit?
Mirror suit!
Before anybody else was dressing up like that.
When we go from Richard to David Bowie to Harry Styles, they're not big leaps.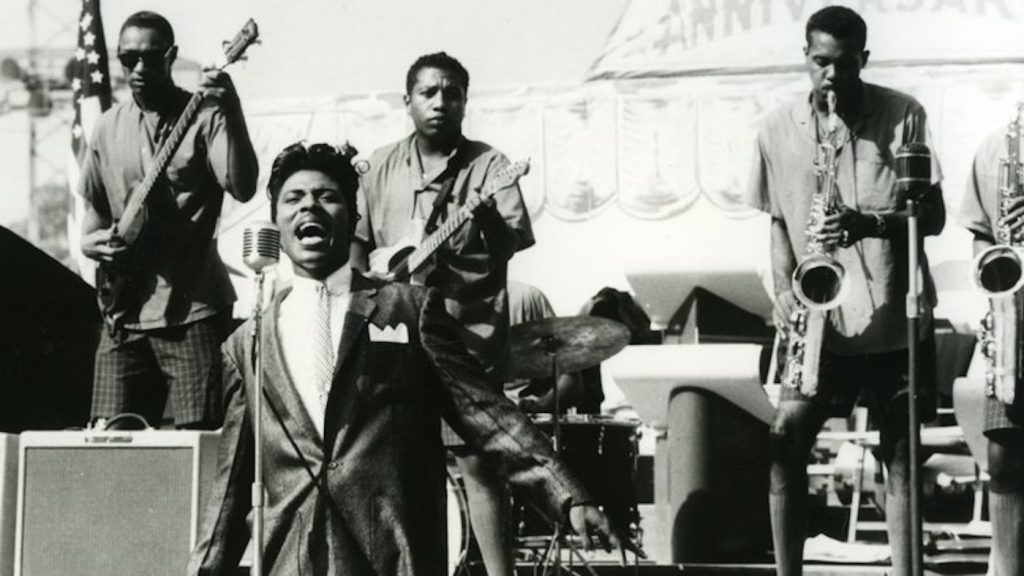 In connection with Little Richard's sexuality, some of the details from your film are kind of startling. Did he really travel through the South as a teenager performing in drag?
He did, as Princess LeVonne.
The film includes reminiscences from Little Richard's close friend Sir Lady Java, the transgender entertainer. Did that relationship surprise you?
It wasn't surprising, but I'll tell you what the difficulty was: Richard did not openly speak about it, for the most part. In the eighties, he'd say, "I used to be gay." But in exploring the archival material and finding ways for Richard to narrate his story, that's why we included moments like meeting Sir Lady Java, Richard's dear friend in Los Angeles, and an LGBTQIA activist. We wanted to give viewers an understanding that Richard's struggles don't just start in the eighties. His struggles with his sexuality go back many decades.
 "Tutti Frutti" put Little Richard on the map back in 1956. But it seems the song that people heard on the radio was different from the version he originally wrote?
In the film, we tell you about the original lyrics: It's "Tutti Fruity, good booty." I'll leave it to people's imagination to take it from there and see the film to learn a little more about what Richard was really writing about before the lyrics got cleaned up.
Featured image: LITTLE RICHARD at Wrigley Fields, Los Angeles, 2 September 1956