Seth Rogen Reveals "Teenage Mutant Ninja Turtles" Star-Studded Cast
Get ready for a fresh take on Teenage Mutant Ninja Turtles with a stellar cast. Seth Rogen revealed that his animated feature Teenage Mutant Ninja Turtles: Mutant Mayhem, centering on everybody's favorite amphibious teenage heroes, will include Rose Byrne, Jackie Chan, Ice Cube, John Cena, Paul Rudd, Maya Rudolph, Hannibal Buress, and more.
Rogen revealed the cast at the Nickelodeon Kids' Choice Awards while on stage and was joined by the young stars playing the new turtles—Micah Abbey (Donatello), Nicolas Cantu (Leonardo), Shamon Brown Jr. (Michaelangelo), and Brady Noon (Raphael). The turtle's mentor Splinter will be voiced by none other than Jackie Chan. Rogen is starring as the villain Bebop, while John Cena will play Rocksteady, Bebop's best bud.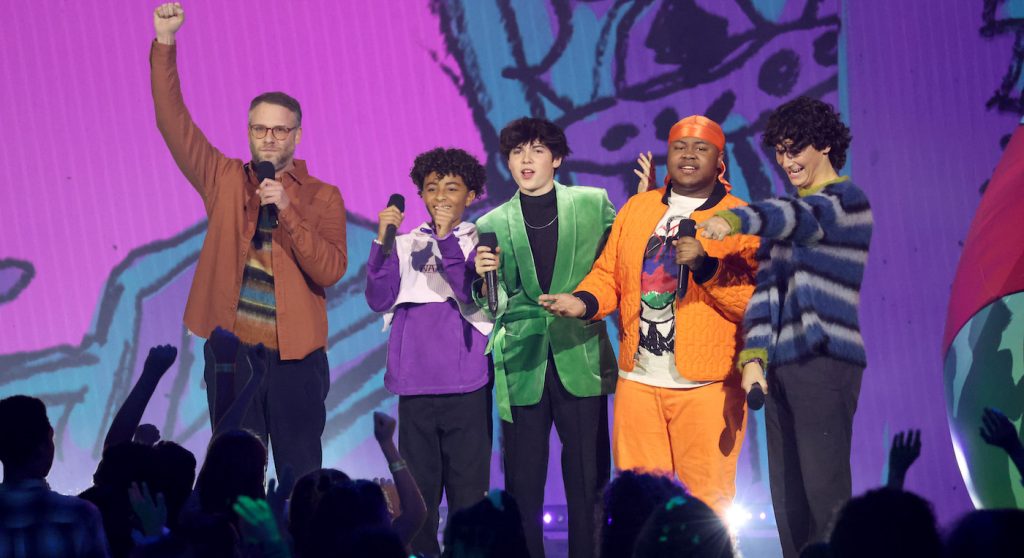 Meanwhile, Paul Rudd is playing Mondo Gecko, Rose Bryne will be Leatherhead, Maya Rudolph will voice Cynthia Utrom, Ice Cube is Superfly, Ayo Edebiri is April O'Neil, Hannibal Buress will play Genghis Frog, Giancarlo Esposito is playing Baxter Stockman, Natasia Demetriou is Wingnut, and Post Malone is Ray Fillet. In short, this will be the most star-studded cast ever to tell the tale of New York City's Turtle brothers.
Mutant Mayhem finds the Turtle brothers trying to earn the love and respect of their fellow New Yorkers by proving their heroism in the hopes that if they do enough good, the city will accept them as regular teens. Their troubles grow exponentially when they try to take down a crime syndicate and are pitted against an army of mutants.
Rogen produces alongside Evan Goldberg and James Weaver for the Paramount and Nickelodeon feature. Mutant Mayhem will be the first CG-animated movie for Nickelodeon. The Turtle brothers were conceived in 1984 in an underground comic by creators Kevin Eastman and Peter Laird and then became an iconic animated series in the 1980s. It was later adapted into a 1990 live-action feature, an animated feature in 2007, and then again in two more live-action features in 2014 and 2016, produced by Michael Bay. Recently, Nickelodeon released the 2D-animated series Rise of the Teenage Mutant Ninja Turtles in 2019.
 "We are beyond thrilled by this world-class cast we've assembled to bring these iconic, beloved characters to life in a new chapter of the Teenage Mutant Ninja Turtles universe," said Nickelodeon Animation and Paramount Animation Ramsey Naito in a statement. "This really sets a new bar for this globally celebrated franchise, and we can't wait to show audiences this film.
Teenage Mutant Ninja Turtles: Mutant Mayhem is set for an August 4 release date.
For more films and series from Paramount and Paramount+, check out these stories:
Tom Cruise Filming Part of "Mission: Impossible – Dead Reckoning Part Two " On U.S. Aircraft Carrier off Italian Coast
Stunt Coordinator Freddie Poole Trades Jabs with Sylvester Stallone in "Tulsa King"
Paramount Reveals "Scream VI" Super Bowl Spot
"Yellowstone" Co-Creator Taylor Sheridan Eyeing Spinoff Series With Matthew McConaughey
Featured image: LOS ANGELES, CALIFORNIA – MARCH 04: Seth Rogen speaks onstage during the 2023 Nickelodeon Kids' Choice Awards at Microsoft Theater on March 04, 2023 in Los Angeles, California. (Photo by Alberto E. Rodriguez/Getty Images)