Filmmaker Sara Dosa Captures a Couple's Burning Passion in Her Oscar-Nominated Doc "Fire of Love"
When Sara Dosa won Best Film Documentary Director from the Directors Guild on February 18 for Fire of Love, it was no doubt an acknowledgment of the daunting task Dosa faced in shaping nearly 200 hours of 16 mm archival footage shot by her subjects, without sound, into her mesmerizing film. Fire of Love is also nominated for this year's Best Documentary Oscar.
Fire of Love, a National Geographic film on Disney+, is about Katia and Maurice Kraftt, chemist and geologist, respectively, and their passion for science and each other. The couple, who both hailed from Alsace in France, chased volcanos around the world for two decades after they married in 1970, getting close enough to capture extraordinary footage of erupting, bubbling volcanos sending rocks and boiling lava shooting into the atmosphere.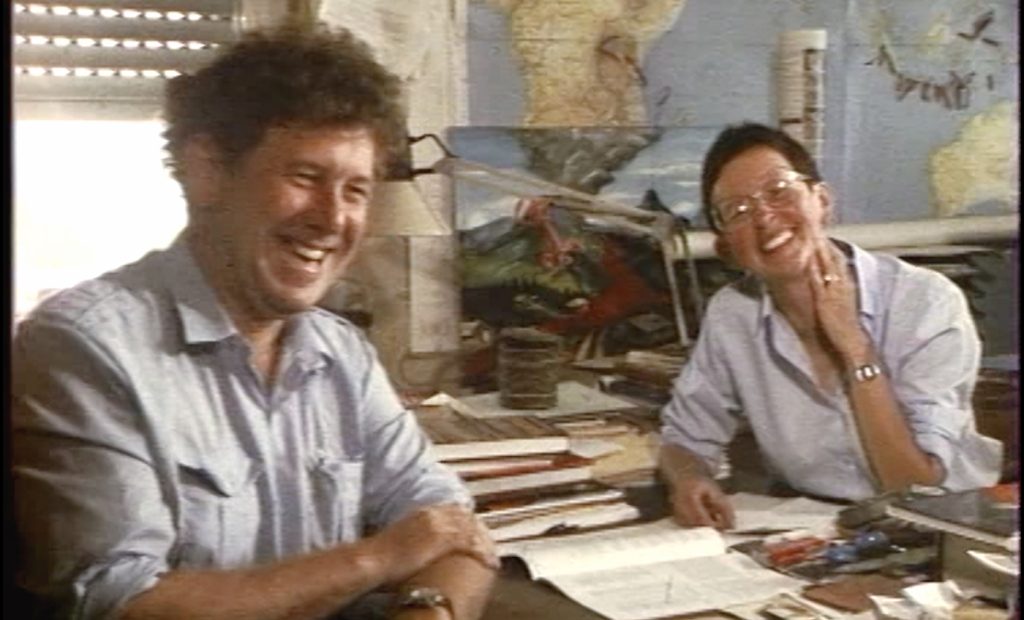 Despite being recognized as the world's foremost volcano experts, Dosa says few people outside France and the scientific community know of the Kraftts. She hopes the success of Fire of Love changes that.
"They are not well known but it's a timeless story…they seem out of a myth but they are real and for us it was so extraordinary to [create] a film about these humans who worked with this utter clarity of purpose," says Dosa.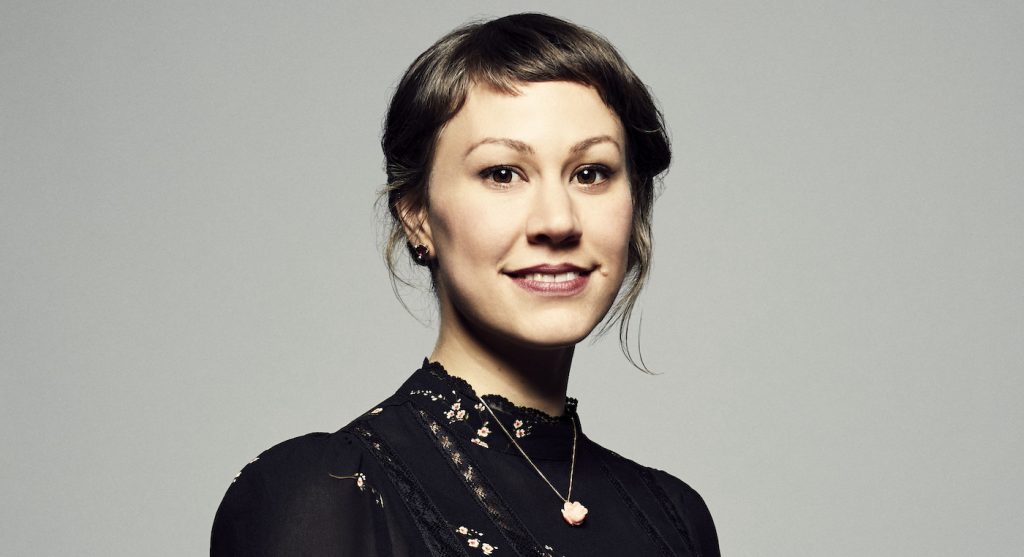 The Kraftts' vast 16mm archive and Katia's trove of photographs are housed in a facility in Nancy, France, called Image'Est. The research was challenging because after the Kraftts died in 1991, Maurice's older brother Bertrand managed the archive, and it moved around over the years before landing at Image'Est, says Dosa. "Image'Est loves the images and took care of it and stayed in touch with Bertrand. He was happy with us and is part of the journey," she says.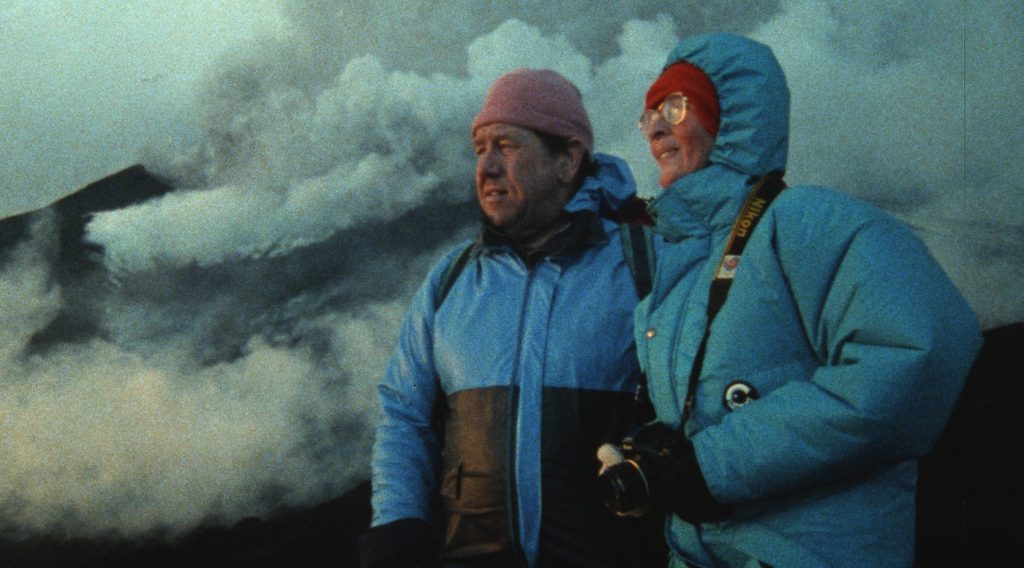 Due to pandemic, Dosa could not travel to France until October of 2021.
"By then, we were far into editing. They would scan and send [material] over the internet 20 hours at a time and we'd hungrily watch all of it."
Besides the Kraffts' films and photos, the Fire of Love team all had to cull though 50 hours of their radio interviews and televisions appearances on variety and talk shows as the couple became celebrities in France, a rarity for scientists at the time with the possible exception of oceanographer Jacques Cousteau. 
Besides their haunting film footage, one of the key decisions Dosa made early on was to trust the Kraffts' own words.  The story unfolds through their letters, poetry and journal entries narrated by actress and filmmaker Miranda July.
"At the beginning, we didn't want narration at all. We hoped the archive would speak for itself but we quickly realized the challenges with the footage and if we wanted to tell the love story, which felt like their true legacy, we needed a narrative vehicle to tell that love story," says Dosa. "We were inspired by the tropes of French New Wave, which already existed in Katia and Maurice's own work. We decided to embrace that subjective, playful narrator that people associate with the French New Wave as part of our style."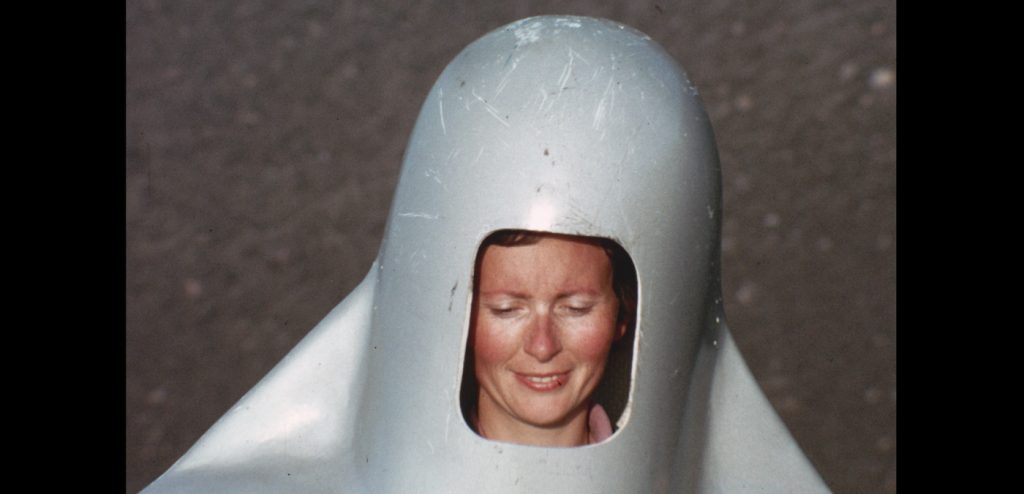 Once they decided on a narrator, the team knew they wanted a woman's voice to counter the prevalence of male narrators in nature documentaries, says Dosa. But they assumed it would be a French woman until producer Greg Boustead suggested July. "We were excited because she possesses what we call a deadpan, curious voice," says Dosa. "It reminded us of the narration in Godard's Masculine Feminine. A deadpan narrator can make space for the images and story. She was perfect on a lot of levels. She took the writing we did and elevated it. Working with her was a total dream."
Another key decision was to reveal early on in the film that the Kraffts died doing what they loved. We learn at the start of the film that they died while filming the eruption of Mount Unzen in Japan in 1991, an event that killed 43 people.
"We did not want it to feel like a third act payoff," says Dosa. "It was important to be sensitive to them and not let their deaths feel sensationalized or a plot twist. We also didn't want the question of when or how they died to take up narrative space and be distracting. So we took that question out and dwelled in how they lived because that's what it was about  — how to live a meaningful life in the pursuit of a dangerous love."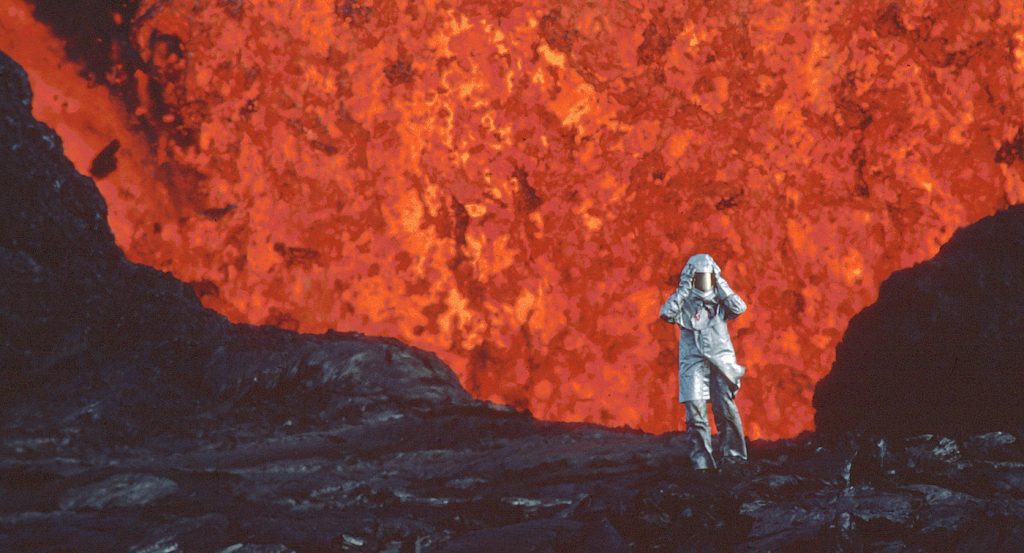 Dosa and her team were also keen to focus on the nature of time and the difference between time on the human scale—the duration of a single life—and time on a geologic scale.
"We were also thinking carefully about the theme of time in the film, the fleeting nature of human life set against the immortality of a volcano," Dosa says. "That pulls into focus these existential questions of the meaning, life and love that make it all the more full of longing. Even though they died, death is not end for them. They are bound up in this endless cycle of creation and destruction. So we start with death and then connect it back to the beginning."
The DGA award may boost Fire of Love's Oscar chances despite hefty competition from critical favorite All the Beauty and the Bloodshed and BAFTA winner Navalny. Dosa says the precursor awards have fostered "camaraderie rather than competition" among the nominees. She hopes the awards spotlight "will help people all over world know the story of Katia and Maurice Krafft."
"They would be ticked by all of this," she says. "Our deep hope is that people can be inspired by their love for the earth, and maybe people will develop their own  relationship with it. That's the goal for me."
Featured image: Katia Krafft wearing aluminized suit standing near lava burst at Krafla Volcano, Iceland. (Credit: Image'Est)