"A Good Person" Costume Designer Tere Duncan on Dressing Florence Pugh's Woman in Crisis
Costume designer Tere Duncan leaped into the fray of Zach Braff's A Good Person with the challenge of crafting the looks for a character in crisis without relying on the usual tropes—baggy sweatpants, mismatched socks, visible stains. That woman, Allison (a fantastic Florence Pugh), is facing multiple horrors at once, grieving the loss of her would-be sister and brother-in-law in a horrific car accident she bears responsibility for—a split-second loss of focus while driving them on the New Jersey Turnpike turns fatal. The accident plunges Allison into a realm dominated by guilt and numbed by opioids, and soon enough, she's addicted and hits rock bottom.
Allison's life is set on a new course in an unexpected way after she bumps into a man she probably hoped she'd never have to face again—a retired detective named Daniel (Morgan Freeman) whose son Nathan (Chinaza Uche) she was going to marry, and whose daughter died in the accident. Daniel's a recovering alcoholic whose own life was thrown into turmoil by the accident; he's now raising his granddaughter on his own, and his anger at his daughter's loss has been firmly focused on Allison. The fragile bond that Allison and Daniel forge is the molten core of the film and is buoyed by two tremendous performances from Pugh and Freeman.
Despite the potential for melodrama with the conceit, Duncan made sure that Allison never looked like your typical trainwreck. Guided by input from Braff, Pugh's own insights, and her own long career, Duncan created a wardrobe for a woman who, while sunk in the darkness, never looked like your typical basketcase.
What was your first reaction to the script?
One thing I really liked about the script is, yes, it's about Allison having this drug problem, but it wasn't a recovery movie. It was focused more on relationships and how you get yourself out of that emotionally and that it takes other people. That appealed to me.
Allison doesn't present as the typical woman in crisis we're used to seeing on screen. 
When I met with Zach, we were very much on the same page because one of the first things he said was that he didn't like when you watch films [about addiction and depression], and all of a sudden they're in grey sweats and a grey flannel. It's like you went shopping for your drug addiction. You see pieces of who she was. We didn't go drab in her costumes. And she does wear sweats, but it's not completely drab, like, 'oh, you found that in the dumpster?' [laughs].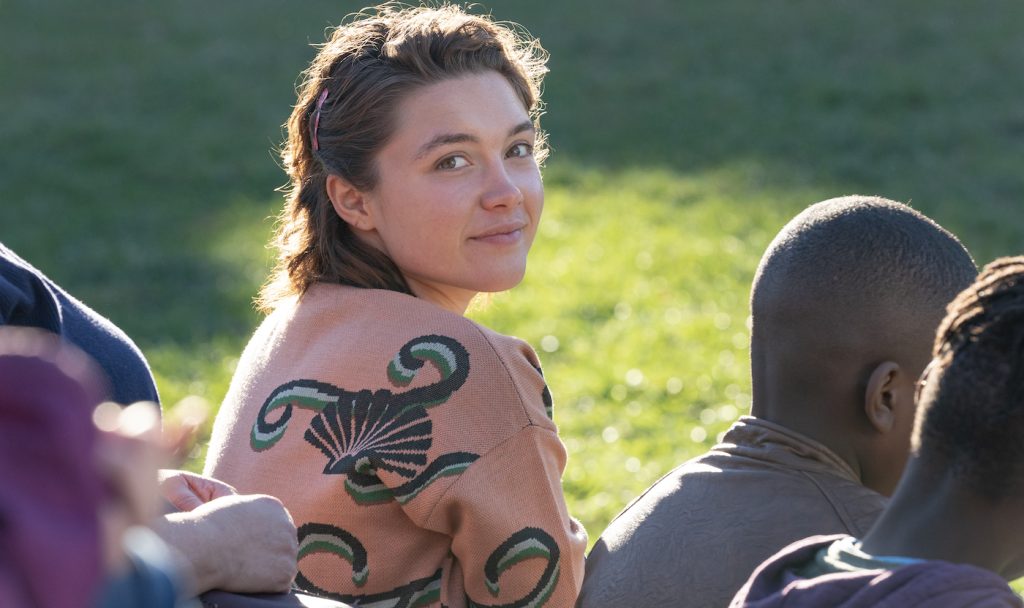 Let's go through the main characters and how you approached their looks, starting with Florence's character Allison.
She's had success selling pharmaceuticals. There's a scene at the beginning where she's talking to Nathan [Chinaza Uche], and you get the fact that she's not really in love with that job. She's a creative, it turns out that she plays piano and writes music, so I wanted to play more into that. She's not a businesswoman. That was just her job at that time. That's who she was before. I broke it down with a before and after.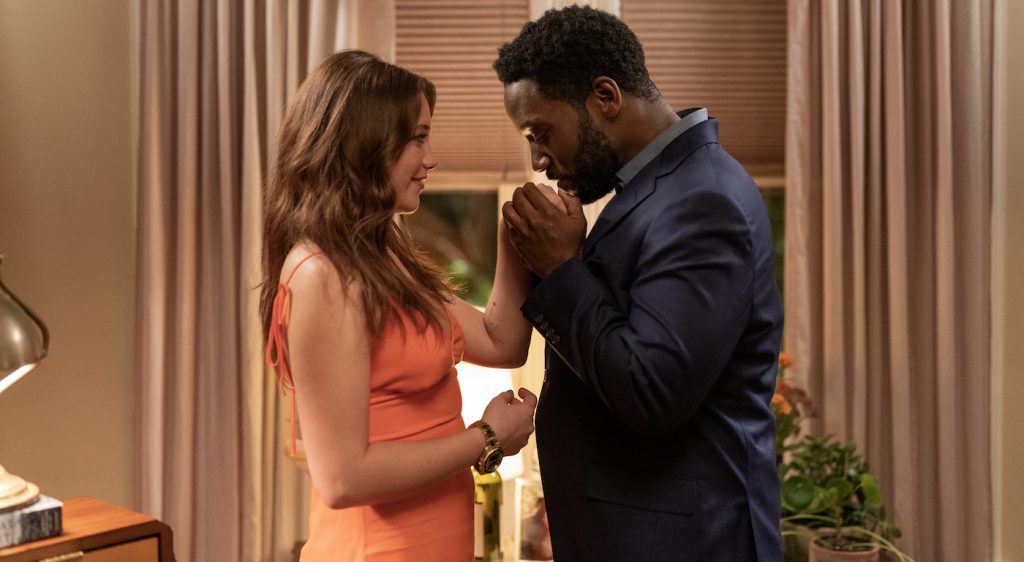 For the bulk of the movie, as Zach has said, we didn't want her dressed drab, so I made her a little more colorful and did some mixed prints. I threw stuff together as if she was not thinking about it. Florence had this really good idea about how sometimes you're like, 'I'm going to work out today,' so you put your workout clothes on, then never get to it. You've got the leggings and you've got the sports bra, but it never happens. So sometimes that's what she's wearing. She has these good intentions every morning, but because she's addicted, she ends up on the couch buying things on Amazon. I add the color and the mixed prints to speak to the confusion of her life. It's not calm, it doesn't make sense, and then at the end, I took away a lot of the colors and the patterns as she gets calmer and in recovery.
Alison's most significant relationship in the film is with Morgan Freeman's Daniel, who she's linked to in the most terrible way. Can you walk us through his looks?
He's a former cop, and Zach had mentioned wanting him to be very put together. We didn't want to go retired or sloppy. In many scenes, he looks slightly more casual but if you added a tie, he could be a detective still. He's in recovery and has been there for a while, but it's a more in-control version. With the mayhem in his past that he's gotten over, he's very in control now. Of course, what's happened is now he has this granddaughter to deal with, but that's the way he keeps it together; he gets dressed every day in a kind of uniform to keep everything nipped and tucked. This is his way of putting on his armor in the morning.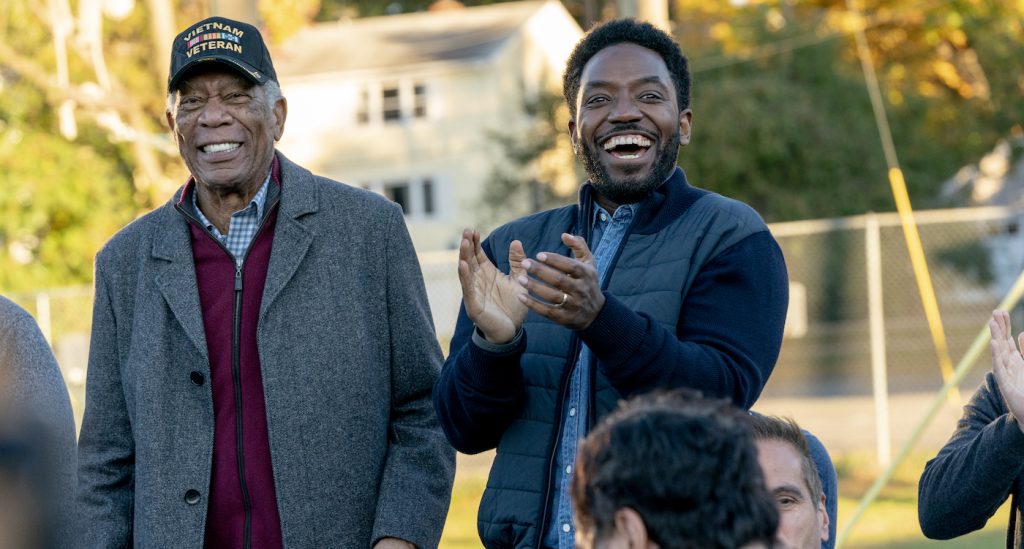 Molly Shannon plays Allison's mother, Diane. How did you capture Shannon's verve and spirit in the role through her looks?
For Molly [Shannon], when I was first showing Zach my tear sheets, he thought it seemed too put together, too dressy for Molly's character. So my assistant and I went to a Walmart in New Jersey and took a bunch of pictures of people while we were there, and when I showed him those pictures, he was like, 'Yes, this is what I mean.' One photo showed a woman with a tee shirt that read 'Live, Laugh, Love,' and Zach wanted that. We ended up printing something in different fonts and ironed it on a shirt, and she does wear it in the film, but it's under a robe. He wanted the realness of her as someone struggling to pay the bills, but she's also Alison's cheerleader as her mom, trying to give her daughter some buoyancy. There's something very hopeful about Diane.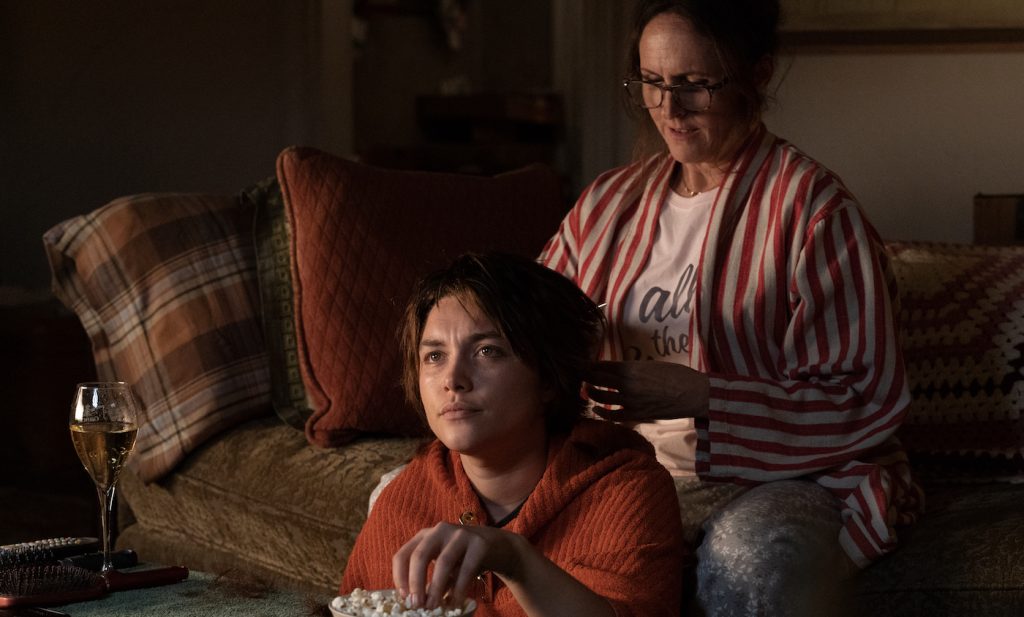 I've spoken with costume designers in the past who have told me that they found a perfect item for a character to wear in their own closet. Has that ever happened for you?
In my jewelry kit, I had this fortune cookie necklace, I don't even know where I got it, but it was so perfect for Diane. Her attitude is, 'We're going to get through this. What's your fortune? It's going to be good.' So she swears my necklace throughout the film. I don't know if anybody would ever notice that's what it is, but I think it adds to the film when you do things like that.
I love this. Is anyone else in the cast wearing an original Tere Duncan?
Actually, Florence wears one of my sweatshirts throughout a lot of the movie. It's a hoodie and has this Hawaii logo on it, and there are paint stains and holes. I've had it for like 15 years or so. Luckily the company still exists, so we were able to get clearance on it to use it. And there's only one of those [laughs]. We're an indie, so we didn't have money for multiples. And that sweater had these holes where you can stick your thumbs through, and Florence was like, 'Can I use these holes?' I said, 'Of course you can!' So when you see the movie, you see her thumbs going through the holes. That was aged by me, naturally, through the years.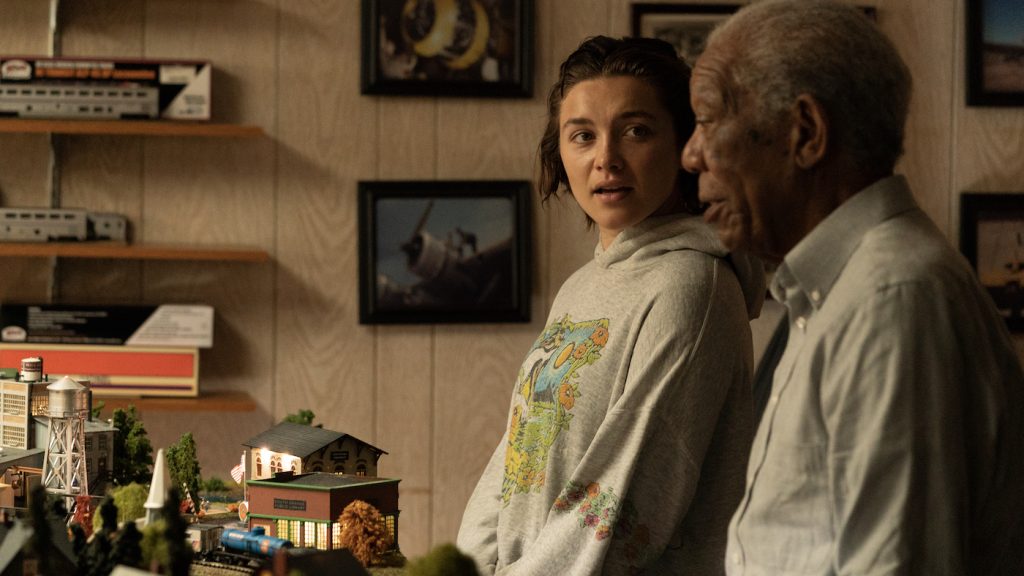 A Good Person is in theaters now.
Featured image: Florence Pugh as Allison in A GOOD PERSON, directed by Zach Braff, a Metro Goldwyn Mayer Pictures film.. Credit: Metro Goldwyn Mayer Pictures. © 2023 Metro-Goldwyn-Mayer Pictures Inc. All Rights Reserved.