Best of 2022: "House of the Dragon" Co-Creator & Co-Showrunner Ryan Condal on Season One & Beyond
It's that time of year—we look back on a few of our favorite interviews from 2022 in our annual year-end list.
The first season of House of the Dragon has come to a close as an unqualified success. The premiere saw the largest single-day viewership for a series debut in HBO's history and continued to land consistently in the top five titles streamed across all platforms through its last episode. The show was renewed before the second episode of the series even aired. 
House of the Dragon is a prequel to Game of Thrones—created by George R.R. Martin, Miguel Sapochnik, and Ryan Condal—and like Game of Thrones, is based on the "A Song of Ice and Fire" novels by Martin. Set nearly 200 years before the events of Game of Thrones, it follows the beginning of the end of House Targaryen. 
At its center is the conflict between members of House Targaryen, not least who will become the ruler after King Viserys (Paddy Considine) dies. Viserys steadfastly commits to placing his daughter, Princess Rheanyra, on the Iron Throne, but members of his inner circle and his young wife Alicent, who bears the king a son, have other ideas. 
The Credits spoke to executive producer and co-showrunner Ryan Condal about power and patriarchy, and he shares his thoughts on season one and his hopes for season two. As a longtime collector and lover of movie props, Condal also discusses some of the great designs and props created for the series.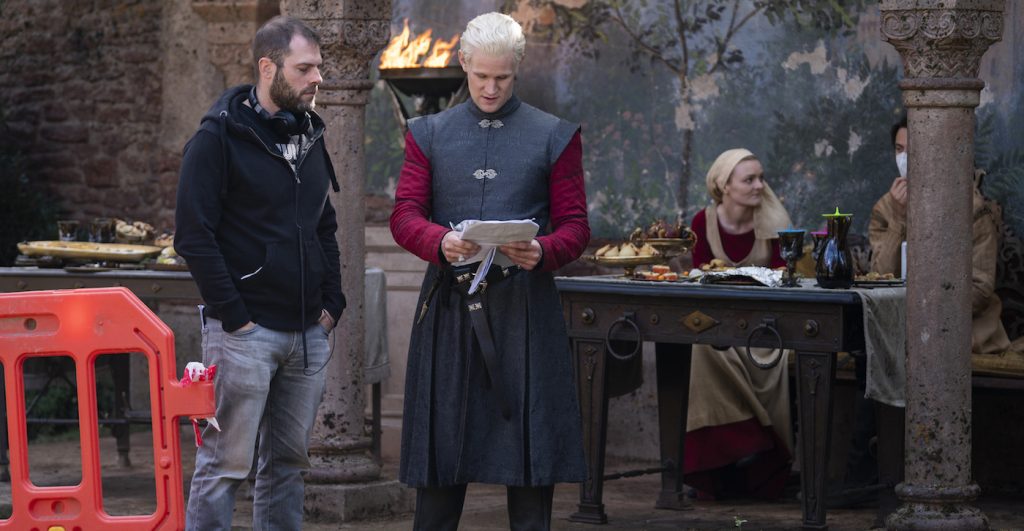 In House of the Dragon, the dragons are that world's version of nuclear weapons. There are 17 of them, right?
I mean, at the very peak, if you count everybody, yes, but right now, in our world, there are probably 12, let's say. Some of those are counted as hatchlings that become young dragons. 
They'll be more in Season 2?
We'll definitely introduce more of them as we go along. I think that's part of the fun of doing the show. They are characters, and in Season two, they're needed for their most famous purpose, which is to decimate and cause death and destruction. Design-wise, we really do go through quite a process with them. In Season one, the dragons were designed over the course of a year, where we did a lot of early concepting on basic things like how our dragons are different from what you saw in the original series, and honoring what they did with Drogon, Rhaegal, and Viserion, then figuring out in a time when there were many more dragons, was there just one breed? We came up with these three different genotypes of them, where they're all the same species, but they just have different breeds that have different shapes, colors, and sizes. We worked with these two designers, who are really great because they're working with similar software, so they would actually just switch off the design. They would pull the dragon up to a certain point and then switch, and the other one would take over because both had a different way into it. Now that we're working on Season two, they're back at it because we need more dragons!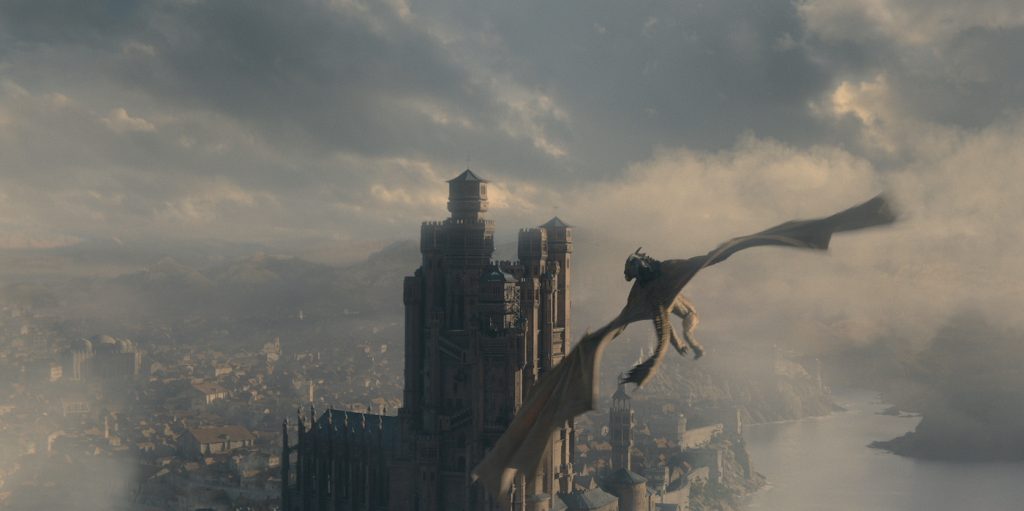 That kind of collaboration leads to much more creativity. 
Exactly. I saw it as kind of similar to my writing process that I go through with Sara Hess, my writing partner on the show. We write a draft of the script, and then she takes the scenes that I don't like to write and makes them better. She sends me a battle scene and says to 'make it exciting.' 
As a collector of movie props and art, you're especially sensitive to the quality and workmanship of the sets and props used in the show. How did your experience as a collector and fan of film artisans impact your choices? 
There was nothing more exciting for me than going into those workshops where physical things were being built for the show, whether it was sets or down to a dragon's egg. I love the artistry that goes into the making of these things. We really had aces across the board on Season one. One in particular that I worked closely with was Peter Johnsson, who designed and then constructed the two ancestral Targaryen Valyrian steel swords, Blackfyre and Dark Sister. He is a real swordsmith who actually makes his living making swords in the old way. He makes re-creations for museums, and he actually studies finds of real medieval swords and deconstructs them to figure out what you do because usually they're pulled out of a river, and all the leather and wood are gone or rusted away, so he figures out what it might have looked like when it was made new. They're two of my favorite things that were built for the show.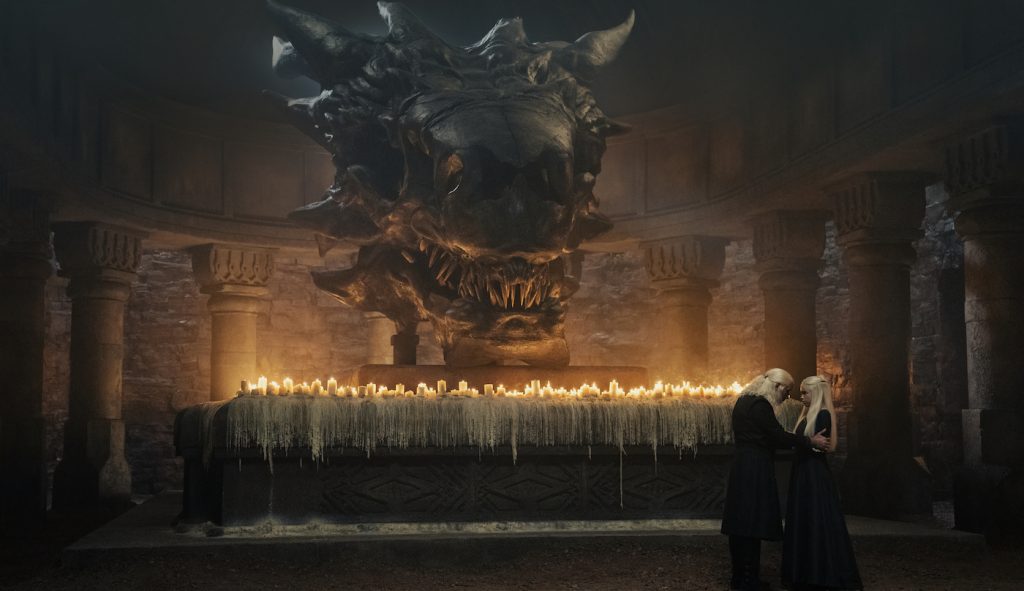 It's great fans can look for that. So many props on the show have intricate detail. 
I also had a lot of fun with the big props that they made for this show, like the Iron Throne, and the Driftwood chair, the sea snake's chair, and King Viserys's big model of old Valyria, which is like this giant Lego build. Seeing something built on that scale, it's almost like a mini set, you know, seeing it being built and how they, how they can conceive of it, building it in sections, and watching the throne get built, from concept to day by day, going in there and watching them actually make and cast swords, and burn them and melt them in their own prop builder way, that was a lot of fun.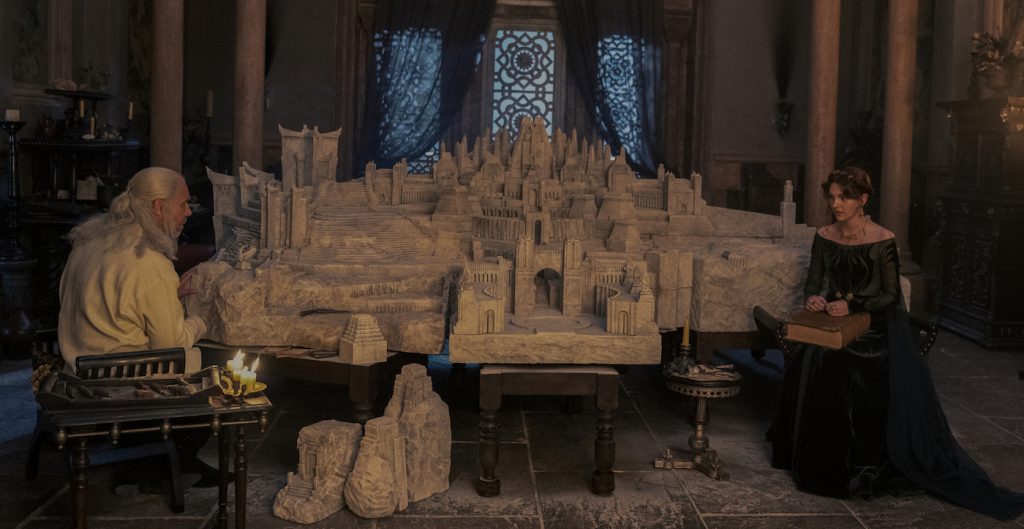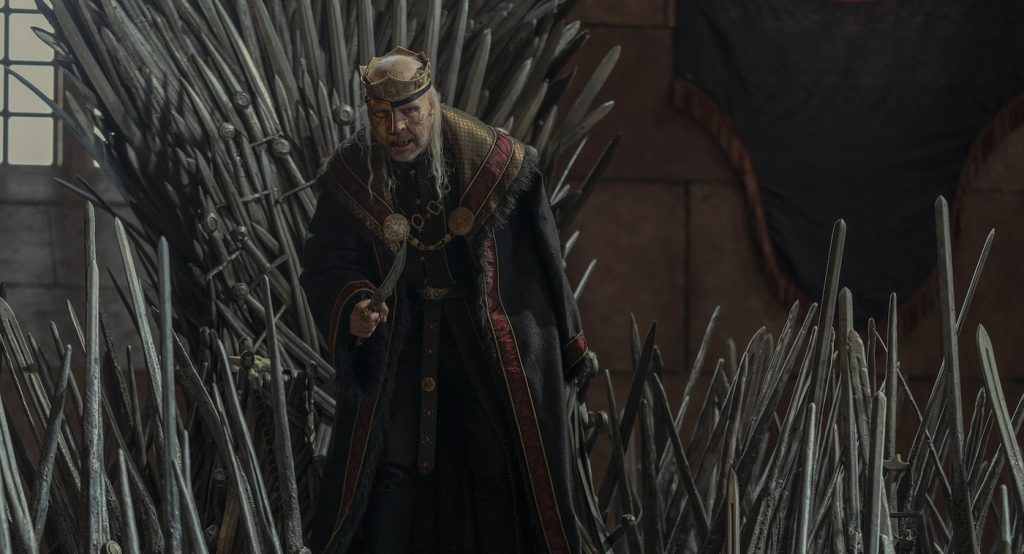 What conversations were there about allowing both a more diverse cast and anchor storylines, and as the first season is coming to an end, how do you think those decisions have been received and accepted? 
What we wanted to do was tell the story and not let identity politics get in the way of it one way or the other. It's a period show, and to try to tell a story about race in this particular setting would feel anachronistic and out of the time. Not that it's undiscussed, but it's covered and discussed in different ways. This is a world based on what your last name is and what your bloodline is. Are you true born, or are you bastard born? In this time period, there are things these people would not even have terms for, like the ideas of misogyny or feminism. Great genre storytelling holds up a mirror to us in our modern lives but does it in a way where issues and topics are cleverly disguised within the world that we're exploring. I would say that we're not doing anything that's not a part of the story as George wrote it. We're not taking something that he wrote and making it about something else. The very first story that he ever published in the Targaryen history was called "The Princess and the Queen," about two women in a power struggle in a patriarchy, and from that come a lot of these different storylines and the things that Alicent and Rhaenyra both struggle with.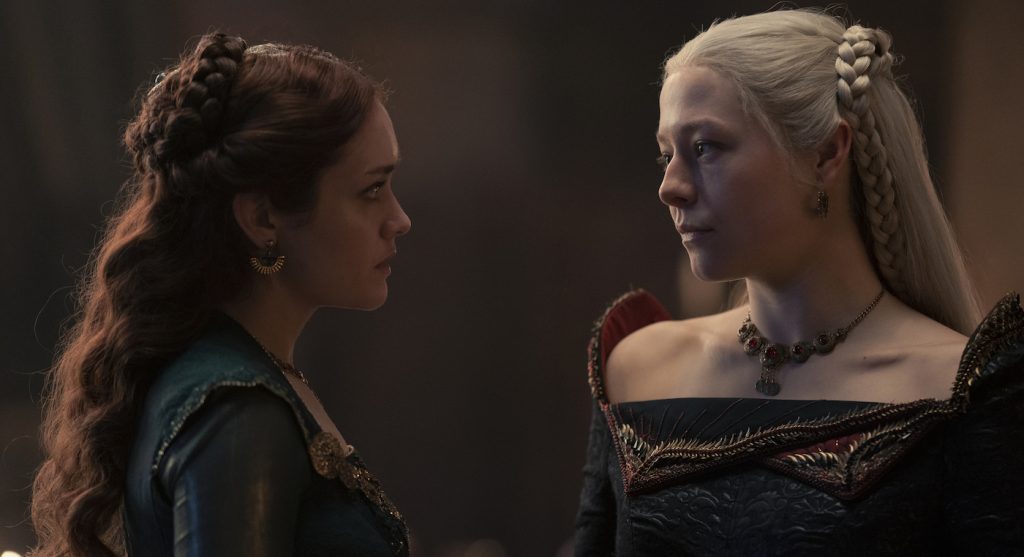 Clare Kilner directed the penultimate episode, her 3rd for the show. "The Green Council" was helmed by a female filmmaker and also written by Sara Hess. There are lots of power dynamics at play between the women of the show, specifically in this episode. What did they bring to it in terms of undermining 'Team Patriarchy'? 
I adore both Claire and Sara. Sara is my right hand on the show, and I wouldn't be able to survive without her. That's entirely her episode, and Clare directed the hell out of it, so that's one that I'm able to kind of sit back and just enjoy without looking at with all of my personal writer insecurities being brushed onto it. For me, the scene that really stands out that is very symbolic of the larger story we told this season is between Rhaenys and Alicent, where Alicent confronts her, and Rhaenys asks her if she's ever imagined herself on the throne. It tells a story about what it's like to be a woman of extreme power living in the world of the patriarchy, because these are both women who have their heads right up against that glass ceiling. It shows the shifting dynamic from where we started, where the men would rather put it all to the torch rather than see a woman on the Iron Throne, and here we are in episode nine, actually seeing the torch being lit. It's a great scene written by a woman, directed by a woman, and has two women in the scene not talking about men. It would pass the Bechdel Test with flying colors.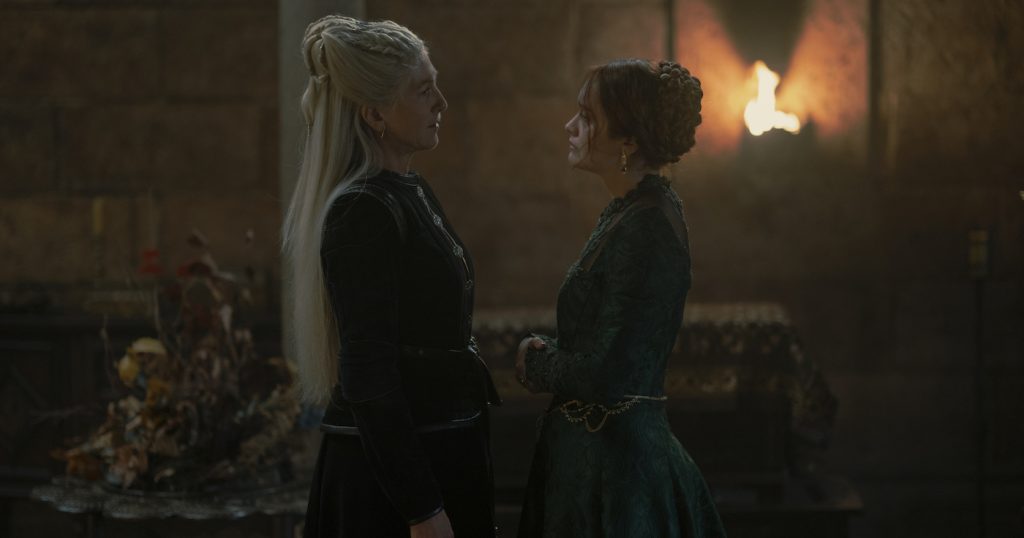 Looking back on the first season, in what ways has the finished show changed or surpassed what you imagined when you first envisioned it?
This show is really within degrees of what I wanted and hoped it would be. You always have a picture of something in your mind's eye as a writer, and I think we achieved that in a big, big way in season one. In many ways, I can't believe that it's done and out there. After four years of us working on this with George, to be here is really incredible. It's the thing I set out to make, and now we get to do it again on season two, and we get to learn from the things that we didn't quite nail down or didn't quite do right, and the things we think we could do better or make bigger, now we get to do it all over again and have a second shot at it. 
House of the Dragon is currently streaming on HBO Max. 
For more on House of the Dragon, check out these stories:
Featured image: Photograph by Courtesy HBO