Best of Summer: "Ozark" Director Amanda Marsalis on Ruth, Wendy, and Bittersweet Goodbyes
As we've done for the past few summers, we've compiled a few of our favorite interviews to highlight in this last week of August. This is by no means a comprehensive list, but a little taste of some of the great conversations we've had during these hot summer months. Bring on sweater season. 
When Ozark came to its bloody, sin-soaked end this year, you might have found yourself, Marty Byrd (Jason Bateman) style, sitting there quietly for a moment to do some accounting. The Byrd family had, against all odds, survived the chaos they'd been plunged into four seasons back when Marty's business partner in Chicago made the mistake of cheating the wrong client. That put Marty in a life-or-death situation that would carry on for over a year—make matters right by laundering money for a powerful Mexican cartel, or he and his whole family would be killed. This made a move to the Ozarks necessary and set off month after month of mayhem and murder, in which nearly everyone the Byrds came into contact with suffered, including Wendy Byrd (Laura Linney)'s beloved if troubled brother, Ben, who was killed on account of the Byrd's dealings. In the final accounting, you could reasonably ask yourself if all the trouble the Byrds went through was worth all the death it caused. But, again, Marty-style, you could reason that if it wasn't the Byrds laundering Cartel money and poisoning nearly everyone around them, it would have been somebody else. Right?
When it came to the collateral damage caused by contact with the Byrds, perhaps none felt as personal to the viewer as the fate of Ruth Langmore (Julia Garner). Ruth was one of the first people the Byrds met in the Ozarks, and she was practically the living embodiment of the area's haunted, resilient population, by turns rageful, rueful, clever, caring, impetuous, and fiercely loyal. She was a fan favorite, with Garner rightfully becoming a star thanks to her ferocious, wounded take on the doomed Ruth. And yes, Ruth was doomed, even if we rooted for her to make it, against those pesky odds, to break the Langmore curse, to get out from under the Byrd's baleful shadow, and get free.
Key to handling the final season's emotional tumult was director Amanda Marsalis, who helmed four of the final seven episodes. We spoke to Marsalis about what it felt like to direct episodes like "The Cousin of Death" (episode 8 of season 4), where, at long last, Ruth gets her revenge, working with mega-talents like Garner and Laura Linney, and why she loved being a part of the Ozark family.
You directed episode 8, "The Cousin of Death," which started the second half of the final season with such a bang. Can you talk about what it was like taking on Ruth's revenge for Wyatt's murder?
I feel like episode eight is the yin to the finale's yang, right? Ruth gets her revenge, and the episode is almost entirely about her, and it's so emotional. You're in her head. You're in her space. Honestly, when I got the script, I got really nervous. That's the one that I put all the pressure on myself for. I was just like, 'Can I deliver? Am I worthy of this script?' I felt very protective of it and honored. I read the script very early. So I knew for a very long time what was going to happen to Ruth before the final season started filming. So you're just walking around the world being like, 'You guys have no idea what's coming. And I have to keep my mouth shut!'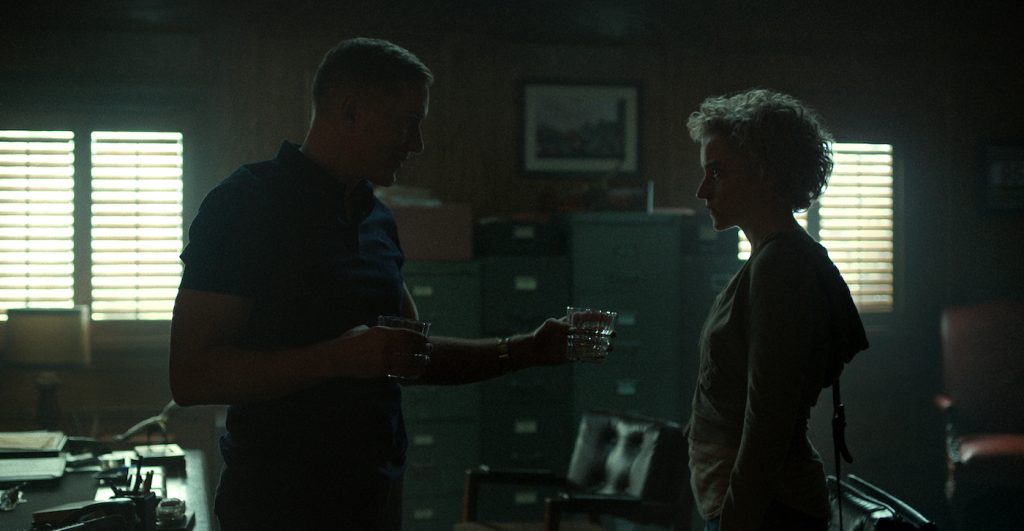 What were you the most nervous about directing this episode? 
The script had such a vision. Nas's "Illmatic" [his iconic album from 1994, Ruth is listening to it when she bumps into another iconic rapper, Killer Mike, at a diner in Chicago] is there, on paper, throughout the script. It's not something that was thought of later. So reading the script just felt so special. It was one of the more emotional episodes of Ozark. It's not the most emotional of shows, even though lots of people have feelings and a lot of sh*t happens. I wanted to honor that, and I had to make sure Ruth had her, well, day in the sun sounds wrong, but she was given this thing she needed. And Julia's an extraordinary actress. You kind of just let her go.
The way you filmed Ruth's revenge was so matter-of-fact and so impactful. We're in a high rise in Chicago, it's night, she lures Javi (Alfonso Herrera) into her trap, and then it's over in a matter of seconds. Tell me about constructing that scene.
As a director, when I see a space, I can tell the story in this space. I was a photographer before I was a director, so I'm more visual in my storytelling, as opposed to some directors who are more writer-directors. When we were talking about the space and how to work it, something about it made me just know it was going to play here and be perfect. Technically, Alfonso Herrera, the actor who plays Javi, is very good at looking like he's being shot. So I could play it in the wide shot because Alfonso's got the skill to go down. You can watch it over and over, you believe he's being shot. I had a vision for the shot but Alfonso was capable of doing it in that wide so I didn't have to hide anything in a cut. So I'm very lucky.
In episode 9, "Pick a God and Pray," we get to really see what kind of life Wendy had growing up with her father, Nathan (Richard Thomas), who is now back in her life looking for his son Ben (Tom Pelphrey). It helps paint a much more vivid picture of why Wendy is like she is. How much of Wendy's emotion were you factoring in with your decisions in that episode?
The arc of the whole series, in the talks I've had with showrunner Chris [Mundy], he takes something that's misogynistic and slowly, believably takes the story and brings all these strong women to the surface through the seasons. You see all this fierceness come into them and you believe it was always there. So all of Wendy's backstory, all of the things she was experiencing, was always there with her character. Her stuff with her dad, her stuff with her brother, and her meltdown in front of her dad in episode 12, Laura Linney is the most generous, talented, prepared actor/human ever. Laura knows what she's doing. What her intentions are. Always. She comes to set completely prepared, and if I didn't know what I was doing, it would be so embarrassing. I needed to attempt to rise to Laura's level. Then episode 12 ["Trouble in the Water"] is a very Laura-centric episode, with her meltdown, ending with her cracking her head against the window just like her brother Ben did. I felt like I was there to support Laura. Not to say that actors don't need directors, it's just that she's an absolute force and just a pleasure.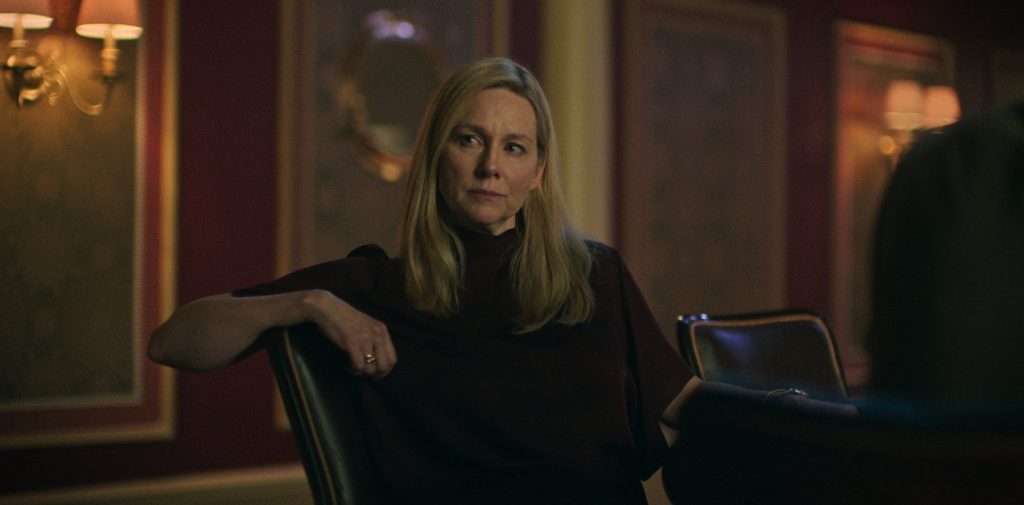 You got to direct the penultimate episode of the entire series, "Mud," and I've always felt like the penultimate episode is often the most daring or shocking in a series.  Less pressure than the finale, more room to really let it rip. Did you feel this way?
Our penultimate episode has a lot of climaxes, and then the finale wraps it all up. So you do get to party in the penultimate episode a little bit and you don't get as much pressure. Which is really fun, because who wants that pressure? Jason Bateman can handle that pressure.
Do you have an overarching approach to how you direct?
It's that I have to give this the respect it deserves. Like, there is no reason to get up and put on my pants and leave the house unless I'm going to give this everything. While you're shooting, there are always a number of factors at play. It's time, money, and performance. In Atlanta, you also have thunderstorms that disrupt you all the time, especially out on the lake where we shoot Ozark. My first episode of directing Ozark was the fourth episode of television I'd ever directed, so it was a huge break for me and kind of a miracle that it happened. It was Jason [Bateman] and Chris [Mundy] and producer Patrick Markey taking a chance on me, and then I stayed in the Ozark family, and here I am. I wouldn't say I operate from a fear-based place, but I'm just so excited to be invited to the party that I'm not going to get myself un-invited. I'm going to do everything I can every day to say. So in those final episodes, I definitely felt the weight of the fact, 'Oh, I'm directing over half of the ending of Ozark.' But, I also felt, 'Well, you better not f**k this up. Come up with some good stuff! Just get it done.'
Featured image: Ozark. Julia Garner as Ruth Langmore in Season 4 Part 2 Episode 2 of Ozark. Cr. Tina Rowden/Netflix © 2022