"Nope" Composer Michael Abels on Scoring Jordan Peele's Sci-Fi Epic
Composer Michael Abels has become the artist of choice for writer/director Jordan Peele. He has scored all three of his features, Get Out, Us, and now has put his talent and inspiration behind Peele's latest, the genre-busting sci-fi horror thriller Nope. 
Nope stars Daniel Kaluuya and Keke Palmer as siblings OJ and Em, the heirs of a struggling horse ranch and animal wrangling business for film and television in the Santa Clarita valley. OJ and Em start witnessing an unexplained phenomenon that suggests the potential for UFOs and visitors not of planet Earth. They become obsessed with capturing it on film, regardless of the dangers, which prove life-threatening. 
Abels was tasked with scoring this exciting, out-of-this-world story of familial commitment, spectacle, and deadly visitation in Peele's new take on a summer blockbuster. Sometimes a blend of sound and music, often playing with older classic scores of genre film, but always original, the score to Nope not only enhances Peele's storytelling but it is also an engaging listen for its own sake. The Credits spoke to Abels about his latest collaboration with Peele and how his score for Nope fits into his larger body of work. 
There's this notion of the 'bad miracle' in Nope. You even have a cue named that. In a way, it feels like some of what's happened in the last few years, especially for Black Americans, would qualify as bad miracles, but in this context, what were you and Jordan going for? 
You're absolutely right, there have been a lot of bad miracles in the past few years, but the way Jordan came up with that is he meant if you were to see a giant alien creature, you would feel both this sense of awe, like almost a spiritual magnificence and a sense of sheer terror. That was the balance he was trying to get out of the actors, but he was also trying to get that from the music. He wanted the music to have both a sense of wonder and a sense of terror. If you listen to the score, you can hear it and think, "That's what Abels had to do." I feel like there are moments in Nope, I mean, I find what happens to the ending of Nope to be heroic, and the music is meant to be heroic and transcendent. 
There's an opportunity in genre films to speak to what's happening in society in a way that a broader audience might be willing to see and consider. 
Yes. That's the thing that Jordan does, and that is one of his most extraordinary gifts. You know, taking the Muybridge clip and making us see it from the Black perspective, I think has never happened before, and now it's going to be indelibly part of how we look at that, thanks to him.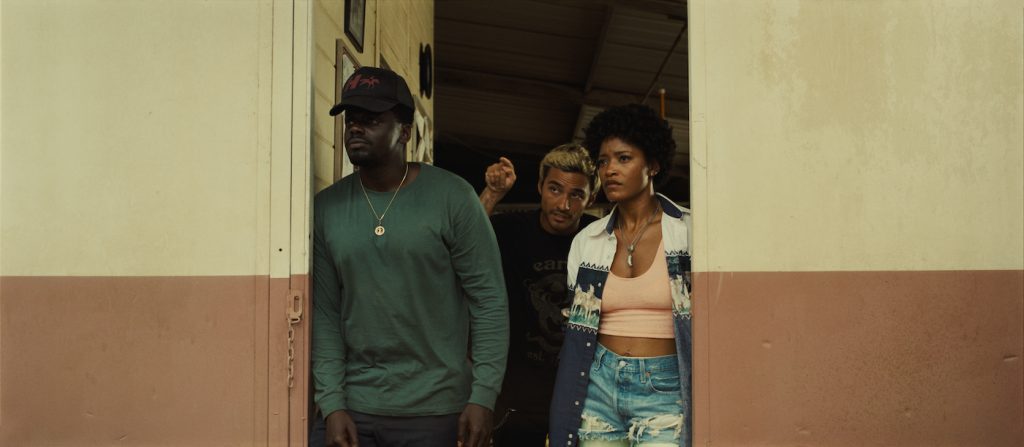 The cue "Growing Up Hayward" has a strong emotional center, which really speaks to OJ and Em's bond as brother and sister.
That's really about the relationship between OJ and Em and their dad, who all really have this strong familial bond that Jordan doesn't show you in a Hallmark card sort of way. He shows them not getting along, or their reminiscences are a little reluctant. They're reminiscing as they drink out of their dad's liquor cabinet up in the house, talking about what they remember about growing up. You hear this theme, all on strings there, and then you hear it later, near the climax of the film, in "A Hero Falls." To me, it's the bond, it's the deep love that OJ and Em have for each other. In the cue "Growing Up Hayward," I was just trying to use it in a way that felt emotionally like where they were in that moment.
Your "The Run (Urban Legends)" cue has a bit of a John Adams "Shaker Loops" vibe, but then you bring in the brass, and it's this masterful meld of musical genres, which is so perfectly in sync with Jordan's aesthetic as a director. 
I wrote that so early. It was the first piece of mine that Jordan ever heard, even before he called me for Get Out. That's from a concert piece of mine called "Urban Legends," and that concert piece melds the things that you're talking about, and it kind of has an EDM dance vibe to it too, but then there's also a jazz element. It's deliberately a genre collision, which I think was something that appealed to Jordan because he's a genre collider. He was actually listening to that when he wrote the script for Nope. It was his idea to temp with that in that climactic scene. We had other ideas about that, and I wasn't expecting that it would make the final cut. Eventually, though, he decided that's the music we were going to use, so I took the DNA of that music and created a version that went to the picture, and that's what we recorded for the score.
The film, in some respects, is Jordan Peele's take on Close Encounters of the Third Kind, and I love how you play with that and touch ever so slightly on a few elements from the John Williams score for Close Encounters in your cues "It's in the Cloud," and even more in "Holy Sh*t It's Real." Where did that come from?
It comes from wanting to place it in the vicinity of that genre, but also it actually grows out of the bad miracle idea that it's both awe-inspiring and terrifying at the same time. At different moments we're on different sides of that line, depending on how scary or how amazing it is. Unlike Close Encounters, though, this encounter is not one that you want to get that close to. The whole idea is, "how close do we come to this miracle before we regret it?" That's what the characters are experimenting with throughout the whole film. Can we stop ourselves? Should we stop ourselves? What if we got it on camera? It's this very practical, realistic 21st-century approach to how they deal with their fear of it that makes the film one of a kind, but we see that in the context of other things we expect about the alien encounter genre and about the western genre. It comes from wanting to acknowledge that, "Yeah, this is sort of a thing you think you've seen, but only enough to make you really appreciate when your expectation is busted." 
You worked closely with sound designer Johnnie Byrne. What are some of the ways you two, working with Jordan, balanced silence, sound, and score? 
That's exactly what we do. From my very first conversation with Jordan before Get Out, he said, "I want silence to be part of the score." That has become a touchstone for me, not just with Jordan. I think all of my music has been enhanced by realizing the power of the negative space in the music. There's some music I write with a textural sound that's very close to sound design. Johnnie will do some of that too, and it's a fun place to work, that place where you're not sure if it's sound or score. Jordan likes having options to make those choices in the final dub, deciding the best way to tell the sonic version of the story. 
Nope is in theaters nationwide. 
For more on Nope, check out these stories:
How "Nope" Production Designer Ruth De Jong Built & Bloodied the Haywood Ranch
"Nope" Editor Nicholas Monsour Dives Into the Macabre of Jordan Peele's Sci-Fi epic
"Nope" Cinematographer Hoyte van Hoytema on Capturing the Epic Scope of Jordan Peele's Latest
Featured image: (from left) OJ Haywood (Daniel Kaluuya), Emerald Haywood (Keke Palmer) and Angel Torres (Brandon Perea) in Nope, written, produced and directed by Jordan Peele.