"Marcel the Shell With Shoes On" Director Dean Fleischer Camp on His Big-Hearted Feature
Director Dean Fleischer Camp has turned Marcel the Shell, the itty bitty seashell turned YouTube sensation that he created with actress/comic Jenny Slate, into a feature film. But he and Slate, who provides the distinctive voice for the philosophical, one-eyed, one-inch mollusk, knew it had to be on their terms.
"I basically make movies to try to trick my dad into crying in public," says Fleischer Camp who developed the script with Slate and Nick Paley. "We were always saying, 'how can we deepen it and make it personal and worthy of a feature?' We wanted to keep the loose, authentic feel to it. I had a lot of emotional ambitions for the film. How do you do that with the organization that a feature requires?"
Ever since 2010 when Fleischer Camp and Slate, then a couple (they divorced in 2016 but continued to work together) made the first of three wildly successful short videos about Marcel, there was keen interest from Hollywood studios. But it was "all about grafting Marcel onto a tentpole movie," says Fleischer Camp. "There were a lot of crazy suggestions [such as] partnering him with John Cena so they could fight crime. It felt clear we were going to have to take a different route to make the film that our Marcel deserved."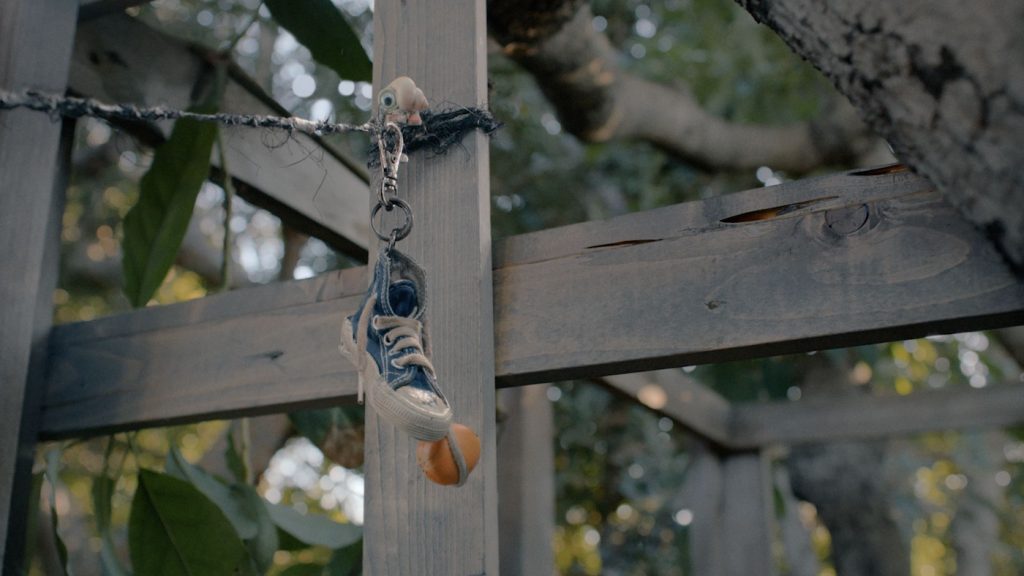 "We knew it was important that I had creative control and final cut. We kept the character to ourselves for several years but we were always adding jokes, keeping notes of ideas. It reached a saturation point where it was like, it's a shame to keep this hidden and not give it a bigger platform."
Fleischer Camp and Slate reached out to Elisabeth Holm, who'd produced Slate's movies Obvious Child and Landline, about "how do we fundraise in the indie world," says Fleischer Camp.
A few years later, their feature Marcel the Shell with Shoes On is now in theaters from A24. It seamlessly combines the stop-motion animated miniature world of Marcel with live-action, including Fleischer Camp playing himself as a filmmaker fresh from a breakup who finds Marcel in an AirBnB and engages with the tiny shell while making a documentary. Through flashbacks, we learn about an event in the house that scattered Marcel's close community of shells, leaving him with only his grandmother, Nana Connie (voiced by Isabella Rossellini), a gardener whose increasing frailty inspires Marcel's protectiveness.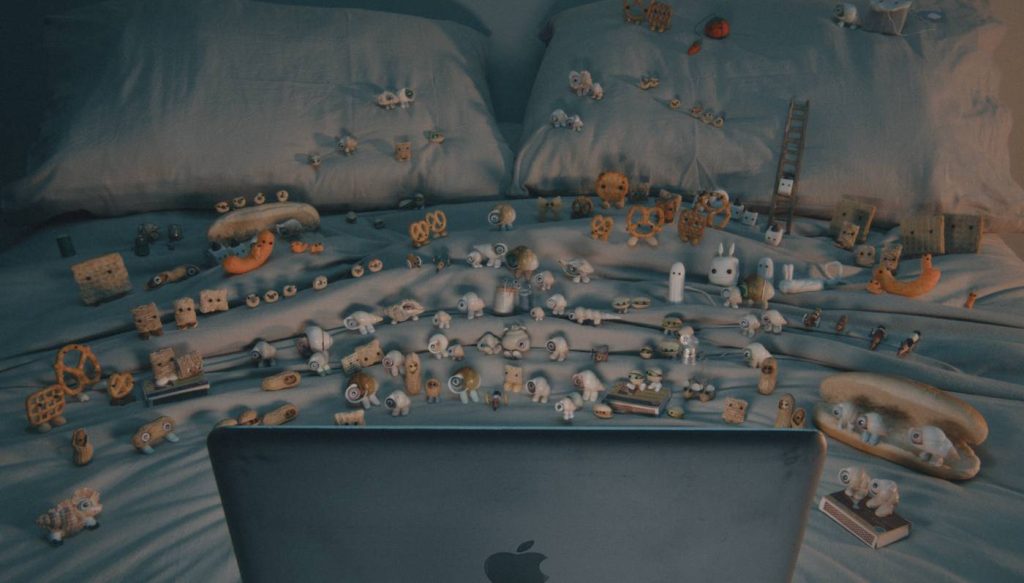 Keeping the loose, improvisational quality that made the shorts so unique and beloved meant an arduous shooting process, says Fleischer Camp.
"We felt strongly that with a bigger budget, there was the danger you could sand off the things that made it great. We came up with the bonkers process that Nick Paley and I would write for several months, then record for a couple of days with Jenny and later with the rest of the cast. During those days, we'd see what was working or not. Jenny is one of the most masterful improvisers on the planet. She's our Robin Williams. We'd record and get our scenes but we'd get other stuff, too. Nick and I have an editing background, so we'd pour over the audio, pick out the gems, fold them into the screenplay, and then we'd do it again. That allowed us to maintain the spontaneity and improvisational quality but also tell a larger story."
It makes sense that a skilled improviser like Slate would thrive in this process, but Fleischer Camp also gets a delightfully comic and tender performance from co-star Rossellini whose wise Nana enjoys singing and watching 60 Minutes with Marcel but also shares with him advice about facing one's fears.
"It was a learning curve for her. She said no one had asked her to improvise before," Fleischer Camp says. "It took a while for her to feel comfortable; improvisation is so vulnerable — not having a script, to trust someone with that."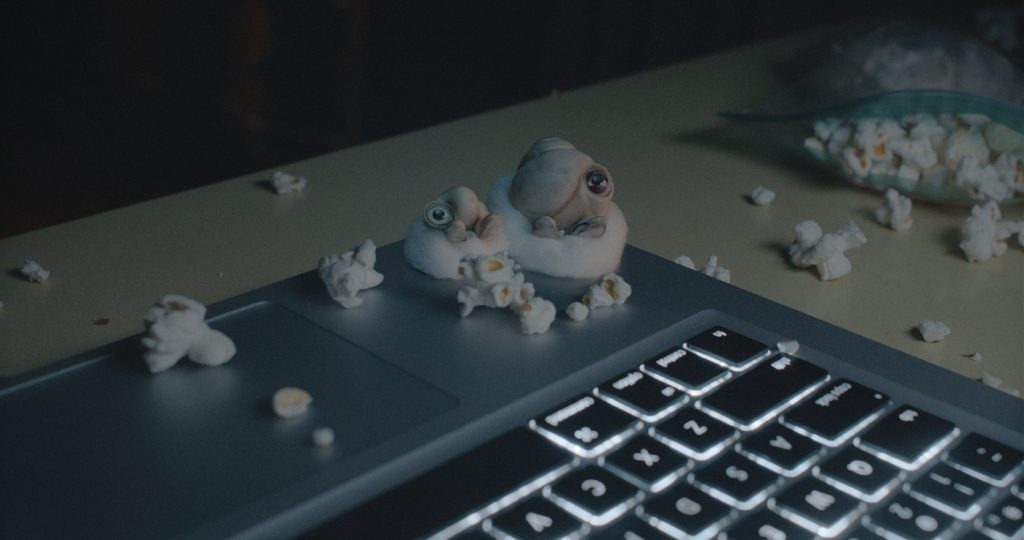 "So much of what I love about the character is what I love about Isabella. This hybrid process afforded me and Nick the luxury of writing the character around her. We had a basic outline but it really came together once we got to know Isabella. She's the most like this character than anything she's been cast in. She does live on a farm; she knows a ton about gardening; she has a master's in animal behavior. She's also funny but is hardly ever cast in comedies. So much of what makes her great is what makes Nana great."
Just as game was 60 Minutes anchor Lesley Stahl who appears as herself in a key sequence.
"You would think with a scrappy indie film we'd have a list of 100 news anchors but it was always just one name," says Fleischer Camp.  "We got incredibly lucky that Liz Holm had a friend who worked at 60 Minutes and was willing to get the film in front of Lesley and they worked with us to make it happen. The crew that comes in is really the 60 Minutes crew."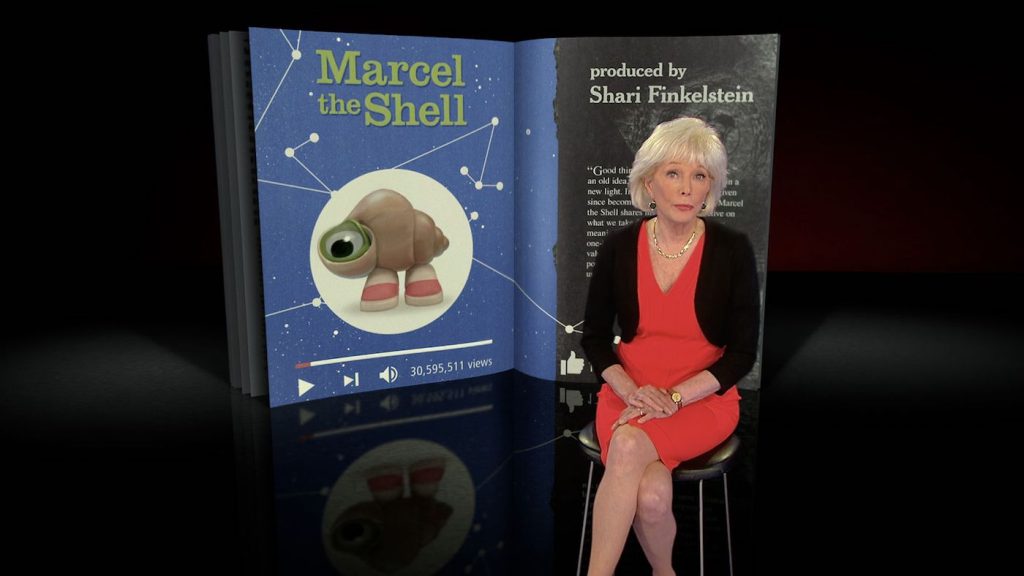 The painstaking process of stop-motion animation and the spontaneity of documentary  — "oil and water," says Fleischer Camp — required two cinematographers and "an incredible amount of handholding among all the departments."
"We were innovating a lot of things along the way and crossing our fingers," he says. Ultimately, the two worlds of Marcel the Shell With Shoes On are seamless, he says. "I wanted it to seem real so that a kid could see this and think, 'Maybe when I go home I could move a pillow and find Marcel.'"
Featured image: Marcel the Shell With Shoes On. Courtesy A24.