"Top Gun: Maverick" Blows The Doors of CinemaCon as Early Reactions Hail a Mach 4 Masterpiece
Paramount Pictures showed Top Gun: Maverick in its entirety at CinemaCon, and the results are a lot of very satisfied theater owners and their guests absolutely buzzing off the film's heart-pounding action and surprisingly touching character work. Thus far the screening has generated rave reactions to what people are calling "the perfect blockbuster" and "terrific in every conceivable way." Director Joseph Kosinski's film is zooming over to Cannes mext, where it will get its official world premiere. Although Cruise wasn't in attendance at CinemaCon, he did send a pre-recorded video in which he implored the audience to enjoy the film and "hey, let's try to have a great summer!" Those in the theater were cheering at different sections, with Paramount executives feeling pretty good about the responses they were seeing.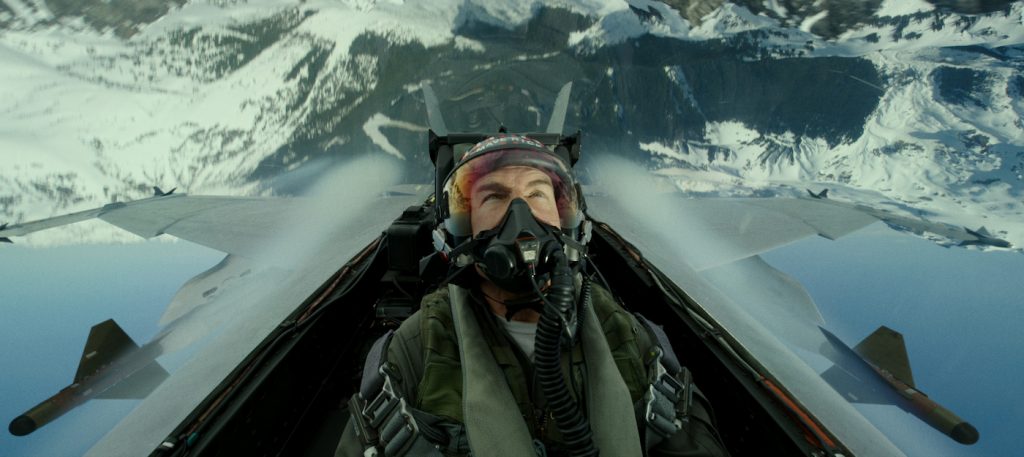 Cruise returns as Captain Pete "Maverick" Mitchell to the Navy, where a new group of Top Gun graduates is preparing for an epic mission. Maverick's been brought in at the behest of Admiral Kazansky—you remember him as Iceman in the first Top Gun. Kilmer reprises his role in a small part, with Jon Hamm's Cyclone not quite sure the Navy needs the notorious rules breaker Maverick back in the fold.
Maverick's past is set to haunt him in this latest installment. One of the young Top Gun graduates Maverick is meant to instruct is Bradley "Rooster" Bradshaw (Miles Teller), the son of the late Goose, who died in Maverick's arms in the first film, an accident Maverick has never forgiven himself for. Also joining Cruise, Kilmer, Hamm, and Teller are Jennifer Connolly, Ed Harris, and Lewis Pullman.
The buzz for Top Gun: Maverick began even before the film played courtesy of the reveal that Lady Gaga wrote an original song for the film, titled "Hold My Hand," which will be released on May 3.
We know that Top Gun: Maverick was a labor of love, as director Joseph Kosinski told Empire Magazine he shot around 800 hours of footage, "as much footage as the three Lord of the Rings movies combined," he said.
Top Gun: Maverick zooms into theaters on May 27. Now let's get to some of the first reactions:
Just saw #TopGunMaverick at #CinemaCon – goodness gracious. Might be the best movie in 10 years. Thrills & chills, tears & cheers. @TomCruise is unparalleled. It exceeds anything you could imagine. EXTRAORDINARILY tense. PERFECTION. @Miles_Teller crushes. @TopGunMovie #TopGun pic.twitter.com/ScKj9pctHS

— Nikki Novak (@NikkiNovak) April 28, 2022
#TopGunMaverick is a profound cinematic experience and easily the best film of the year. What Kosinski, @chrismcquarrie, @eddiehamilton and of course @TomCruise have accomplished is epic and intimate, heart stopping and heartbreaking. However good you think it'll be, it's better. pic.twitter.com/gZ75xQYxDs

— Drew Taylor (@DrewTailored) April 28, 2022
Absolutely loved #TopGunMaverick. Blown away by the cinematography and flying scenes and of course @TomCruise's performance. Rest of the cast was great with special props to @Miles_Teller and @glenpowell. This is the kind of movie you want to see on the biggest screen possible. pic.twitter.com/PIfs2aGi2v

— Steven Weintraub (@colliderfrosty) April 28, 2022
MY GOD. #TopGunMaverick is an INCREDIBLE return to the franchise that was absolutely worth the wait!

It honors the first #TopGun while blazing it's own path in the sky!

The story, acting, emotions and those DOGFIGHT SEQUENCES are all excellent.

ENJOY THIS ONE, MY FRIENDS!!! pic.twitter.com/vBrr6ahNXB

— John Rocha aka The Outlaw Nation (@TheRochaSays) April 28, 2022
Yes. So much yes. #TopGunMaverick is a masterful adrenaline rush. Tom Cruise is our greatest movie star. This delivers EVERYTHING you want in a blockbuster. Aerial scenes are jaw dropping. Character work is fantastic. Pure action with massive heart. A must see! pic.twitter.com/c8WvoInUze

— Sean O'Connell (@Sean_OConnell) April 28, 2022
Perfection. @TopGunMovie is 10/10. Not one single negative comment from this fan girl! No spoilers either.
It gives you a nod to the old and looks ahead. Fucking perfect!
🎞🎥⭐️🍿@ParamountPics pic.twitter.com/2FYOYNgOVW

— Toni Gonzales (@movietoni) April 28, 2022
Top Gun: Maverick is a movie theater masterpiece! I laughed, cried (multiple times) and I was on the edge of my seat til the end. Bravo @ParamountPics Tom Cruise, Joseph Kosinski & Team. I've always liked #TopGun but I LOVED #TopGunMaverick Don't miss it! pic.twitter.com/TjqlyzdwZ8

— Andy Signore (@andysignore) April 28, 2022
For more on Top Gun: Maverick, check out these stories:
Lady Gaga Will Sing Tom Cruise Into the Danger Zone With New "Top Gun: Maverick" Song
New "Top Gun: Maverick" Teaser Highlights Intense Aerial Action
New "Top Gun: Maverick" Trailer Sees Tom Cruise Back in the Danger Zone
Featured image: Tom Cruise plays Capt. Pete "Maverick" Mitchell in Top Gun: Maverick from Paramount Pictures, Skydance and Jerry Bruckheimer Films. Credit: Scott Garfield. © 2019 Paramount Pictures Corporation.