Natalie Portman's "Thor: Love and Thunder" Poster Hails Marvel's New Goddess
"The one is not the only." This is the description on the new Thor: Love and Thunder poster that features Natalie Portman's Jane Foster, now transformed into Mighty Thor, weilding the magical hammer Mjolnir. Consider it the counter point to that other poster, featuring an unknown noob named Chris Hemsworth playing regular old Thor. That poster reads "The one and only." Sorry, pal, but there's a new Thor in town.
The posters are cheeky, much like the Thor world ever since writer/director Taika Waititi took the helm and delivered Thor: Ragnarok, utterly transforming Hemsworth's character from the gruff, serious Asgardian God of Thunder into one of the Avengers' goofiest, greatest superheroes. Thor: Ragnarok eschewed the darker palettes and tones of the two previous Thor films and went rococo—more color, way more laughs, and more Hemsworth getting to show his comedic chops, which are substantial. It also gave us Tessa Thompson's hard-drinking, hard-charging Valkyrie, Waititi in a mo-cap suit playing the lovable rock colossus Korg, and a talking Hulk. Now, Love and Thunder provides Natalie Portman's return to the franchise as Jane Foster, only Jane's not the same gal Thor once knew. As we saw in the first teaser, Jane is now Mighty Thor, worthy of wielding Mjolnir, proving that, yes, "the one is not the only."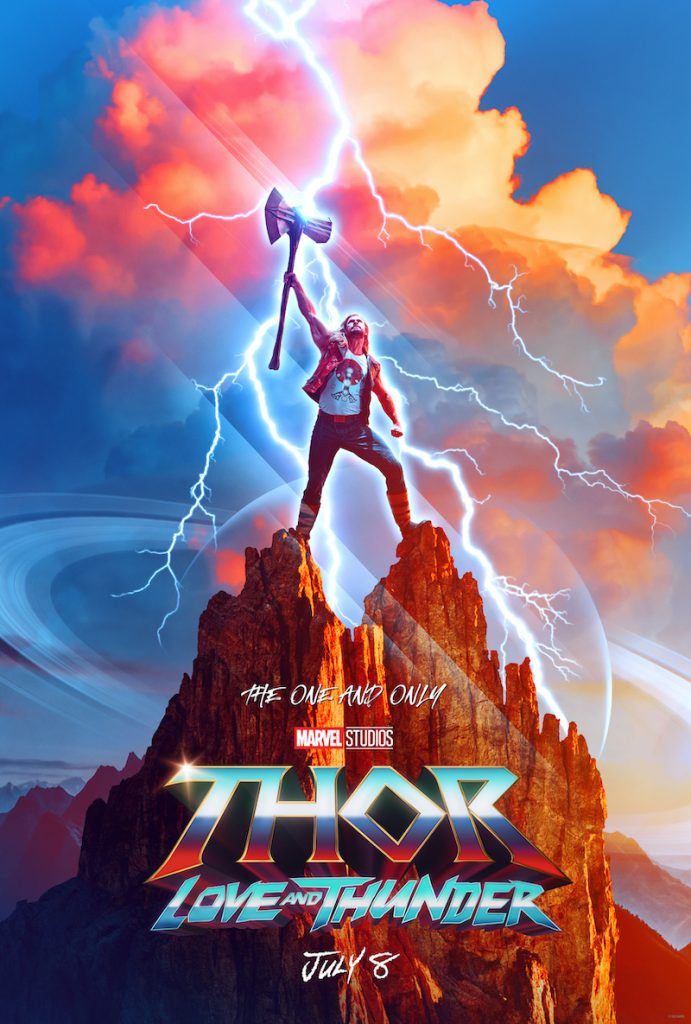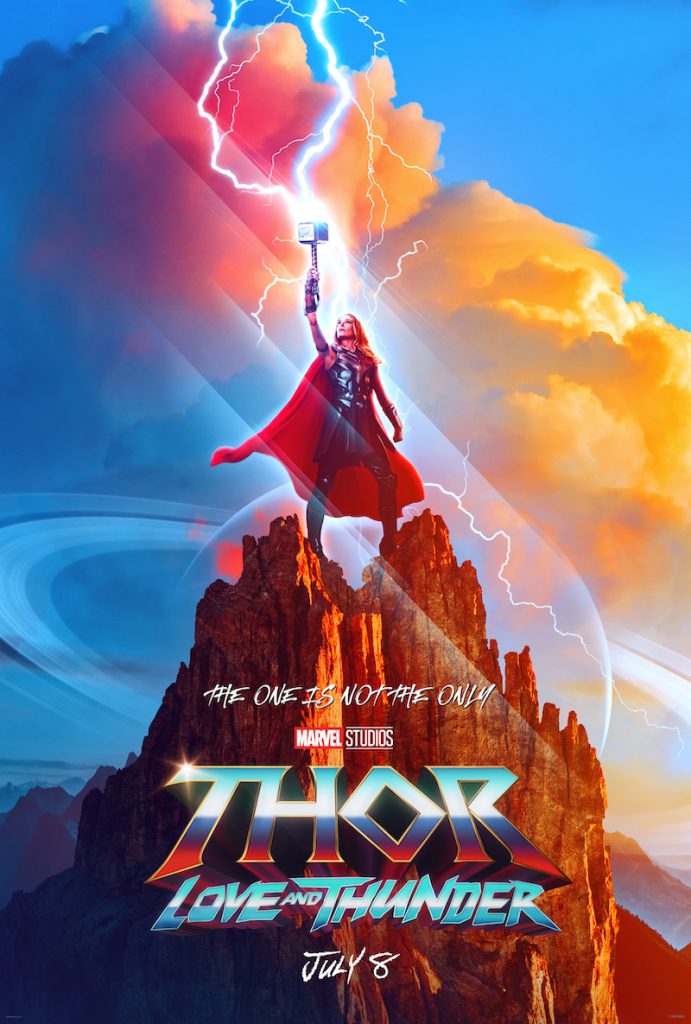 "Sometimes two people come together to inspire the world and change the cinematic landscape forever," Taika Waititi wrote in a caption on an Instagram post announcing the end of principal photography on Thor: Love and Thunder. "And then there's me and Chris Hemsworth who are too cool to care about anything except making movies that bring people absolute joy." Waititi was wearing a mo-cap suit, which he needs to become Korg, standing next to his be-muscled star. "Ok I don't look cool I know that. This film is the craziest thing I've ever done and I'm honoured to bust my ass and have a nervous breakdown so you can all see it in May 2022."
The date is now July 8, but that "craziest thing I've ever done" part still holds. Thor: Love and Thunder looks like it's going to be a hoot. Not only will Hemsworth, Portman, and Thompson be on hand, but Christian Bale stars as Gorr the God Butcher, a lunatic hellbent on bringing about the demise of the gods, drawing Hemsworth's Thor back into action. Russell Crowe plays Zeus, no less.
Here's the official synopsis:
Marvel Studios' "Thor: Love and Thunder" finds the God of Thunder (Chris Hemsworth) on a journey unlike anything he's ever faced – a quest for inner peace. But Thor's retirement is interrupted by a galactic killer known as Gorr the God Butcher (Christian Bale), who seeks the extinction of the gods. To combat the threat, Thor enlists the help of King Valkyrie (Tessa Thompson), Korg (Taika Waititi) and ex-girlfriend Jane Foster (Natalie Portman), who – to Thor's surprise – inexplicably wields his magical hammer, Mjolnir, as the Mighty Thor. Together, they embark upon a harrowing cosmic adventure to uncover the mystery of the God Butcher's vengeance and stop him before it's too late. Directed by Taika Waititi ("Thor: Ragnarok," "Jojo Rabbit") and produced by Kevin Feige and Brad Winderbaum, "Thor: Love and Thunder" opens in U.S. theaters July 8, 2022.
For more on Thor: Love and Thunder, check out these stories:
First "Thor: Love and Thunder" Teaser Reveals the God of Thunder's Groovy New Path
"Thor: Love and Thunder" Synopsis Reveals Natalie Portman's Mighty Thor & Christian Bale's Brutal Villain Gorr
Expect Insanity in "Thor: Love and Thunder" Says MCU Artist Andy Park
Taika Waititi Talks "Thor: Love and Thunder" & His "Star Wars" Movie
"Thor: Love and Thunder" Wraps Filming as Taika Waititi Promises It's Craziest Film He's Ever Done
Featured image: Natalie Portman returns in "Thor: Love and Thunder" as Jane Foster, but also Mighty Thor. Courtesy Marvel Studios.