"King Richard" Editor Pamela Martin on Finding The Film's Rousing Rhythm
What if your life was planned out even before you were born? And if you followed it with hard work and a little perseverance, not only would you be successful, but you'd be considered one of the greatest at what you do. Would you sign up for it?
Director Reinaldo Marcus Green explores that very journey in King Richard (in theaters and on HBO Max now), a story, written by Zach Baylin, which shines an unwavering light on how Venus and Serena Williams became the tennis stars and cultural icons as we know them today.
Their "GOAT" status is undeniable and it didn't happen by chance. Growing up in Compton, California with three other sisters – Isha, Lundrea, and Tunde – it was their parents who carved a path for them, and more defiantly, it was their father Richard who wrote a 78-page document outlining how they would be successful before taking their first steps. However, it wasn't just a playbook on footwork and backhands, but a bible on good moral character, humility, choice, respect, and more importantly, that it's still ok to be a kid.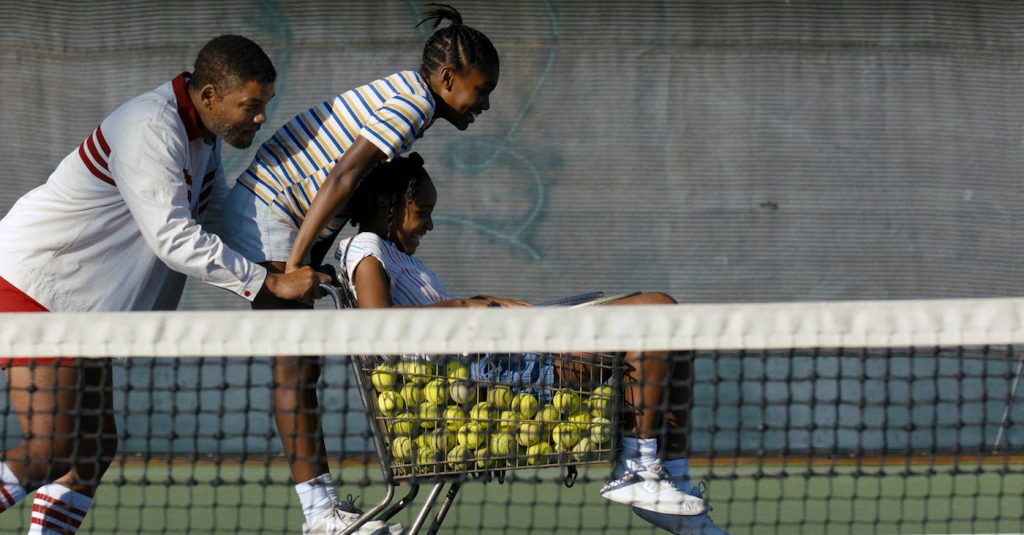 The stirring tale focuses on Richard, played by the ever charismatic Will Smith, and serves a belly of emotional undertones about family, overcoming adversity, and persistence. Editor Pamela Martin (Battle of the Sexes, The Fighter) was tasked with bringing together the brilliant performances and layered themes to the big screen.
"It's an inspiring story about love, family, faith, self-respect, honesty, and being a balanced human being," says Martin. "The script was our roadmap and we talked a lot about being true to the story and the characters and how you can still find success and have balance."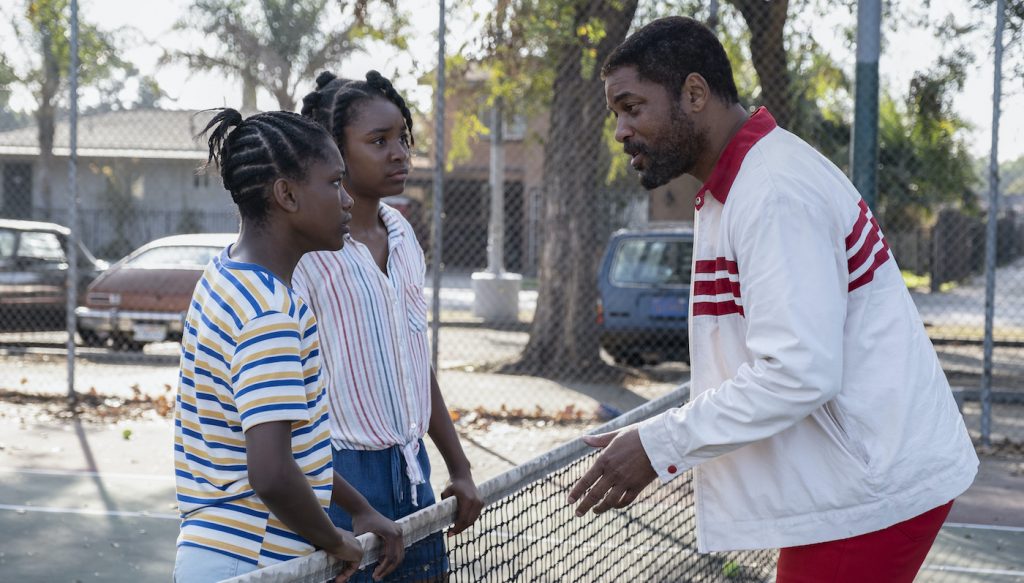 Carving out the right perspective was key for the Oscar-nominated editor as the story shapes its point-of-view from Richard while still focusing on the family's journey and brewing success of Venus and Serena. Specific beats were placed within the film to show that it is Richard's story, including having the film open up on him, which wasn't scripted. Other moments fixate on his persistence as he's rejected by pro coaches, investors, and tennis clubs where he simply won't take "no" for an answer. In scenes where the family is met with hostility, like when Richard is pressed by gangsters at the Compton tennis court who are fond of Venus's looks, the camera centers on his emotional swell rather than his daughters.
"This is the origin story of Venus and Serena being successful tennis players but it started from somewhere. Knowing that, we wanted to follow Richard from the very beginning," says Martin. "Perspective was important to the story so staying on him and understanding his feelings is why you feel something when you watch this film."
Martin didn't shy away from hanging on the incredibly emotional moments from Richard either. In one vivid scene where Richard is beaten up, the editor stayed on his defeated look after returning to his van bloody and bruised. "When something very serious has happened, hanging on a look becomes a very instinctual thing to do," she says. "I want to go for a ride with the scene as a viewer and ask, 'where do I want to go and what do I want to see?' I think a lot of those decisions come out of those initial instincts of wondering what that person is feeling." Depending on the crux of the moment, Martin would build emotional tensions by staying on the character or cutting to another person to show their feelings about that character or situation. With staying on Richard in the van we are consumed by his emotions and can then believe his next course of action, which is unbridled revenge.
Building believable performances was another challenge Martin weighed on. "Every line has to be truthful," she says. "If I need to, I do go in and perform microsurgery on dialog so that the cadence, as well as their facial expression and body language, go together. You have to find the perfect combination of those things for it to feel authentic and for you to believe every moment. That includes the truthfulness in the silence and the reactions in that silence."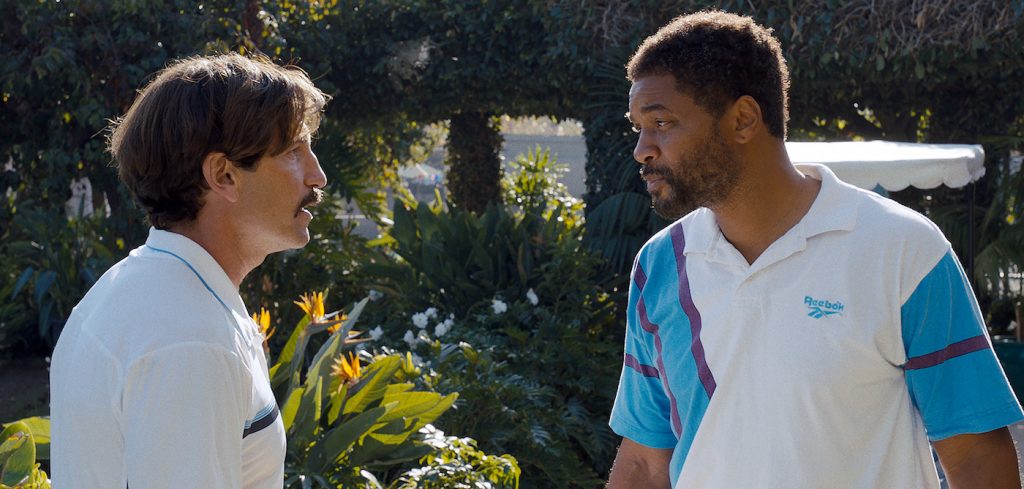 As the journey unfolds we get a front-row seat to Venus and Serena taking form. Another balancing task for Martin was captivating an audience, many of whom know the history of the tennis stars. In a climactic scene, we see Venus playing a match wearing her iconic white beads in her hair as her father feverishly watches in a nearby tunnel. It's an iconic match tennis fans know well, but the emotional ride the director and editor build lets us forget everything we may remember.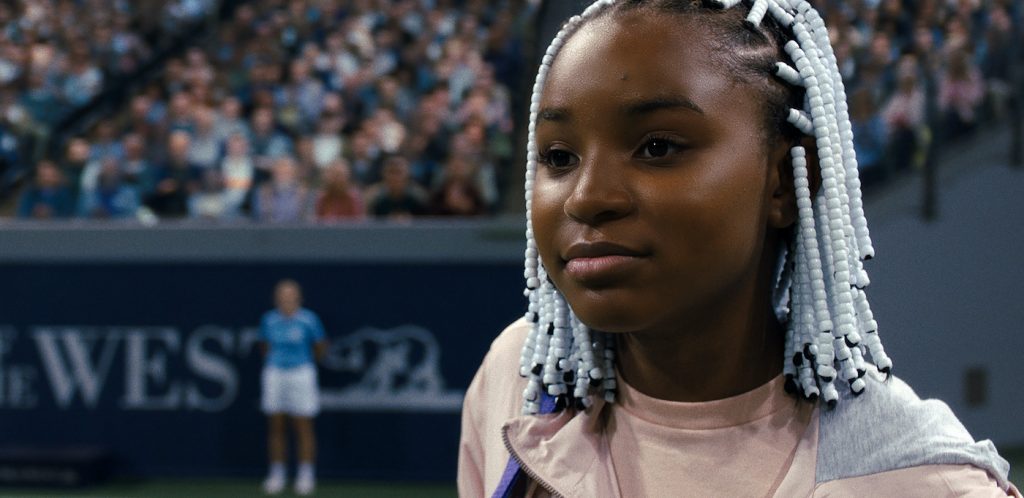 "That's the interesting thing about cutting a biopic where you know the outcome. How great it is being engrossed in the story and in the moment that you're still at the edge of your seat. I do believe when someone is watching a moment in the movie, they are in that moment with the character if you're doing your job right. That's the magic of a good movie."
Featured image: Caption: (L-r) DEMI SINGLETON as Serena Williams, WILL SMITH as Richard Williams and SANIYYA SIDNEY as Venus Williams in Warner Bros. Pictures' inspiring drama "KING RICHARD," a Warner Bros. Pictures release. Photo Credit: Courtesy of Warner Bros. Pictures