"Eternals" Has Arrived & The MCU Will Never Be The Same Again
How many milestones does Oscar-winning director Chloé Zhao's Eternals contain? Many. Zhao's millennia-spanning epic centered on the titular band of immortal beings protecting the planet against their evil siblings (of sorts) the Deviants features characters and situations never before seen in a Marvel movie. These include the first deaf superhero, Makkari (played by deaf actress Lauren Ridloff), the first gay kiss, between superhero Phastos (Brian Tyree Henry) and his husband, Ben (Haaz Sleiman), and the first South Asian superhero, Kingo (Kumail Nanjiani, who is Pakistani). These milestones are major and point to a Marvel Cinematic Universe that is becoming more diverse, in cast, crew, and narrative, as it continues its unstoppable expansion.
Eternals has finally arrived in U.S. theaters, after delays due to the pandemic, and the cast is the most diverse in Marvel history. Joining the aforementioned actors are performers from all over the world, including Mexico (Salma Hayek, who plays Ajak), Lebanon (the above mentioned Sleiman), South Korea (Don Lee, who plays Gilgamesh), India (Harish Patel, who plays Karun), Ireland (Barry Keoghan, who plays Druig), the U.K. (the British Gemma Chan and Kit Harrington, who plays Sersi and Dane Whitman, respectively, and the Scottish Richard Madden, who plays Ikaris), and the United States (Angelina Jolie, who plays Thena).
"In the beginning, I admit I was terrified," Ridloff told ABC News, through an American Sign Language translator. "It was almost like I couldn't get out of bed. I was so overwhelmed with the responsibility of being the first and only deaf superhero. How do I even start to represent people and a community?"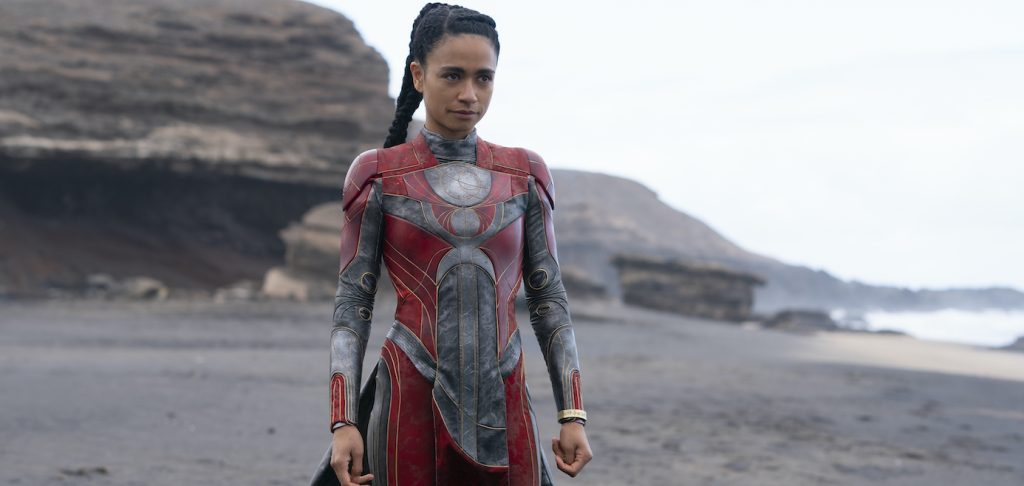 Ridloff's character Makkari, who possesses super speed, was a muscle-bound white man in the comics. She told ABC News she found her way into the character through an epiphany she had, appropriate for Makkari's skill set, while jogging.
"I realized when I started talking about me and when I started using pronouns like 'I' rather than 'we,' that's how I can be my most authentic self. I can tell my own story, and I can allow people to decide if they identify and relate to me. With that understanding, I feel so much more comfortable in my role."
Now that Eternals has finally arrived, Ridloff and the rest of the cast are officially in the Marvel Cinematic Universe canon. Considering how deftly the MCU threads its characters through its many-tentacled film and TV slate, these new, more diverse superheroes are the future.
"I'm not going to be the only deaf superhero in the MCU," Ridloff told ABC News. "We're going to have another one joining very shortly, which I'm thrilled about."
Eternals is in theaters today.
For more stories on Eternals, check these out:
How Director Chloé Zhao Got a Superman Reference Into "Eternals"
New "Eternals" Featurette Introduces 10 New Marvel Superheroes
First Reactions to "Eternals" Say Chloé Zhao's Epic is an MCU Game-Changer
"Eternals" Featurette Boasts Stunning New Footage & Promises MCU-Changing Epic
Featured image: (L-R): Kingo (Kumail Nanjiani), Makkari (Lauren Ridloff), Gilgamesh (Don Lee), Thena (Angelina Jolie), Ikaris (Richard Madden), Ajak (Salma Hayek), Sersi (Gemma Chan), Sprite (Lia McHugh), Phastos (Brian Tyree Henry) and Druig (Barry Keoghan) in Marvel Studios' ETERNALS. Photo courtesy of Marvel Studios. ©Marvel Studios 2021. All Rights Reserved.