Nick Stagliano Returns to Directing With Noir Thriller "The Virtuoso"
Mistrust reigns and true identities are questioned when an assassin, a waitress, a deputy, a loner, and a couple cross paths in an isolated, rustic diner one evening in the moody and suspenseful thriller, The Virtuoso. The story is cloaked in mystery from the start, with the highly skilled assassin, The Virtuoso, accepting an assignment from his boss, The Mentor, with little detail about the job other than the place, time, and one puzzling clue. Just who the target is in that small-town eatery keeps the hitman on edge and the film's audience guessing to the end.
Directed by Nick Stagliano (Good Day for It), The Virtuoso features a virtuoso cast: Academy Award-winner Anthony Hopkins, Anson Mount, Abbie Cornish, David Morse, and Eddie Marsan. It also reunites Stagliano, a producer of the film as well, with screenwriter James C. Wolfe (Good Day for It). The Lionsgate release was shot primarily in the Pocono Mountains, in locations that lend themselves magnificently to the movie's noir feel.
The Credits chatted with Stagliano about the challenges of building a thriller, finding those perfect spots in which to film, and working with Sir Anthony. The following interview has been edited for length and clarity.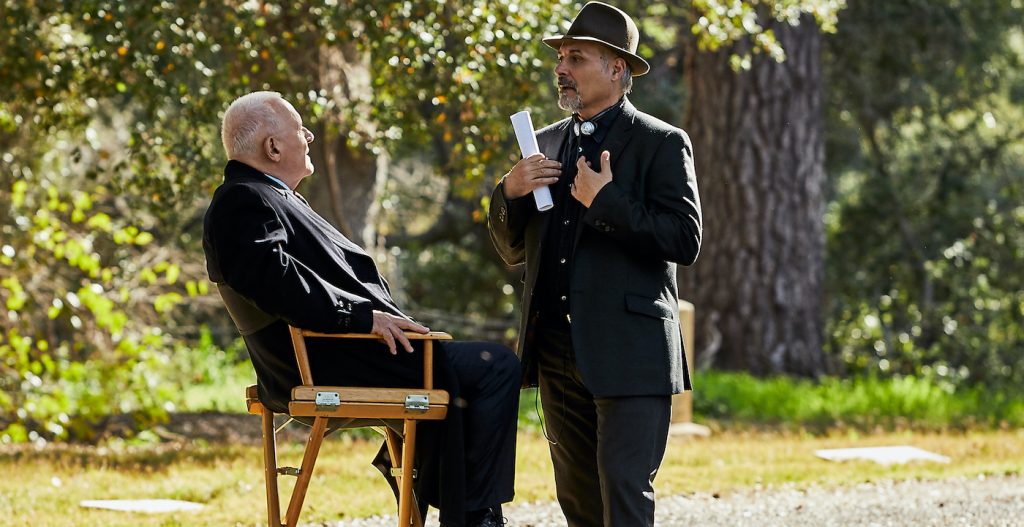 The Virtuoso brought you back to the feature film director's chair. What was it about this story that made you want to not only bring it to the screen as a producer but also helm the production?
Well, it's really an extension of the previous film I directed called Good Day for It. And I'd written it with James Wolf, who wrote The Virtuoso, too. In Good Day for It, it's about a guy that everybody felt was a bad guy who comes back to town at the wrong time. It's a ticking-clock thriller and it turns out that he was actually a good guy. I said to James, what if that guy comes back to that diner, only he's a bad guy? It's rare to start with your hero being a bad guy in a kind of elevated thriller character piece. That was the germ of The Virtuoso. It was clear from the start that I would direct that.
What's the challenge in directing a film like this where it's all about the steady build?
I think the main one is the pacing. The pacing, in general, makes that story continue and keeps people just with enough information, guessing, letting them go in one direction and then stopping and go, 'Oh, I didn't see that coming,' and then go to the next step. You can only do so much in editing and I'm really not a big fan of flash cutting and stuff other than my flashback sequence, so I try to just let the actors tell the story in the frame. And so that was the biggest challenge I think, to keep the overall pace as well as the story pace within the frame.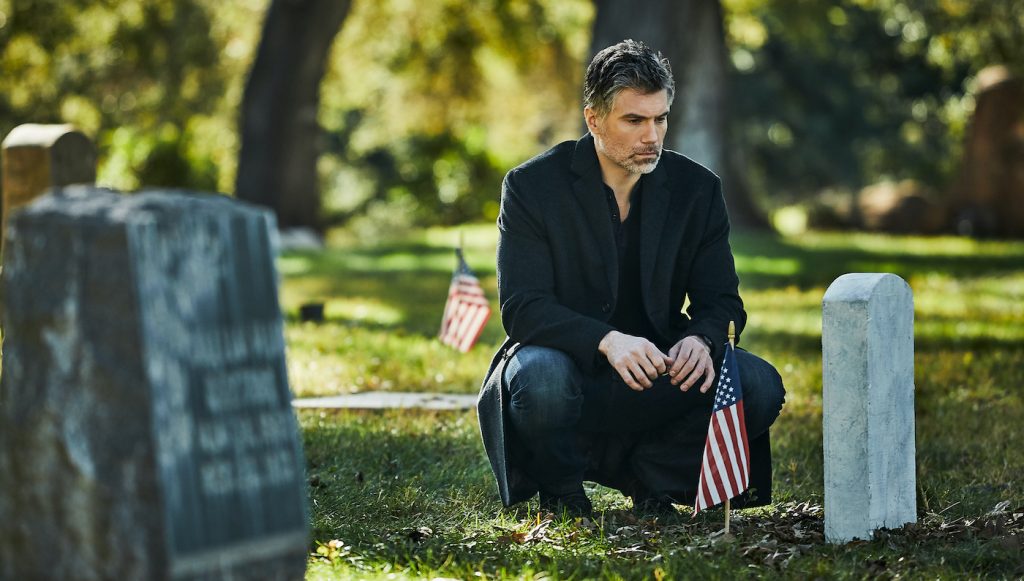 Did you and screenwriter James Wolf home in on a shorthand developed from your last film?
It was the same thing as Good Day for It, where I had the story, I gave it to him, he broke it into a three-act structure, and then as the director, I take over to do my director's polish. So we pretty much worked that same way here. I added the cemetery scene, which I wrote myself, to show the strength of the bond between those two — The Virtuoso and The Mentor — so there was a history, and it wasn't just an employer-employee relationship. And that's what separates the movie really. What people don't get is that it's a love story, that was my basis for it, that's how I started it.
The locations—The Virtuoso's cabin, the diner and the motel, in particular—are so important to the film's noir feel. How were those found or created?
[Much] was shot up in the Poconos, so it was a world I knew well from Good Day for It. In fact, there were a couple locations that we repeated exactly, cause I like them so much. The diner was a different diner, because I needed more space, and the place that we ended up using—with Norm Dodge's art direction and Frank Prinzi's cinematography—really looked fantastic. That was hard to find, believe it or not, because this was pre-pandemic when we shot, so everything was open and they weren't really interested in shutting down for a week of shooting, so we had to go a long way out of our circle to get to that place. And then the cabin was great. It was in a state park. We just art directed it a little bit. It was empty, just a barren classic log cabin with a couple bunks and we brought all that stuff in, but, yeah, it's got a great feel.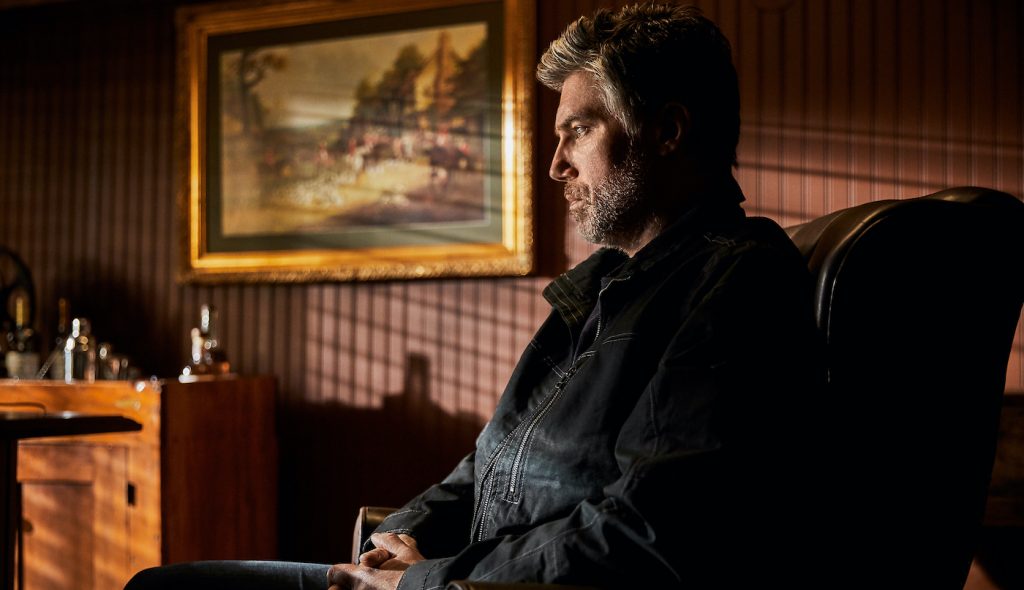 How did you work with your cast? Was there rehearsal or did you have them come to set having not really gotten to know one another because their characters are strangers?
There was very little rehearsal. I had met Anson on a previous project 10 years earlier in New York and seen him again at some other function a couple of years after that. And then when we cast him, he was just finishing the last season of Hell on Wheels, so [executive producer] Fred Fuchs and I flew to Calgary and I spent the weekend with him going page by page on the script and that was the extent of our rehearsal with him. And with Tony, we met him the week before we started shooting, but there were a couple of conversations on the phone. And then Abbie, I met her in New York, and we basically talked about her character. But no true rehearsal. I wish I could have had everybody for three days beforehand.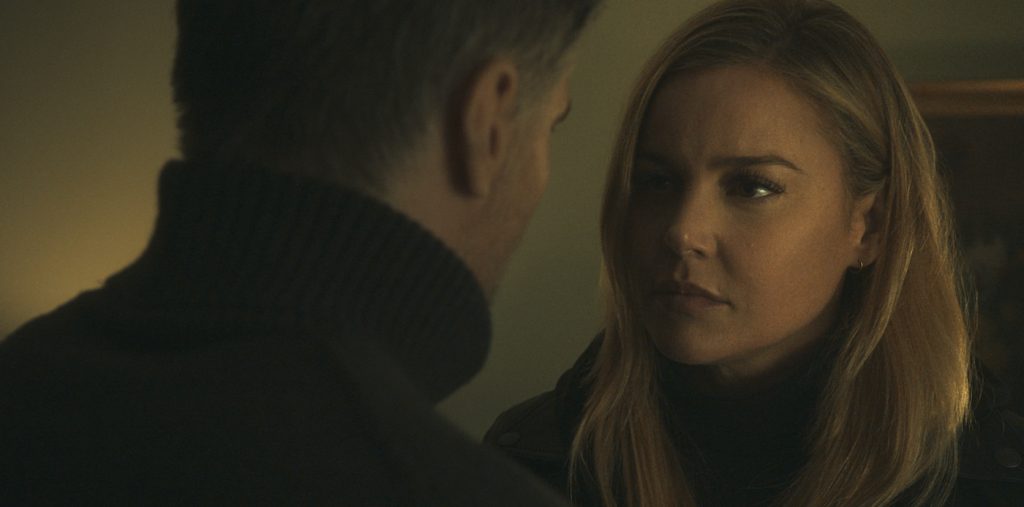 I must ask, how was it working with the master, Anthony Hopkins? His is not a large part, but he brings so much weight to the character.
The greatest experience of my life. He's very respectful, very prepared, and not at all pretentious. We were up in Santa Barbara County, so we brought him up here a couple of days early. He didn't want any posturing of the celebrity status, and of course, he delivered the goods, but in a very simple way, in terms of 'I know this guy. I met a few people in my life that I can focus on. Do you think it would be okay if I did this?' 'Yes.' 'Could I change a couple of lines here?' 'Absolutely.' Just a pleasure to work with and I'd love to do it again.
The Virtuoso will be available in select theaters and everywhere you rent movies on April 30th; on Blu-ray and DVD May 4th
Featured image: Anthony Hopkins as The Mentor in The Virtuoso. Photo Credit: Lance Skundrich