The 5 "Jingle Jangle" Moments That Will Save Christmas This Year
Prophet. Town Cryer. Carnival barker. Call me what you will, but I am hereby dedicating the remainder of this dismal, dreadful year to spreading the news of the man who can save the Christmas spirit. His name is Jeronicus Jangle and he has been sent to help us all believe again.
It is actually the women of Netflix's Jingle Jangle who do the holiday heavy lifting, but we'll get to that. Jingle Jangle: A Christmas Story should have been the cultural touchstone of the year that everyone was obsessing over. The all-Black lead cast and creator deliver a soulful Christmas musical that's set in the Victorian era but feels so modern. The hair design by Sharon Martin (Doctor Strange) delivers gorgeous and whimsical marvels fit for a fairytale. Michael Wilkinson (Aladdin) has created some modern icons in costume design and he luxuriates in beautiful fabrics and flattering fits here.
The soundtrack by Philip Lawrence and Davy Nathan is on par with The Greatest Showman and while the ensemble scenes are smaller in scale, they're no less inspiring. The fictional town of Cobbleton, led by production designer Gemma Jackson (Aladdin) is a festive joy-land with beautiful scenery, beautiful clothing and beautiful people. Who wouldn't want to spend two hours in this Victorian winter wonderland?
The Christmas classics we have long loved still live in our hearts, but Rudolph and The Grinch feel a little tedious for 2020. This has been a year of going back to the same thing day after day and we are all sick and tired of reliving the same stuff. Jingle Jangle is the antidote. Writer and director David E. Talbert (Almost Christmas) has constructed something fresh and new. The magic and make believe we need to lift our spirits is overflowing, but there's no Santa or Scrooge. Just a toy inventor who is gifted with a special sight.
The regal Phylicia Rashad narrates the story of Jeronicus Jangle (Forest Whitaker) and his spectacular creations. Sure, he uses magic, but he also uses math. Math he can see in the air around him – a gift his daughter Jessica (Anika Noni Rose) and granddaughter Journey (Madalen Mills) share. Jeronicus closes up his toy shop and grows jaded after the loss of his wife and his protégé Gustafson (Keegan-Michael Key) steals his secret designs. Every moment of this special film is a joy, but here are the top five Jingle Jangle moments that will make you a believer.
The $100 Million Moment
I first watched Jingle Jangle by myself, then shared it with my family and we all said the same thing at the same moment in the film. "How much did this movie cost?" Jeronicus bring his masterpiece creation, Don Juan Diego (Ricky Martin) to life with a special serum, but it surely took dozens of people to bring this special figure to the screen. The animation and integration are so seamless, it doesn't even look like CGI. It looks like a real life walking, talking, mechanical puppet with limitless expression. There are also gorgeous animated interludes that frame this story so artfully. If this movie didn't cost $100 million, I could never guess where they cut a single cent.
The Get Up Off the Couch Moment
There may be bigger ballads in Jingle Jangle, but Lisa Davina Phillip as Ms. Johnston pulls out the show stopping number of the film. She's an injection of joy just when the plot is becoming bleak. And who doesn't need their own backup dancers to drive a point home once in a while? Marisha Wallace lends her vocals to the song I am unofficially sanctioning as the 2020 anthem, "Miles and Miles." It's been a long time since anyone inspired us to look for brighter days, but Ms. Johnston does just that.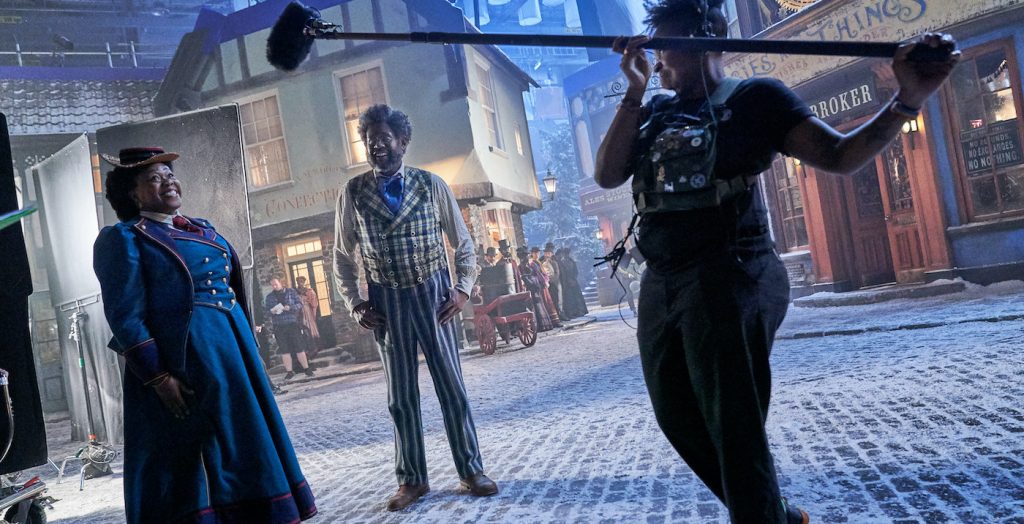 The Jaw Dropping New Talent Moment
Madalen Mills makes her big screen debut in Jingle Jangle and she's just embarked on a meteoric career. She's darling and sweetly introduces her musical talent with "Not the Only One." It's a coy and youthful tune with a childlike simplicity. Yet, just wait for her second solo. "Square Root of Possible" is a true showcase and she seems to grow exponentially before our eyes. Her Broadway-worthy performance transcends decades beyond her true age. We'll soon be pinpointing this track as Mills' breakout moment. As the song says – she might not be there yet, but she'll get there, bet on it!
The Aww-dorable Moment
Jeronicus lets grief snuff the flames of his creativity, until his granddaughter, Journey, ignites his passion once more. He begins to tinker with a robot named Buddy 3000, but he is unable to give the toy the soul it needs. Journey bridges the missing link and the bug eyed invention will melt your heart when it finally blinks to life. An extra ovation moment comes when Journey is able to do what her grandfather couldn't – protect his own ideas. Get it, girl.
The Christmas Miracle Moment
There's an Anika Noni Rose shaped shadow looming over the first two acts of the film. She's in this movie so she must be here to bless us with song, but when? It does feel like a long wait, but the pay off is immense. Technically "Make it Work," written by John Legend, is a duet with Whitaker, but Rose owns the power ballad. While Jeronicus is focused on his invention, Jessica is focused on their shared trauma. The song feels like a salve during this time of deep divisiveness in our own lives, especially during a holiday season when many families are estranged. Jeronicus and Jessica spread the message that hurt people can be happy again and there are ways to heal together. Powerful truths can come in sweet packages.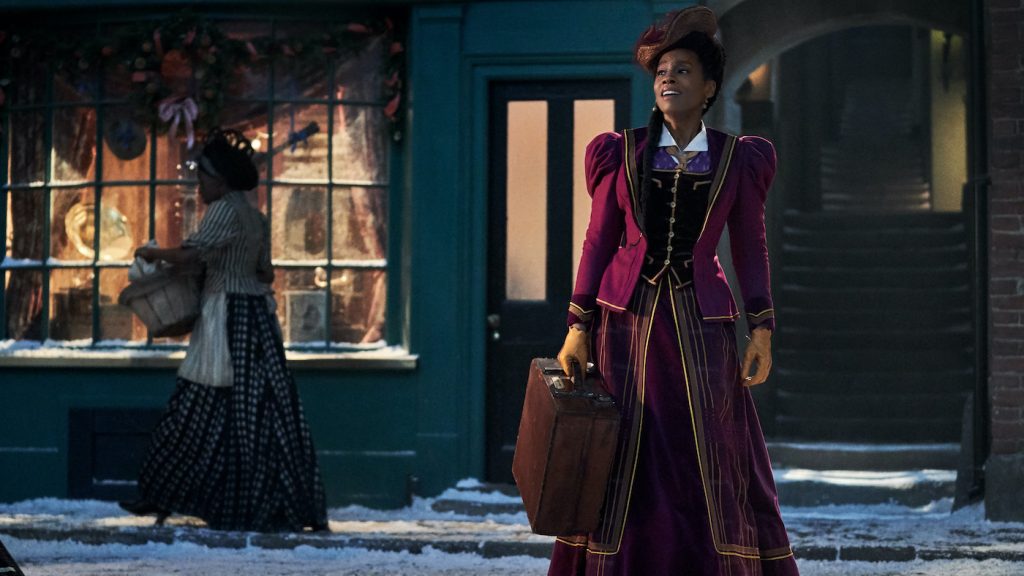 Jingle Jangle is available to stream on Netflix now.
Featured image: Jingle Jangle: A Christmas Journey (2020) Forest Whitaker as Jeronicus Jangle. Cr. Gareth Gatrell/NETFLIX ©2020