Writer/Director Miranda July on Her Joyously Original Third Feature "Kajillionaire"
Miranda July wears many hats—writer, filmmaker, actress, performance artist, and more. Indeed, her name appears as bylines on magazine articles, as director, writer, and actor in feature-film credits, and as an author on book covers (she has penned an award-winning collection of short stories and published both fiction and nonfiction). Her artistic diversity is perhaps what makes her projects so unique and nuanced and wonderful to engage with.
July's breakthrough on the big screen came with the 2005 release of Me and You and Everyone We Know, a quirky comedy exploring love, relationships, and connection. The film won the Camera d'Or at Cannes and a Special Jury Prize at Sundance.
Connection, as well as disconnection, figure prominently in her latest film, Kajillionaire. Although July does not appear in this movie as she has in her others, she wrote and helmed it, directing an enviable cast that includes Evan Rachel Wood, Debra Winger, Richard Jenkins, and Gina Rodriguez. A Plan B Entertainment and Annapurna Pictures production, released nationally by Focus Features, Kajillionaire follows a family of swindlers whose con game takes a turn when they welcome a stranger into the fold. Kajillionaire is playing now in select theaters and is available online to rent on Amazon Prime, Apple TV+, and more.
The Credits chatted with July about the inspiration for the story, character development with Wood, and the rush to score the film. This interview has been condensed and edited for clarity.
Kajillionaire challenged my emotions. It was sad, yet uplifting; incredible, yet authentic; and about both connection and disconnection. What do you hope audiences will feel?
Yeah, everything you just said is music to my ears. I want the audience to have gone through something. We're not Old Dolio [Wood's character] completely, but maybe there's a little piece of her in each of us and that's woken up, and then there's this healing balm given to it.
For me and writing, humor's always useful because it's funner for me to write dialogue that makes me laugh. But I also find in doing that, I'm willing to write about things that I otherwise wouldn't be attracted to. Humor leads me into it and I guess I think it can function the same way for the audience.
What inspired this story and how long did it take for you to write the script?
It took about a year and a half to write the script, which is quick for me (laughs). I think it helped that I had been circling these ideas. You know, it's the first script I've written as a mother, so these ideas of parenting and being both a daughter and a mother, looking at it from both sides and how it's a series of choices, but then also you make mistakes. And so I guess all that was within me and then the idea came all at once, and I had to be like a detective and figure out, well, why this idea, how does this connect to me?
Do you typically stick to your words or do you welcome collaboration with the dialogue?
I think because I'm also a fiction writer, I am pretty married to how I wrote it. And then I'm also an actor – I've already acted out all these parts a million times as I was writing them down, to the last breath — and the magic really comes when the actors' souls are given room to really inhabit them. So I think I'm very particular, but each of the actors and I sort of work out a little dance. Like where do I want them to do the thing that I don't know how to even tell them to do, and where am I always going to insist that they stick to this thing that I have to have. And we figure it out without even speaking. It's so different with each person.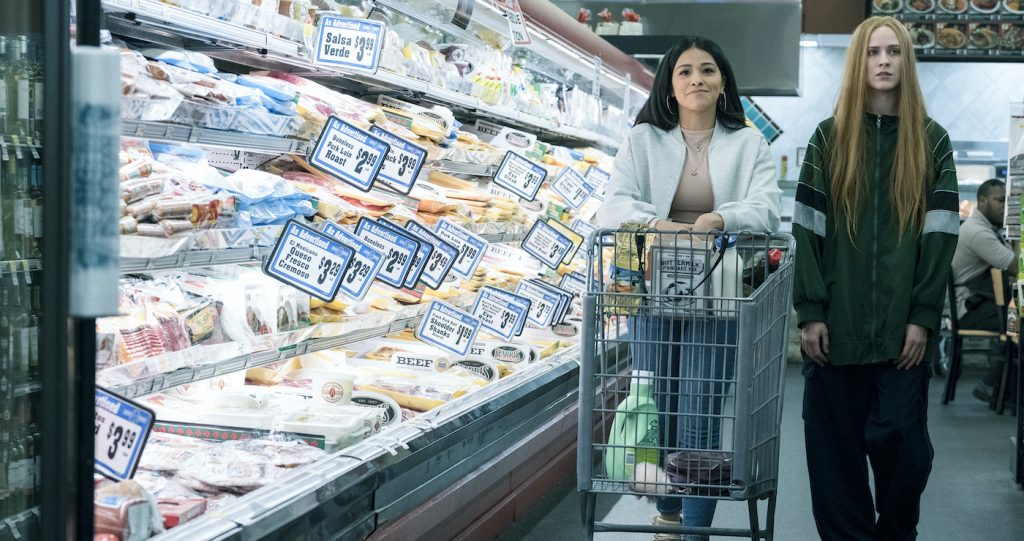 This is your third film, but the first in which you don't also star. Was that intentional?
You know, I was so excited about the idea and it was only a couple of days into working on it when I suddenly realized, oh wait, there's not a woman my age in this movie (laughs).
Was that a pleasant surprise or an uh-oh surprise?
I had a little pause and then I was, oh, I'll just direct it and that seems absolutely right. And I think because I'd just written a novel where there was no one like me either, I'm very used to coaxing worlds into being that I don't need to literally be inside of.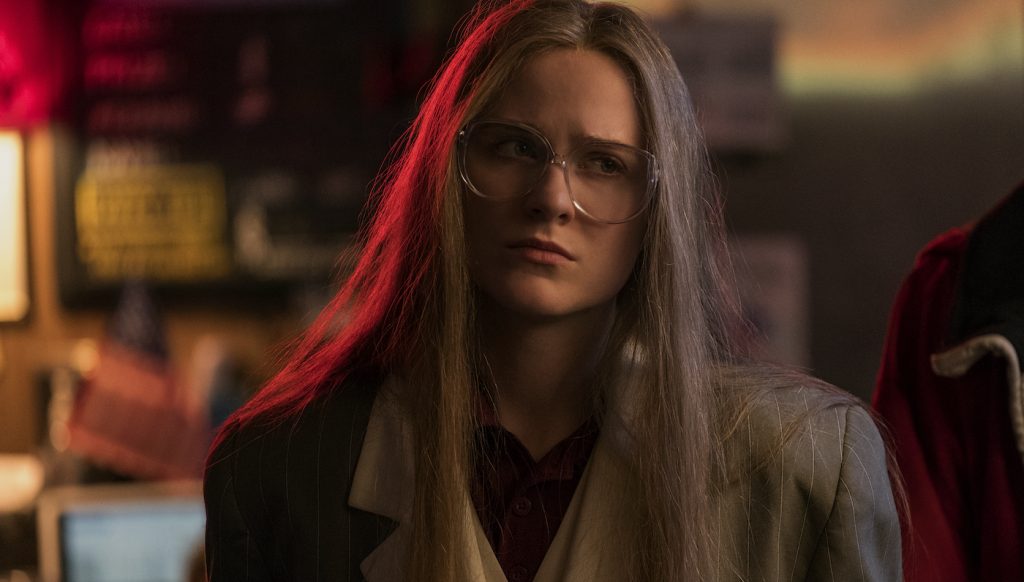 Evan Rachel Woods plays the lead, Old Dolio. First, where does this name come from?
The name came from a dream that my friend had and then texted me about. She had dreamt that I gave birth to 10 kittens (laughs) and then she listed the names that she could remember and one of them was Old Dolio and it stuck with me.
She is just fantastic in this role. Tell me how you worked with her to develop this character. There's a lower register to her voice, for one thing.
Yeah, I worked with Evan to really shut down her emotional output space. So I would interview her, but I would limit the way she had to answer the questions. I'd say, 'you can't use language, you can only use sounds. You can't use sounds, you can only use your body, but you can't use your hands to articulate.' She would knock books off my shelf and rage around the room, and I think that intellectual kind of setting allowed a lot of the physical decisions to hang on in a deeper way. And then her voice, you know she has a lower register naturally, not quite that low, but she started speaking and I was like, 'wow, could you do that for a whole movie?' It was not a problem and it really seemed to help her drop into Old Dolio.
You also have two amazing, veteran performers, Debra Winger and Richard Jenkins, in the cast. How was it directing them?
I know, you really feel that. I think that Debra's really used to having a hand in her costumes, so she gets to me and I really love to do the costumes as well, so we would really have these tussles and I have to say she was always right (laughs). What she was building on was such a deep knowledge of herself and I wanted that, I wanted that depth in that character. And you know she's quite a hot woman, she always has been, so stripping down — no makeup, wig, everything — I think it was uncomfortable.
And then Richard, really just such a pleasure. He would sometimes challenge me on some line or something, and we would keep a running, good-spirited argument going about a line over the course of a few days (laugh). I actually felt so respected that he was that deeply engaged.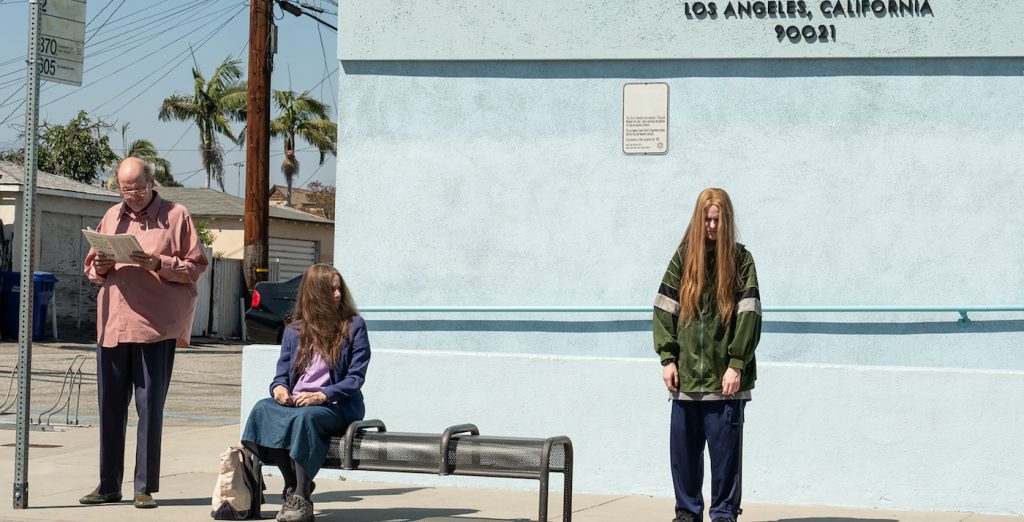 I read that you're very interested in sound design and music. What role does music play in Kajillionaire? I found the score by your composer, Emile Mosseri, very haunting and strange.
With this movie, and it doesn't always happen this way, I started working with him with a locked picture, so I was done with the picture and we didn't have very much time. We had five weeks to do the whole score, and so I just sat with him every day for that whole time. In some ways, the movie is about things that are hard to speak about. Music is really good at those things. It's like you get to add a whole other form on top of it, and I'm never not amazed by what it can do. The interesting thing is you can't just put pieces together, it has to flow, it has to be like a love affair, and I've been so lucky with each movie to have that, to be able to have my breath taken away by the music. I have a lot of input, but I'm not a musician, so my heart is really in their hands. And I come with references and a whole bunch of ideas and I think Emile liked the challenge of that.    
You're a true multi-hyphenate: novelist, filmmaker, performance artist, actress, and more. Do you work on one project at a time? If concurrently, do the different mediums influence one another?
Yeah, I do overlap. There's always one that's on the front burner that has a deadline. For example, the whole time I was working on Kajillionaire, I was putting little notes in a file for the novel that I'm writing now. Then by the time it becomes a front-burner thing, you're not starting with nothing and that's helpful because suddenly all the pressure is on. And then they do influence each other. I know that this movie has a sort of muscularity of plot that I feel I taught myself when I was writing my first novel, which was the big project that came before. And then, having done Kajillionaire, I feel less entranced by that twisty-turny narrative structure, and so now I'm in a new place with a novel. I feel I've seen that through and I can do something new.
Featured image: Director Miranda July on the set of KAJILLIONAIRE, a Focus Features release. Credit: Matt Kennedy / Focus Features