"Selena: The Series" Harnesses a Bevy of Latinx Talent to Tell a Legend's Story
At a time when voices denouncing the lack of diversity in media representation resound clear across the American cultural landscape, it will be beyond thrilling to watch Netflix's Selena: The Series. The new series is a Latinx production celebrating the life of the legendary Mexican-American singer, and its production will also put the spotlight on a bounty of talented Latinx creatives.
Born in Texas into a working-class family of Mexican and Native American heritage, Selena Quintanilla had been performing—and building a fervent, if not yet massive, fanbase—for more than a decade before her 1993 hit, "Como La Flor" (Like The Flower) propelled her to stardom.
But then, Selena's promising career was tragically cut short; she was murdered in 1995, a few weeks shy of her 24th birthday. Her death triggered massive, heartfelt expressions of mourning from a community that had found in her a beacon of representation. It was amazing seeing a morena woman with black hair, proud of her Mexican heritage, being adored by millions. Selena embodied the possibility of embracing one's belonging to multiple cultural identities while remaining true to oneself.
If you haven't seen it yet, I recommend checking out the chills-inducing teaser trailer (embedded below). Selena (played by The Walking Dead's Christian Serratos) commands the stage as she sings her breakout hit "Como La Flor." In voiceover, we hear a sound every Latinx can relate to: a paternal voice encouraging his child to keep on working towards her dreams. A beautifully accented "yes" follows, and later, that same paternal voice reminds The Queen of Tejano Music that, for him, she will always be a little girl. Selena is every hija from a loving Latinx family.
The Quintanilla family are executive producers on the series and have been closely involved in its development since its inception. This involvement promises to deliver an honest and intimate recounting of her journey. It also makes perfect sense, considering how crucial her family was to her, and how huge a role they played in Selena becoming one of the most influential Mexican-Americans in the twentieth century.
Among the legions of acclaimed artists who name Selena as a major influence, Jennifer Lopez stands out. It was her flawless portrayal of Selena in Gregory Nava 1997's film Selena that launched her career. Now, 23-years later, we are potentially watching Hollywood history being made as many Latinx creatives catch their big break with Selena: The Series.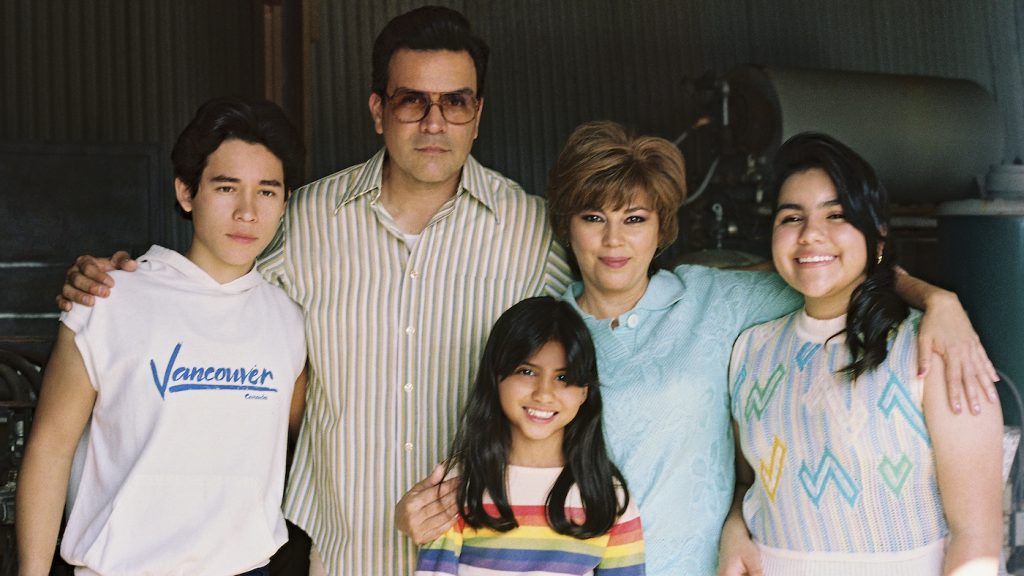 The cast, assembled by casting director Carla Hoole (Narcos), includes well known and up-and-coming Latinx faces. Selena's brother and producer A.B. Quintanilla III will be played by Honduran-American Gabriel Chavarría (War for the Planet of the Apes). Selena's mom Marcella Samora will be played by Seidy López, who played "Mousie" in Allison Anders' 1993 Chicano classic Mi Vida Local (My Crazy Life). Bringing to life Selina's early years is Madison Taylor Baez, a 9-year-old singer, whose determination to dream big mirrors Selena's own ambitions at that age. Big sister and (initially reluctant) drummer Suzette Quintanilla will be portrayed by Noemí Gonzalez (The Young and the Restless), while Selena's beloved husband and band member Chris Perez will be played by Jesse Posey.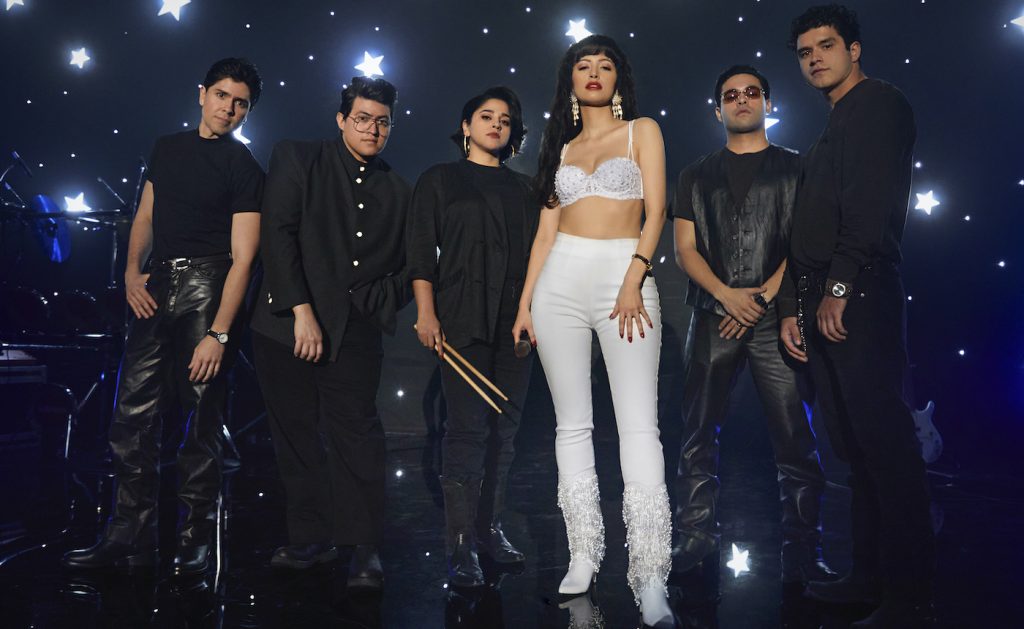 Christian Serratos told MTV in a 2015 interview that she wanted to "play someone famously Latina." The versatile actor has been open about the position in which Latinx actors often find themselves, often caught between a legitimate aspiration to be hired for their talent and not their ethnicity, while also feeling a responsibility to honor their heritage. "It's a rock and a hard place is what it is because you're incredibly proud of your heritage and you want to be that for people — that's what you are; that's who you are," Serratos told MTV.
Julio Macias (On My Block), who will play Selina's bandmate Pete Astudillo, who shared similar feelings. Interviewed by People En Español, he said,"..what I want to do is portray myself and the values that were taught to me by Latinos in the best positive light. There is not that much representation, so it's a heavy burden to carry."
Macias is right. Latinx makes up for 18.3% of the U.S. population, and they represent an even larger share of the theatrical and home viewing audience, according to an MPA report. Nonetheless, a USC study revealed that Latinx people only accounted for a disheartening 4.5% of the speaking roles of the top 100 grossing films, between 2007 and 2018. To make matters worse, many of those roles are almost-trope-like. Ricardo Chavira (Desperate Housewives), who co-stars in Selena: The Series as Abraham Quintanilla Jr., reflected to Variety: "When we exist, we exist in the realm of certain stereotypes".
Now, a largely Latinx team of creatives has come together to tell the story of one of their heroes. Themes of love, authenticity, perseverance, and humility are some of the qualities that Selena embodied for the cast and crew. Jaime Dávila, head of Campanario Entertainment [co-producers on the series with Netflix] and an advocate for Latinx media representation, has been clear about his intentions to do justice to the extraordinary life and work of Selena, making sure that her trailblazing qualities are fully rendered.
Selena's brief, potent career helped create a historical shift in the visibility of Latinx in the mainstream. She created space for a necessary conversation about the particular struggles of those living in the hyphen. "We gotta be more Mexican than the Mexicans and more American than the Americans, it's exhausting!" said Abraham Quintanilla's character in Selena, the movie. Millions of people know exactly how he feels. We can't wait to see how this subject is further explored in the upcoming series.   
One of the series executive producers and head writers, Moises Zámora (Star, American Crime), led a team of all Latinx writers. He spoke to Tamarindo about how he relates to Selena, and how bilingualism and biculturalism have proven to be both a source of struggle and opportunity in their artistry.
As the anticipation for the release of Selena: The Series grows—it arrives on Netflix this December 4—we can reflect on why Selena remains relevant in the global culture; she opened doors for Latinx creatives to captivate audiences across all borders. Selena's story is immensely important to millions—she proved that a Latina can have big dreams, succeed at realizing them, and be rightfully celebrated.     
For more on the industry's diversity, equity, and inclusion efforts, check out our D, E, & I page.
Featured image: SELENA THE SERIES (L to R) CHRISTIAN SERRATOS as SELENA QUINTANILLA in episode 101 of SELENA THE SERIES Cr. NETFLIX © 2020