How Emmy-Nominated Editor Katheryn Naranjo Cut "Stranger Things" Season 3 Finale
The third season of The Duffer Brothers' Netflix hit Stranger Things culminated in an epic finale with two huge battle scenes and a rollercoaster of emotional highs and lows. For the uninitiated, Stranger Things is a sci-fi/horror series set in set in the 80s (with the soundtrack to match), which follows a group of young kids as they explore what's behind a series of supernatural happenings in their town. Winona Ryder (Joyce Byers) leads the young cast—including Millie Bobby Brown (Eleven), Finn Wolfhard (Mike), Noah Schnapp (Will), and Joe Keery (Steve)—who have become stars themselves since the show burst onto the cultural landscape in 2016.
We chat with editor Katheryn Naranjo, who has been nominated for an Emmy for her work, alongside Dean Zimmerman on the season finale, The Battle Of Starcourt.
Congratulations on your Emmy nomination. That's very exciting! How do you feel about the recognition?
Thank you. It's so cool. I'm honored and humbled to be nominated along with Dean Zimmerman, my editor.
So you must get a kick out of getting all the raw ingredients of the show and then stitching them together to build the narrative?
Yeah, I do. And with Stranger Things, the Duffers are such good writers and they're so good at their storytelling. But it's fun to get all the dailies in and it's just like a big puzzle. You've got to put it together and try and make it look cool.
What do you think is the main role that editing plays? When you're watching something, what do you think are the hallmarks of good editing?
I think it's definitely trying to get these moments that you see in dailies and putting them together to make the best story possible. Even if you cut something once, you could still keep cutting it different ways to see if something looks better, that you didn't notice the first time. So I like to keep toying with it and keep trying to make it the best cut possible.
What is your working partnership with Dean Zimmerman like?
Dean is really cool. He's been my editor for about three years now. And he gives me a lot of freedom. With the episode we're nominated for, we approached it in two parts. It's called the Battle of Starcourt and there's a big battle with the kids fighting the Mind Flayer, throwing fireworks. And then there's also a big battle, with Hopper and Grigori, this Russian guy, and Winona Ryder's character. So I was kind of taking over that Hopper fight and he took over the mall part. We put them together and made all these thinner cuts to make it really flow.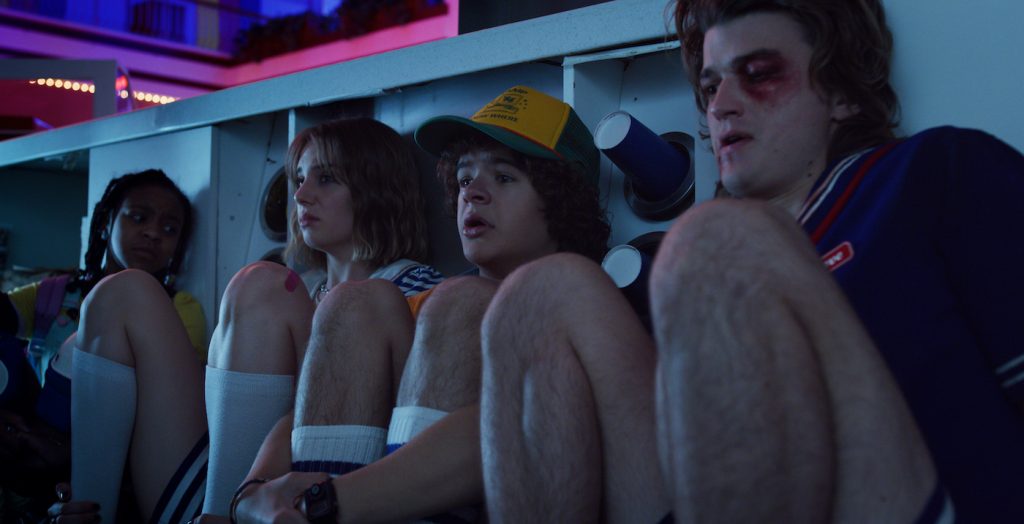 The Battle of Starcourt is a pretty epic finale and there's lots of action, but also humor and sadness. It really covers the gamut of emotions. How do you tackle that, going from one to the next? 
Music is really important in the show. And we have a great music team and sometimes music can help get us into a more emotional part or get us back into the action. We have a great sound team, too. Sound effects are really good at helping make these slam cuts flow together. And then the kids are all such great actors, and the adults are great actors as well, so just capturing their emotion, maybe just with silence sometimes, is a good way of putting it all together.
One of the things that are done so brilliantly in Stranger Things is that even during action sequences, the characters are really strong. Is that something in the editing suite that you're grateful for?
Definitely. They're so good. They're good at like giving you a lot of different performances too, so you can tell a different story each time. But for the most part, like they're just really good at giving us what we need to tell the story that the creators want to tell.
Is there a special approach when you're editing a finale? Is it something that you're conscious of or do you just treat it like any other episode?
When it's a really big episode we have to get things cut together so that they can get cracking on VFX and get stuff in there and make it before the air date. That's something that's always in consideration when we're doing a finale, getting those big parts done as fast as we can.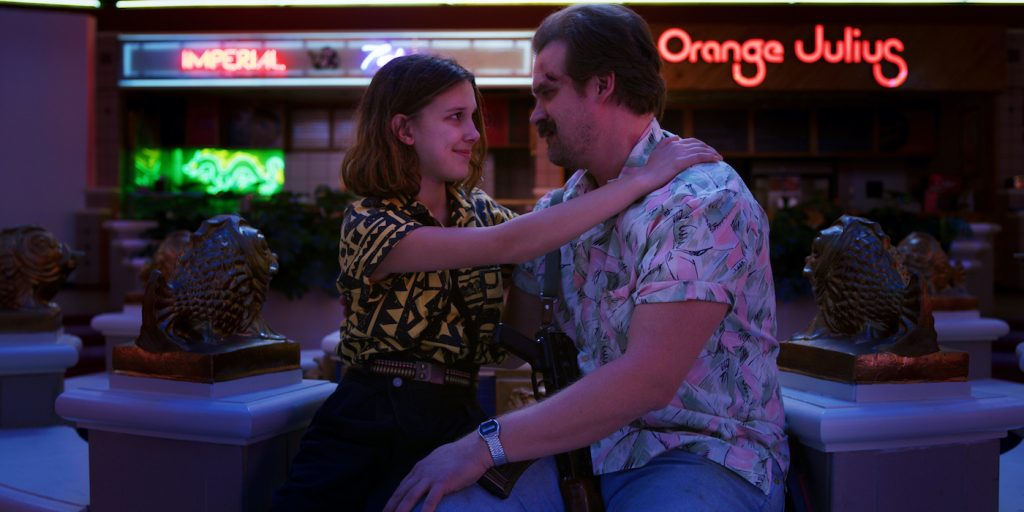 What was the most challenging sequence for you to edit in that episode?
I would say that fight sequence. They shot so much. They had a whole stunt team and a set director shooting all this fighting with Hopper and Grigori. And it was a lot to figure out like, Oh, where does this go? Where does this kid go? Or, Where am I supposed to put Winona now? It was fun but I think that was one of the hardest parts.
How much back and forth is there with the Duffer brothers? How involved are they in the editing process?
They're very involved. They love being in the edit room and they hang out and they have a vision and they want to make sure it's being told right. It's great to have them there. They're so cool and really easy to work with. And actually, it's fun. It becomes like a really fun environment. So I kind of know them now, and they kind of know me, so we can all talk to each other frankly. Which is great.
And what about the highlights for you of working on Stranger Things?
I think the highlight is just how cool the show it is. I don't think anybody knew it was going to be such a big show when we first started and just seeing it grow and seeing people love it and get it. Sharing it with my family, with friends. And honestly, everybody who works on the show is great and we all work together like a big family, a big team where we can ask each other's opinions and make the best show that we can.
You started out as an assistant, which would probably be quite inspiring to other people who wanted to get into the business. And I imagine it's also quite a male-dominated field. Would that be correct?
I think so, I guess. I've been fortunate. I've been working on shows that do have a good amount of females around, especially this show. But just starting off as an assistant, working your way up is just all about trying to just keep working and keep trying to make it better. And you want to make your editor look good by putting in the best temp sound effects, or whatever you can do to make it look better, everybody is going to notice if you're going above and beyond.
Do you get a lot of people pressing you for spoilers, working on a show with such enthusiastic fans?
Yeah, all the time. I don't like giving spoilers anyway, so it's not that hard. I want people to wait and see it, I don't want to ruin the surprise.
Especially with something like the whole 'Did Hopper really die?' situation?
Yeah, definitely. It's a game we've been dodging.
Do you have a dream project that you'd like to work on or are you living it on Stranger Things?
I think it's happening right now. This is really a show that tackles all the things I grew up. And it's so fun to work on. I'm a big sci-fi/horror movie buff and I think this is just one of the coolest shows ever. And it's only one of the best platforms ever, Netflix.
Thanks for chatting with us and best of luck at the Emmys – you've got some pretty stiff competition.
Oh yeah, The Mandalorian! How do we compete with Baby Yoda?
Featured image: Millie Bobby Brown in 'Stranger Things.' Courtesy Netflix.