Selah and the Spades Star Celeste O'Connor on the Power of Tayarisha Poe's Film
Amazon Studios has premiered writer/director Tayarisha Poe's new indie Selah and the Spades to near-universal acclaim. It's the story that takes place in an elite boarding school, where seventeen-year-old senior, Selah Summers (Lovie Simone), runs the Spades, a powerful clique that supplies illegal drugs to the student body. That's just one of the vices these cliques, or 'factions,' offer, which also includes gambling and illegal parties. When her right-hand-man Maxxie (Jharrel Jerome) gets distracted, Selah takes on the new kid, sophomore Paloma (Celeste O'Connor) as a protégé, in the hopes of ultimately transferring the power of ruling the school to her. It's a messy world full of complicated relationships, paranoia, manipulations, and risk. The film may seem an extremely amplified version of teenage life, but nearly every scene has something that will resonate with those who are currently living or have lived through the tortures of high school.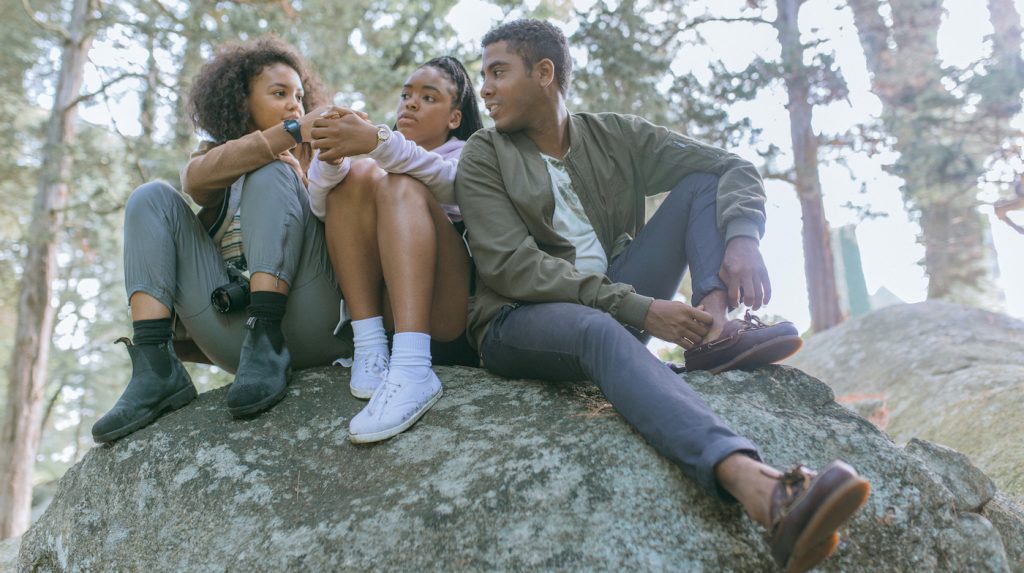 Celeste O'Connor, who plays the ingénue Selah takes under her wing, spoke to The Credits about her experience playing Paloma. One thing she and the character have in common is they both learn from observing. The actress explains, "I'm more extroverted and more experiential than Paloma is, but we are definitely both observers. I think Paloma being able to take a step back to see how Selah is operating, to observe her relationship with Maxxie and how things work in their world, is such an important part of how she learns and grows. She begins to pick up on how Selah does things, and on her confidence. A lot of her growth comes from that." Her character also has a connection to the audience, and that allows viewers to learn through her as well. "I think it's really interesting for the audience having Paloma as their eyes and ears. When she experiences something for the first time, the audience is also experiencing it for the first time."
Writer/director Tayarisha Poe guided the cast in building personal histories for their characters, in part by supplying short stories to each actor with background information. When it came to rehearsals, Poe put the three leads together, letting them explore the school and other locations.
"Our rehearsals were about getting to know each other as people, creating friendships that were real, but that could also translate really well onscreen. Just spending time with Lovie and Jharrel ended up working perfectly. You can see the chemistry onscreen between Paloma and Selah. It was real, in part, because we had become such close friends by the time we were filming."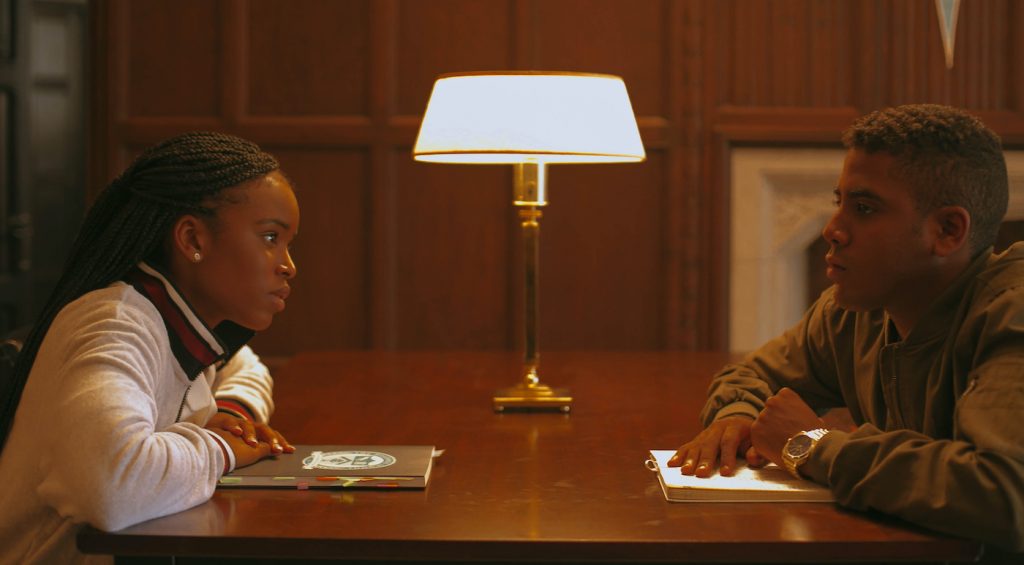 Poe also gave O'Connor a really helpful personal assignment. "Tayarisha had me create a playlist for Paloma, so I went through the major events and the turning points that happened for her in the script, and I assigned songs for each of those important moments in the story. That helped me process the emotions of what was going on in each scene, because I understand and process emotion a lot through music."
O'Connor feels portrayals of complicated characters of color onscreen are essential, allowing a more diverse audience to feel seen, and a wider audience to gain understanding. "The fact that the characters are neither wholly good or bad is something that was really intentional and important to Tayarisha. We bring different perspectives and different ideas that maybe people of other backgrounds and experiences might not have thought of. She really wanted a story that was not necessarily explicitly about race. She wanted to show black kids just being kids, not being punished or criminalized for it, but showing black kids as full human beings that have their own motivations you may or may not agree with. I think that's really important because a lot of times you see people of color shown as stereotypes or caricatures, far from the reality of how multi-faceted people of color are."
There is a power play between the characters, but also there is power in the fact that two young women of color are portraying complicated leads, guided by a female filmmaker of color. O'Connor found that exhilarating, and speaks to how inspirational she found it as both an actress, and a citizen of the world. "In terms of Paloma, a lot of the story is her figuring out her own power and her own confidence. Early on, she derives a lot of her power and confidence from the fact that she was chosen by Selah, and I think that Selah takes advantage of that." She continues, "On a larger scale, it's so important to have women of color in positions of power and in leadership positions. It was really impactful to work with a black female director."
Celeste O'Connor finished the interview by talking about what she learned and how she changed through working on the film. "I got to experience being on-set with all these young black creatives. I personally grew up in an all-white neighborhood and went to an all-white school. This is really the first time that I was among people that looked like me. People who were incredibly talented and driven. For me to have that experience, when I was coming right out of high school, was the catalyst for my own personal growth, and my development in terms of confidence, and being proud of my identity. Not only was it a really great opportunity professionally, but personally it had a huge impact on who I am. I know it doesn't happen with every project, but it makes Selah and the Spades really special to me."
Selah and the Spades is streaming now on Amazon Prime.
Featured image: Celeste O'Connor stars in SELAH AND THE SPADES. Photo: Courtesy of Amazon Studios